POV Holder:
?
Next POV:
July 22nd (Sunday)
POV Used
?
POV Ceremony
July 23rd (Monday)
HOH Winner:
Frank
Next HOH:
July 26 (Thurs)
Original Nominations:
Current Nominations:
?
Have Nots /Slop
?
Coach Competition Winner
?
Next Coaches Competition
July 20 (Friday)
Last Evicted Houseguest
Kara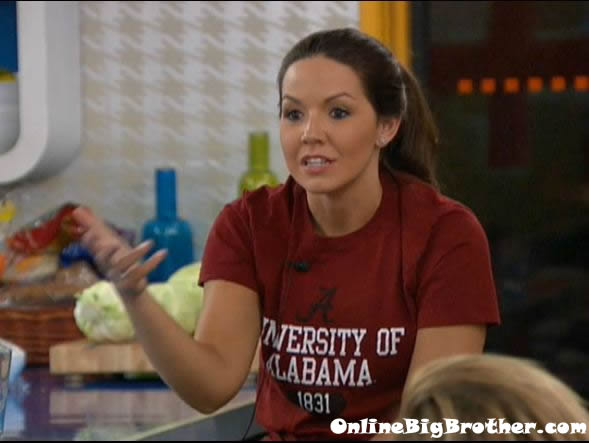 1am Wil, Danielle, Ashley and Jenn are in the kitchen talking about ex-boyfriends and girlfriends. Danielle starts talking about some guy she started to have a connection with and then had to leave without saying goodbye. She wonders if he would wait or if he is dating someone else. They tell her how what she focuses on is what will happen.
Sign-up for the Big Brother Live Feeds and get the MOBILE Feeds for FREE!
Meanwhile, up in the HOH room Boogie, Frank Dan and Janelle are talking. Janelle comments on how when Willie walks out the door she will throw froot loops at him. Mike wonders if Willie will be all defeated tomorrow and if he will even fight for votes. Mike says that he could swing one maybe but that he can't swing two votes. Danielle confirms that Danielle will not switch sides to them. He says that she can potentially get two free weeks out of this. They start watching Ian on the spy cam. Dan wonders how much they were spied on last week. They all say oh constantly. Janelle comments on how paranoid Willie is. They continue to talk about Willie bullying people and being paranoid about everything. They rehash all the events of the week. Danielle comes up to say good night and leaves. Dan says that she is smart, I told her not to get trapped by Willie. They talk about how Kara said in her speech that if you are voting for him to stay he probably has a final 2 deal with them. Mike wonders why she would do that, it just didn't seem like her. The conversation turns to talking about Kara being in Playboy. They talk about how screwed Willie is and wonder if he will even try to get votes. Frank wonders if he will try and make a deal with him or not. Dan comments on how Willie was making "if then" deals. He was running around making deals on the premise that this might happen or that might happen.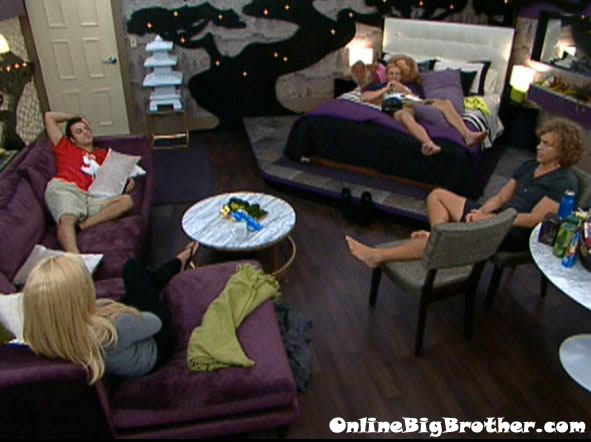 2am In the backyard, Ian is on the hammock talking to himself. He says that he hopes they don't backdoor Willie. He says he feels bad for him. Ian says that he will be cool with Willie outside the house, but he's got to go. He says the truth is Willie really did bully those guys and it's not right. Ian gives props to Wil for voting out Kara. Ian gets up and he and Janelle play the corn hole game. They start talking about the coaches competition tomorrow.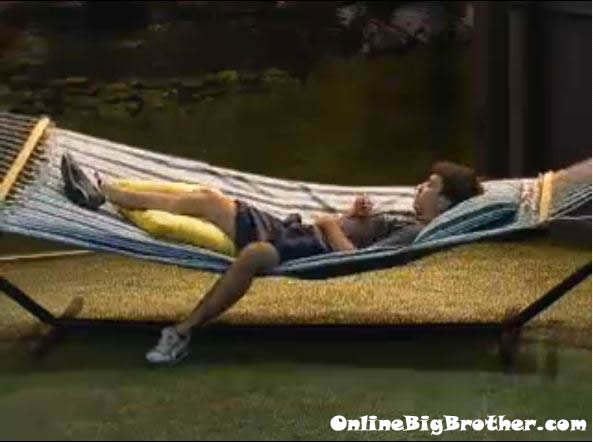 In the have-not room, Danielle, Shane and Ashley are talking. They are talk about how the vote flipped six times this week. Ashley says the all guy Brigade idea wasn't Willie's it was Boogie's. Shane agrees and says that it was Boogies idea and that it could have worked, but Willie blew it all up. Ashley tells Shane and Danielle that maybe Frank and Joe have a final two deal. Ashley comments on how Janelle is always talking to them. They talk about Kara's speech, the part of the speech were she said how people have final 2 deals. They discuss who it could have been. Danielle says Dan didn't even know she was going to say that.
Re-Watch ALL THE DRAMA on FlashBack: Big Brother 14 Live Feeds – 3 Day Trial!
Meanwhile, up in the HOH room Frank tells Boogie that he does not want Willie on the jury, so they have to get him out now. They talk about how jury could start after this week unless someone comes back or coaches come into the game. They start going over who is left in the game and time frames. Boogie says that they have a solid thing with Janelle and Dan right now and they need to stay tight and not waiver this week.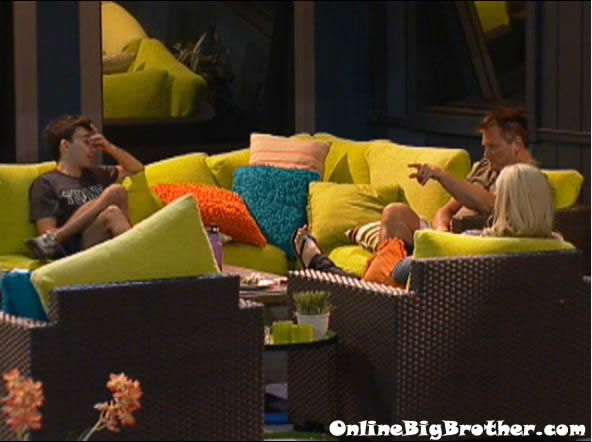 2:45am Back in the have-not room, Ashley comments on how Ian has an evil side to him. Danielle says he got snappy with her for turning on the light in have-not room. Ashley says yeah see that's his evil side. They talk about how they will pull a prank on Ian. Ashley gets a piece of orange tape from Ian's bag, turns off the light switch and tapes over it so Ian can't turn the light on. Ashley says please no bad karma for this; it's just a little joke. Danielle and Ashley are giggling and Shane says that when he comes in here, we can't crack up. Ashley tells Danielle and Shane that she would vote Ian out of the game.
3am In the backyard, Janelle, Joe and Ian are talking about Willie and Britney. Ian wonders why Willie is so important to Britney, and why she gets so upset over him. Janelle says because she's friends with his brother. Ian says that he will give Willie respect as a human being even though he doesn't agree with what he does. Joe says that doesn't want Willie in jury. Ian says that he isn't convinced by the key slots next to coaches name means that they will come into the game. He says the slots are there simply because it's a new memory board. Joe comments on how the new coaches ability to trade makes him think the coaches aren't coming back. They go back and forth about whether or not the coaches will enter the game. Janelle talks about the contract she signed before coming. Big Brother tells her not to talk about production. Ian then heads to bed. Janelle comment to Joe that she is really worried Britney is going to trade Willie to her and take Wil. Joe tells Janelle we are going to have to get Frank out. Janelle says she is so glad to hear him say that and she is happy someone has a brain and sees Frank is a threat.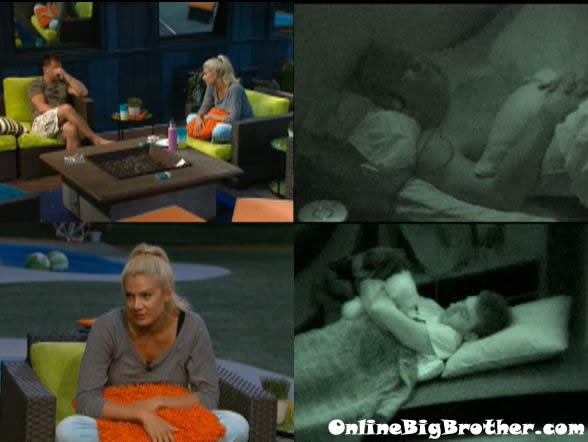 Watch what happens, AS it happens: Big Brother 14 Live Feeds!
Subscribe today for your FREE 3 DAY TRIAL!
Joe and Janelle continue to talk in the backyard by themselves. They talk about Ashley. Janelle says that Ashley seems okay now, but that it was really hard for her to vote out Kara. Janelle says that Britney is mad at her, but that she is not sure why. Joe tells her he heard it's because Janelle moved out of HOH. Joe says that it's because Britney told you (Janelle) all her secrets and then you left her. Janelle says that she had to leave because of Willie and that she had told Britney that was why she left. I had to leave for my team. Joe says that if Britney wins the coaches competition she will have to get rid of Willie, if she doesn't she is stupid. It will only buy her one week if she doesn't. Joe says if she doesn't trade him it will tell you that she does like Willie more than we think. Janelle says ewww…no. Joe asks Janelle if she would make a trade if she won the coaches competition. Janelle says no, no way! Joe asks her if she would trade Ashley? Janelle says no. Joe says Good. Janelle asks him why he is asking? Joe says that he just wants to know where Janelle's head is at. Janelle says that Dan gave his word he won't trade Danielle if he wins the coaches competition. Janelle says it would be bad if Britney won and traded Willie to Dan. She says that when Willie gets voted off and Dan leaves. Janelle asks Joe if he thinks Boogie and Dan will team up. Joe says yes. Janelle says that she thinks they will too. Janelle says that Dan is tricky. She says that he thinks the coaches will be returning to the game, but he thinks they will have a chance at more money and that it could be something like giving up a power for prizes.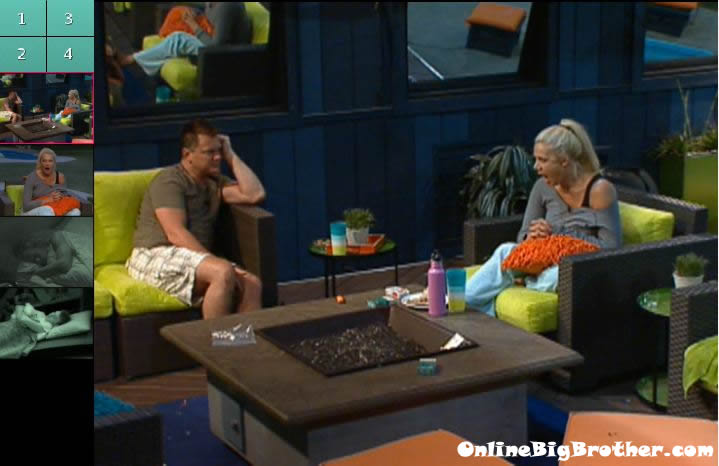 4am Joe and Janelle are still in the backyard talking. They both comment on how Shane has a nice personality but that he is quite, and boring. Joe mentions how pissed Jojo was this morning saying that she was going to break something. Joe says that Willie's entire HOH was worthless; he got the whole house against him. Janelle and Joe laugh. Joe says the thing that sucks is they are going to be such kiss a$$es. Joe talks about how he doesn't like Jojo. Janelle says that she likes her and sees the good in her. Joe says at any point he can just save up 4 or 5 beer and Jojo will send herself out the door. They comment on how the three of them (Willie, Jojo and Shane) walked out into the yard thinking they had this HOH and then how defeated they were after. Joe says that the two people going up will be Frank and Shane. They both head inside and realize what time it is. Janelle say oh my god its 4am, I have a coaches competition tomorrow. Joe comments on how fast it this game changes and how they could have lost it all over a fart. Joe says that one thing about Frank is that he feels like I saved his life. Janelle says that she has met a lot of big brother players and Willie is the dumbest. He was addicted to power and just wanted more and more.
6am All the house guests are still sleeping..