POV Holder:
?
Next POV:
July 22nd (Sunday)
POV Used
?
POV Ceremony
July 23rd (Monday)
HOH Winner:
Frank
Next HOH:
July 26 (Thurs)
Original Nominations:
Current Nominations:
?
Have Nots /Slop
?
Coach Competition Winner
?
Next Coaches Competition
July 20 (Friday)
Last Evicted Houseguest
Kara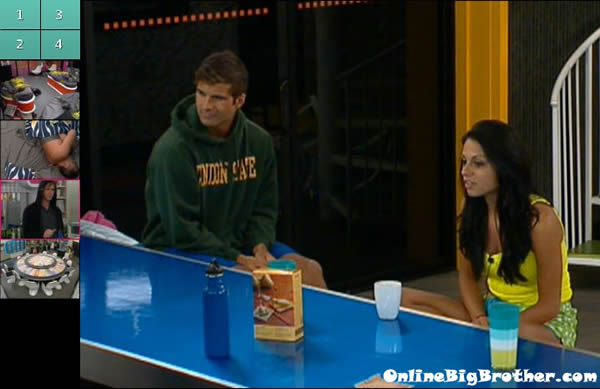 9am Big Brother switches the live feeds to the control room to wake up the house guests. When the feeds come back, all the house guests are up and getting ready for the day. Frank talks about how he was told he will be doing a lot more diary room sessions this week. Jojo mentions that she has a twin and they were born 2 minutes apart. They talk about how they have been locked down so much and that it sucks not being able to go outside. Britney brings up how they've made the top 10. Frank, Shane and Jojo laugh and comment on how it's true. Shane says yeah until you coaches come into the game. Frank heads up to the HOH room. Jojo whispers to Shane how they should bring up to Janelle was with them and then dropped us … what makes you think she won't do the same thing to you.
Sign-up for the Big Brother Live Feeds and get the MOBILE Feeds for FREE!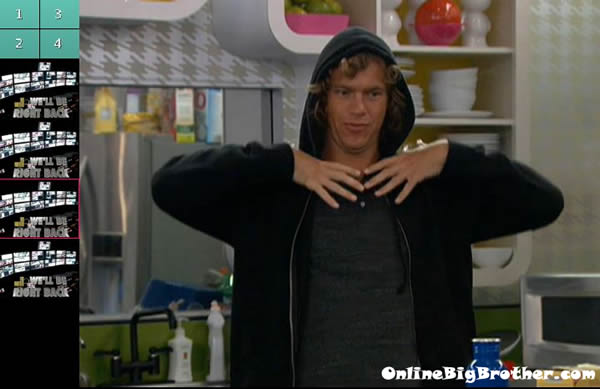 10am Britney calls Jojo and Shane into the arcade room to talk. Shane says that we need to separate from Willie. We are in this situation because of him. Britney says that he will lose his temper again. They want one of us to go home. If I save one of you, they are coming after the other. Britney says that Willie offering to go home and to not give him the key … she says but that doesn't help either of you or me. Jojo wonders if she should bring up how Janelle has been switching sides. Britney says no don't it will come out in time. Britney says that if she is able to save both of them she will. She says separate yourself from him. Shane says that he will. They talk about how it will probably be Shane and Willie nominated and that if Jojo wins the Power of Veto she can save Shane and then Jojo can't be nominated. Britney talks about if she won the coaches competition if she exchanged Willie for Danielle then Willie and Dan would go home … but what would I do with Danielle she is useless.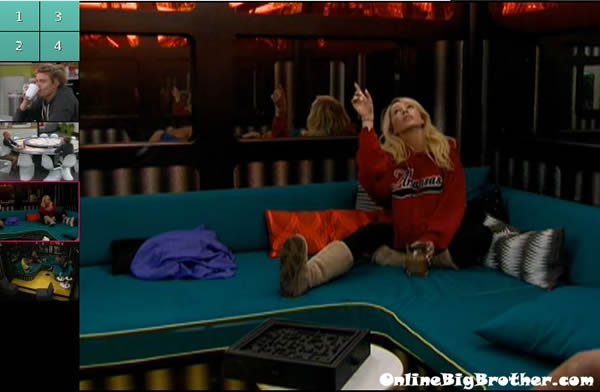 Britney asks Jojo why she thinks she has a power or something. Jojo says that he was mentioning what if I can't go home. She says and when he went to blog he took his bag with him. Britney says that last year we didn't need anything when we blogged. Britney brings up the Diamond Power of Veto. Britney says how bad would that be if we exchanged him and he has a power. They break up the conversation and leave the room.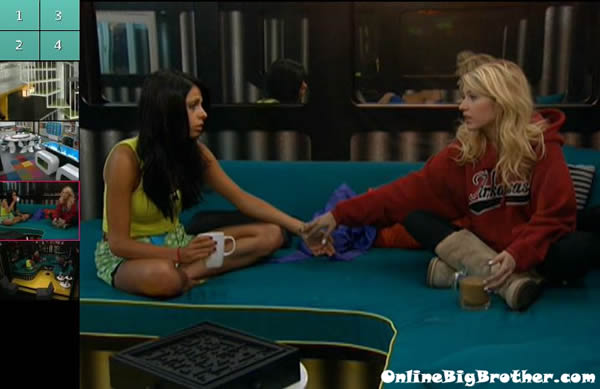 10:10am Up in the HOH room, Britney, Frank and Mike are talking. Britney says that she only had two votes anyways there was no way I could save you. Frank says that it's a good judge of character that they wouldn't leave Willie, its great and all that they were loyal to him but it's a good judge of how they will play the game in the future. (Meaning that they will always be against Frank.) Mike says that the nominations will be Willie and Shane. Britney says that she understands and says that she tried to tell him and calm him down. Mike and Britney discuss the possibility of knocking Dan out of the competition if Britney wins the coaches comp and trades Willie for Danielle. Frank says that you want to knock out Dan, but I don't give a sh*t about Dan, I want Willie out of the game after how he came at me. Mike says that he respects the fact that Shane said he was 50/50 on Wednesday night and then yesterday he said straight up that he was sticking with his man Willie. Mike says that he respects that but he was too short sighted. Mike asks Britney if she told her players that maybe its time to abandon ship.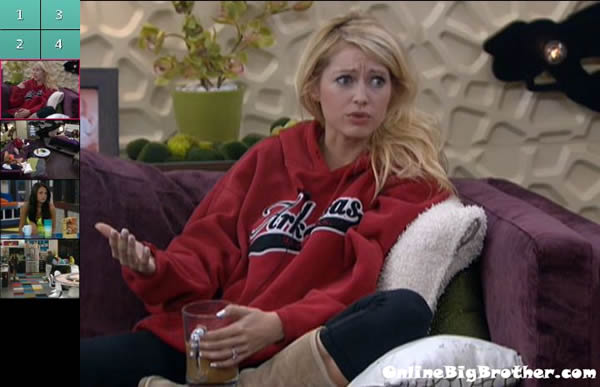 10:45am Britney explains how up until the last minute we were a solid 4 votes. Mike and Frank ask her if Ashley was the fourth. Britney says she won't say who. Mike asks is there any part of you that says let me keep everyone happy .. and if I win the coaches challenge do you cut Willie and try and save the others. Britney says that she came here to play and wouldn't feel right about cutting a player and sending him home. Britney says that Willie is a competitor… he may just win the Power of Veto… She says if he wins then he comes off and I just made a lateral move because one of my other players goes. Mike wonders if the first 3 evicted are in sequester and then we win a coaches competition and get to bring one of them back. Britney thinks its a high possibility. Britney wonders if Dan does get knocked out if he can come back later in the game. Mike says yeah maybe. Frank tells Britney if she traded with any other people other than Dan he would still put two of her people up. Mike adds that even if you trade players ..they may still be working with their alliances so they may come to team meetings but be taking information back. Britney says that Shane and Jojo stayed loyal to a sinking ship. They had no choice what team they were put into. Mike says if things all go the way we want them too… then one of them could easily win HOH and you'll see how the power will gravitate. Britney congratulates Frank on being able to turn things around. Britney says that she felt really bad for Ashley because he was cornering her and wouldn't leave her alone.
Re-Watch ALL THE DRAMA on FlashBack: Big Brother 14 Live Feeds – 3 Day Trial!