POV Holder:
Shane
Next POV:
July 20 (Friday)
POV Used
No
POV Ceremony
July 15 (Sunday)
HOH Winner:
Willie
Next HOH:
July 19 (Thurs)
Original Nominations:
Frank and Kara
Current Nominations:
Frank and Kara
Have Nots /Slop
Danielle, Shane, Ashley, Ian
Coach Competition Winner
Boogie, Ian is safe
Get The Live Feeds for your iPhone or Android Phone! Comes with a regular subscription to the Live Feeds Subscription Link

8:45pm Hammock Boogie and Ian Boogie is giving Ian tips for tonight. He says that 20-25 minutes into the date Ian needs to start sneaking in game talk. "Obviously you want to pave the way for next week but also think about frank". Boogie likes the bowtie but thinks that the glasses are too much. Ian agrees says he plan on taking them off. Boogie says that there is going to be one girl that Ashley won't like, Ian needs to find out who that is. Boogie knows it might be hard with Ashley because she's nice to everyone but it's important. Ian tells him it is going to be 85% fun and 15% game. Boogie agrees.
8:53pm HOH Willie and Britney Willie is getting sick and tired of everyone interrupting them. He feels that Janelle is C**k blocking them. Janelle start to come up to the HOH room before she comes in Willie says, "Oh F*** she's coming up hopefully she leaves" Janelle brings up beet says that no one is really into drinking tonight but they are any ways. Willie asks her why they don't save them for another day. janelle: "But they'll take them away from us". Janelle sites down and Wille tells her he's getting sick of all the game talk he feels exhausted. Janelle says they're 2 groups MUST stick together it's their best chance. Willie really wants their entire group to get together once a day and hash everything out so nobody thinks they are sneaking around. They start going back and forth of the pros and cons of keeping Frank in the house.
Janelle says that she just saw Frank do some wild exercises in the backyard. Willie: "I'm telling you if I stay in this competition I can beat everyone in HOH competitions"
Willie tells Janelle that he's looking to protect brintey's players and Janelle's players. Janelle says the same with her and her players.
9:17pm Ian and Ashley on their Date
Flash back this on the feeds it's pretty funny. Flashback Sign up
3 days Free
They start general chit chat. Ashley asks a bunch of questions about science and chemistry. (She acts like she has no clue about it I suspect it's for show) They get their drinks from there waiters Wil and Kara and toast to staying in the Big Brother game.
Ashley says that he believes in the physical world and she's more into the spiritual she believes that diseases like cancer are caused by stress. Ian says he's been trying to calm down because he thinks it's been creeping people out. Ashley says she's noticed. Ian brings up that he's been kinda stressed about next week. Ashley says things could get sticky. Ian asks her if anyone talks game to her because no one talks game to him. Ashley says no one talks game to her.
Ian: "if they are not talking with us they are talking about us to get rid of us"
Ian says that out of the guys he's the least threatening, unless they have a quiz about thermodynamics his educations is useless. Ashley thinks that maybe he'll do well in the quizzes because of his photographic memory. Ian tells her that those types of quizzes are few and far between. Ashley says that her vote will follow who her team is voting for. Ian reminds her that it's not a team game. Ashley: "We'll for now it it"
Ian: "sooner or later we're going to have to make a decision that our coaches don't like.. I like boogie but at the end of the day decisions will have to be made"
Ian tells her he's kinda messed up in the game, he has no alliance, no plans, he's just taking it one step at a time. Ian would like to go to the end with Ashley because he thinks she's pretty cool. He trusts her as much as you can trust in the game. Ashley isn't thinking about that far in the future yet. She asks him if he trusts Frank. Ian asks her what is going to happen. Ashley doesn't know she says that no on talks game with her and to be honest she's doesn't really want to vote it's too stressful.
Ashley asks him if he thinks there are side alliances. Ian tells her of course there is this is Big Brother, "There could be an alliance right now plotting our demise"
Ashley: "Ohh I have to me observant" Ian is sure he's next on the hit list because no one has approached him about deals.
Ian thinks that Boogie should have given the immunity to Frank because Frank is a lot stronger. Ashley tells him not to underestimate himself.
Ashley: "are you working with Kara"
Ian: "no… I have no deal with her but I really like her.. I really like Frank.. this is a tough nominations"
They both agree that the game is a lot of fun. Ian is really happy to be here he says that more people have been in space than have been in the Big Brother house. Ashley: "One of my goals in life is to go to the moon"
Right before the date ends Ian says that they have a 10% chance to 500k and a 20% chance at 50K.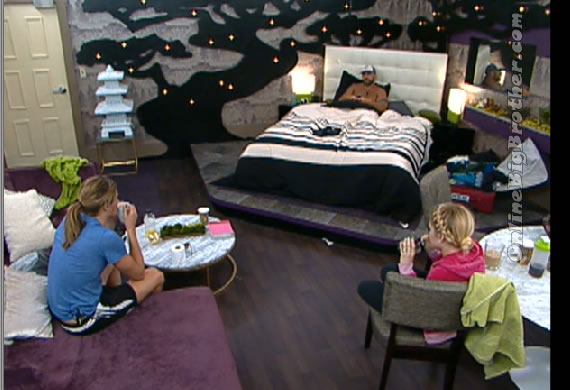 9:57pm Talk in the HOH house Willie, Brit and Wil same back to back vote out Frank keep Frank that they have been talking about for the past 12 hours.
Share it YO!
Tweet