POV Holder:
Kaitlin
Next POV
July 20th
POV Used
YES
POV Ceremony
July 15
HOH Winner:
Helen
Next HOH:
July 18
MVP:
Elissa
Original Nominations:
Kaitlin, Aaryn, Spencer (MVP)
Current Nominations:
Jeremy, Aaryn, Spencer (MVP)
Last Evicted Houseguest
David, Nick
Have Nots
Judd, Jessie, McCrea, Amanda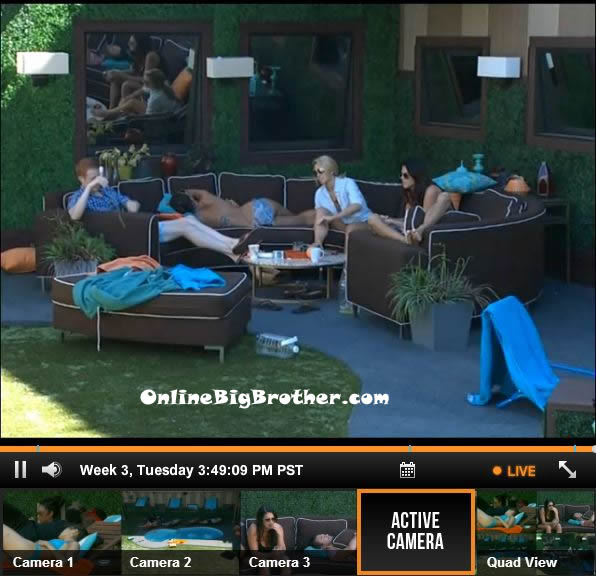 3:45pm – 4:10pm Backyard lock down continues – On the backyard couch – Amanda comments that she only has 1 pack of cigarettes left. Aaryn asks what are you going to do? Amanda says I've got the nicotine patch, that and I'll bum cigs off McCrae. Aaryn asks why didn't you bring enough in here? Amanda says that she wasn't even going to smoke in here but that its so stressful she has to. Someone asks McCrae about something from his diary room session. McCrae says he can't talk about his diary room session. Amanda says okay diary room Nazi. They should just hire you, no one would be able to get one word out. Aaryn asks McCrae if he found the condom under his bed. McCrae looks at her and smiles that was you, you fu*ker! Aaryn says it wasn't her it was Judd. Amanda says if she wins HOH she just wants a basket of smokes and hair dye. Amanada and McCrae argue over whether dye for roots is the same for white hairs. Amanda says this isn't harp on Amanda the one how takes care of your skeletal self! Next time make your own slop! the conversation turns to talking about HOH letters. They wonder if they can get bad news in it. Gina says like your dog got run over by three trucks. Andy laughs. Big Brother opens up the backyard door and some of the house guests head inside. McCrae, Judd, Amanda talk on the backyard couch. McCrae talks to Amanda on the couch how he is having a slop freak out and just doesn't want to hear about her white hairs any more. Howard comes out and tells McCrae that he looks like Johnny Depp, or like a mobster that is ready to cut someone's throat. Amanda comments that the Ginamarie/ Nick thing is annoying but it's also entertaining. Judd says he is just tired of it. I am in a grouchy mood. They talk about this week HOH and about wanting to eat.
Test out the Live Feeds and if you don't like them – just cancel: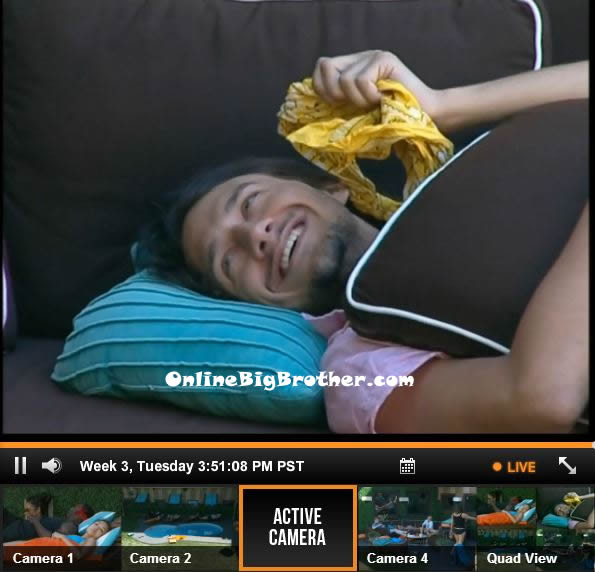 4:15pm – 4:55pm Up in the HOH room – Andy talks to Elissa about seeing each other after the show is over and about Rachel. Andy asks Elissa how often her and Rachel hangout with her being in LA and Rachel in Vegas. Elissa says that they talk on the phone and skype a lot to talk about their website Adventures4pets. Elissa says I love my sister so much. Elissa says that she is very thankful for the brenchel army. Candice joins them. Elissa asks him how he is doing. Andy says that he is great and feels that he hasn't double crossed many people other than people like Aaryn but I don't give a sh*t about her. Elissa and Andy talk about how they need an alliance name. Andy asks Amanda what she thinks. Amanda says what about the "knockouts". (Andy, Amanda, McCrae, Elissa, Helen, Judd) McCrae joins them. The agree they like the name the "knockouts". Helen comes up and Elissa tells her their new alliance name. Helen loves it. The conversation turns to talking about what the HOH competition will be. McCrae says it could be a crap shoot. Elissa asks what's a crap shoot? They talk about how Aaryn has stopped her drama. Helen says the house is so much nicer. Judd joins them. They tell him about the alliance name. He likes it and then fist bumps all of them. They talk about how Jessie isn't part of it but that they will try and protect her. Amanda suggests that they all keep close to other members of the house. The conversation turn to talking about Ginamarie. Elissa says that Gina's new target is Aaryn. Judd tells them that if they get to pick havenots – they have to pick GinaMarie. I can't stand her! Judd says if I hear any more about Nick I am going to have a havenot melt down. McCrae suggests that even if Elissa gets MVP another one of them should say they got it just so the others think they could get it. He says that him saying he got it took the heat off Elissa. Amanda says that if it wasn't for McCrae I would be gone because I interfered with the Moving Truck. She says I refuse to say their real name. Amanda says well we are going to help them move. Amanda and Nick comment on how Nick thought they were all so dumb that they couldn't figure him out. Andy comments that he could talk to Nick for an hour and a half and still feel no personal connection to him. The talk turns to Ivy League schools.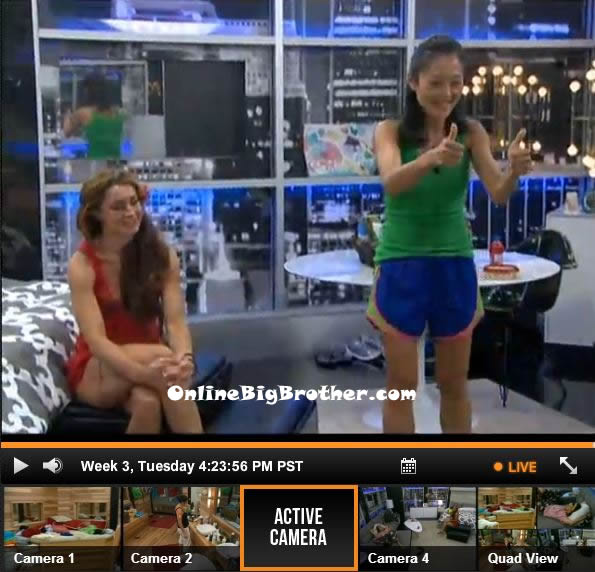 5pm Howard and Spencer play a game of chess outside the HOH room. In the HOH room – Amanda wonders why Howard went out of his way to train Aaryn last night after the things she's said. Elissa agrees and says that she couldn't even look at her after that. Amanda says and she made me out to look bad for bringing it to her attention that the things she was saying were racist. Gina joins them. Judd gets up and says he's going to take a power nap and leaves.
In the downstairs bathroom – Jeremy tells Kaitlin that her hair looks super jewishly curly. Jeremy gets called to the diary room. Kaitlin comments that her shorts are making her look fat. Aaryn says she thinks its the food we're eating in here. Andy joins them. Andy tells Aaryn and Kaitlin this is a different game each week. Andy says Helen is on a power trip up in the HOH and will be brought back down to earth next week. Aaryn says that she heard that Howard and Spencer aren't targets any more. Andy says that's not true Helen would never say that.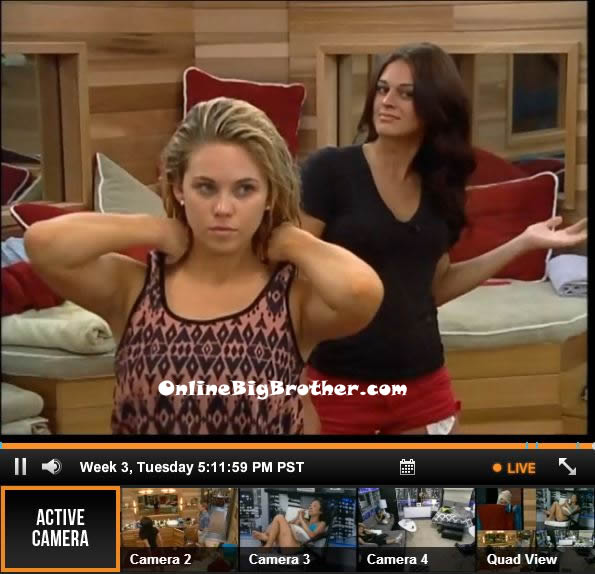 5:15pm – 5:30pm Aaryn tells Kaitlin we need to stick together. Aaryn says can I tell you a secret – Helen told me the exact same thing before the veto to keep me safe if I used it. (FALSE) Kaitlin says well you should have taken it. Aaryn says we need to stick together. We need to turn the house around. Kaitlin says that she doesn't think that is going to happen. We just need to get Helen out first. Kaitlin leaves the bedroom. Jeremy comes in. Aaryn tells him that she thinks they are trying to turn us against each other. Jeremy says they will, you just need to stick together and communicate. Aaryn tells Jeremy that Helen offered her the exact same deal. Aayrn tells Kaitlin I just don't think they are smart. Kaitlin says that she doesn't trust anyone in the house. Kaitlin says that Judd even came up to me and told me he heard I was going to be around for a while. Aaryn says that Judd told her the same thing. Kaitlin says I really trust Andy. Aaryn says I do too, I just think you are going to turn against me. Jeremy asks Kaitlin on a scale of 1 – 10 what am I? Kaitlin says a 7. Jeremy calls her a trick! Jeremy asks Aaryn? Aaryn says a 3. Jeremy says I was going to say the same thing for you. Jeremy starts calling Aaryn – Air hole (which she hates) He asks her to tell a traumatic story – She says my alliance being evicted.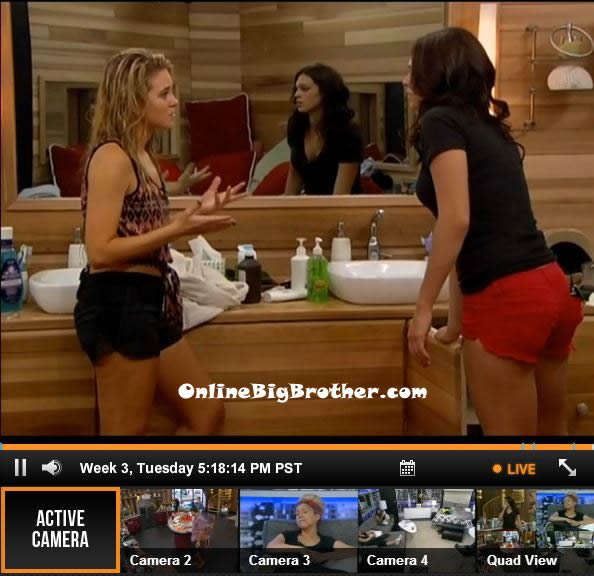 [polldaddy poll=7248812]
Stay connected and interact with other Big Brother Fans on our Facebook page.
And Follow: @BigBspoilers and @Dawgsbigbrother on Twitter for the most up to date spoilers.