POV Holder:
Kaitlin
Next POV
July 20th
POV Used
YES
POV Ceremony
July 15
HOH Winner:
Helen
Next HOH:
July 18
MVP:
Elissa
Original Nominations:
Kaitlin, Aaryn, Spencer (MVP)
Current Nominations:
Jeremy, Aaryn, Spencer (MVP)
Last Evicted Houseguest
David, Nick
Have Nots
Judd, Jessie, McCrea, Amanda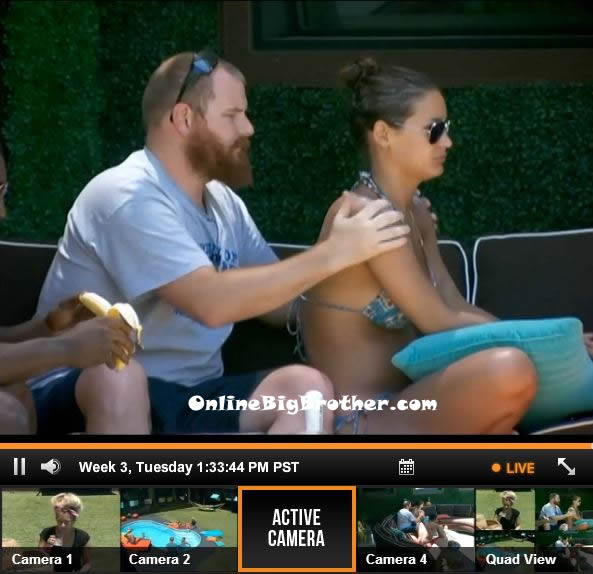 1:35pm – 1:50pm Spencer offers to massage Jessie's back. Over by the pool – Aaryn asks does anyone see how jacked and tanned I am?! Meanwhile in the bathroom – Candice tells Gina that Nick's funeral is tonight at 7pm at the pool table. Howie will be the pastor. We will all dress in black. Candice says we will all say something nice. You get to keep one item. Gina says we will see about that, I am hiding all of it. She leaves the room. Candice says we will all say goodbye to the shaddy fu*k. Why couldn't he even talk about relationships and $ex? Maybe he was really married? Elissa says I doubt he was even 28. Andy and Elissa head into the bedroom and talk about how Helen is doing her blog right now and that they will get the HOH camera soon. Elissa heads out to the backyard and asks if Howard is ready to be the pastor to Nick's funeral tonight. Elissa says that she will say how Nick tried to move her out of the bb house but it didn't work. Howard tells Spencer that him and Judd can be the pallbearers.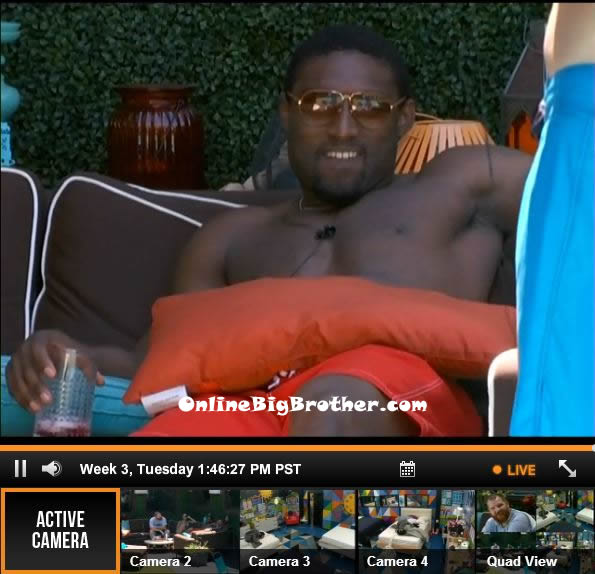 1:50pm – 2pm In the kitchen – Andy tells Candice which of the house guests he would fu*k first – He says Nick, David, Judd, Jeremy… Andy says it's tough with Jeremy because he really isn't my type. Spencer says but Judd is? Candice asks what about Howie? You don't want the black thunder? Andy says that he isn't really attracted to black guys, same thing with Asians… I just don't know. Spencer says hey Andy remember you are live on the internet right now. Andy says nothing against them I am just not attracted to them. Candice says there's nothing wrong with that.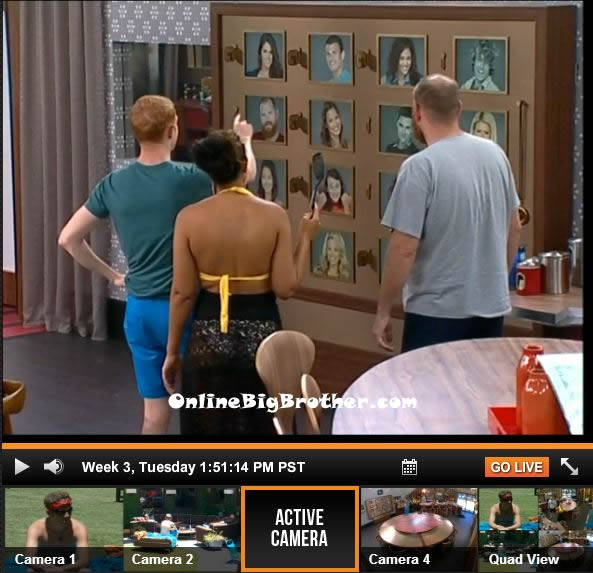 Big Brother 15 Live Feeds: FREE 2 DAY TRIAL
2:15pm – 2:25pm Out in the backyard – Aaryn talks to Candice about how when they get bored they could do like a crazy hair show where they make their hair into sculptures. Candice says we could do that and the dance. Candice says we could do that tonight and Nick's funeral. Aaryn says that Gina doesn't want to do that. She's not in a good mood. Candice talks about how she wiped her phone clean before she came in here. Andy asks why, you didn't want them going through it. Did you send out a bunch of txt about coming in here. Candice says no she just had a ton of pics on there and wants to start over when she gets out. Andy asks what about all your contacts? Candice says she can just use Verizon wireless backup. Meanwhile in the bathroom – Judd and Aaryn talk about Gina. Aaryn is annoyed that she keeps trying to involve Gina in fun tasks to take her mind off Nick but that Gina keeps shutting her down and being pissed off. Aaryn says that she is mad because she isn't a social person but that she is trying to be social and help Gina. Judd says that he is tired of it. He says it's been almost a week now since Nick left. Aaryn leaves the bathroom and Judd shaves.
Meanwhile out in the backyard – Candice, Spencer, Howard and Andy talk about past seasons of Big Brother.
2:30pm – 2:55pm Helen comes out of the HOH room with the HOH camera and starts taking photos. Andy, Spencer, Candice and Howard talk about as soon as the camera comes out she turns on. The house guests start taking photos. Spencer lies to Gina and tells her that her nipple is hanging out. Meanwhile in the havenot room – Amanda wakes up at 2:30pm and finds the BBQ condom – "EWW.. WHAT IS THIS?! WHO DID THIS? McCrae says it was Judd. Amanda heads into the kitchen and shows Jeremy the used condom and dental dam. Out in the backyard – Gina, Candice, Elissa and Howard talk about the memorial tonight for Nick. Gina says that she isn't ready yet. Give me a week. Candice asks another week? Gina says at least give me till Friday so that it's been a week. I am still mourning. Judd asks what are we talking about? They tell him Nick's funeral. Judd says oh fu*k I am so tired of hearing about him. Big Brother tells them they are on an indoor lock down.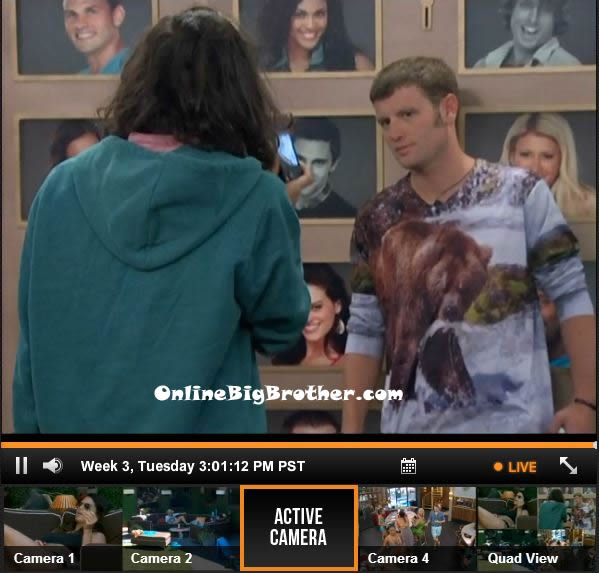 3pm – 3:40pmJudd gets a picture taken of him in his bear shirt beside Nicks Memory Wall photo. Big Brother then tells them they are on an outdoor lock down. All the house guests head out into the backyard. Helen, Andy, Spencer, Jessie, Aaryn, Judd, Amanda and McCrae are sitting on the backyard couch. Elissa and Candice on the hammock talking about kids. Amanda asks Judd what the hell was in condom? Judd says I don't know what you are talking about. Amanda asks what the dental dam was for? Andy says to eat out a girl or rim a butt hole. Aaryn says or $ex. The conversation turns to talking about how annoyed everyone is with Gina talking about Nick 24/7. Amanda says it's harmless. Aaryn says she is sick of it. Meanwhile in the pool – Helen, Gina, Kaitlin and Jeremy talk about Nick. They say Nick had been engaged 4 times already by the age of 28.
[polldaddy poll=7248812]
Stay connected and interact with other Big Brother Fans on our Facebook page.
And Follow: @BigBspoilers and @Dawgsbigbrother on Twitter for the most up to date spoilers.