POV Holder:
Kaitlin
Next POV
July 20th
POV Used
YES
POV Ceremony
July 22
HOH Winner:
Helen
Next HOH:
July 18
MVP:
Elissa
Original Nominations:
Kaitlin, Aaryn, Spencer (MVP)
Current Nominations:
Jeremy, Aaryn, Spencer (MVP)
Last Evicted Houseguest
David, Nick
Have Nots
Judd, Jessie, McCrea, Amanda
5:34pm Bathroom Jeremey, Aaryn and KAitlin
Jeremy is telling them a story about when he ripped his junk up. Jeremy says when he was young he was at this party and he had a gin and juice. The cops came and everyone ran out the back. There was a fence and he didn't think he was going to make it over without spilling his drink "So I just picked up speed lowered my shoulder and ran through that motherf*****"
Aaryn: 'You're a idiot"
Aaryn tells them a story when she was a "Little Tot" she was roller blading.
Aaryn: "When you are little you are flexible.. " She adds that one of her feet got out from under her and her legs split open "Ripped my V@g!na.. and I had to go get stitches in it.. I sat in the tub because I was bleeding out "
Jeremy: 'Ohh V!g!na rippage that it's fun"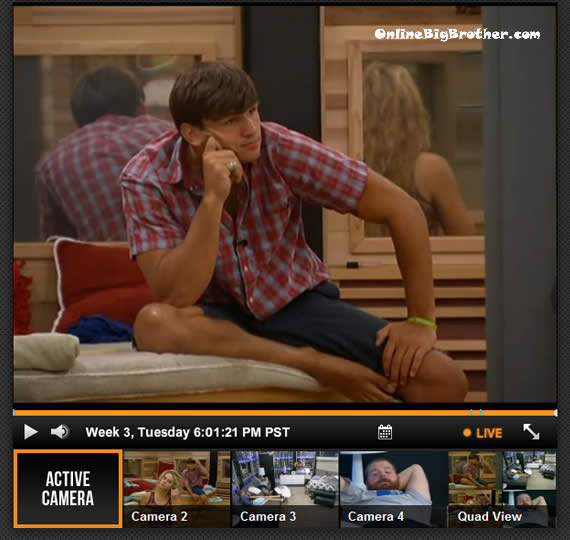 5:43pm Aaryn and Kaitlin Bathroom
Aaryn says she was talking to Kaitlin and the other players think they are stupid and will turn on each other. Aaryn is trying to find a way for that not to happen.
Jeremy: 'Win win win.. you have to.. you can't win them all but you can trade off"
Jeremy thinks Kaitlin and Aaryn are the strongest ones left they can beat the people left in the house.. Jeremy: "you have endurance.. athletics.. you're stretchy.. er flexible.. you're good at memory you're the total package. "
Jeremy points out that the superfriends will have to go after each other eventually they just have to last until then.
Aaryn is scared that they are all going to turn on each other. She thinks the house will try and get Kaitlin and Gina against her.
Jeremy: "you have to maintain communication.. if there is ever a problem you go in the bathroom and read Triangle of Thrust and know that I am watching"
Jeremy: Triangle of Thrusts, Triangle of Thrusts theres nothing that can come between that" (LOL)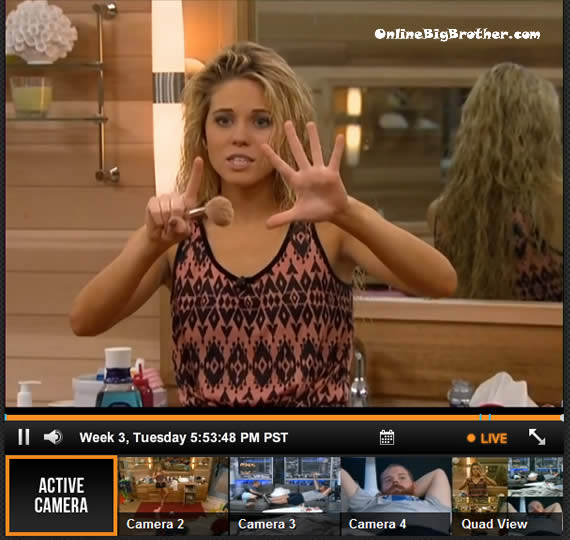 5:53pm
Jeremy says he's the straightest shooter in the house and Helen, Amanda, McCrea know that.
Aaryn wonders if McCrea got MVP why do they need Elissa.
Jeremy: "Cause Elissa is this week he got it the week before" Aaryn cannot understand why they are siding with Elissa. She says if McCrea and Amanda join with them they will have Gina, KAitlin, Jeremy, McCrea, Aaryn, and Amanda, 'That controls the house.. why are they so f**** stupid Helen hates Amanda Helen will take her out first"
Jeremy: 'Why don't you tell Helen that"
Aaryn: "Huh Tell Helen what?"
Jeremy says they need to tell Helen that he will be a soldier for him and take out people she doesn't like. Aaryn mentions that Helen did tell her she wanted to keep Jeremy and use him to get out the other people. Aaryn: "Full on she said I need Jeremy in the storage room on veto day"
Jeremy adds that Spencer can't do sh!t for them plus he tried to get them all to vote her out"
Aaryn: "Spencer makes me sick I want to throw up"
Jeremy: "I will be 100% shocked if I don't leave"
Aaryn: 'Why would Amanda and McCrea not want to work with us we are stronger than the other players"
Jeremy says he already told them that he dressed up as a baby so didn't look threatening.
Aaryn is pretty sure that Amanda and McCrea have thought about it but they are afraid they don't have the votes. They count the votes and realize they need 2 people. Aaryn thinks Judd is a possibility. They both know Jess will never vote for Jeremy.
6:14pm Cam 1-2 Couch Amanda, Aaryn and McCrea
Aaryn: "Can you remind me the reason why you said you had MVP"
Amanda says that someone else was suppose to go up and at the last minute it was changed.
Aaryn: "I thought we trusted each other"
Amanda: "I told you already" she explains they were going to put someone up and Elissa didn't want that person to be nominated because she was afraid to be targeted next week by that person. The plan was to have McCrea say he had MVP and nominated them but in the end Elissa did her own thing.
Aaryn: "do you think she (Elissa) is ever going to come after y'all "
Amanda: "no.. maybe later she's got bigger fish to fry "
Aaryn: "like me ":
Amanda: "my little fishy "
Aaryn: "You're talking about me i'm her target"
Amanda: "You are one of her targets.. she really doesn't like to talk about it"
McCrea: "it's weird and scary"
Aaryn: "So why do you want to keep her"
Amanda: "because she's not after us at this point"
Aaryn: "makes sense"
Amanda: "just because she wants you out doesn't mean she has the votes to get you out"
McCrea points out that the more Aaryn talks to Elissa the better because elissa is easily won over"
They tell her just because someone is nice for four days doesn't mean we forget the first 3 weeks.
Aaryn: "I just wish there was someone to work with my and Jeremey"
Amanda: "not going to happen .. I'm threaten by Jeremy.. getting rid of him is next to impossible later in the game"
Aaryn says that Kaitlin is turning on her.. Aaryn's alone in the game.
McCrea says that is a good position to be in.
McCrea warns her the more you are trying to keep Jeremy the more on peoples radar you become. MCrea adds that She needs to stop talking about MVP it';s done and over nobody cares. (McCrea tells her this mulitple times throughout the conversation..)
Aaryn is worried that kaitlin will turn on her she's freaked out about it
Amanda: "there you go you have a target .."
Aaryn brings up what if Elissa gets a coup d'etat they all know that whatever power is available will be given to Elissa.
Amanda agrees mentions that it doesn't matter if Elissa is on their side.
McCrea says it doesn't matter they have the votes.
Aaryn says she hates Howard and Candace if she won HOH she would put them up. She adds that she's done with visibly being mad at people just in case the house flips and they (Howard/Cadence) are in power they can't know she's targeting them.
Amanda gives her some pointer, Aaryn wants to go after people that are targeting her that is how you play the game.
Aaryn thinks a lot of people are lying about who their real targets are. Aaryn brings up the deal Helen, Andy, Elissa and Kaitlin made in the storage room.
Amanda thinks nothing of it says that Helen will protect Kaitlin for a week maybe "people make deals aaryn.. 99% of this sh!t doesn't matter"
Aaryn says she enjoys the talks with them. Amanda says she feels the same.
Aaryn leaves..
Amanda: 'She can do a lot of dirty work for us"
McCrea is pissed says that she is using them for information he doesn't trust her one bit.
McCrea: 'She f**** worries me so much"
Amanda: "Don't worry she's going soon.. we have no allegiance to her"
McCrea is convinced she is coming after them. Amanda doesn't think so.
Amanda reminds him that nobody listens to her or trusts her.
Andy joins them. Amanda fills him in on Aaryn being annoying digging for information.
Andy brings up his conversation with Jeremy how he's saying he has Amanda, McCrea and Judd's vote.
they all laugh.
Andy thinks Jeremy is a nice guy but after the 3 weeks of abuse it was nice to she Jeremy grovel for a while.
Andy says that elissa is a loose cannon he's worried about her.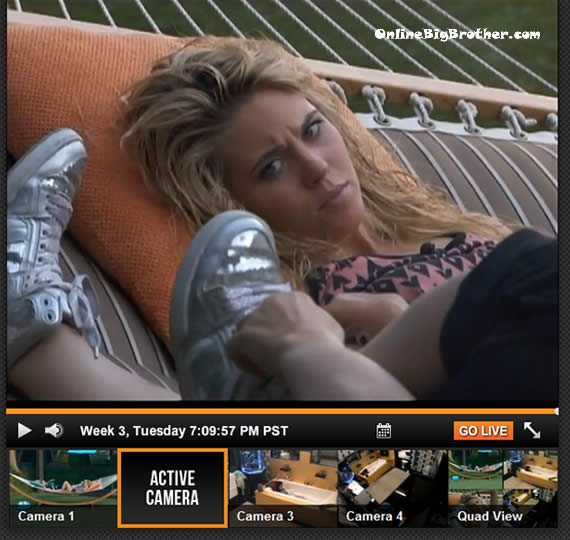 6:42pm Hammock Aaryn and Gina
Aaryn I think KAitlin is turning against us. Aaryn says she's in a final four with Helen, Andy and Elissa. Gina: "I thought someone said Elissa isn't staying long.."
Aaryn explains the conversation Kaitlin had, "I asked Kaitlin if she was turning on me and she wouldn't look at me in the eyes"
Aaryn says they need to keep the three of them together. Aaryn says they only need 6 votes. Gina: 'It's not going to work.. I tried it with Nick"
Aaryn: 'I knoiw it's not going to work"
Gina: "They will just lie to your face… " Gina bring sup Andy and Judd lied straight to their faces. Gina adds that she hasn't made any deals but she isnt' putting McCrea and Helen up becuyase they never put her up. Gina wouldn't wast a nominee on Elissa because she not going home.
Gina says Jeremy leaving is in stone they can only think about winning the next HOH, they have no power, no numbers nothing until they can win HOH.
Aaryn brings up Elissa will probably get a power via America vote. Gina knows but the house doesn't see that they tired for two weeks to get her out.
Gina says MVP F***ed everything for them she wishes she was in another season. Gina says she's wasting her breath campaigning to keep Jeremy.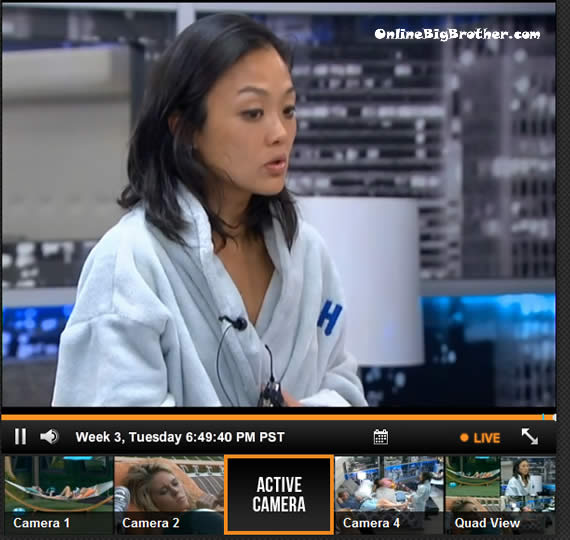 6:47pm HOH McCrea, Helen and Andy
They plan on listening to Jeremy's campaigning but not lead him on because when he goes on Thursday they don't want Aaryn, Kaitlin and Gina to be mad thinking Jeremy was safe. They want Kaitlin, Jeremy and Gina to target Howard and Candace.
McCrea is worried that Spencer and howard are going to swing to the other side if they find out the numbers are flipping. MCrea is certain Howard doesn't care about Candace he's just using her.
They agree that Spencer and Howard are public enemy number one and Howard is hands down the most dangerous player in the game once Jeremy goes. McCrea worries that Howard is going to win the HOH and target them. Helen it's worried because they will always have the MVP to use to put up who they want and the numbers to get that person out (Gotta love the predictable MVP)
Helen says Howard has to go before Aaryn. Andy seems sure that Howard will not put them up he thinks Aaryn and Gina are the targets.
McCrea is stressed about the MVP he thinks Spencer and Howard Know he lied to them. McCrea mentions how Aaryn knows and she's probably going to tell them.
Helen tells McCrea to stop stressing Howard and Spencer are not gunning for them they owe her one for not backdooring them.
Helen: 'I told Spencer and Howard you better not bring up Amanda's name again."
McCrea reminds helen that she has no power next week, "Few bargaining chips"
Helen tells them Spencer and Howard are going to get Aaryn out next week. McCrea doesn't seem as convinced feels that Howard and Spencer will count the numbers and join with Aaryn, Kaitlin and Gina. Helen says she close enough with Candace if Howard wins HOH she will get Aaryn put up and they can vote her out.
(I missed the conversation with Jeremy campaigning to Andy.. the house isn't flipping)
[polldaddy poll=7248812]