POV Holder:
?
Next POV
?
POV Used
?
POV Ceremony
?
HOH Winner:
Aaryn
Next HOH:
MVP:
?
Original Nominations:
?
Current Nominations:
?
Last Evicted Houseguest
David
Have Nots
Helen, Elissa, Candice, and Andy
4:26pm Cam 3-4 Jeremy, Kaitlin and Aaryn
Jeremy and Kaitlin cuddling on the bed and Aaryn is doing some cleaning up around the Head of Household bedroom.
Aaryn telling them that Elissa is saying that she wants to go home. Kaitlin thinks it's because Elissa has too much pride and doesn't want to be voted out because of Aaryn.
Jeremy about Elissa self evicting "That would be awesome right.. then guess who we could put up.. "
Kaitlin: 'Candace"
Jer: "Amanda"
K: "McCrae will freak out and come after you guys"
Jeremy brings up his conversation with Helen where she said that she will win the veto and the blood will be on "Their" hands (Jer, KAitlin, Aaryn) if they put her up.
Aaryn and Jeremy both are not taking Helen serious.
Jeremy: "DUDE that will be freaking awesome if Elissa leaves.. If she leaves .. I'll do a double back flip.. "
k: "helen has to realize that she doesn't have this army if Elissa goes home.. "
(Sounds like Helen is saying that the "brenchel army" is on her side and wil help her win the MVP)
Jessie comes in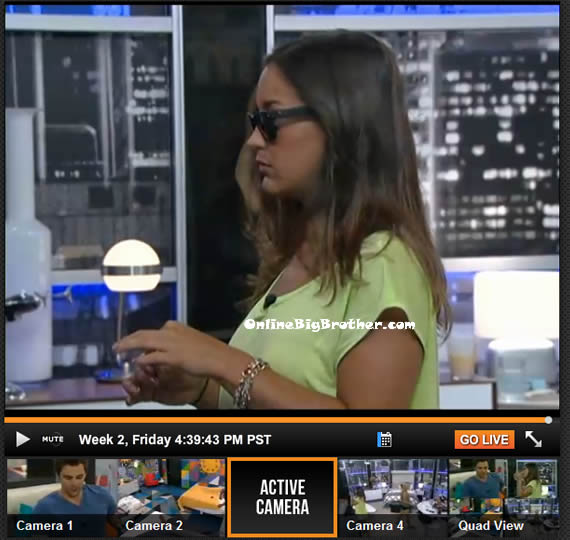 4:36pm HOH Jessie and Aaryn
They are going over Aaryn's nomination speech. Sounds like she's putting up Elissa and Helen
Aaryn practicing what she will say
Some of Aaryn's talking points
"Elissa you are going on the block because you've lied to me 3 times"
"All that drama in the house is because of you"
"I want to make this game a level playing field"
"you put my best friend in the house up on the block I will put you up with your friend so you can feel what is is like "
"Helen you are a pawn"
"MVP vote isn't fair that you are here"
"Sorry Helen you are getting the brunt of Elissa's crazy sh!t.. no you are getting the brunt of Elissa's mistakes"
"Elissa you sent someone home that didn't deserve to leave" (Honestly David had first boot written all over him)
Aaryn: "I am sorry for putting up Helen but not Elissa.. "
Aaryn: "All the chaos in this house has started with you and when you leave this week it'll leave with you and since you've sent my best friend home i'll put you best friend up on the block with you .. "
Aaryn: "As much as I want to say all this stuff I don't know if I'm going to.. I just want to make it short and sweet"
Elissa comes in asks if she can use the bathroom.
The girls leave. Elissa in bathroom feeling sick
4:45pm BAckyard couch Amanda and McCrae
If we stray they will all be coming after us and they have the numbers
Amanda thinks that Jeremy is going to keep winning HOH they will have a major problem. She thinks that Jeremy is a HUGE threat.
McCrea tells her not to worry about it.
Amanda: "I don't like that you are straying from the plan.. "
MC: "Just wait.. Just wait.. trust me"
Amanda: 'I'm smart.. "
MC: "You are too smart for your own good" McCrae tells her they need to chill this week and lay low they are not in danger and nobody close to them is in danger.
Mc:"You have to promise me you'll vote with me this week"
A: "I'm not going to do whatever you tell me a women is not made of mans rib"
Amanda really doesn't want Jeremy in the house for too much longer. MC tells her that JEremy is a huge talker they both think Jeremy will be taken out well before Final 4
They Start talking about getting in on the Kaitlin, Jeremy, Nick Alliance and push out Gina. Mc points out that if there is a mole they are f*/***ed.
McCrea: "Everyone is going to vote out Elissa.. it's too early to make big alliances just chill"
Amanda: "Agreed make everyone think you are there best friend"
McCrae says that everyone should want to be taking them out because they are so good. Amanda thinks they are good. McCrea adds that they are int he best spot in the game and he thinks they are the best players.
McCrea warns her that she talks too much and too fast she buffets them with so much Sh1t she needs to keep it to the point. Amanda agrees says that is something she is working on.
Amanda says she has only taken 1/2 her Adderall and she's glittery.
Amanda: "Howard was right everyone is jumping the gun.. "
MC: "He's right you and I should lay in bed all day tomorrow.. look at Andy how paranoid he's getting"
A: 'I don't trust.."
MC: "No one"
A: "No One.. there are so many sub allainces.. "
MC: "And who knows what side the sub alliances are on"
Amanda: 'I'm pretty confident that spencer is using Candice to throw me under the bus"
Mc tells her to keep being nice they
MC: "You and me are like Hayden and Kristen"
Amanda: "She went quick.. "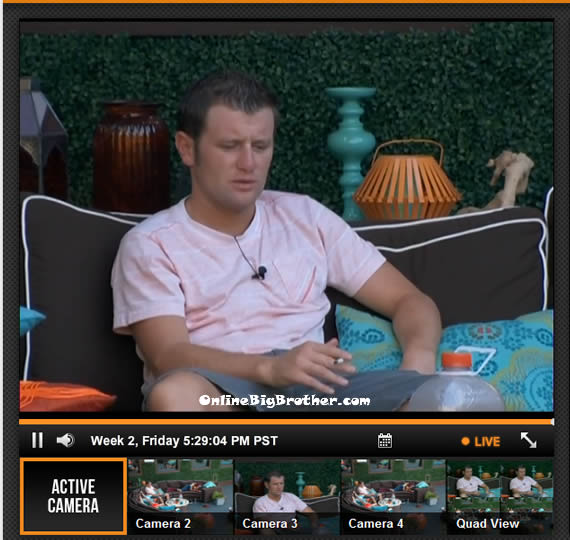 Judd is saying that his stomach has been off lately he thinks it'
s from all the weird stuff he's been eating..
Judd: "My Xanax is going to wear off before nominations.. I take them everyday"
Andy: "Has anyone ever self evicted"
Judd: "HMMhhmhmhmhmhmm hmhmhm m mh mh mhm mh mhm mmm mmhm mh m " (translated = No.. they will still do the nominations/eviciton but will probably take out the double eviction later in the season)
Judd thinks that Elissa has "Gas in her Chest"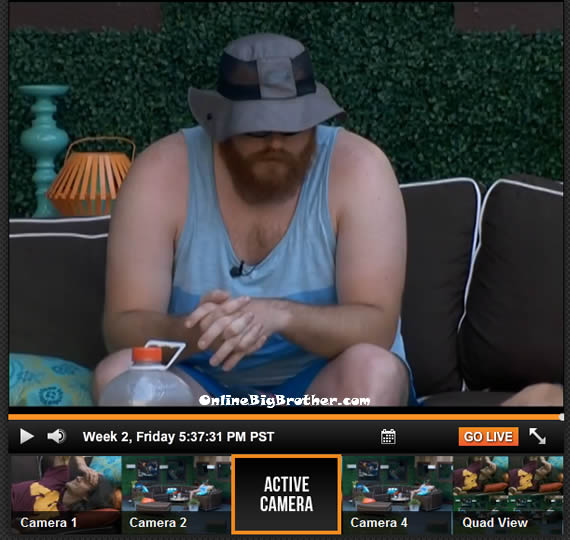 5:37pm Backyard Spencer and McCrae
Spencer joking about Amanda telling them that nominations "Never take this long"
Spencer: "This is only number two.. "
McCrae points out that Andy is getting very paranoid.. we have to figure out how we are going to sway his vote "or are we going to leave him outr to dry"
Spencer: 'The best way to do it is to use the Veto on Helen" (Really hard to hear them I heard Spencer mention Jeremy's name.. really wish I heard this conversation)
5:51pm Nominations are coming up houseguests loitering around the house chit chat.. lots of fish as Jeremy tells a story about a friend getting into a bar fight.
The next post will be post nominations ceremony.. it's a given that Helen and Elissa are going up
7:23pm feeds still on trivia
You can re-watch ever second on the feeds using their flashback feature.. It's super easy to use click this link for a free trial —> Big Brother Live Feeds
Take it from someone that has watched a lot of feeds CBS has done a fantastic job HUGE improvement over last year