POV Holder:
Jeremy
Next POV
July 13th
POV Used
?
POV Ceremony
?
HOH Winner:
Aaryn
Next HOH:
MVP:
Elissa
Original Nominations:
Elissa, Helen and Jeremy (MVP)
Current Nominations:
?
Last Evicted Houseguest
David
Have Nots
Helen, Elissa, Candice, and Andy
2:50pm Kaitlin and Aayrn
A: "I don't trust Amanda I trust Jeremy "
A: "I don't trust Candace "
A: "I trust spencer, Nick and Gina"
Kaitlin: "MCCrae.. Judd"
Aaryn: "I'm trying to figure out if I can trust Helen"
KAitlin: "No"
Aaryn: "I trust Andy I don't trust Helen"
A: "I need to figure out if I trust Judd"
K: "Judd says he has my back since day 2"
A: "I trust Judd"
K: "Spencer is questionable"
Aaryn says that even if Andy and Spencer are sketchy they still have the votes.
Amanda and Elissa
Elissa made muffins for everyone saying how much fun the competition was she wishes they played every day. She keeps laughing about something funny she noticed about Jeremy. Amanda keeps asking her what it is but she won't tell her. Elissa: 'It's funny it's probably nothing you Haven't noticed.. he should be flattered" Amanda: 'Does it have to do with his manhood" Elissa: "NO"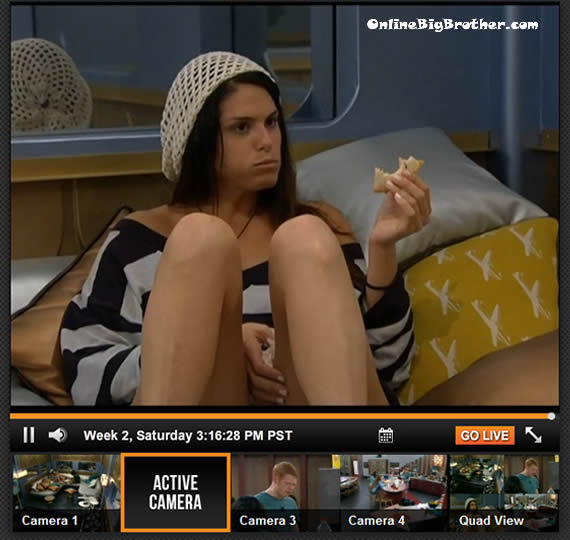 3:12pm Lounge Amanda and McCrae
Mcrae told her they need to vote Elissa out this week. Amanda doesn't think it's a good idea because the game is all about numbers and they control the numbers if they keep Elissa.
MC: "No we don't.. it's not going to work out like that.. She'll get MVP every week"
MC: "Us two are the majority whichever side we go on has the numbers."
Mc points out that there is no way the other side is going to get MVP.
Amanda proposes they take out Helen this week and leave Elissa around to battle the other side.
Mc doesn't think it's a good idea says Jeremy will be gunning for them if they don't vote Elissa because they were the two that promised him they would.
Amanda: "He's bullying people"
MC: "Thats fine let him bully people it's just making a bigger target on his back"
MC says he thinks Helen will win the MVP because she has all the mom votes. Amanda doesn't understand why they just don't keep Elissa then.
MC: "He's going to be gunning after us no matter what.. I think we should play it safe"
Amanda: 'We have the numbers"
MC: 'He's going to keep winning"
A: 'I could have one that on today"
MC: "I know but we didn't want you to"
Mc says that Helen and Elissa came up to him last night and asked him who Elissa should put up. Mc told them Gina so that Elissa had a good chance of winning.
Amanda says America won't vote them the MVP because "We are the a$$ holes that voted out Elissa"
3:23pm CAm 1-2 Andy joins them
Andy says Amanda freaked them out with what she said (HOH crew was freaked out because Amanda suggested they keep Elissa)
Andy saying how awesome their crew is and he laughs when he's in the HOH and the other side thinks they know what is happening, "Me and my Crew have figured this game out.. It's Awesome"
Andy adds that they told him if they flipped their vote they will be on bieber fevers radar. Right now Spencer and Howard are on their radar they want to keep it that way. They don't want enemies next week. McCrae says it was a mistake to put up Jeremy should have been Gina.
Andy: "I think Elissa is putting up Kaitlin"
Amanda: "F*** i wanted that F**** as$$hole out of here"
Andy saying how strong their group of 7 is., "Really really really strong" he thinks as long as they stay loyal to each other they are fine this week.
Amanda: 'If just one person strays we lose the numbers"
Andy mentions that the other side hasn't suspected a thing between them.
Andy runs through some scenarios. If they vote out Kaitlin they won't have to be bullied as much anymore and but they have to be ready to go to war.
If they Vote Elissa out and the other side won't suspect anything
MC agrees to this because after Elissa goes the other group will go after Candice then maybe Jessie.
Amanda says they won't go after Jessie. She mentions to Andy is Elissa goes they may get the MVP. Andy is worried that America will hate them if they vote out Elissa.
Andy: "We can all collectively throw Nick under the bus.. all lie our a$$es off and get them to want him out"
Amanda: "Thats too risking.. with Elissa left in the game we will always know who is MVP with her gone it's unknown"
Andy and Amanda are both worried about the fact Elisa kept her winning the MVP from them, Andy: "She lied to me". Andy mentions that maybe CBS is giving Jeremy a really good edit and he'll win MVP. McCrae says there is no way they can make Jeremy look good on TV.
Andy: "I want Nick out of here ASAP" but is worried that Nick might have some "Crazy back story" which will give him the MVP every week. This is the reason Amanda wants to keep Elissa.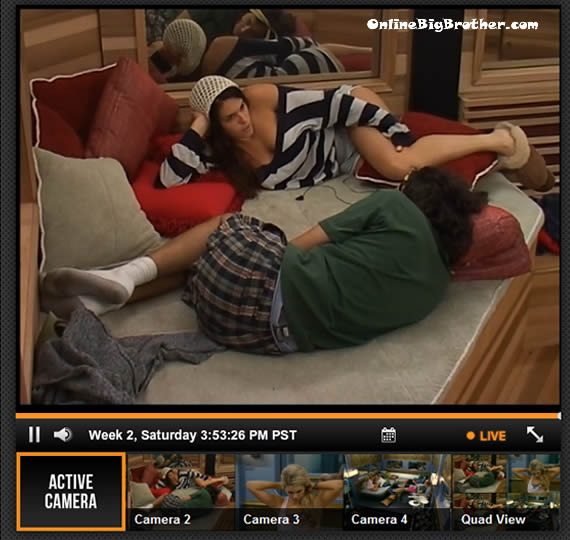 3:50pm Amanda and McCrae
MC telling her to get closer to Nick in case he wins the HOH or MVP. He tells her that getting rid of Elissa is the best thing for their game.
Amanda questions why
McCrea: "I don't trust our team.. weird sh!t going on"
Amanda: 'Yeah and it's too big"
McCrae: "way too big"
Amanda: "So lets get rid of Elissa.. this is crazy this is the game.. the entire game is in our hands"
MC: "We are both good at this game"
Amanda: "Can you truly 100% trust Jeremy"
MC: "For next week ya"
McCrae says he thinks that Elissa doesn't want to be in the game he feels she was thrown into the game. It sucks because he likes her but they need to cut the dead weight
Amanda is still worried about Jeremy. McCrae tells they'll be fine.
McCrae saying how Gina remind him of a Girl on Big Brother 9 called Natlie (Chatty NAtty)
(Sounds like they are 100% onboard to getting Elissa out)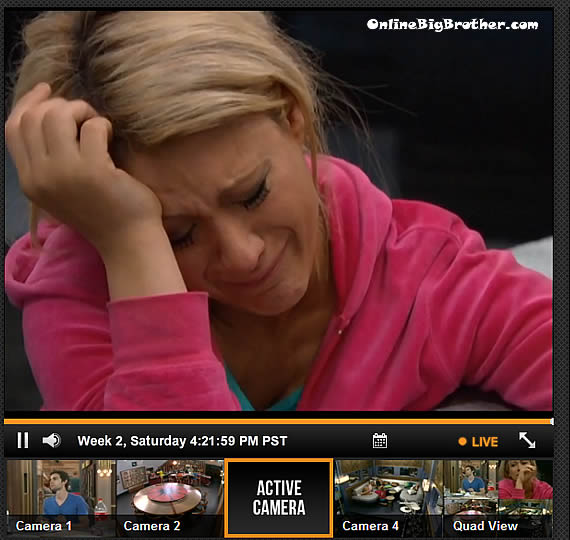 Gina crying.. She feels lonely in life and wishes should would find the "Right" man. All this time being in the house has made it her feelings for a guy back home stronger. Gina brings up that Nick looks at Kaitlin sometimes in a dtrange manner.
Aaryn says He's jealous of Kaitlin because she's a gorgeous vixen fox that is being protected by Jeremy a gay man would fee threaten by that. Aaryn: "A straight man would not have said the things he said about David"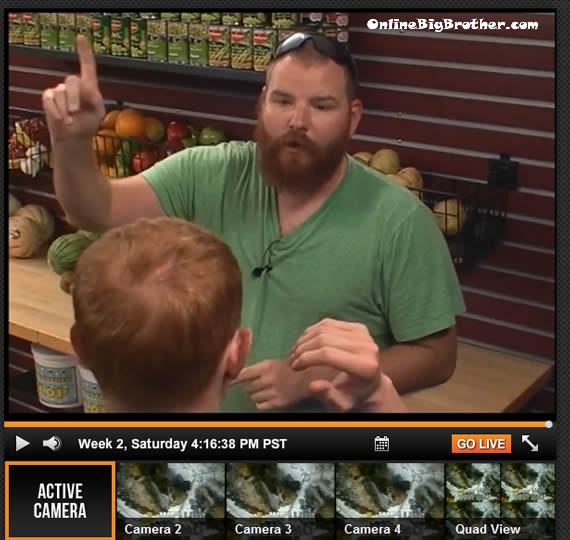 4:16pm Storage room Andy and Spencer
Andy going through the scenarios Keeping Kaitlin or Elissa.
Spencer: 'I would rather vote Elissa out"
Andy feels that America is obsessed with Elissa this is a good time for them to all vote her out. Spencer says he "Hated" rachel and he Hates Elissa even more.
Andy mentions the cheers he heard when he voted David out and Aaryn heard boos when she voted Elissa out.
Spencer says part of the deal with Elissa was that she was going to tell them she won MVP and she never did. Andy agrees.
Andy proposes a option for next week when the group comes together and starts spreading lies about Nick to get the other side to want him out.
Andy points out that the other side has no clue they are working together so it'll work.
Spencer: "ya ya thats not a bad idea.. we're all in pretty good shape if we get Elissa out and they win next week they'll go after Candice they hate candace"