POV Holder:
Kaitlin
Next POV
July 13th
POV Used
?
POV Ceremony
July 15
HOH Winner:
Helen
Next HOH:
July 18
MVP:
Elissa
Original Nominations:
Kaitlin, Aaryn, Spencer (MVP)
Current Nominations:
Last Evicted Houseguest
David, Nick
Have Nots
? Judd, Jessie, McCrea, Amanda ?
12:30am Jeremy and Kaitlin are in the backyard hammock talking about the veto. Kaitlin talks about how she had to win it. Jeremy tells her to never doubt yourself. He calls her a beast. Kaitlin tells Jeremy that Helen said she would be protected by her, Elissa and Andy. Jeremy asks what about Candice? Kaitlin says she can't tell with her. They think she is safe with Amanda and McCrae too. Kaitlin and Jeremy head into their bedroom. They start making out. Meanwhile in the lounge room – Amanda, McCrae and Andy are hanging out in the lounge room. They are talking and joking around. Amanda jokes that she was the Yoko Ono of the moving company alliance. The others laugh. Amanda wonders why Elissa and Helen didn't nominate Howard. Andy tells Amanda that she can trust Helen. Amanda says that she thinks Howard is more dangerous than Jeremy is because he has Elissa and Candice. Amanda says that Jeremy only has Kaitlin and maybe Gina. Jessie joins them. Andy tells Jessie that Amanda thought it may be worth keeping Jeremy but says that he changed her mind. Jessie says Wwhew, crisis averted. Andy says that he doesn't think Helen will put up Howard. Amanda says that Helen should have put up Howard in the beginning. Andy says that Jeremy is more of a threat. They all don't want him to win HOH next week. Andy tells Amanda about his emotional night with Kaitlin and says that he feels connected to her. Amanda says but she is a fu*king b!t*h. Amanda and Andy agree that they trust Spencer over Howard. Amanda tells Andy to watch Howard before nominations because he will get into Helen's ear. Andy talks about how he has his things in each room so that he has a reason to go into a room. Amanda talks about the attitude she gets from Howard. Andy tells them that if everyone goes up to the HOH and tells Helen they want Howard out this week, then she will do it. Amanda says then Jeremy would go next week. They talk about what they will tell Candice next week when Howard goes up but telling her she is aligned with someone that is untrustworthy.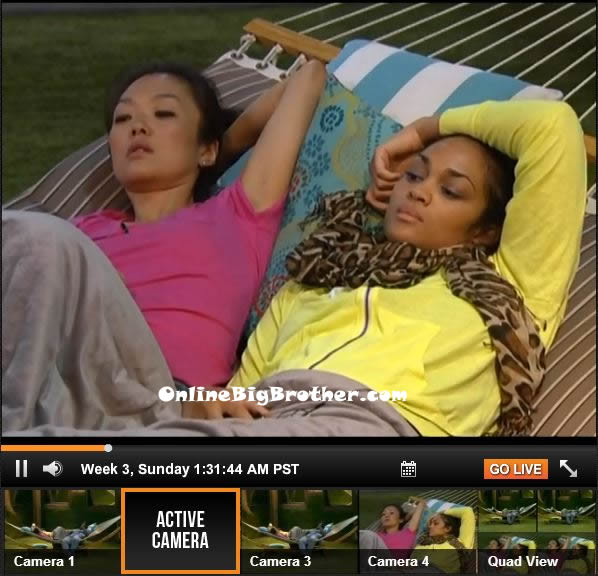 1:30am Helen joins Howard and Candice in the hammock. Howard tells Helen that he hopes Kaitlin is using the POV on herself. Helen says that Kaitlin told her that she but says if she doesn't then Kaitin will go home. Helen says that Howard that they (Spencer/Howard) aren't going home this week. She says also that Kaitlin is using the POV and so she is owed a few weeks of safety. Spencer tells them about how Aaryn thinks Jeremy is telling Kaitlin that he loves her so that she doesn't use the veto. Helen says that Jeremy is nasty. Howard says that he wants to ask Kaitlin if she honestly thinks Jeremy would use the veto on her. Spencer tells Helen she will need to talk to Kaitlin right before the veto ceremony to ensure she uses it. Helen doesn't understand how a beautiful girl like Kaitlin would want to be with an a$$hole like Jeremy. Howard and Spencer go to play a game of pool. Howard asks Spence about making an alliance – just us four (Howard, Spencer, Amanda and McCrae) and Helen/Andy. Spencer says that he likes the idea and says they can talk later.
In the backyard hammock – Helen, McCrae and Amanda are talking. Amanda asks Helen if Elissa won HOH and got MVP would she still not nominate Howard? Helen says that she doesn't know. Helen says that she heard that Elissa might not trust Howard anymore. Amanda wonders what caused that. McCrae says that it doesn't matter because Jeremy is going home this week. Helen agrees. Helen heads into the HOH room. Judd joins Amanda and McCrae. Judd says that if Kaitlin doesn't use veto then he will vote out Aaryn. McCrae and Amanda tell him he should vote out Kaitlin or Spencer in that case. Judd thinks America might like Jeremy. Amanda and McCrae both disagree.
FREE 2 DAY Live FEED TRIAL: Start watching now!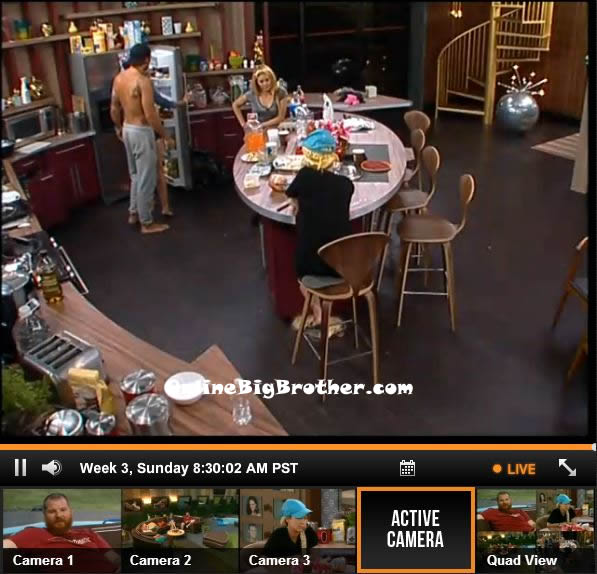 2:20am Jeremy, Aaryn and Gina are talking. They tell Jeremy that Spencer told them that they are disposable. Jeremy tells that they Spencer is just trying to break them up. Jeremy tells Aaryn that his last ex-girlfriend got pregnant a few months after they broke up. Aaryn asks if she kept the baby? Jeremy says yeah. Meanwhile out in the backyard. Howard tells the others that Aaryn is inside talking about how sad it is that Nick went home. Andy says that everyone but the former Moving Company members should be happy he is gone because he was after all of us. Spencer says that he wonders if Aaryn even knows that Jeremy was the one that wanted David out. Andy asks why? Spence tells Andy that Jeremy wanted to be the leader of that group. They talk about how Gine is still all about Nick. Andy says that he just can't listen to it anymore.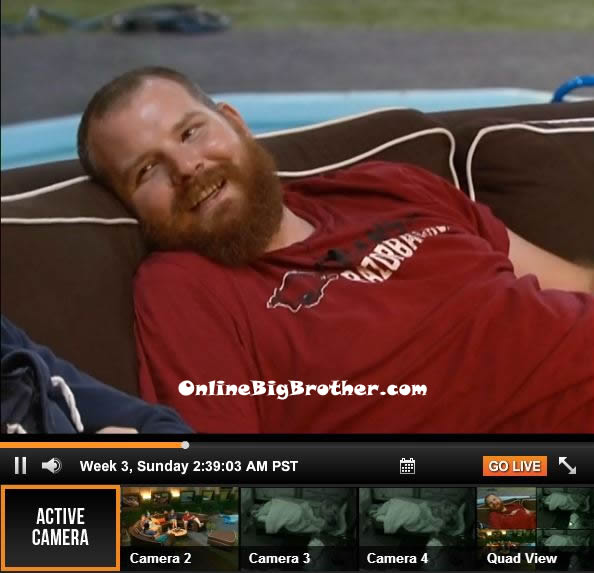 2:45am Out in the backyard the house guests are talking. Spence comments that he bets Jessie's pu$$y tastes like butterscotch. He tells Judd that he hopes he at least gets to f!nger b*ng her. The others comment on how Jessie is a nice girl and good that she can stand up for herself when she is backed into a corner.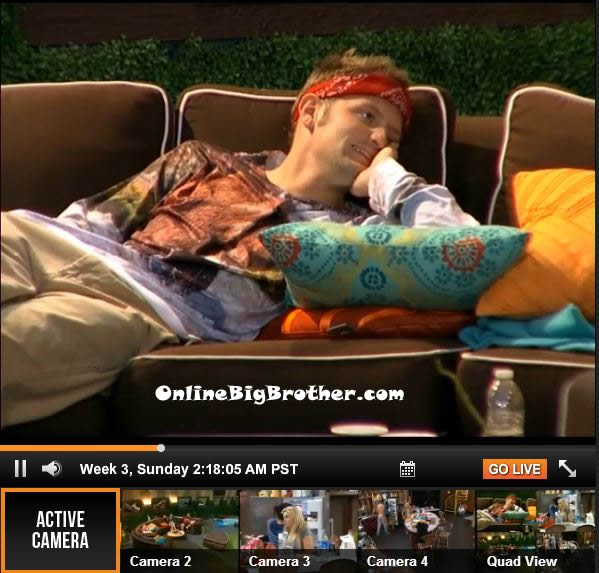 They start talking about how Jeremy could have done well in the game if he wasn't so co*ky and if he didn't bully of threaten people. Meanwhile in the bedroom – Jeremy tells the girls that he wouldn't change anything but says that he wouldn't have aligned with cowards. He says that he would have aligned with the girls. Aaryn says that she would have been mad if David had been in an alliance and not told her. Jeremy says this has been a great experience. Aaryn brings up a comment that she says McCrae made where he said play smarter, not harder. Aaryn says that this game literally challenges every single part of being a human. She says that it changes your entire personality. Aaryn says that the house is a cyclone of psychology. Jeremy tells Aaryn that she is a pawn. Jeremy says that the only way to evict me is to backdoor me. He says that they can't beat me. Jeremy says that Kaitlin is going to take herself off the block. I'll make sure of that! Aaryn says that she is going to miss the triangle of thrust alliance. Jeremy says he had every intention of bringing you all with me.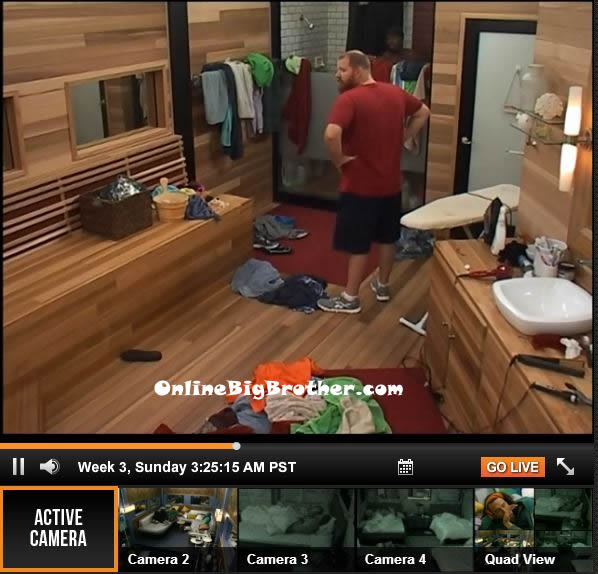 3:30am In the bathroom – Howard and Spencer are talking. Spencer tells Howard how they are like wounded dogs and says we need to turn into champion fighters. Howard says that he will just throw out ideas to McCrae and let him mull it over with Amanda. Spence says we need to let McCrae and Amanda come to us. Spence says that he thinks Helen would get scared they might reform the Moving Company. Howard and Spencer head to bed.
3:40am All the house guests are now sleeping.
9:25am The house guests are still sleeping..
10:20am – 10:50am Big Brother switches the live feeds to the we'll be right back screen to wake up the house guests.