POV Holder:
Jeremy
Next POV
July 13th
POV Used
YES
POV Ceremony
July 8
HOH Winner:
Aaryn
Next HOH:
MVP:
Elissa
Original Nominations:
Elissa, Helen and Jeremy (MVP nom)
Current Nominations:
Elissa, Helen and Nick (MVP nom)
Last Evicted Houseguest
David
Have Nots
Helen, Elissa, Candice, and Andy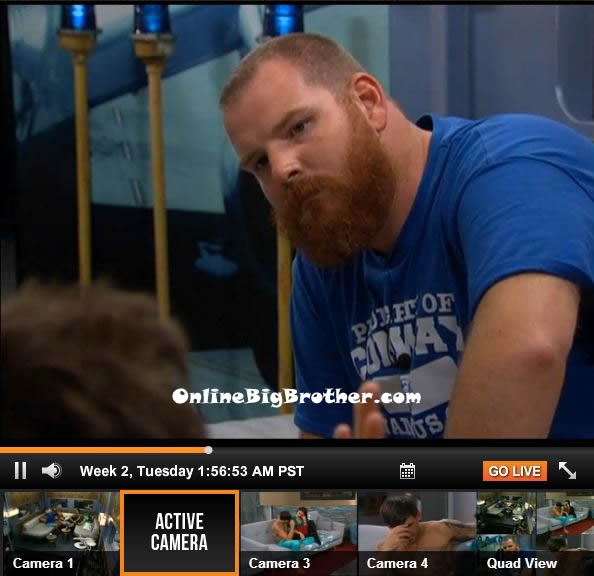 2am In the lounge room Nick is still talking to Spencer. Nick says that if he were to win HOH he would put up a small and a large target because then neither of them would win POV. Spencer talks about how Amanda is poison and will be the death of the moving company. Spencer says that Amanda is getting off the reservation. He says that the girls would drop them like that if they got wind of the moving company. Spencer says that they reason they need to get out Elissa this week is because she is going to go after Kaitlin and then Jeremy will be alone. She is not going to stop going after ya'll. Spencer says that Kaitlin is fine as long as Jeremy doesn't do something stupid and piss her off.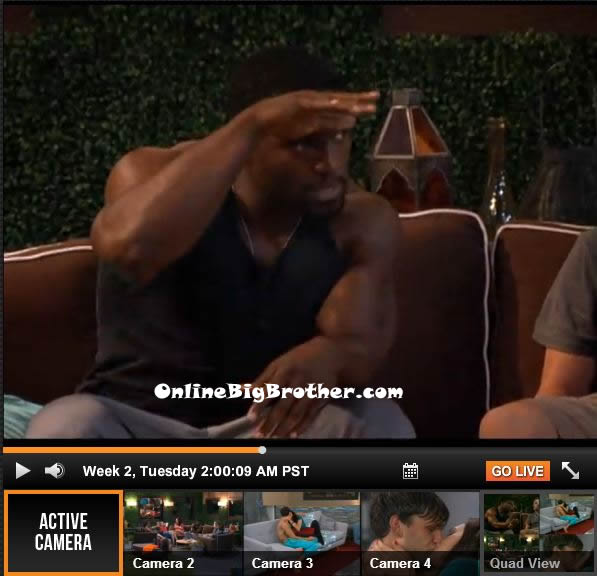 The camera view switches to the backyard where Andy, Howard, McCrae, Judd, Amanda, Candice and Helen are talking about the derogatory comments said in the house. Candice is going off about Gina saying her middle name was Shaniqua. Howard says that when you add the element of dislike to it, its not joking anymore. Amanda brings up she doesn't like how some others have commented that they got Jewed out of something. She says that they weren't saying it in a funny way, it was in a derogatory way. Andy says that he's heard queer and stuff like that. Judd tells Amanda that he would say that (Jewed) because he didn't know what it meant. I didn't know it meant jewish people. Howard says you've heard the fish story right, about how the white fish stay at the top while all the dark fish, the black fish stay at the bottom because they are sheltered, they're segregated.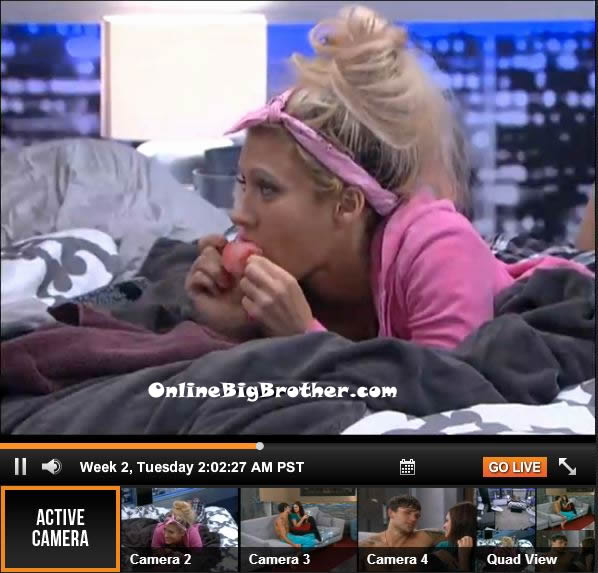 2:10am Aaryn is up in the HOH room with Gina. Aaryn says that she is picturing David in the sun with his hair like, looking sexual with his muscles glistening, rolling around on top of me. Gina says awe, that's kind of hot. Gina says that Nick told her he likes her. Aaryn asks Nick? Well maybe then he was putting on a show for other people. Gina says he doesn't want people to think that like, a fucking showmance thing because people don't like that shit. Aaryn says you're right because look at all the targets on these a$$holes. Gina says and he's smart, I don't want to fuck up his game. Aaryn and Gina head downstairs to check on the cookies. The head into the lounge with Nick. Aaryn asks how it went with Spencer. Nick says that he can never get a good read on him, he sends me in circles. Aaryn asks so he didn't tell you? Nick says that Spencer didn't tell him anything. Aaryn asks he didn't tell you anything? Nick says he just talks in circles. Aaryn leaves. Gina and Nick continue to talk. Gina tells Nick that Howard said that he is voting Elissa out and wants you to stay. Jeremy joins them. Aaryn comes in and tells Gina to come up and talk to her. Jeremy tells her that he is going to sleep, how are you going to talk when I am trying to sleep. Aaryn leaves. Jeremy says I wish I could just sleep with every girl wanted to, I would totally try and sleep with every girl in this house. Gina says I am taken. Jeremy asks are you sure. I wish girls were like dudes, I would totally share. Jeremy heads up to the HOH.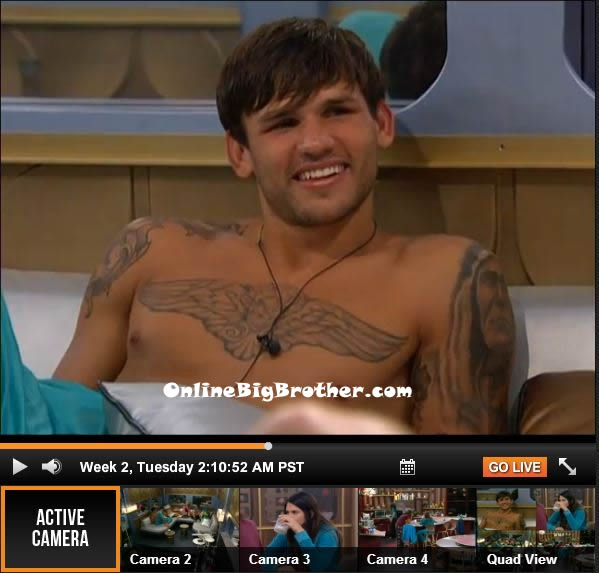 Up in the HOH room. Jeremy is joking around with Aaryn asking her if she wants a DILF and how he wants a MILF. Aaryn asks Jeremy what Kaitlin's problem is? Jeremy says that Kaitlin thinks Aaryn doesn't like her very much right now. Aaryn says she's annoyed. Jeremy says that Kaitlin wants to quit the negative energy. Aaryn says that she is done talking about it with Kaitlin. Aaryn says that she thinks that Amanda and McCrae really want to be with them so she doesn't want to get rid of Amanda just yet. Jeremy says that Amanda is too smart for her own good but says that they can take them out like week six. They talk about who to get out next. Jeremy says he wants Elissa, Candice, Andy, and Helen out. Aaryn says that she wants Spencer out. Aaryn asks why they would kick out Andy and Helen when they would be willing to make a deal with them. Jeremy says that Andy goes around making deals with everyone. Aaryn wonders who Andy is making deals with? Jeremy says that Howard and Spencer told him that Andy is trying to cut deals to keep Elissa for the MVP vote. They talk about how they think Judd will vote with them. Aaryn says it will be the best day ever to see Elissa go, only 2 more days! Jeremy says that it will be sad to start sending out their own people. Aaryn jokes that it will be sad to see Jeremy go home. Jeremy says he will be leaving with the money. Aaryn jokes that she will be the last one standing with Helen. They both laugh. Aaryn comments that she can't wait for Pandora's Box. She says that she think Rachel Reilly will pop out of it. Aaryn watches Elissa on the spy screen and asks why does she walk like that? Jeremy says because she can't sh*t. He says I hate that ugly a$$ girl! Aaryn says that she and Amanda are starting to see eye to eye. Jeremy tells not to fall too much into that. Aaryn says she doesn't have one person to fall to in this game. Jeremy talks about how Amanda control McCrae. Jeremy tells Aaryn to use Amanda. The triangle of thrust still stands strong. Jeremy talk about how McCrae said he liked to be dominated by girls, and then the next day Amanda was up in the HOH room dominating him. Aaryn says that she like to be dominated. Jeremy says well David was the complete opposite match for you then? Aaryn says yup. They decide to go to sleep.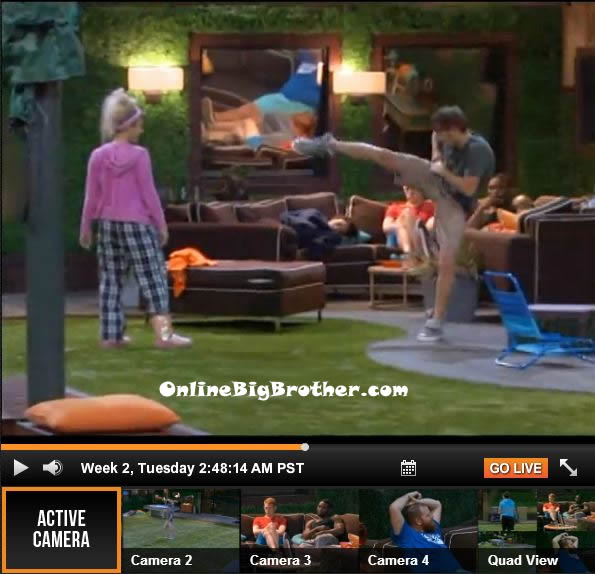 3am In the kitchen – Judd tells Nick that he saw he got to talk to people in the house. Nick says he will talk to the other house guests tomorrow. Judd says it is better to be safe than sorry. Nick says that he will talk to McCrae, Amanda and Candice tomorrow and says Candice is kind of a wildcard. Judd tells Nick that he think he is good and tells him not to stress out. Judd tells Nick he should focus on talking to the wild cards about the vote. Judd tells Nick that he is on his good side and he will have his back down the road.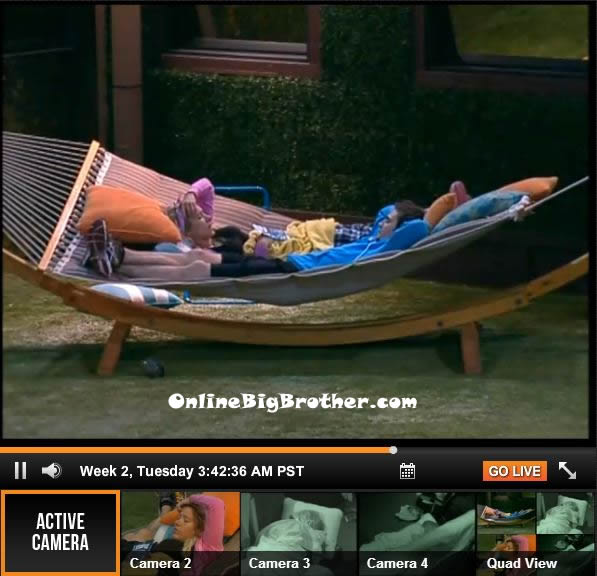 3:40am – 4am Gina and Nick are out in the hammock together talking. Nick comments that he can't believe he was nominated today. He says that Thursday morning will be important for him to make he has the votes. Gina tells him how angry she was when he went up on the block. She says that she couldn't even look at him because she was going to cry. Nick says that he knew it was coming. Nick then says its better me than Jeremy. Gina tells Nick that she wants him safe. Gina says that Aaryn told her that if she won MVP she would put up Kaitlin. Nick says that he is surprised. Gina says that Aaryn thinks Kaitlin could screw up her game because if it comes down to it Jeremy would vote out Aaryn over Kaitlin. Gina says Aaryn said Kaitlin doesn't do anything but walk around in her booty shorts and high heels. Gina says that Kaitlin just wants to prance around here like she is queen sh*t. Nick tells Gina that they can't make waves right now. Gina tells Nick that Aaryn is crazy, I love her! Nick says that Candice is a throw away. Gina says that Candice is a Debbie downer. Gina asks Nick how can you stare at me, and look at me and not want to kiss me. Nick says what makes you think I don't want to? Gina says me. Nick says you know we can't because we will turn out like McCrae and Amanda, and then it will get ugly as sh*t. Gina says I know. Nick says the slower the better, cement doesn't dry in a day! Gina asks it doesn't? Nick says it takes months for it to dry correctly. Nick says okay. Gina says okay. The decide to head to bed.
Big Brother Live Feeds: FREE TRIAL
5am – 5:50am Jessie gets up and heads to the kitchen. She stares at the memory wall and then heads into the bathrooom. She then heads back to bed. All the house guests are now sleeping..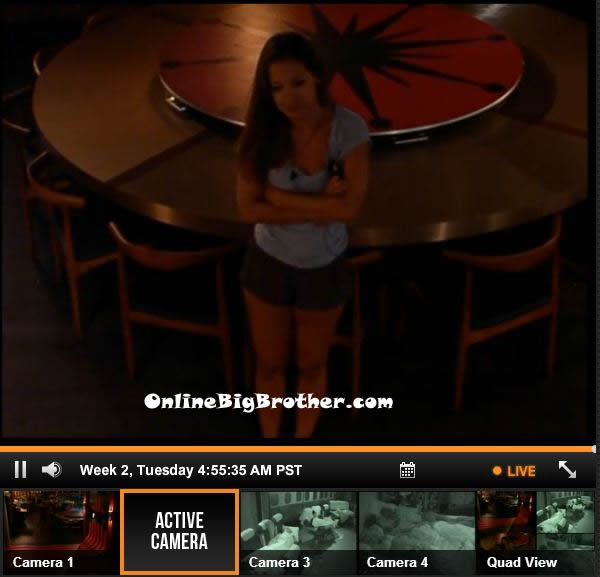 Stay connected and interact with other Big Brother Fans on our Facebook page.
And Follow: @BigBspoilers and @Dawgsbigbrother on Twitter for the most up to date spoilers.