POV Holder:
Jeremy
Next POV
July 13th
POV Used
YES
POV Ceremony
July 8
HOH Winner:
Aaryn
Next HOH:
MVP:
Elissa
Original Nominations:
Elissa, Helen and Jeremy (MVP nom)
Current Nominations:
Elissa, Helen and Nick (MVP nom)
Last Evicted Houseguest
David
Have Nots
Helen, Elissa, Candice, and Andy
11:41pm Cockpit Jeremy, Aaryn, McCrea and Amanda
Amanda: "We need to sort out the kinks"
Jeremy: "Elissa goes home and we wait to see who wins the HOH"
"Just lay low until one of us wins it and take it from there.. you really can't jump too far ahead it'll f*** sh!t up"
Amanda: "Do you seem concerned about loyalty with me and her" (Aaryn)
Jeremy: 'I want us to stand together and stand strong.." he warns them that the other side planting seeds.
McCrea: "We have to keep this four together because four is really strong in the game.. we have a solid four we can walk through this game"
Amanda tells him this is her "F*** real" alliance the four of them.
Andy joins them. Jeremy: "Are you kidding me"
Jeremy asks Andy if he's still with them to vote out Elissa. Andy says yes. McCrea points out that there will only be one vote to keep Elissia.
Jeremy says he wants to give other people the chance to win the MVP.
Andy wants to know who is next after Candace. Jeremy says he doesn't like to think that far ahead. Andy wants to know if he is next. Jeremy says no.
Jeremy says Candace is on his radar, Jessie is sketchy, Helen worries him because she's a f*** genius, "you know there are plenty of people on the totem poll and until you prove me wrong you're not on my list" .
Jeremy says Elissa's Speech today was just to put him down.
Aaryn: "I'm so not looking forward to her shitty speech on Eviction"
Jeremy mention how they have no idea how they are being portrayed on the TV show so they shouldn't think if they vote to keep Elissa they'll get the votes. Jeremy says he might be portrayed as the sweetest dude that's not cocky and is kicking ass. Amanda interrupts says that's not the case, "No no they don't edit that great"
Jeremy doesn't like Elissa game she says the rudest comments and is fake, "I can't be around this chick she's poison .. she plays horribly… and it bums me out when she talks about my mom and sh!t.. she makes personal attacks against my mom.. I'm a super momma's boy
Jeremey: "I just want to spit in her face.. that is so disrespectful"
Aaryn: "Shes so trashy.,., "
Jeremy leaves: "Pimpin ain't easy but it is.. "
The rest clear out the room.
12:16am HOH Aaryn and Gina
Basically what is happening is Kaitlin and Aaryn are fighting over Jeremy. Aaryn is tossing around threats if she wins MVP she's putting Kaitlin up. (Which we all know isn't going to happen)
12:22am In the kitchen Nick, Kaitlin and Elissa.. Elissa asks Kaitlin if she's ever dated a guy like Jeremy before. Kaitlin says she's not dating Jeremy and she's never been involved with a guy like Jeremy before. Kaitlin leaves Nick just sits there with Elissa.. silence Nick has a huge grin on his face.
12:29am Cam 1-2 Elissa and Jessie
Jessie: "thank you so much for not putting me up "
Elissa: "are you glad that nick is up"
J: "yes"
E: "obviously he has to go as some point"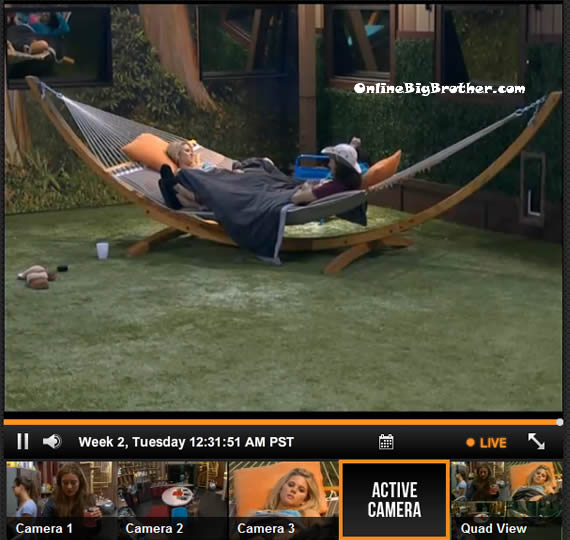 New best buds Aaryn, Amanda and McCrea
12:37pm cam 1-2 Nick and Kaitlin playing pool
Nick is telling her a story of him being a bartender at toshi's .
Memorable quote from Kaitlin about her job as a bartender "I don't put up with a sh!t ton of bullsh!t"
You can re-watch ever second on the feeds using their flashback feature.. It's super easy to use click this link for a free trial —> Big Brother Live Feeds
The CBS feeds are a HUGE improvement over the super pass feeds and they are 30% cheaper with no subscription to cancel. You pay a flat fee for the season.
12:50AM Hammock McCrae, Amanda, Jeremy and Aaryn impersonating each one of the house guests Orgasms. The picture above is Amanda doing the Elissa face.
12:43AM Jessie and JUDD
judd: "LJKADHFKJAHFKHDKFHDASKJFH skjadfhK DFK HKDHFKJSD KFH SD KDFHKJSDAHFKS DKFHDSKJFHK SKADJFKJDSHKFJSDHKFHKDSF"
(I'm kinda nervous about thursday I think everybody kinda is)
Judd: "I'm not nervous for me but.. "
Jessie: "I want one of us to win HOH next week"
Judd: "I'm going to try… I hope it's not something where we have to run"
Judd: "I got pretty good aim"
(I hope Judd wins HOH and Jessie controls it would be hilarious)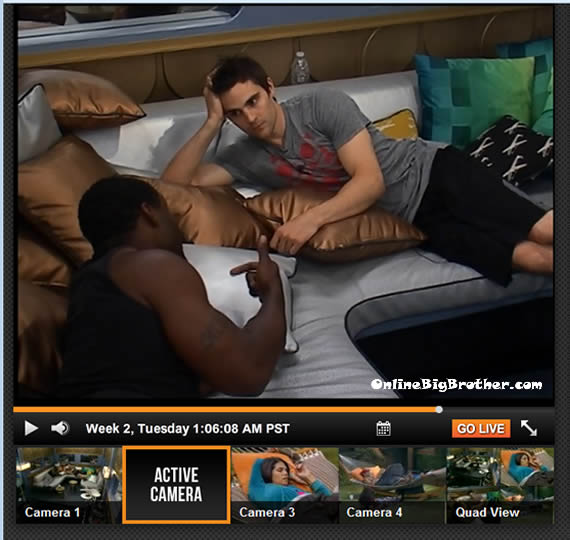 1:05AM Cam 1-2 Nick and Howard
nick: "What's going on?"
Howard give him the rundown it's the five MC and the four girls, Kaitlin, Amanda, Gina and Aaryn.
Howard says McCrae wants Amanda to stay in the house even though she is running around saying there is a guys alliance. Howard is stressed because MCrae cannot control Amanda.
Howard: "He claims he has his thumb on it but he doesn't"
H: "What me and Jeremy really think is McCrae has interests with us and he wants the protection later on"
Howard is getting worried that it's only week two and Amanda is already starting to piece it together. Howard told MCCrae that Amanda is just using him.
Nick: "I HATE the fact that she's so buddy buddy with aaryn"
Howard says there is a real risk of Amanda rallying the girls that is why she's gotta go.
H: "Either we got to convince him or we got to help him either way"
H: "No matter what we tell him she's got to go up no matter up.. If she stays she's going to figure it out"
Howard isn't confident that the 9 alliance that is being proposed is going to result in the MC being exposed because the 4 girls are soon going to figure out that there are 5 guys, "This isn't smart they are all thinking too far down the road"
Nick tells him he's playing a real game and a fake game. the fake game he's campaigning (I guess in the fake game h'e up on the block). He went to Andy Nick got the feeling that Andy is going to wherever the power is. Howard: "You know he's going to vote to keep Elissa here"
Nick: "you think so"
Howard: 'Hell Ya"
Nick: "REALLY.. he told me tonight that he was for sure going to vote Elissa out"
Howard: "there are 7 people that are going to vote for you.. us four Kaitlin, Jessie and Gina its a wrap.. "
Howard says Judd is playing both side. Nick thinks Judd is cool.
Nick says his maybes in terms of trust are Kaitlin, Andy, Candace and Aaryn, "Amanda is in her ear"
Howard:"We gotta get her out next week"
nick: "Dude I wanted her out day one"
Howard: "Keep her in here another 2 weeks bedlam will start"
Howard saying that Helen and Candace trust him enough to tell him game information. Howard is certain Helen will be easily controlled after Elissa gets sent home.
They both agree if they win HOH they would put up Amanda. Howard would rather the other side win the comp though, "To keep the peace" with McCrea.
Howard suggests that Nick make sure he has his Gina and Kaitlin votes. Nick knows those votes are on lock but he's worried about Amanda "Infecting them"
Howard wants him to not worry about this week it's all cool the votes are coming from Jeremy's side plus Howard and spence.
Nick is still worried that the girls will get spooked and think they have a guys alliance and vote him out.
Howard says Jeremy is already on it he's working Kaitlin. (Biam )
Howards famous last words "We're good for at least another week or two"
Howard wants Nick to talk to McCrea and knock some sense into him. Nick will ask Gina to get him next.
Nick brings up his conversation with Helen where she asked him if Elissa goes home what is she going to do. Nick thinks this tells him that all her and Andy care about is to be safe because they want to be near the POWER. Nick adds that he's trying to make it look like the "blondetourage" has power to give keep her safe.
1:23Am Cockpit Nick and Spencer
Nick brings up how Howard got him up to speed about the Moving Company where there's going to be nine but it's really just an Amanda thing.
Spencer brings up that Amanda threatened him this morning say if he doesn't vote Nick out they are coming after him.
Spencer: "I was like you mother f***"
Nick: "Who are they"
Spencer: "it's judd, Andy, Amanda, McCrea, Howard, Helen. "
Spencer tells him there is no chance he's going home this week. Nick knows but he's still going to work for all the votes.
Spencer says that Andy what's Elissa to stay. Nick still thinks he's a flip vote. Nick knows that Andy only wants to follow the power and if they can make Andy think the blondes have the power Andy will flip. Nick wants Spencer to work on Andy.
Nick is a bit iffy about his side because Amanda might get into Aaryn and Kaitlin's ear. Spencer: "Aryan's not stupid she doesn't want to lose another strong male"
Spencer brings up Amanda, "She's putting the poison out there so they turn on Jeremy"
Spencer thinks that McCrea might be emotionally tied to Amanda. Spencer: "He was like Oh OH i'm sharpening up the sword I'm ready to cut her.. Dude if she is on to us.. you gotta cut her quick and F*** her outside the house"
They both agree Amanda hates their guts. Spencer brings up his conversation with Helen where they figured out getting rid of Amanda would mean McCrea would be recentered and more useful for their team. At that Point Spencer suggested to Helen that Elissa puts Amanda up instead of Nick.. Spencer: "Helen went and told Amanda i said that"
Nick shakes his head.
Spencer says he's not going to throw his game away for McCrea and if Amanda finds out about the MC it's over.
Spencer says Helen trust Howard fully.
Nick says that Gina is very close to Aaryn so he doesn't think Aaryn would vote him out.
Nick is noticing Kaitlin drift away a bit.
Spencer brings up that Jeremy and him were thinking that Aaryn has to go.
Nick: 'It needs to be Amanda Aaryn"
Spencer: 'That's the 2 I want out.. Amanda is smart and she's a c***t I want her out "
1:52am
Spencer is confused that McCrea is messing up his game with Amanda: 'McCrea is a smart player he's kept up with the f*** blogs.. "
Spencer: "I'm not attracted to her.. her looks attract me but she's so vulgar.. always talking about pu$$y and vag!na"
Nick says he's 100% not attracted to Amanda.
Spencer: 'She just F**** groses me out"
Nick: "I can't stand her voice, her character, everything about her annoys the shi!t out of me"
Spencer: "Trash.. total trash.. McCrea got into power now he has this power Wh*** on his c**k.. she told him all these sad stories like she was molested as a little girl"
They start talking about the jury. Spencer wants to put Sensible people in the jury like Helen. Nick knows if Gina goes into the Jury it's a non vote for him once she finds out how he played her.
[polldaddy poll=7235287]