POV Holder:
McCrae
Next POV
June 27
POV Used
Yes
POV Ceremony
June 29th
HOH Winner:
McRae
Next HOH:
Wed July 3rd
MVP:
Elissa
Original Nominations:
Candice, David, Jessie
Current Nominations:
Jessie, Elissa and David
Last Evicted Houseguest
?
Have Nots
Andy, Elissa, Jessie, Howard, Helen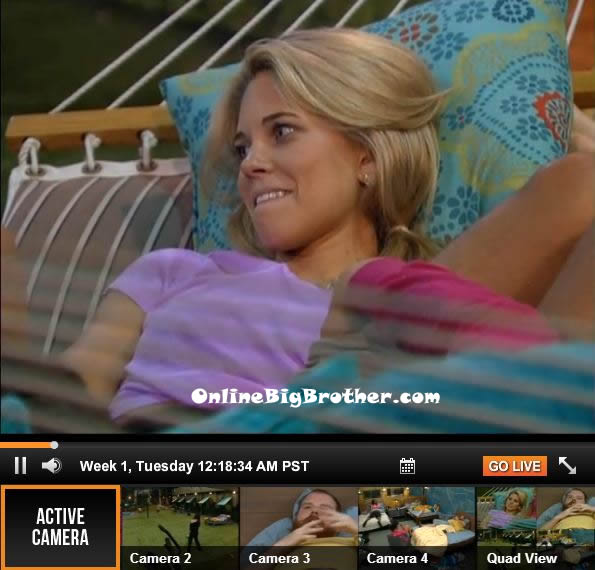 12:20am Aaryn says that David's paranoia bothers her. She says that he is so worried about what everyone thinks. Aaryn says that she hoped he would cheer her on in the Have / Havenot competition. Aaryn says that she feels like the guy in the relationship with David. She says that she doesn't want to feel that way. Aaryn says that Elissa is trying to stir sh*t up. She says that Elissa asked her if David was proposing during their long talk. Howard asks Aaryn if Candice's voice annoys her? Aaryn says that she threw something on the floor not to hear her voice. Howard says that Candice is not his type. Howard tells Aaryn that he liked her since day one. Aaryn says that she likes him too.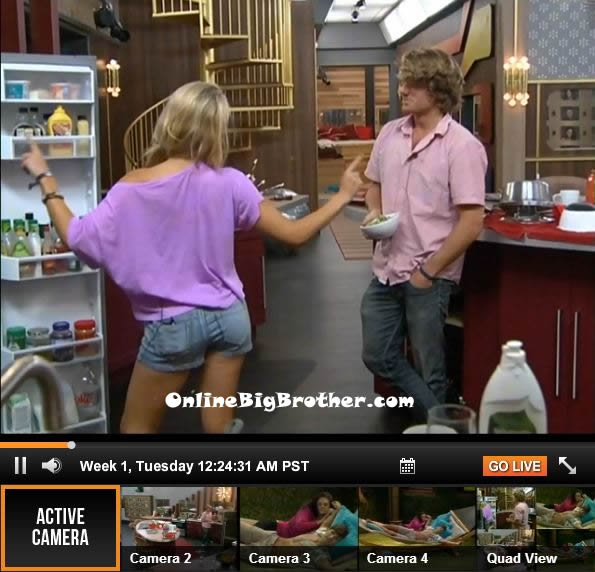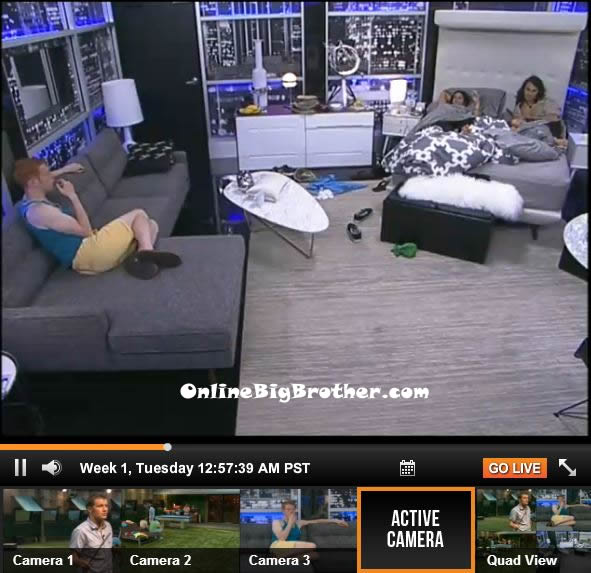 1am McCrae, Amanda and Andy are up in the HOH room talking. Andy tells them that he is going for the HOH this week. He says that if it is down to him and Helen at the end he would give it to her. McCrae says that usually in Big Brother whoever you really don't want to win HOH ends up winning. They worry that Aaryn would win it. McCrae and Amanda say that they think they'll be the ones that will end up being nominated. Andy hopes Candice keeps talking because she will shot herself in the foot. Amanda says she's so annoying! Amanda says that she thinks the sh*t is going to hit the fan on Wednesday. Andy says that it will work out. He says that he thinks we will all be ok. He says that he thinks that one from their group is going to get MVP this week. Andy talks about Aaryn and says that he thinks Big Brother is molding her as the bad guy. Andy heads back down stairs.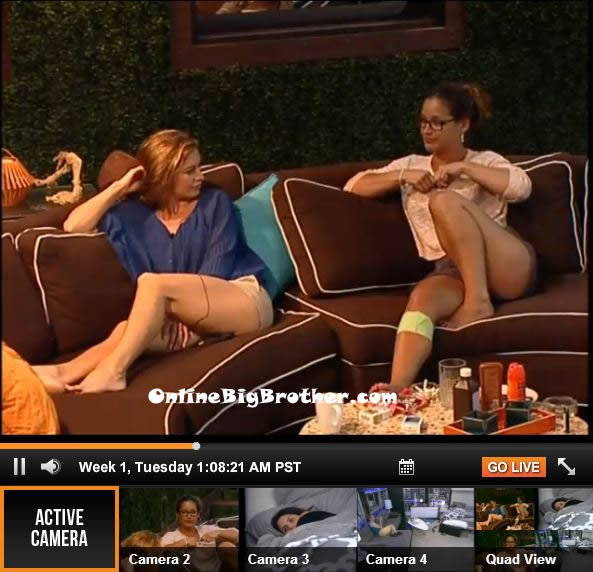 Jessie and Elissa are sitting on the backyard couch talking. Elissa asks Jessie if she thought she was coming down off the block instead of Candice? Jessie says McCrae told her he was taking Candice down. Elissa asks if the goal was to get me out? Jessie says yeah. Jessie tells Elissa that she didn't really want to talk to her because she feels like Elissa has had a big target on her back since the beginning and she didn't want a target on her back because she was hanging out with Elissa. Elissa asks Jessie if she likes Jeremy a lot? Jessie says that she doesn't dislike him. Elissa asks her if they hooked up? Jessie says no. Elissa tells her that she thought the two of them did hook the first couple of days. Jessie is surprised and asks if that is what is going around the house? Elissa says she just thought the two of them liked each other. Elissa asks Jessie if Jeremy is hooking up with Kaitlin? Jessie says she's doesn't know. Elissa asks her if she wanted a showmance? Jessie says yes. Elissa asks her why? Jessie says because she's single and she wanted someone in the house that she could talk to and trust. She says like Jeff and Jordan / Brendon and Rachel.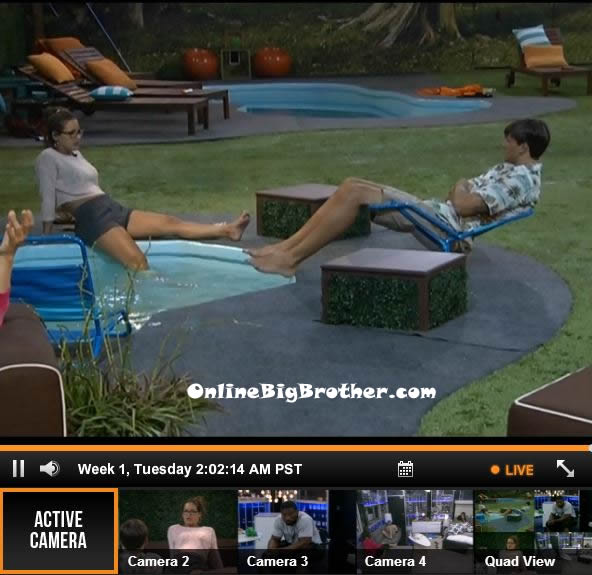 2am By the hot tub – Jeremy and Jessie are talking. Jeremy is grilling Jessie asking her why she never hangs out with them. He says she never talks to them. I tried last night to include you by offering you wine. Jessie says that she just doesn't know. She says that part of her wants to just go straight to the source and talk to Elissa. Jeremy tells her to just go talk to her then. Candice and Andy join them. Andy says that everyone needs to stick to the plan and get Elissa out. She is poison! She is going! Jeremy says I guarantee that if Elissa makes it to week 2, week 3, week 4 .. she is getting something like $25,000.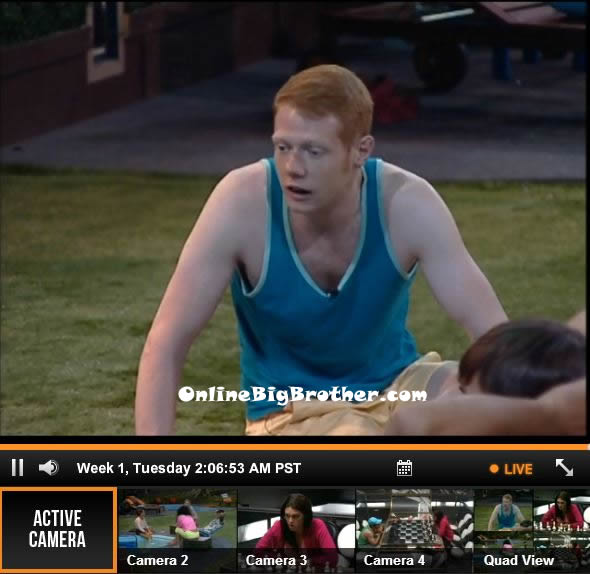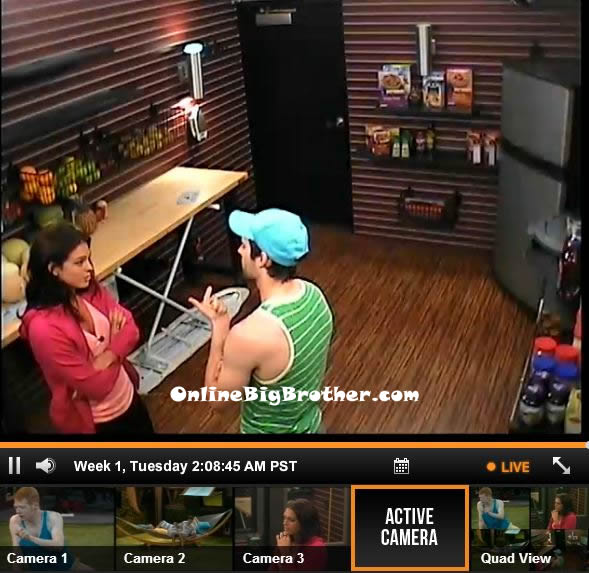 2:15am Meanwhile in the storage room – Kaitlin and Nick are talking about wanting to work together. Kaitlin says that she made an alliance with Aaryn and Jessie. Kaitlin says that Jessie is an emotional bomb though. Kaitlin says that after the sh*t that Jeremy pulled last night I am done with him. Kaitlin says that she isn't stupid she can tell that Jeremy tries to manipulate me, he is a communication major. Kaitlin says that Aaryn feels the same way about David. Kaitlin says that if Elissa goes home, I think Andy will get MVP. He is hilarious, he is a floater and everyone likes him.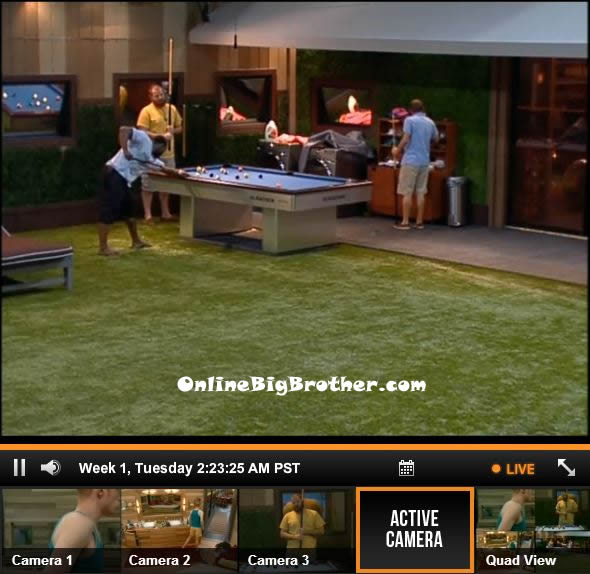 2:30am – 3am Out in the backyard – Spencer Judd and Howard are setting up a game of pool. Spencer brings up how Ginamarie is freaking the fu*k out! She is talking about missing her life at home. He says that he thinks she has the hots for Nick. Spencer and Howard agree that the girls are going to start losing it because of boredom. Spencer says that's why I like you guys because you guys can handle the boredom. Howard says that he gets bored too but handles it. Kaitlin joins them in a game of pool. They finish their games and hang out on the couch. They talk about random things. Jeremy heads to bed. Meanwhile in the kitchen – Andy, Nick and Jeremy talk about the casting process. They discuss how they saw each other during finals.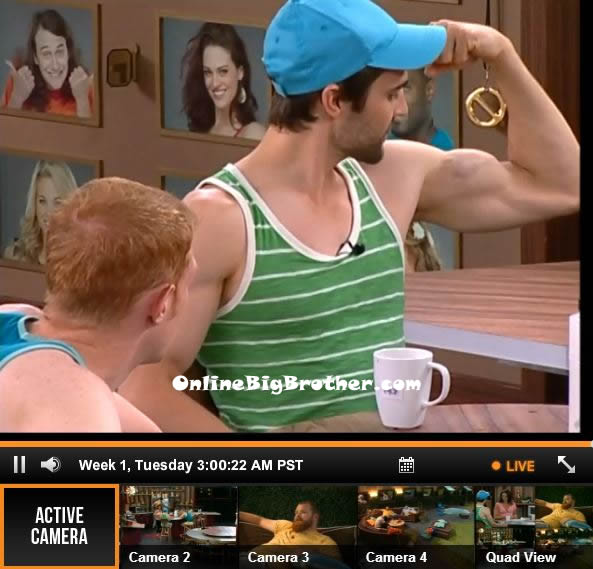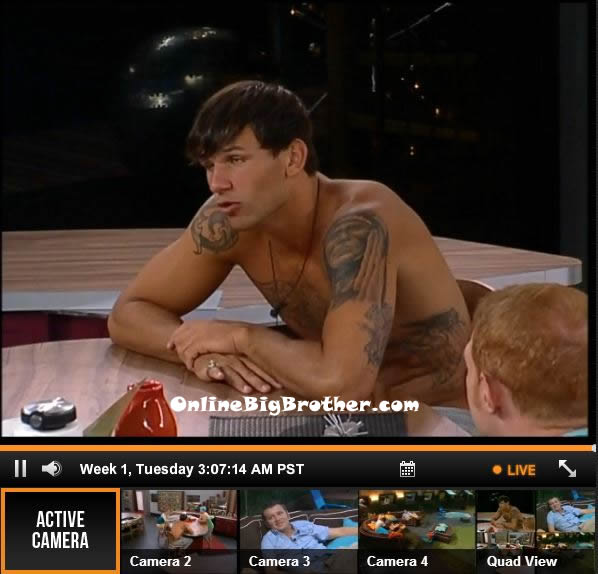 3:15am Out in the backyard – Nick, Andy, Judd, Kaitlin, Howard, Candice and McCrae are talking and joking around about random things. Andy tells Kaitlin that he loves her dress. Spencer says Andy that is the gayest thing you could have said. The conversation turns to talking about drugs, what they've done and how they make you feel.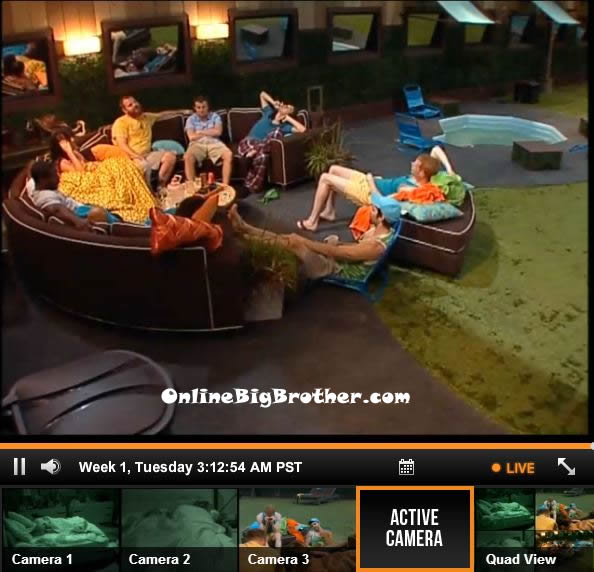 3:35am Gina and Jeremy are in the lounge talking. She is crying again about not wanting to be in the house any more. She is crying. Jeremy tells her that she is beautiful and it doesn't matter what she wears. Jeremy tells her to stick it out a bit longer. You will regret it if you go. Jeremy says that he would be crushed if she left. We need you. Gina says that she feels like a scrub. Jeremy says that he is honoured that she came to talk to him. Gina says that she feels like he is like her brother. Gina says that she just wants to be with her family and friends. Jeremy tells her that she is a hottie. He says you don't think all us guys picked out the hotties and notties!? Any guy would be lucky to be with you. Gina says that she has just been single for so long. Jeremy says that he'll come see. Gina says we're like brothers. Jeremy says you're not my blood, I'll lick that couchie! Gina laughs. Jeremy says I'd wrap you up in bacon and eat you everyday! Jeremy says just wait until that bit*h leaves she is the one causing all the drama. Some times I just want to slap a b*tch. I can't wait till that door handle goes up her a$$. They finish talking and hug. He tells her any time she wants to snuggle just come find him.. or nick.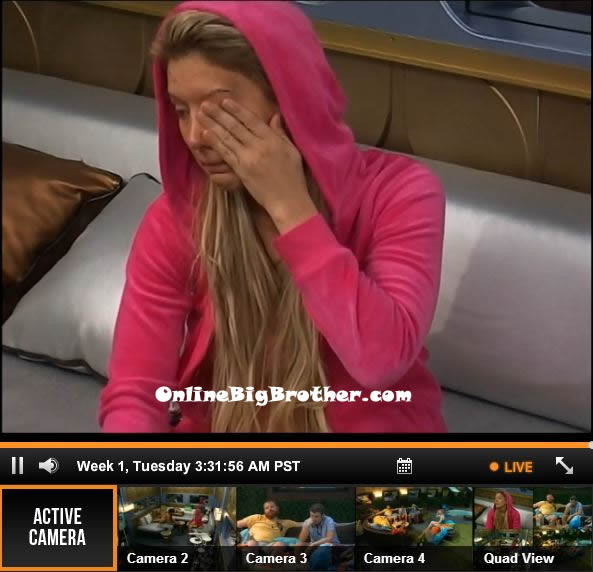 3:40am – 4am Amanda is called into the diary room. When she comes out she came out to the backyard and waited at the sliding door for McCrae to come talk to her. They head up to the HOH room – Amanda is crying while talking to McCrae. She is up set and pissed that McCrae talked about them (Amanda & McCrae) in the diary room. Amanda is upset because they had both agreed not to talk about their showmance. Apparently she was asked questions in her diary room and learned that McCrae has been talking about her. Amanda says that she thinks she is fu*ked with her boyfriend back home now. Amanda says she just doesn't want to hurt her boyfriend and says that all of his family will see it. Amanda says she is doing it on national TV to him. She says that her boyfriend has naked photos and videos. She says that he is spiteful. She says I kissed a pizza boy. McCrae tells Amanda that he feels like an a$$hole. Amanda tells him not to. She says that it's not his problem. McCrae and Amanda both decide to go to sleep together in the HOH room bed.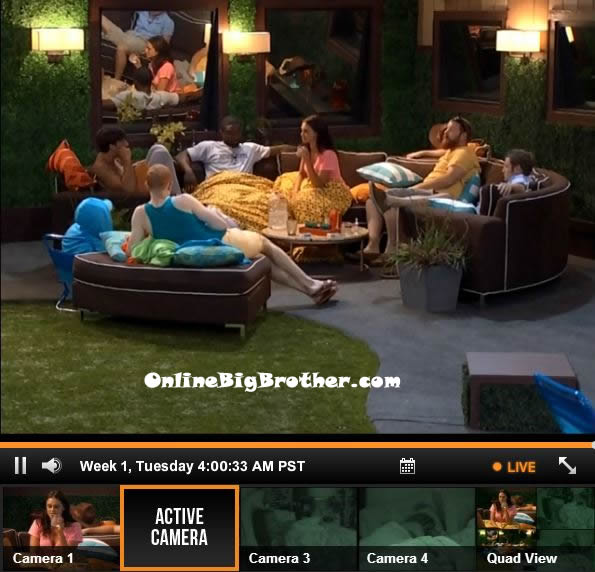 4:30am They house guests in the backyard laugh about the awkward drama between Amanda and McCrae and how whipped she has him. Jeremy says that he thinks it's the most different showmance ever. Kaitlin says it's a blowmance. Spencer and Jeremy comment that they hope he is at least getting blow j*bs. Spencer says hell, I would like to watch. Big Brother switches the live feeds to the we'll be right back screen.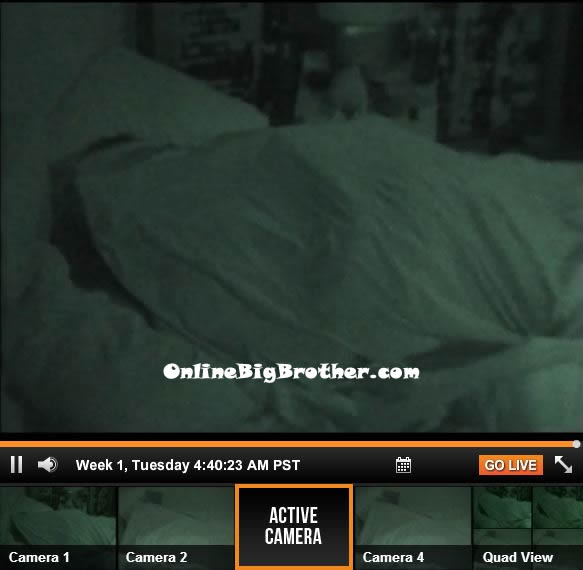 4:45am – 4:50am Amanda and McCrae get under the covers and start making out. Amanda says you're packing some heat! They come out from under the covers and curl up together. McCrae asks what's wrong? Amanda says nothing? McCrae asks you still hot and bothered? Amanda says yeah. My pizza delivery boy!
Stay connected and interact with other Big Brother Fans on our Facebook page.
And Follow: @BigBspoilers and @Dawgsbigbrother on Twitter for the most up to date spoilers.