POV Holder:
McCrae
Next POV
June 27
POV Used
Yes
POV Ceremony
June 29th
HOH Winner:
McRae
Next HOH:
Wed July 3rd
MVP:
Elissa
Original Nominations:
Candice, David, Jessie
Current Nominations:
Jessie, Elissa and David
Last Evicted Houseguest
?
Have Nots
Andy, Elissa, Jessie, Howard, Helen
9:05pm Cam 3-4 have nots Howard reading the bible while the other cast play charades in the back yard.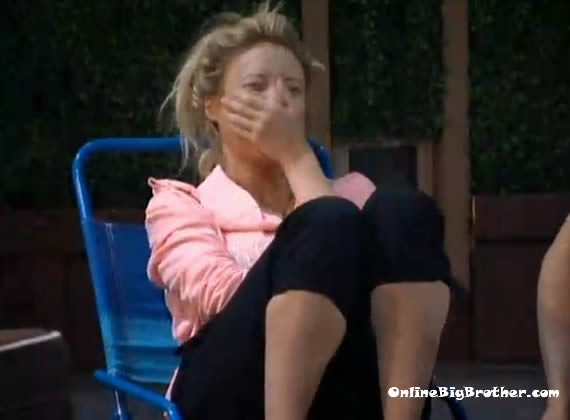 9:09 Backyard Charades everyone but McCare and Howard
They must have given GIGI something because she's sure happy now. For the last 6 hours she's been crying and saying she's going to quit. At about 9:10 Amanda heads up to the HOH to talk with McCrae.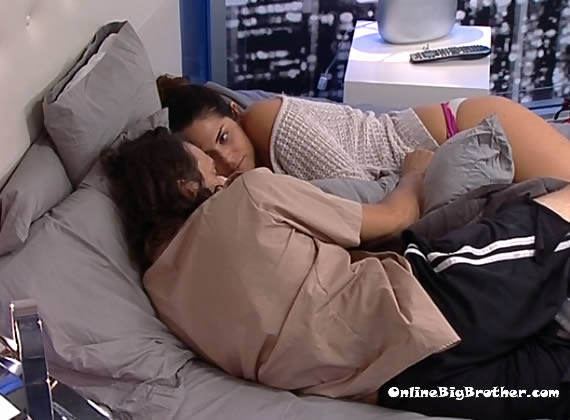 Cam 3-4 9:10pm HOH Amanda and McCare
Amanda: "I've been flirting a lot with Jeremy"
McCrae: 'Good keep him close"
Amanda: "Is that why you came up here"
McCrae: "No.. I don't know everyone was pi$$ing me off down there"
Jeremy is so scared right now.. he's asking about HOH and what comes next..
Amanda: 'he should be cared"
McCrae: "i don't know i'm too nice for this fu***** game"
Mc mentions that Candace has a 2013 car and he drives a piece of crap.
Amanda: "does it bother you that I have a Audi"
MC: "Yeah cause Audi drivers are a$$ holes"
MC says that Judd asked him if he was getting any and he said no.
Amanda: "Ya I have a boyfriend.. You're my comfort here and he's my comfort there.. this is my biggest internal struggle"
MC: "I understand.. ya"
A: "I don't know how it's all going to be portrayed.. we might be in here for months"
A: "So if he (Boyfriend) would to Google Amanda.. hookups Big Brother"
MC: "Ya"
A: "Cause his mom has the feeds" (boyfriend's mom)
MC: "You should go into the diary room and start talking smack about me say you are using me.. might be a good idea"
Amanda won't do it..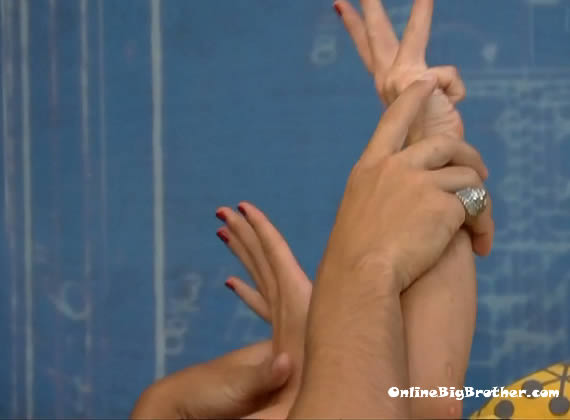 9:36pm Jeremy and Kaitlin Cam 3-4 bedroom
Jeremy kissing her neck. She tells him to stop because she gets hickey's easy.
Jer: "I've had some gnarly hickeys in my day had to wear a turtleneck once"
Kaitlin: "We for sure have Judd's vote"
Jer: "I think we have Andy"
K: "no.."
Jeremy thinks that Elissa is messing up Andy's game.
David joins them
Says everyone but KAitlin and McCrae were playing Charades. Comments that McCrae spends all his time in the HOH room.
Kaitlin says she would to.
Jeremy starts saying that the meanest players do well in the game. Mentions evil dick winning Big Brother 8.
David leaves
Kaitlin starts counting the votes she thinks they have Howard and they might have Andy's. She's sounding pretty confident that Elissa is going home this week. She had talked to Howard by the pool earlier and she feel good about it. Jeremy isn't sure they have Howards vote to evict Elissa.
Kaitlin mentions how they offered to flash Judd if he stuck with their side.
Jeremy laughs says that Judd is in for sure.
Kaitlin mentions how Jessie is following Nick around. Jessie told "Everytime I go near him he ignores me.. I told him that it's in his head"
Nick joins them
Jeremy: "Was Jess following you around"
Nick: "Oh god ya.."
Kaitlin: "She told me she was going to do it because she says you always avoid her"
** FEEDS GO DOWN **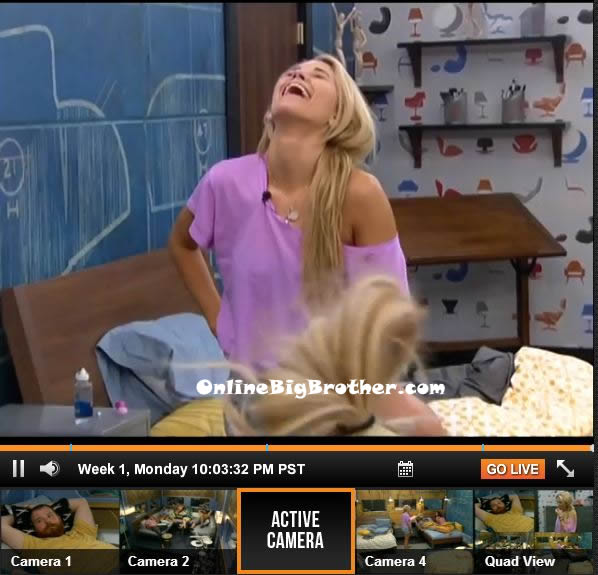 10pm – 10:10pm In the bedroom – Aaryn, Gina, Kaitlin and Jeremy are talking about the bed situation. They laugh about the charades and some of the funny things that happened. Jeremy admits to them that he and Spencer were cheating. He says that they would tell each other and then go up and make one motion for a four word movie and the other would blurt out the answer. They study the wall and wonder if they will need to know it for a competition. Aaryn lays on the bed and starts making farting noises. Gina starts doing it too. Jeremy starts being arrogant again. Kaitlin starts getting pissed off and says that she doesn't know if its arrogance or stupidity. Aaryn and Gina head into the lounge where Spencer, Judd, Andy and David are hanging out.
Meanwhile up in the HOH room – Nick, Amanda and McCrae are joking around. Nick is facing the camera with his shirt off and rubbing his chest. Amanda says that there are two cameras on him – she calls them the two creepy uncles.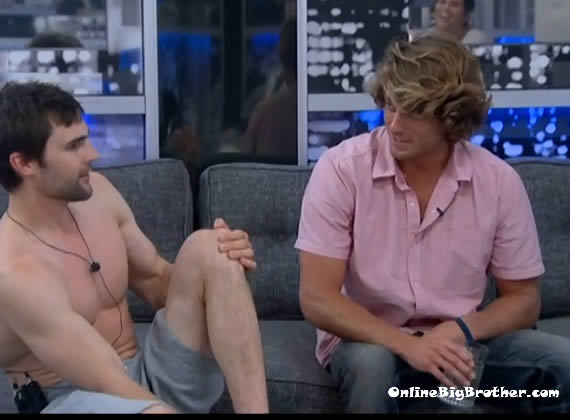 10:19pm HOH David, Nick, McCrae and Amanda
David: "Dude You want to sleep with me"
Nick: "umm .. OK"
David: "What you want to sleep with me"
Nick: 'Do you?"
David: "Aaryn said you wanted to sleep with me like bad dude"
Nick: "NO.. I mean I will if I have to.. but I never said anything"
David leaves..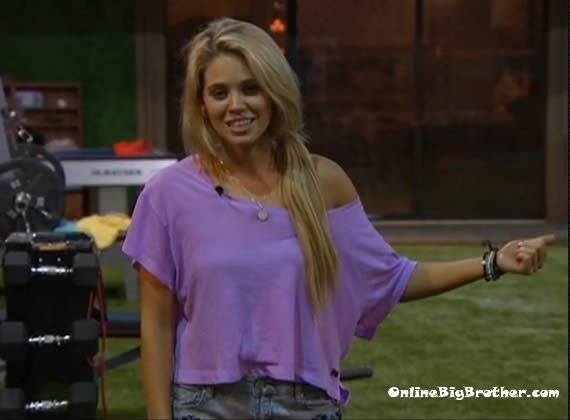 10:37pm Cam 1-2 Backyard Hammock Aaryn, David, Howard and Spencer
Aaryn: "So David comes out into the kitchen and I'm like So i'm sleeping with Gina (my new name for GIGI) tonight because Nick asked he if can sleep with you tonight"
A: "I had a completely straight face and he (David) was like WHAT.. I was like Ya is that cool.. he was like NO WHERE NICK.. I'm like I don't know where he is why wouldn't that be OK.."
A: "He storms up stairs to find Nick and he's like DUDE you want to sleep with me tonight.. and Nick thought that DAvid was joking.. So nick goes ya bro totally.. let's sleep together.. and he's (David) is all like WHY DUDE"
David: "no way.. i've never slept with a dude in my life"
Howard : "You'd have to be there"
Aaryn: 'I thought it was a good joke"
Spencer says he didn't laugh but he see the humor in it.
Cam3-4 1:05pm Kitchen Elissa, Amanda and Judd Elissa brings up that production gave Judd his "Xanax"
Elissa: "They won't even give me a Benadryl.. but they gave you the Xanax during the day"
Judd: "Ya I've been taking them for 6 years"
11:07pm HOH Cam 3-4 Jessie and McCrae
Jessie: "Sometimes the girls Kaitlin and Aaryn will show you attention then withhold attention"
MC: "Ya they're kinda f**** b***** to you"
Jessie is thinking something is up because Elissa is buddy buddy with Amanda. Jessie explains if Elissa was worried about going home she wouldn't be downstairs baking cookies and acting so happy. Jessie thinks she's going to get blindsided.
McCrae still thinks Elissa is going home he tells her if Elissa stays then he's screwed because this is what everybody is telling him.
Jessie: "If I went home I would hate all of you.. I would go onto the internets and spread sh!t about all of you"
McCare says if Elissa stays all the blood is on his hand, "They swear up and down that it is Elissa.. "
Jessie: "Who is they"
MC: "Those three that were up here.. Helen.. Andy Amanda.. after the POV ceremony nobody talked game with me anymore
11:26pm cam 3-4 Amanda joins them tells Jessie to not worry she is safe this week they head outside.
Amanda: "If Candace took my slippers again I'm going to harpoon her"
11:37PM Cam 3-4 Backyard couch Judd, McCrae, Amanda, Kaitlin, Jessie. Mc is telling them about Big Brother 9 where there was a person named Natalie that was always flashing the dudes. Judd: "Yeah that was the season that turned me onto Big Brother After Dark" Amanda wants to go skinny dipping.. she asks Kaitlin if she would go skinny dipping wearing bandaids over her niples and a thong, "Flesh coloured thong"
Kaitlin: "Ya anything for TV" They laugh
Kaitlin says that Elissa cornered her last night and said "Do you think that you and Jeremy were meant to be.. like what kind of f**** question is that.. obviously not."..
Kaitlin: "Like why do you corner me and ask me these things that make me so uncomfortable.. last night She (Elissa) was so rude to me"
Amanda: "Really… you were guilty by association"
Kaitlin: "She was like If I was your sister I would be insanely mad and disappointed with you because of the people you are surrounding yourself with"
Kaitlin: "I'm like it's a fu**** TV show and I'm locked in here"
Judd: "Why a TV show"
Kaitlin: "I don't know.. to be honest"
Kaitlin: "she was like Kaitlin.. this isn't the real world.. this is BIG BROTHER you are on BIG BROTHER.. Serious your sister can run around with her a%% cheeks flapping around.. and I can't be upset right now.. your sister probably gave a BJ on TV"
Amanda gets up to grab some band aids so she can jump in the pool. McCrae tells her not to cause the bandaids will just come off and production will stop them.
Judd: "this grass is still sticky "
Amanda: "Like my v****ia"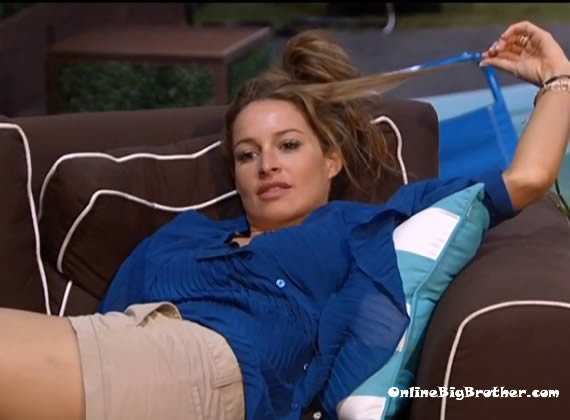 12:07AM Backyard Elissa and Jessie Jessie says she feels alone because everyone else in the house has paired up.
Jessie: "My whole life people have been jealous of me"
Elissa: "really"
Jessie: "I've been blessed with good looks… boys always say I look good without makeup on.. I don't believe it's something to do with my personality" (LOL it's official BB15 Jessie = BB14 Danielle)
Elissa: "So people are just jeleous.. Girl"
Jessie: 'Ya mostly girls and all I wanted to do was be their friend.. it's sad to me.. I have trouble making friends.. Girl friends"
Elissa: "I would have been nice you to if you were nice to me.. hehe"
Jessie: 'I have my sister and my two really good girlfriends at home"
Elissa: "I think everyone should have been nice about it"
Elissa: Why the first night did you say to me.. you've seen season 12″
J: 'I don't remember that"
E: "Ya you said to me .. you've seen season 12 when we were all talking about past season"
j: "I don't remember saying that to you must have been someone else"
E: "That's the first thing you said to me.. "
12:16AM bedroom Candace, Howard, Spencer, Andy, Nick, Gina and Helen
Spencer saying he grew up ion a family that was very open minded about race. He was taught that if you love somebody their race doesn't matter. Spencer: "Same if I was gay.. my mom was awesome there would have been no weirdness"
Candace: "I dated a Italian/Columbian"
Andy: 'Right before I cam here I was in a bar and had a Latin experience.. made out with him for about a hour.. "
[polldaddy poll=7218240]