POV Holder:
McCrae
Next POV
June 27
POV Used
Yes
POV Ceremony
June 29th
HOH Winner:
McRae
Next HOH:
Wed July 3rd
MVP:
Elissa
Original Nominations:
Candice, David, Jessie
Current Nominations:
Jessie, Elissa and David
Last Evicted Houseguest
?
Have Nots
Andy, Elissa, Jessie, Howard, Helen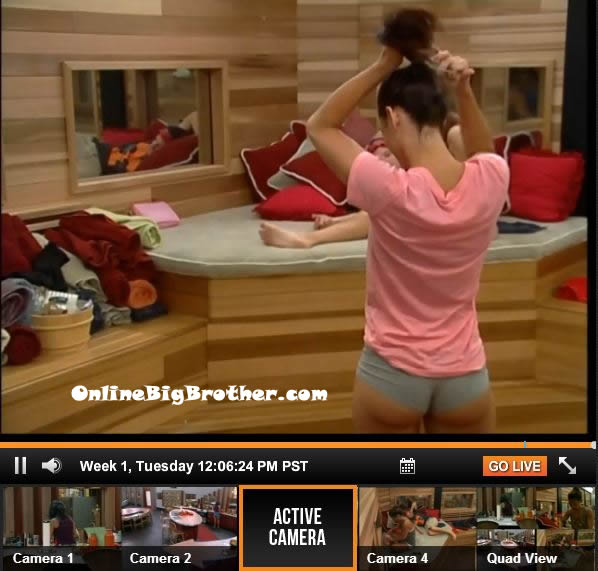 12pm Kaitlin, Judd and Jessie are in the bathroom getting ready for the day. Jeremy joins them to brush his teeth. Candice is now up too. Jeremy laughs that McCrae is probably in lock down in his room because he's in trouble. Kaitlin comments how last night it was the funniest thing to see Amanda mad at him and ordering him around. Jeremy says that he wishes he had seen that. Meanwhile out in the backyard – Jessie and Helen are talking. Helen explains that in the real world at a work environment you don't get to pick the people you work with. Just like in here cast picked different personalities that they know are going to clash with the others just to create drama. We just have to figure out ways to not let them affect us.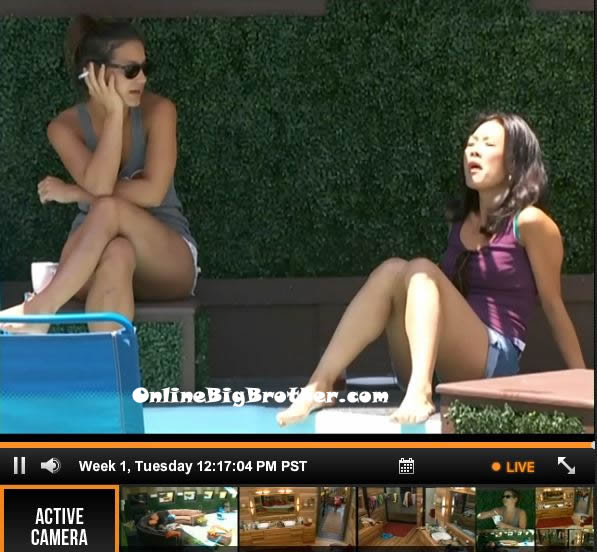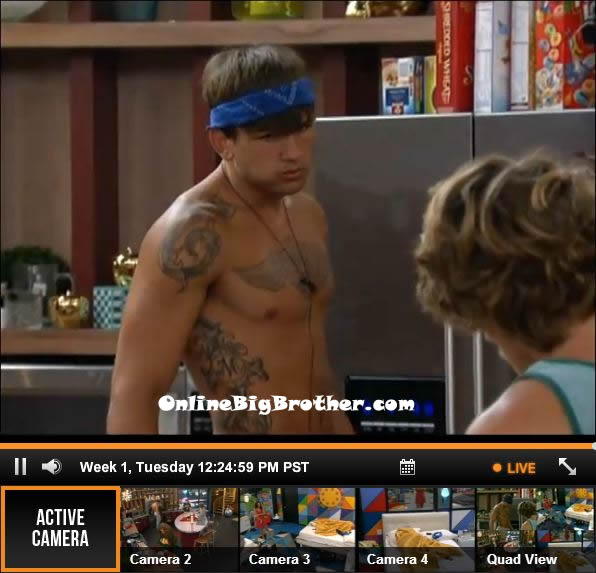 In the kitchen – Jeremy tells David about the drama last night with McCrae and Amanda. David laughs and says that's some weird sh*t! David says and she is still up there sleeping in the bed with him. Jeremy says that he is going to grow his hair like a pirate. Long hair, don't care! Andy comes in from the backyard and says it's hot out there. Judd says no it ain't, supposed to snow tonight! They all laugh. Kaitlin and Andy re-enact the McCrae / Amanda drama last night. Andy is Amanada and Kaitlin is McCrae. Jeremy says this is so confusing why is Andy – Amanda? It should be the other way around. Kaitlin comments that it felt like her parents were fighting.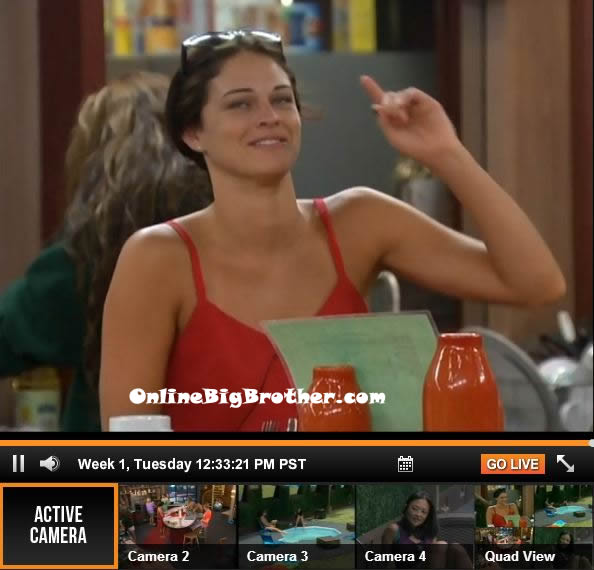 12:40pm Amanda comes down and explains what happened between her and McCrae. She says that she specifically told McCrae that she didn't want their relationship to be part of the storyline and for him to not talk about it and he did. Kaitlin agrees why and says it because you have a boyfriend. Amanda says yeah. Andy says McCrae just wants some of that good pu$$y. Amanda laughs and says yeah. Aayrn just woke up and she is having chocolate ice cream for breakfast.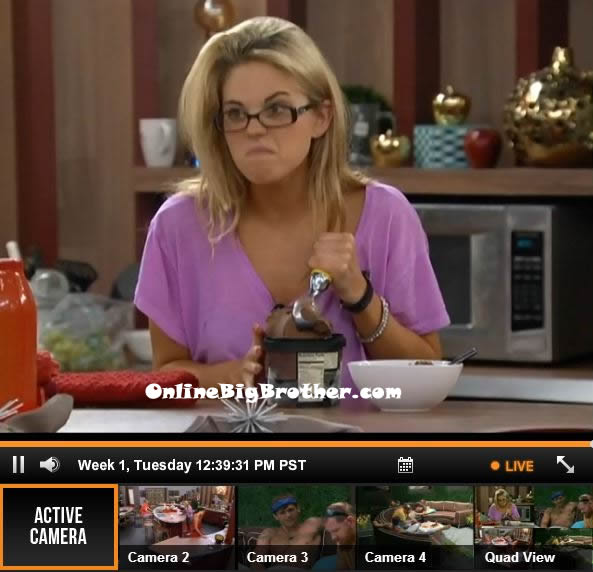 12:45pm – 12:55pm Out in the backyard – Jeremy, Spencer, Judd, David and Helen are relaxing talking about random things. Helen wonders if they will be locked down tonight for the HOH competition set up. Jeremy says he doesn't think so as he thinks it will be a question competition. Gina comes out into the backyard and says I just want to tell all you guys, it's period time! Jeremy says good! Leak that blood! Davie and Jeremy toss the bean bag across the yard trying to get it into a can.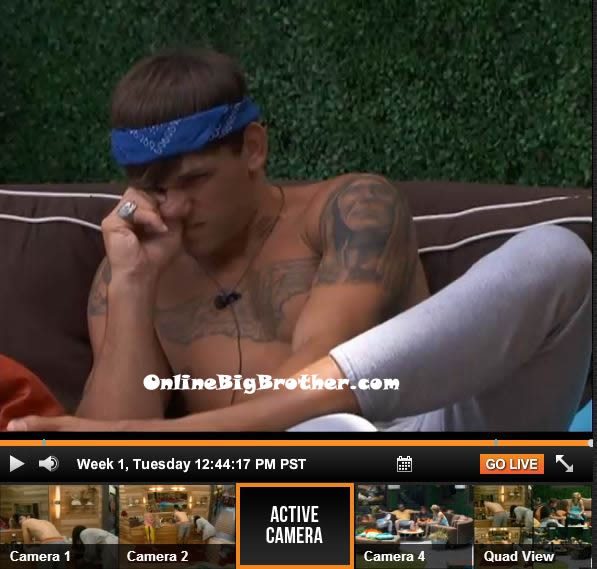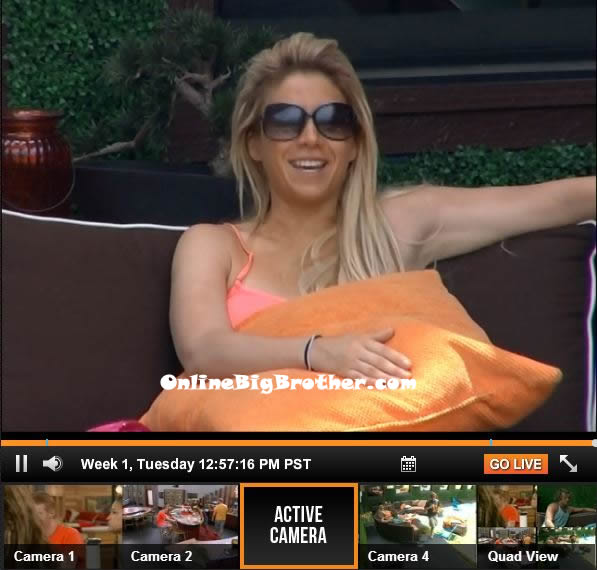 1am In the bedroom – Aaryn, Jeremy and Judd are in the bed room. They are talking about swearing and cussing. Jeremy tells Aaryn that he loves it when a girl talks dirty to him. He tells Aaryn to talk dirty to him. Aaryn brings up how in the kitchen Elissa was talking about Ragan Fox and Aaryn questioned why she liked him. Aaryn says that Elissa told her that you don't know me. Aaryn wonders how Elissa could like Ragan after the things he said to Rachel during her season.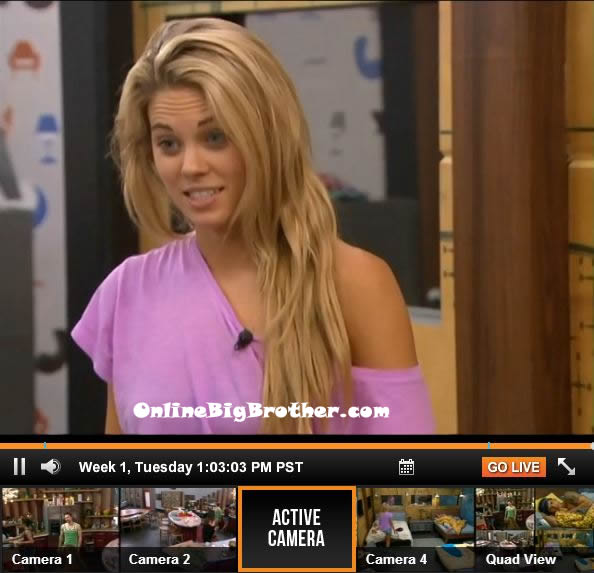 1:15pm Jessie and Kaitlin are out by the pool talking. Kaitlin tells Jessie that she would have a motive to nominate Candice if you won HOH because you were on the block with her and McCrae took her off. Kaitlin and Jessie talk about how annoying Candice is being and how she is complaining about loosing her bed. They agree that they hate girls. They discuss how they think the votes will go this week. They are worried that Andy and the others will vote to keep Elissa. Kaitlin says if they do we will find out.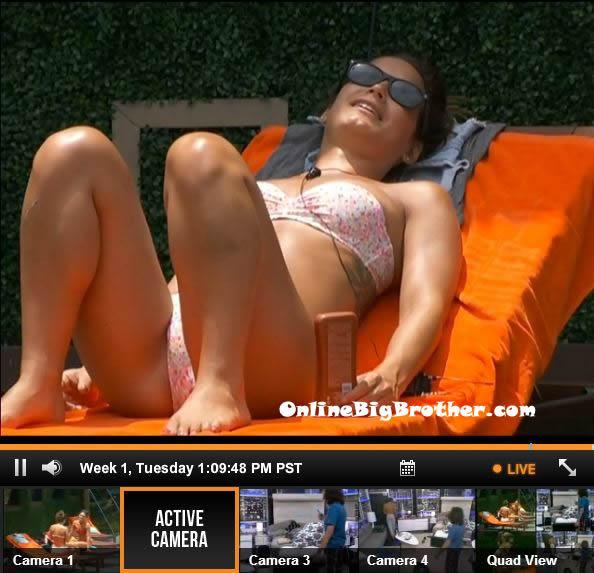 Elissa and Amanda are talking in the bedroom. Amanda comments on what happened with McCrae and her last night. She says that McCrae feels really bad about it and I can't be too mad at him, it's my own fault. Amanda tells Elissa that she is good for the votes. She says that they aren't going to tell Candice until right before because she is so emotional. Amanda tells Elissa that after Wednesday she can do what she wants because we have the numbers. Amanda says that thing that happened with Jeremy is perfect because that solidifies that he won't get MVP. Elissa tells Amanda that Jessie actually came up to her and asked since you're going home can you share the secrets that Rachel told you. Elissa says that she can't believe she said that to me. Amanda says that this Wednesday is going to be great tv! Elissa says that Aaryn will be saying I am going home in her diary room and then find out I'm not. Amanda says that Aaryn has to be the next one gone. She is such a sh*t disturber.
1:35pm – 1:55pm Up in the HOH room – Judd and McCrae have a quick conversation about how pissed Aaryn is going to be when she finds out Elissa is staying. McCrae says that she is going to blow up! They agree they will have to do some damage control. Judd heads back down stairs. Meanwhile out by the pool – Helen, Jeremy, Spencer, Andy, Kaitlin and GiGi are talking. Spencer grabs his junk and gets into the pool. Helen talks about wanting a letter if she can get one because of her kids and her dad isn't doing too well. Jeremy says that if he gets the letter he would give it to her. He says if I had kids I wouldn't but I don't.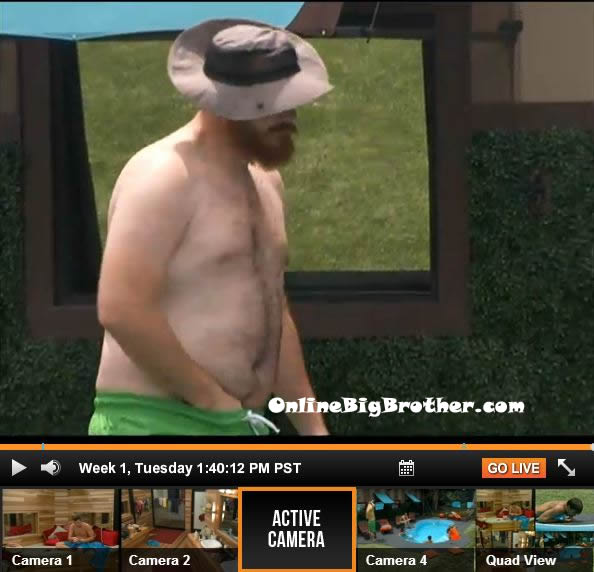 2pm – 2:10pm The pool gang talk about the audition finals. Jeremy brings up the huge guy covered in tattoos with a big back tattoo. Kaitlin says yeah he was hot. Nick says yeah he was hot! The conversation turns to talking about movies and who the best actors/actresses are.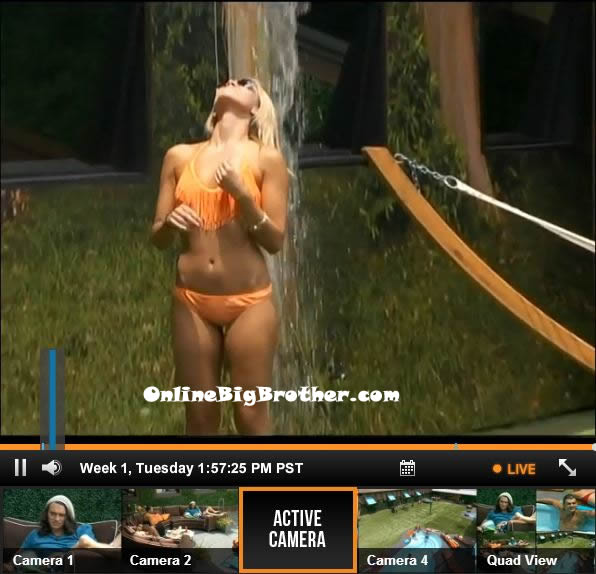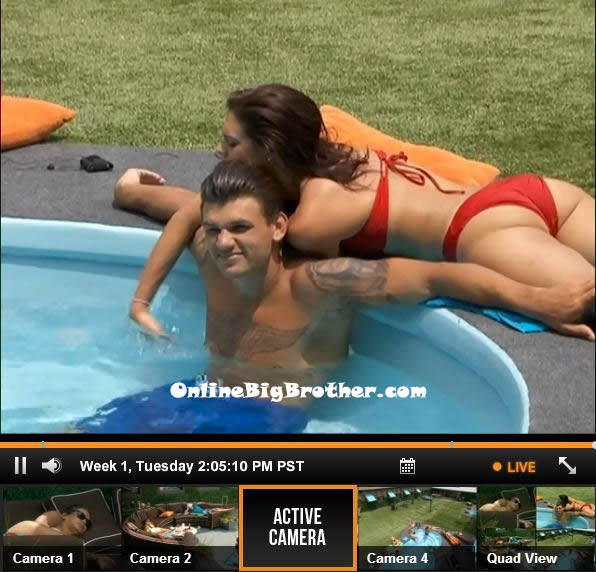 2:20pm – 2:35pm Elissa in the backyard doing yoga. Elissa finishes up and heads back inside.

2:53pm – 3:05pm Elissa asks Nick if he knows what he is going to do tomorrow. Nick says Um..yeah! Elissa asks what? Nick says Ah.. just going with the flow. Elissa asks Nick in the bathroom if he is voting her out. Nick says just voting for whatever the house wants. Nick walks out of the room.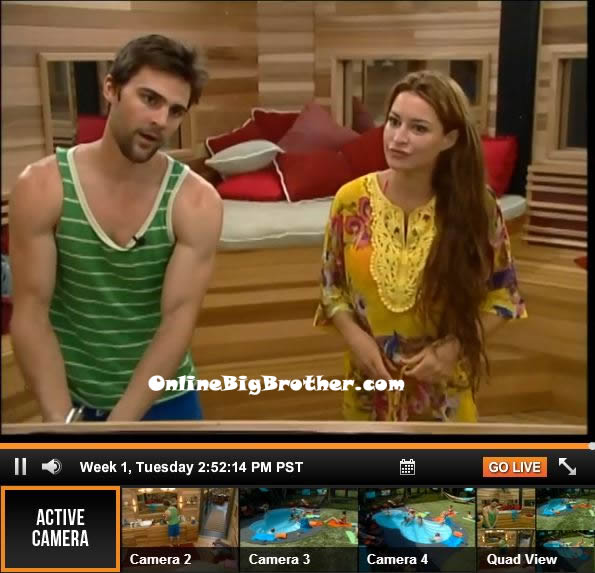 Stay connected and interact with other Big Brother Fans on our Facebook page.
And Follow: @BigBspoilers and @Dawgsbigbrother on Twitter for the most up to date spoilers.