POV Holder:
?
Next POV
June 27
POV Used
?
POV Ceremony
?
HOH Winner:
McRae
Next HOH:
Wed July 3rd
MVP:
Elissa
Original Nominations:
Current Nominations:
Jessie and Candace
Last Evicted Houseguest
?
Have Nots
Andy, Elissa, Jessie, Howard, Helen

11:10pm Elissa is up in the HOH room telling McCrae that she is MVP. McCrae tells her she needs to clarify the rules with the diary room. Elissa says that this is better than winning a pageant.. this is so flattering. McCrae says yeah its America voting for you. Elissa starts talking about how mean Aaryn has been to her but that even if she goes up.. I know she won't go home. Candice or Jessie will go over her. McCrae says that he will still have to put her up because it would mess up my game if I don't because that's what the house wants. Elissa tells McCrae not to tell anyone that she is MVP. He says that he won't. Elissa says that you promised me you would not put me up or back door me. McCrae says that I have to or it messes up my game. Elissa says well I can't work with you moving forward then. McCrae says that you need to put up the strongest player so that way when they win POV.. He tells her to put up David. Elissa says if I go up I am going home! McCrae says that he can work the votes to keep her. Elissa says if you put me up, that is just so dumb! I will go home!
11:25am – 11:40am Judd comes up to the HOH and asks Elissa immediately if she go the MVP? Elissa says no! Aaryn must have gotten it. Elissa says that she thinks Aaryn is so mean and says that she thinks Aaryn is related to Hayden. Judd says yeah she does look like him. Judd hugs Elissa and asks her again if she got it, you swear you didn't get it?! Elissa says I can't swear.. I feel like I am the only one that has had to reveal everything and it comes back to bite me. Judd asks what me? Elissa says no not you. He says good because we are working together. Judd leaves because he doesnt want it to seem suspicious that hes up here. Judd leaves. Amanda and Jessie come into the HOH. Elissa tell them that she just needs to talk to McCrae alone. Jessie says yeah I'll just use the washroom. Jessie and Amanda leave. McCrae and Elissa continue to talk. McCrae tells Elissa that she isn't tactful some times. Elissa says like what? McCrae says like starting drama with Aaryn. He says but that can help you because you can tell people that you will always be a bigger target. Elissa says that Aaryn started it.. she even came out into the backyard when I was doing yoga and said "The snakes are in the yard". Elissa comments that Aaryn is just a young 21 year old attacking a married mother.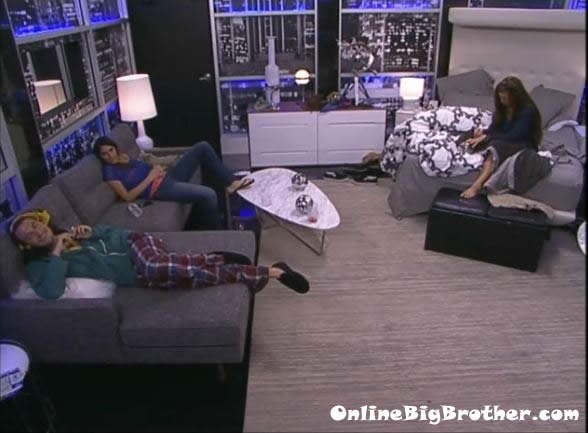 11:45am McCrae asks Elissa if she can make some tears when she leaves, that would be awesome. McCrae says that this plan is so fu*king solid and it make it look like we are not working together. You want someone to win veto, you want David to win veto, because then you get to pick who goes up next. McCrae says that he didn't realize that as MVP you get the opportunity to back door someone. McCrae says that neither of those girls are going to win veto. David will win the veto .. then as MVP you get to choose the replacement. Elissa asks so do you have to put me up? McCrae says yeah we have to and then you have to put up someone that we can make a better case against them over you. Elissa says this just sucks because this isn't the way I wanted to play the game. McCrae says yeah I didn't want to play with this MVP. McCrae says neither Candice or Jessie will win the veto. McCrae asks Elissa to turn on the water works.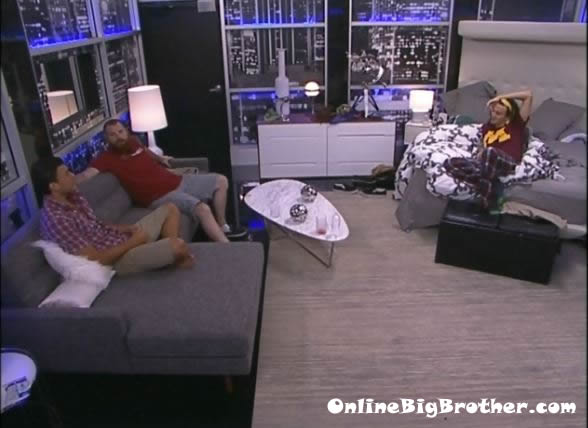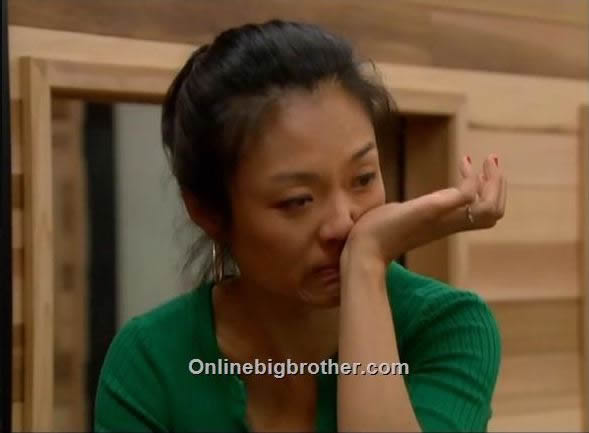 12pm Spencer, Judd and Jeremy come up to the HOH room. As they walk in and Elissa walks out. Elissa says I can't believe you just said that to me McCrae! McCrae tells the guys that he just told Elissa that if someone wins the Veto she is going up. They ask him why he told her? McCrae says because she is a loose cannon and I want her to blow up. They all tell McCrae that he is a smart player. They talk about it was perfect to tell her right before the veto so that she cracks under pressure. Amanda comes up and talks about how Helen is upset. Helen is crying because feels like she was manipulated by Elissa. Amanda says that she filled her in on what Elissa was doing. Amanda says that Helen now feels stupid.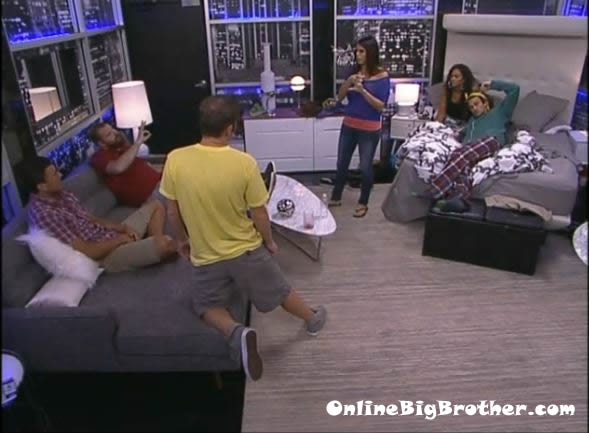 12:10pm Candice comes up and asks if she can talk to McCrae alone. McCrae tells Candice if she gets House Guest choice she needs to pick someone who will go balls out. Candice says like Jeremy. McCrae says yeah. McCrae says you or Jessie need to win the veto so that I can put her (Eliss) up. As long as we are all on the same page. McCrae says that even if she picks a strong player we are still good because then hopefully that person can win it and take you or Jessie off so I can put up Elissa. Amanada joins them. Amanda tells Candice that she owns them now because they have helped her. Amanda says and you can't go after McCrae. Amanda tells Candice the reason why she went up on the block was because the way she acted in the have not competition telling her teammates to "shut the fu*k up!" Candice says that she didn't remember saying that. Amanda says I threw myself in the fire for you .. for telling Helen.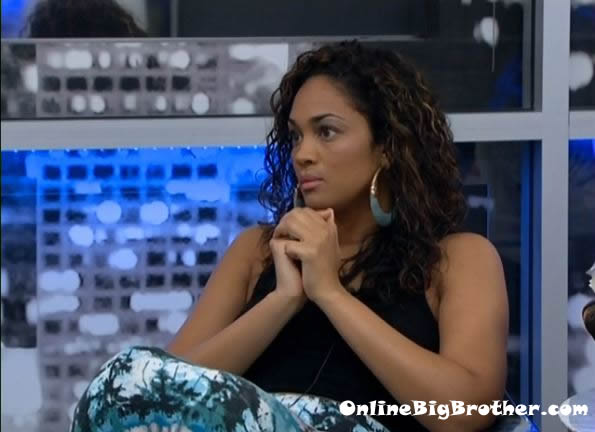 12:20pm – 12:30pm Amanada asks Mccrae if he asked Elissa if she got MVP. McCrae says she says that she didn't but that it doesn't even matter because we are all on the same page. Amanda tells Candice to not tell anyone that she was a pawn. Just lay low, do your own thing, no more game play. The conversation turns to talking about what the POV competition will be like.

12:30pm – 12:45pm Aaryn and Andy have a chat in the bathroom about how he has her back. Andy says that he is team Aaryn. Aaryn tells him that people in the house think that he is working with Helen and Elissa. Andy says that couldn't be further from the truth. Aaryn says I would suggest not hanging out with them then. Andy leaves and heads up to the HOH room. Andy tells Amanda and McCrae what Aaryn just told him. Amanda says that Aaryn is just paranoid and spreading things, like she was yesterday. Andy, Amanda and McCrae discuss the veto and MVP power. Andy says that he wants to tell Aaryn to cool it. Andy leaves. Amanda tells McCrae that he owes her because I just took care of the only threat you had (Canadice). They continue to talk about not wanting Elissa to win POV and how great it would be for her to not be picked. McCrae gets called to the diary room.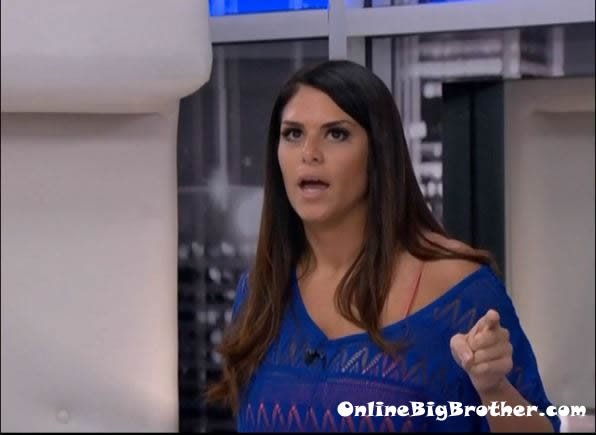 12:55pm Down in the kitchen – The other house guests are hanging out and eating while they wait for the power of veto competition to start. Meanwhile, Jessie plays Spencer in a game of chess while David watches.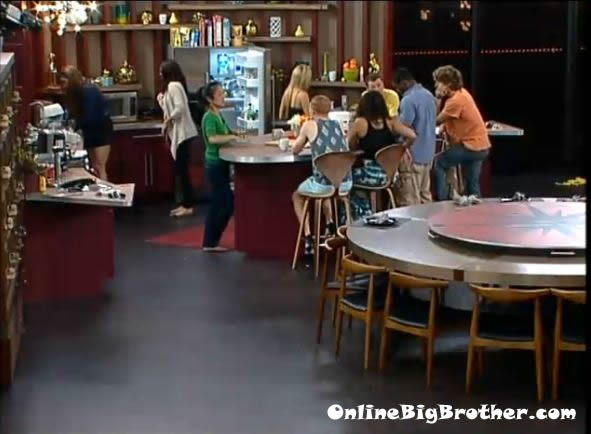 12:55pm – 1:15pm In the bedroom Amanda and Kaitlin are talking. Amanda explains that situation with Helen earlier. Kaitlin starts talking about how embarrassed she is about the whole triangle thing with Jeremy and Jessie. Kaitlin says that she was on board with making Jeremy looking like a pimp on tv.. but Jessie's emotions got involved. Amanda explains that right now people are looking for people that can be rational ..so that down the road they know who they can work with. Kaitlin says I am rational. Amanda says let her be irrational. Kaitlin says that she told Jeremy to just make Jessie happy. I just don't want her to turn on us. Amanda says you should just let Jeremy do what he wants.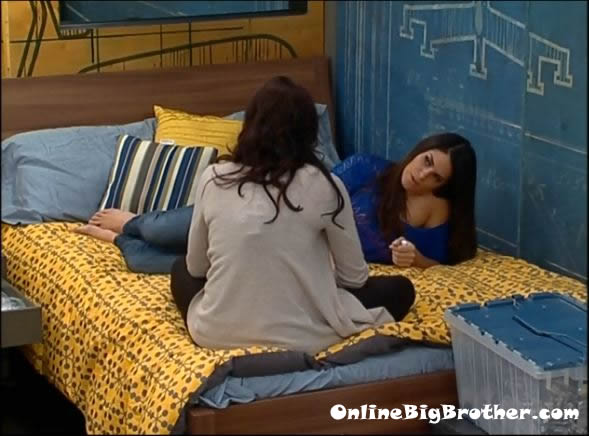 1:20pm In the living room – David, Andy, Judd, Jeremy and Spencer are talking and joking around. The talk about Kelsey Grammer wife and how she called him out on tv for having a small peni$. Jeremy and Spencer both agree that's not right to call someone out like that. Meanwhile in the havenot room Howard talks to Amanda about how they are good. Amanda says that we will pull Jeremy into our alliance only when he is on the block so that we can save him and he'll owe us. Amanda brings up to Howard how she was told by McCrae that he doesn't quiet know where you stand. Howard isn't sure why. Judd comes in and leaves. Amanda and Howard both comment on how they don't trust Judd.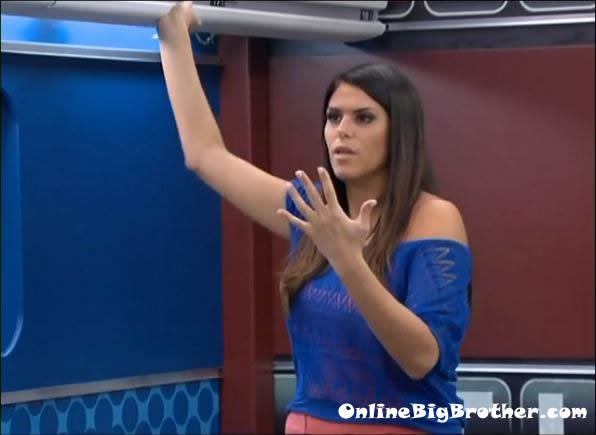 1:30pm – 1:45pm Up in the HOH room Helen and McCrae are talking. McCrae says that he wants David out because he doesn't talk game with me and he doesn't believe I am a pizza delivery driver. Helen says best case is that Elissa gets MVP. McCrae says yeah if she gets MVP we can work to keep her. Helen explains how they only need 5 votes with 3 people on the block. That means that there are 12 votes out there and you break the tie. Helen says that we just need to get Elissa to put up a big guy. They talk about keeping their alliance silent. Helen says that she is going to pretend everything is okay between her and Elissa so it doesn't look like the girls tipped me off that Elissa is playing me. They head out to play chess to not look suspicious.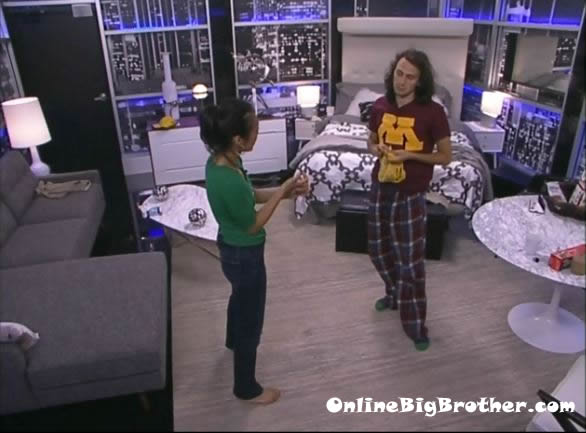 1:50pm Kaitlin and Candice are talking in bed about the POV competition. Candice says that she already said that she would pick Jeremy if she got house guest choice but that she doesn't want to if he doesn't want to play. Kaitlin says that he does, he is a competitor.
1:52pm The live feeds switch to the we'll be right back screen. The players for the power of veto competition are likely being picked now.
2:10pm The we'll be right back screen gets switched to the TRIVIA screen… Most likely the Players for the POV competition will be picked and right after the House Guests will compete for the Power of Veto. The live feeds might be down for the next few hours or more..
2:50pm Still TRIVIA..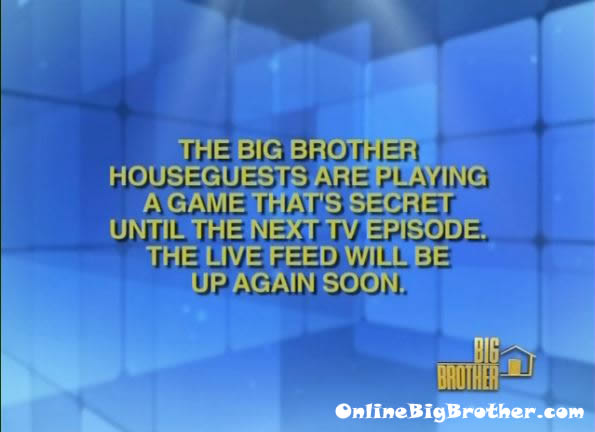 [polldaddy poll=7209194]
Stay connected and interact with other Big Brother Fans on our Facebook page.
And Follow: @BigBspoilers and @Dawgsbigbrother on Twitter for the most up to date spoilers.