POV Holder:
?
Next POV
June 27
POV Used
?
POV Ceremony
?
HOH Winner:
McRae
Next HOH:
Wed July 3rd
MVP:
Elissa
Original Nominations:
Current Nominations:
Jessie, David and Candace
Last Evicted Houseguest
?
Have Nots
Andy, Elissa, Jessie, Howard, Helen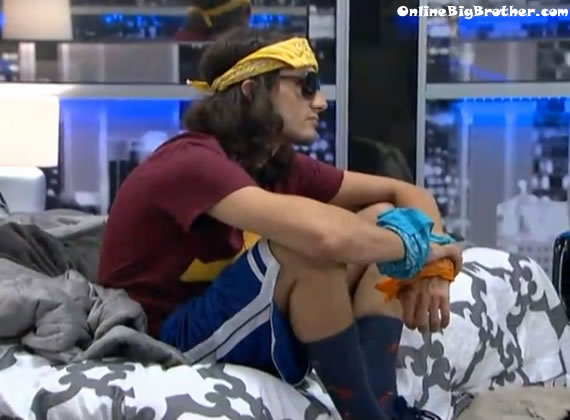 3:44 HOH Amanda and McRae talking about getting Elissa out of the house
McRae: "She told me she was MVP and I told her (nominate) David"
Amanda: "who do you want gone"
McRae: "I want her gone.." (Elissa)
Amanda wants to have an alliance with McRae and Helen. Amanda: "Everyone loves Helen" Amanda thinks that the three of them can run the house from the sidelines. McRae agrees says they have to keep it on the downlow.
McRae doesn't seem worried if Elissa stay this week since he's in pretty good standing with her. "It doesn't matter who goes home"
Amanda doesn't want Elissa to stay really wants her gone this week more than any one else.
Elissa joins them.. Amanda leaves. McRae explains to Elissa he told Amanda that she was the MVP, McRae thinks it might have been the smartest move to make. Elissa is a bit pissed that he told her because Amanda is going around the house talking to everyone. Elissa now thinks the entire house will eventually know and it's going to hurt her game.
Elissa knows that McRae will put her up as a replacement nominee if the POV is played. She's thought they they were together. McRae says he has to do it because he can guarantee she's going to stay. McRae wants to get rid of David.
Elissa: "I can't believe you told her.. "
McRae: "I f*** up man.. I don't know"
Elissa: "You've done this before"
McRae:"I don't know.. "
Elissa thinks that they should tell people that Nick got the MVP.
Elissa leaves and GIGI, Jeremy, Jessie, Amanda and Spencer join Mcrae in the HOH. They all start bashing Elissa from the sounds of it they all want her gone. Jeremy says Elissa is either a retard or incredibly smart.
Elissa comes up and and Jeremy confronts her. He asks her why she told him that her sister was a model. Elissa says her sister is not a model. Jeremy wants to know why she told him that. Elissa explains that it was a joke that she was saying her sister was Gisele Bündchen.
Jeremy: "Sorry I don't get your jokes"
Elissa: "Isn't there enough guys for you to pick on"
Jeremy: "I was just clearing the air.. if you got somewhere to be then walk downstairs.. "
Elissa: "You are picking on a women.. you are calling me out.. why are you doing that because you have MVP"
Jeremy: "If I won MVP I wouldn't have nominated David"
Elissa: "Why because you have an alliance"
They simmer down a bit but there is still a lot of tension in the room. You can tell that Elissa is feeling uncomfortable in the room. Jeremy starts to floss his teeth.
Jeremy: "I have a cousin that has down syndrome and he's the funniest mofo I have ever met.. He calls everyone"
Random chit chat..
MVP Results Elissa puts David up. Everyone knows Elissa was the MVP
GiGi is the host for the POV
POV players Mcrae, Elissa, David, Jessie, Candace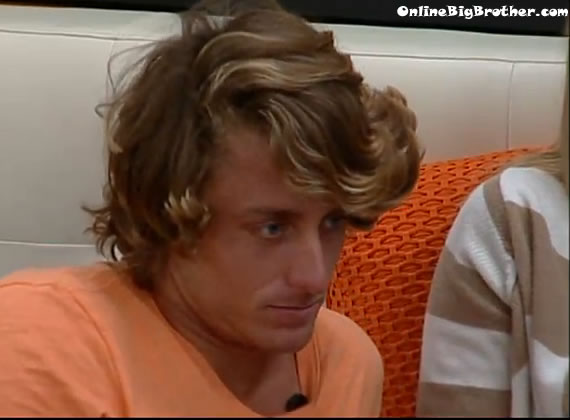 4:07pm Bedroom Aaryn and David Cam3-4 They are acting sad that David is on the block. Aaryn keeps on about how the players in the house don't know how to play the game. She brings up yesterday when a group of the houseguests didn't know the rules of the POV. (all the conversation I hear from her revolve around her having to explain the rules of the POV to "people")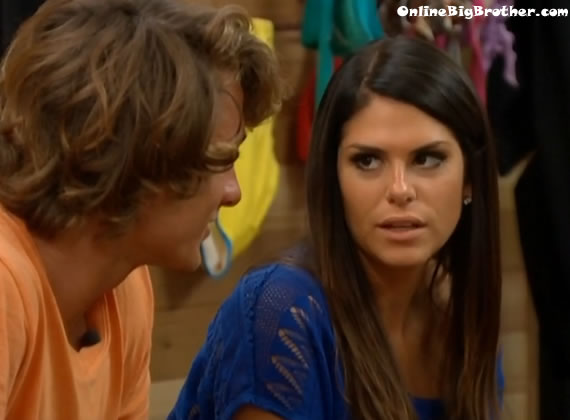 4:14pm Bathroom Amanda and David Amanda says as long as Elissa doesn't win the POV McRae will put her up as a replacement nominee and she will go home. Amanda makes it sound like the entire house wants Elissa gone and if McRae doesn't put her up he'll have 14 people against him.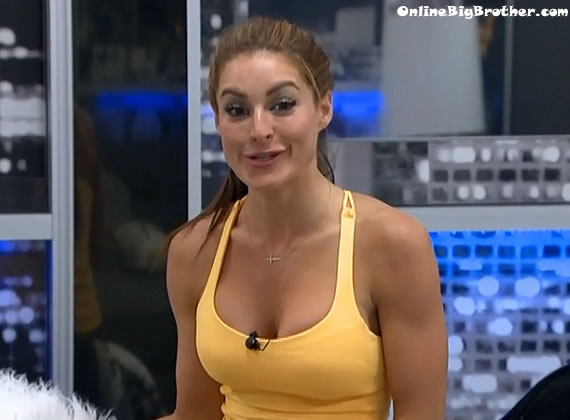 4:22pm HOH McRae, Spencer, Jessie and Elissa Elissa explains the story when Jeremy asked her who her sister was. (Really wasn't a bit deal she said it was a Victoria secrets model)
Elissa: "that was really nasty of him.. He was just trying to be smart"
Elissa says she's never done anything to Jeremy so doesn't understand why he was aggressive to her.
Elissa is worried that she's being portrayed as a idiot. McRae and Spencer explain that she needs to tune all the internets out and not worry because they are all being portrayed as idiots. Elissa mentions the Jeff and Jordan fans sending death threats to Shelly after Big Brother 13.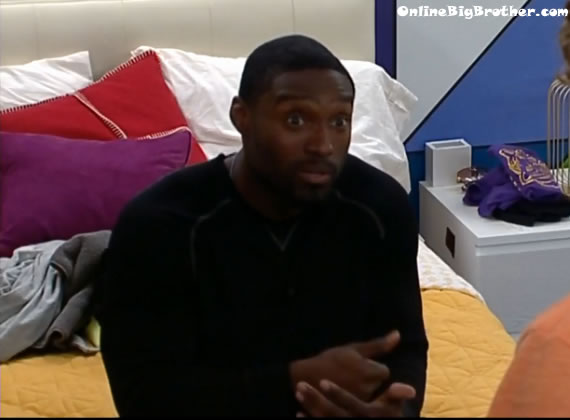 4:30pm Bedroom Howard and David David says he had a feeling he was going up.
Howard tells him if he wins the Power of Veto he will take Jessie off. Howard: "If I win either candace .. or what's her name the crazy one… "
David: "GIGI"
Howard: "No no no"
David: "The crazy one.. umm Elissa"
Howard: "YA.. they are going to put her up and one of them is going home" (Either Candace or Elissa)
Howard: "I'm kinda like you i'm neutral to"
4:40pm Cam 1 Motor boat
Share it YO!!
Tweet