POV Holder:
?
Next POV
?
POV Used
?
POV Ceremony
?
HOH Winner:
Aaryn
Next HOH:
MVP:
?
Original Nominations:
?
Current Nominations:
?
Last Evicted Houseguest
David
Have Nots
Helen, Elissa, Candice, and Andy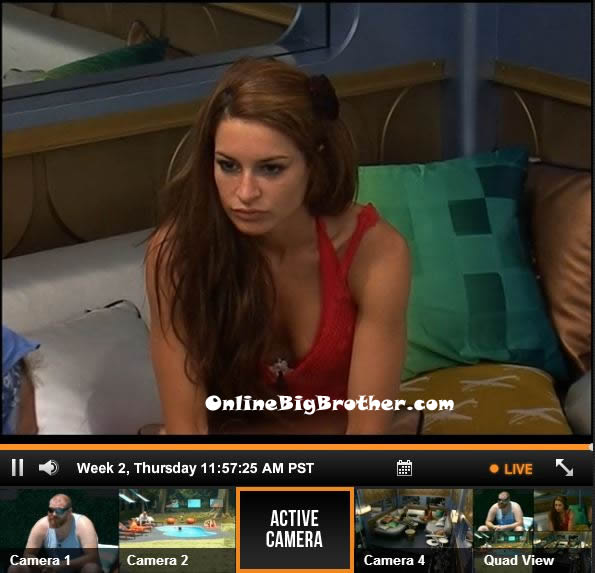 12pm Elissa and Gina are in the lounge room talking.
Gina starts talking about how she and Nick have chemistry and that he doesn't want to hook up in the house.
She says that she likes a guy back in New York and doesn't want to ruin it with him. Gina then starts talking about the votes.
She says that she wants to compete with the best. Elissa says okay wait why are you talking about Nick.
Did someone say I said something about it? Gina says no, I just want people to know I like this guy at home and I know Nick isn't here to hook up.
Gina says I don't cheat on tests, I don't lie, etc… Elissa says I have to be honest with you, when I first met you, you are an energetic fun girl.
It disappointed me that you made a connection with the mean girl Aaryn and I didn't like that.
You are 33 years old.
Gina says that Aaryn reminds her of a girl back home that she helps out.
Elissa says when you said that my voice is like nails on a chalk board when I haven't even talked with you.
Gina says that to be honest the people at home would be disgusted with that because I like to be positive about everything.
If I make fun of someone it's just to bust someone's balls. Gina says that she is sorry for the things she said.
They hug and leave the room.
Elissa says one more thing, could you ask Aaryn to stop attacking me personally.
Gina says yeah I will talk to her.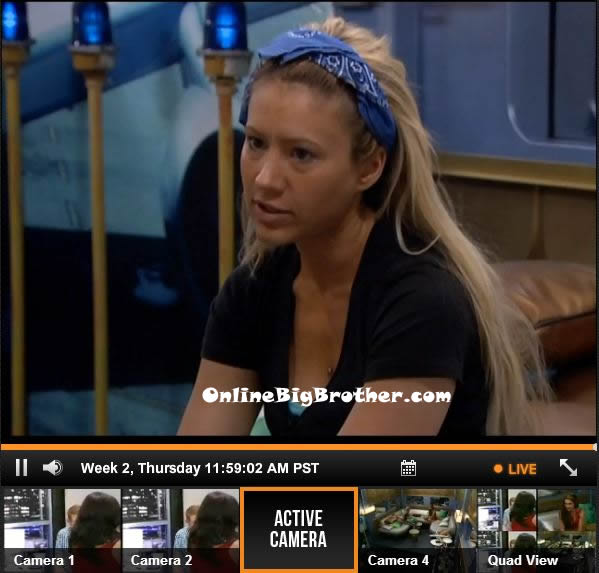 12:15pm Up in the HOH room – Andy, Kaitlin and Aaryn are talking. Andy talks about how last week he felt all alone. He says that no one talked to him and says that it was just like when he started college. Aaryn and Kaitlin are talking to Andy about how they think Nick is gay. Aaryn says that Andy should be able to figure out Nick because they're both gay. Andy says that he doesn't see it and if he was he would be jumping my bones. Andy heads down stairs. Kaitlin asks Aaryn if we put up Candice and Elissa, what if people send Candice home and we are stuck with Elissa again. Candice joins them. She talks about how hot it is up there. She sits there awkwardly and then leaves.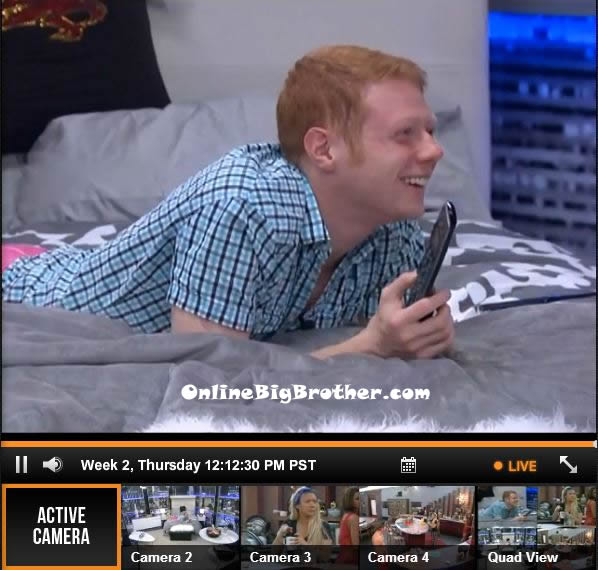 12:30pm – 1:10pm Aaryn says you know who of the past house guests will be my all time fan. Jerry (Jerry MacDonald from big brother 10 who called hated Dan Geesling and called him Judas all season.) I would let him grab my boob but I don't have anything. Maybe when I win I win get implants and he can grab them. kaitlin laughs. Aaryn says what he likes to do that. Kaitlin says all week we need to look insanely hot. Aaryn and Kaitlin talk about how when they nominate Candice she is going to freak out. Aaryn says that she is going to take her HOH key everywhere she goes because I just don't want her up here. Kaitlin says that he needs to stop being so comfortable. Jeremy comes up to join them. Kaitlin says that she thinks we should put up Candice up with Elissa. Jeremy says no she can't compete. Kaitlin says that she is worried about going home. Jeremy tells her to look him in the eyes – he tells her that she is not going home. Aaryn tells Kaitlin that we need to act like we trust Nick or else we won't get the votes. They agree that they need to stop telling Ginamarie that they don't trust Nick. Kaitlin calls for Gina to come up. They talk to her and tell her that they can't tell Nick that they don't trust Nick. Gina says that she told Nick – I know you don't like me that way but don't play me dude! Aaryn tells them that she knew as soon as she saw Nick she knew he was there to manipulate. Aaryn says I know psychology like the back of her hand and knows something is up because she can read people. Aaryn comments that as soon as Nick gets home he is going to be a model, just like that. Gina says yeah he is amazing. Jeremy comes up and says that he got bit by a spider last night. Aaryn says maybe Rachel came in on a lease and bit you. Aaryn tells Jeremy – Texas state is proud right now, me and you! Jeremy, Kaitlin and Aaryn head down to the pool.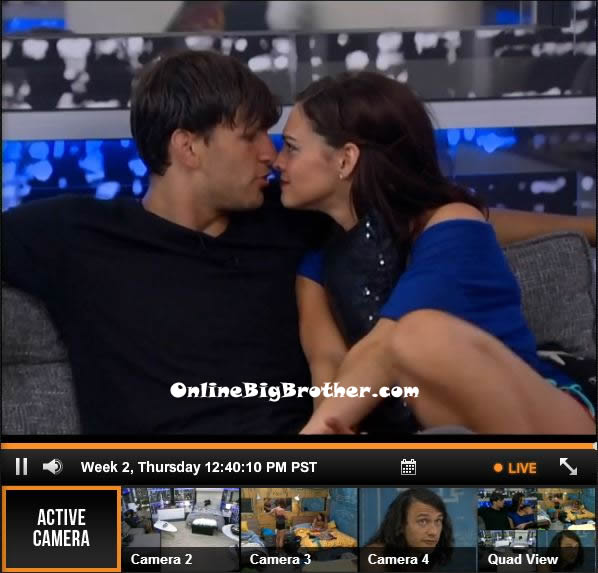 1:15pm Spencer, Kaitlin, Judd, Gina, Jessie, Candice, Aaryn, Spencer and Andy are hanging out in the and by the pool talking about movies/Disney movies.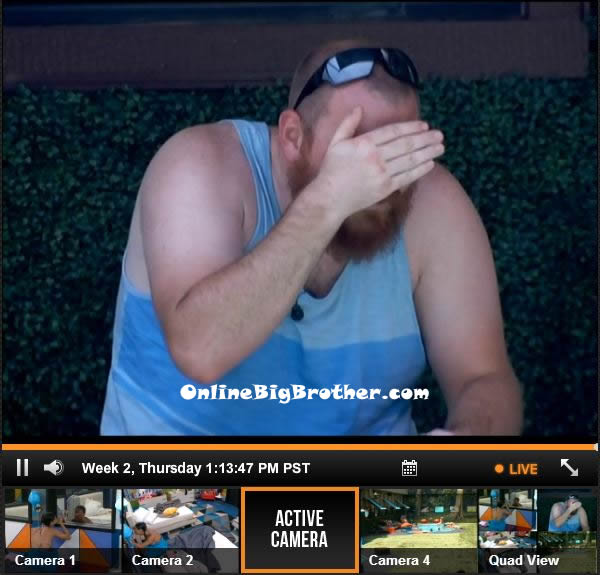 1:40pm Andy tells McCrae that they (Kaitlin and Aaryn) are getting super skeptical of Nick. So I am planting that seed hardcore. In the havenot room – Helen and Elissa are talking about the votes and the MVP. They talk about how they can't let Candice in on anything. We can protect her but we cant tell her anything. Helen says that if we get the MVP – IF we put up Jeremy but he could win the POV. If we put up Kaitlin or Jessie they could win the POV and then they could use it and we put up Jeremy up. Hopefully the twist works in our favor. Helen says if we get MVP we can't let Aaryn know we got it. McCrae is on our side. We will talk to Spencer and McCrae about what the best strategy is. If its Kaitlin on up on the block we should throw it and her and so that she takes herself off and then we put up Jeremy.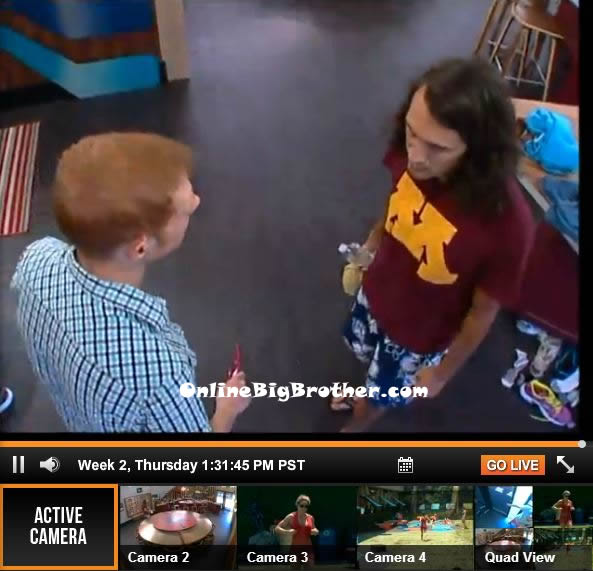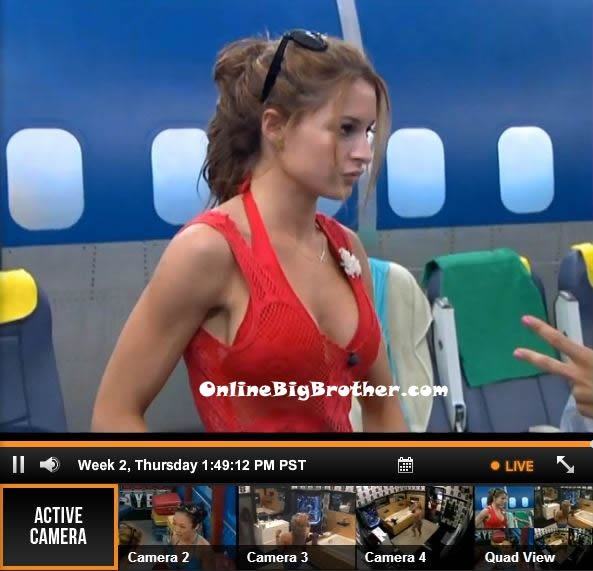 2pm – 2:25pm Up in the HOH room – Amanda comes up to tells Kaitlin and Jeremy that Elissa is throwing Jeremy's name out there to put him up on the block if she get MVP again. Jeremy says that's fine, I will win the POV and take myself off the block .. No actually I won't use it and they we will vote her ass out. Amanda tells them that she thinks she can convince Elissa who to nominate as the MVP (if she gets it). They tell her to try and get her to nominate Nick. Jeremy tells Amanda that Elissa is throwing you under the bus. Amanda asks why are you going to put me up. Aaryn says we are putting you up, no one has said that. We have bigger targets. Amanda says that she thinking that if they nominate Nick using the MVP vote. He will win the veto and the either you or her (Jeremy/Kaitlin) will be back doored. Big Brother cuts the live feeds to the we'll be right back screen. Amanda says me and McCrae will 100% vote on how you want us to vote. Aaryn says you, me, McCrae, Ginamarie and Jeremy were the 5 that voted for Elissa to go. Amanda says yes, I swear on everything that is holy. Aaryn says I believe you but we have to have each others backs. Amanda says that now I don't even know if I have any influence with her if she is throwing my under the bus. Gina comes up and Jeremy and Amanda leave. Gina then heads back down stairs. Aaryn complains about her stomach hurting. She says it's because of being stressed. Kaitlin tells Aaryn that you know Elissa isn't going to put up Jeremy .. she is going to try and back door him. That's the thing with this MVP. Big Brother blocks the feeds.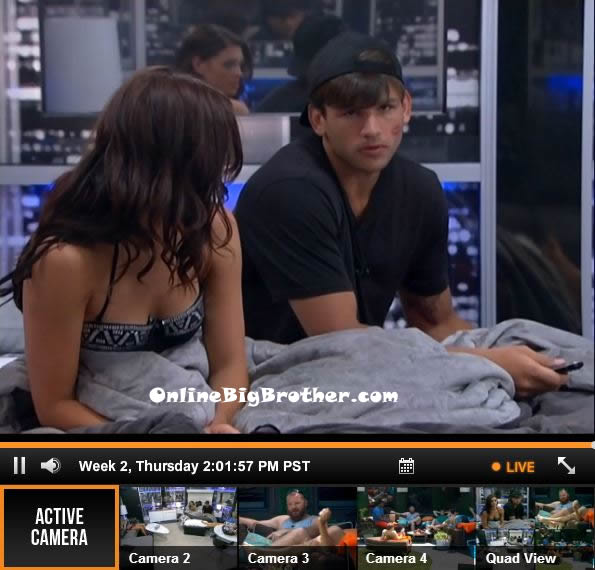 2:30pm When they come back – Gina, Kaitlin and Aaryn are up in the HOH room. They talk about how they found David's tag. Gina is crying. Aaryn tells Gina that Nick is playing the fu*k out of you! Aaryn says us girls don't get played like that. Gina says fu*k no! Gina starts talking about the guy back home having a perfect body. Jeremy joins them. He says that he just scared the shit out of some people. He says that he was talking to McCrae and that he said we are going to try and get Elissa out one more time and if it doesn't work we will start coming after you motherfu*kers. Kaitlin says you are so smart. Gina asks what am I supposed to do with Nick. They tell her to not do anything, to just act natural. We will get him out next week. Gina says if I just had a picture of Matt (The guy she likes at home) I would be fine. Big Brother cuts the feeds again.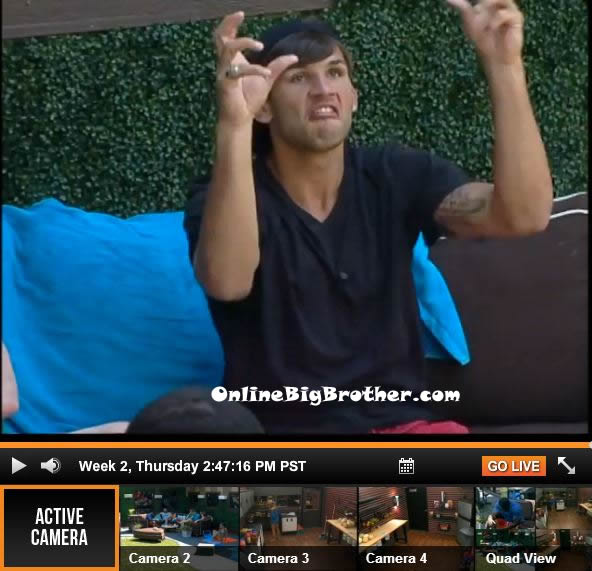 2:45pm – 3:10pm Out in the backyard – Spencer, Howard, Andy and Jeremy are talking on the backyard couch. Jeremy comments that he is here to win the money. Andy says that he is spending all his savings $3500 just being here. Jeremy tells them that she (Elissa) is calling you guys her Brenchel army. I can't believe it went down like that and she is still here! Spencer comments that Elissa's eviction speech was a c**ty thing to say. Meanwhile in the bathroom – Amanda is painting a flag on McCrae's face with makeup. Amanda tells McCrae I don't think we should get rid of Elissa. McCrae says that Jeremy is going to win HOH next. Amanda asks him if he thinks its going to be another enduance. McCrae says it doesn't matter. Andy comes in and tells them to push for Candice and Nick to go up on the block. Amanda asks what about Elissa? Andy says well yeah but them too. They have no idea we are all working together. Andy leaves. McCrae tells Amanda not to do what Andy says. Amanda says I know. McCrae says don't even push for Nick because it will get back to us. Andy comes back and says worst case it is two of us up against Elissa and we get her out. Amanda tells McCrae that she'll make burgers with Aaryn later to bond with her. Amanda says they must know that if the put me up, then you're going to be gunning for them. McCrae says yup. Amanda says that she wants to be like a Janelle or Rachel and win everything. She says and they aren't even that fit. McCrae says that they work all they time. McCrae tells her to quiet it down a bit. Amanda says I know.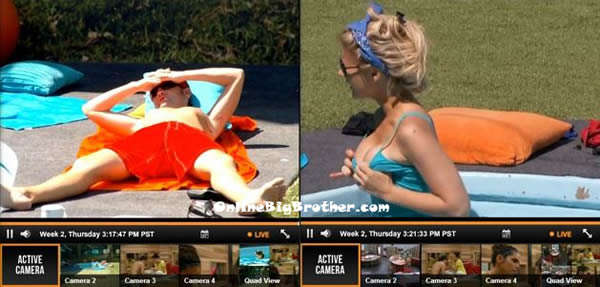 3:25pm – 3:45pm Jeremy, Kaitlin and Gina are in the pool while Judd suntans beside the pool. Kaitlin and Gina tell Judd that he messed up by not voting Elissa out. They tell him they would have flashed him their boobs. Jeremy says I voted her out can I see? Kaitlin says yeah but not right now. Gina then grabs her boobs and pushes them up. She says you like these jugs Judd?! Jeremy moves over to the couch and tells Candice and Howard about how if the house doesn't vote Elissa out this week he is going to stop trying and start going after other people. Jeremy says I like you guys I don't want to come after you. Jeremy says that Elissa is rich with a big house and a rich mad at home. Her son who's 5 years old even has an ipad – fu*k that kid! Jeremy says he wants this game to be fair, I want Elissa gone. They are going to put her on the block and I am going to vote her out. I just hope I'm not on the block. Jeremy says that Elissa has help she has a sister that's been on two seasons and I saw someone in the back door, I couldn't see who it was .. Big Brother cuts the feeds. When the feeds come back – Jeremy continues to talk about why everyone needs to vote Elissa out. Jeremy asks Candice if she concurs? Candice says yes, I voted her out. Candice says that floaters are pu$$ie$ that won't pick a side. Jeremy asks you do want to be on the strong side right? Candice says yeah. Jeremy tells Candice that she isn't going to be up this week. And when you don't go up, you can trust what I tell you. Jeremy says I didn't even think you should be a havenot this week. Candice says that she is in the room with Elissa a lot and if your name comes up I will let you know. Jeremy continues to talk about why Elissa shouldn't be here.

4pm – 4:15pm In the bathroom – Amanda continues to paint McCrae's face. Amanda talks about how she just needs to convince herself of the lie and once she does that it all comes out naturally. Kaitlin comes into the bathroom. Amanda asks her what they are thinking of doing. Kaitlin says that it doesn't have anything to do with me, Jeremy and Aaryn are making the decision together. Amanda asks you don't have any say in it? Kaitlin says no. They talk about the HOH competition last night. McCrae says that he wishes he could have done it too. Kaitlin says yeah you would have won it. Kaitlin says that Jeremy doesn't want to put Candice up. Kaitlin says but like you said she is probably going to put up a strong player. She says that Jeremy doesn't even want to put Elissa up – He wants to put up the people that didn't vote her out. They talk about how they think nominations will be tomorrow. Kaitlin says she doesn't think Elissa will even put up Jeremy as MVP, I think she is trying to throw us off. Amanda says yup. Amanda finishes the face paint. McCrae heads outside and says God bless America!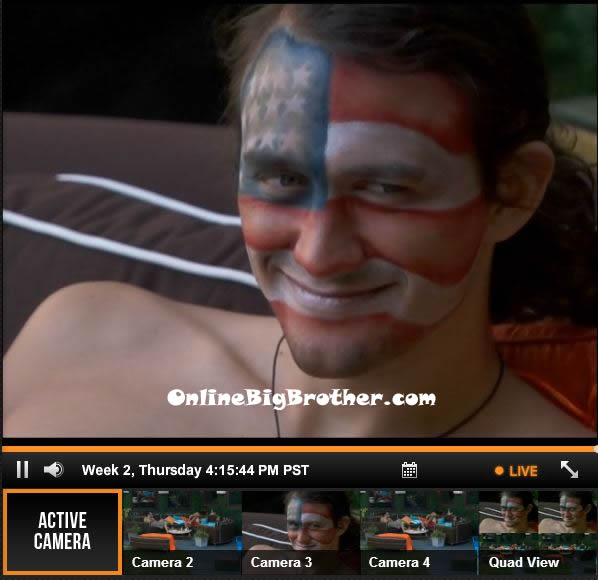 [polldaddy poll=7226129]
Stay connected and interact with other Big Brother Fans on our Facebook page.
And Follow: @BigBspoilers and @Dawgsbigbrother on Twitter for the most up to date spoilers.