POV Holder:
?
Next POV
?
POV Used
?
POV Ceremony
?
HOH Winner:
Aaryn
Next HOH:
MVP:
?
Original Nominations:
?
Current Nominations:
?
Last Evicted Houseguest
David
Have Nots
Helen, Elissa, Candice, and Andy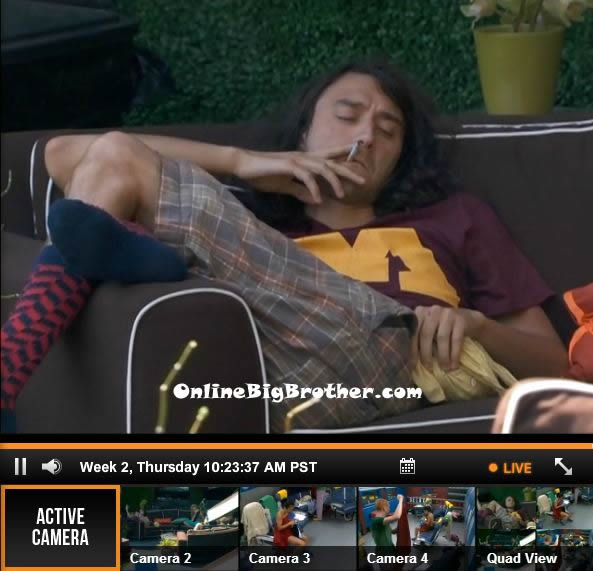 10am Big Brother switches the live feeds to the we'll be right back screen. When the feeds come back – McCrae, Judd Jessie and Aaryn are out in the backyard chatting. Jessie comments that she loves they played 5 songs this morning. Aaryn and Judd head inside. McCrae says to Jessie happy July 4th, what a bummer. Jessie asks what he means. McCrae says the they're missing it.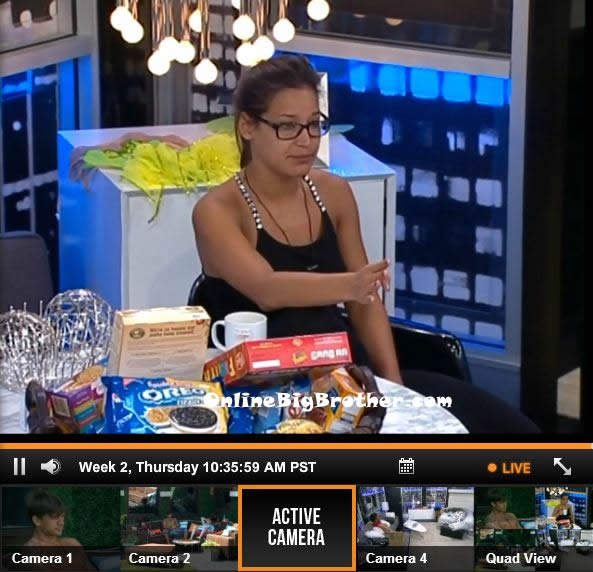 Jessie heads up to the HOH room with Aaryn. Jessie asks if Aaryn is doing okay with David today. Aaryn says yeah, it's just really hard to see David's picture blacked out. Kaitlin joins them. Kaitlin says lets just let Jeremy do all the socializing this week. Kaitlin says I am upset with Howard. Jessie agrees and says that Howard was swearing on his religion. He said he wanted her (Elissa) gone. Aaryn says yeah but he could be just scared. Jessie says that Howard swears he voted for Elissa to leave. They talk about how they believe him, which the figure means that Spencer is lying. Kaitlin says that she wants to go down and yell at them because David threw the POV competition because he didn't want any of you would be put up in his place. He is smarter than that. He could have easily spelled ceiling or something else. HHe had more letters than most of us. Aaryn says he did it to protect me. Kaitlin says yeah but they don't know that.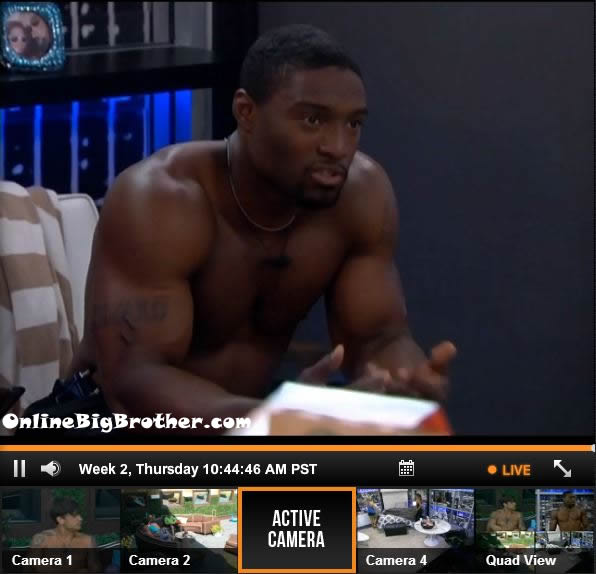 10:40am – 11am Howard comes up to the HOH room – He says that he didn't want to pressure her and didn't want to or felt like he needed to talk to her yesterday. He says that he voted with the house and did what the house wanted. It was simple arithmetic to get her out of the house, why would you keep someone in the house that has an advantage. He says that it was poetic justice that David left and you won. I don't want you to think that just because I hang out with them doesn't mean I can't hang out with you guys. Aaryn says that the ones that are lying are shaking the whole house and making people not trust anyone. Howard it was just as surprising to him as it was to them. Howard says that he voted for David to stay. Aaryn comments that it was smart to keep her because it is keeping a target off them and on her (Elissa). Aaryn says that the thing is, is that the people that were safe before are now targets like Andy. Jeremy joins them. Howard leaves. Kaitlin says okay that didn't make any sense. Aaryn talks about how they can't trust Nick. Aaryn asks what we should do. Jeremy says we just need to throw out false ducks to see what comes back to us. Jeremy says that he wants to make Elissa's time miserable. Lets give her a week of slop and no sleep. I will go down there at night when she is sleeping and start slamming the doors. They talk about how they think the others came up with a plan to lie. They talk about how they don't know who is lying and how Howard swore on his religion to Jessie but didn't to Aaryn just now. Jeremy calls Elissa an UG-BOT. She is just jealous that you girls are hotter than she is. Aryn comments that she can't even look at the memory wall, it makes me sad. Jessie says just wait until we send her (Elissa) out and then its justice served. Aaryn says I can't wait to get death threats. Jessie asks people get death threats. Aaryn says oh yeah, but once they see how Elissa has been they'll take it back. Jeremy says that he is going to write each one of the people that send him death threats. Aaryn says that the first week everyone just votes how ever they want. The first week is smacking everyone with a stick and seeing how they react.
11:15pm – 11:26am Outside in the backyard – Spencer, Amanda, Judd are talking about the HOH competition last night. Amanda says that she is glad she didn't come in last … Candice.
11:30am Andy joins Kaitlin, Aaryn and Jeremy up in the HOH room. Jeremy comment to Andy – you look like a flaming boy! Kaitlin says I am going to go get my bathing suit, because I am going to rape death! Andy asks what? Kaitlin says I just say fu*ked up sh*t. Andy asks so did you figure out who the votes were? Aaryn says that Candice swore on America and god. Howard swore on his religion. Spencer didn't swear on anything. Andy says so who is for sure me, Judd Helen. Aaryn says since you Helen and Judd came up here and admitted it to me you are off my radar. Why wouldn't you want to do that.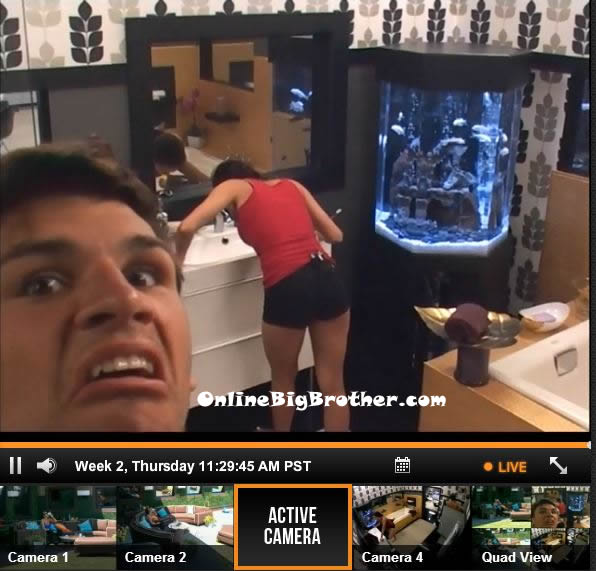 11:40am – 11:55am Out in the backyard – Spencer tells Howard that Aaryn doesn't trust Nick or Ginamarie. As long as she doesn't trust all of us then we are good. Spencer says that Jeremy said he is going to be doing the nominations so we are good. Out in the backyard – Howard and Jeremy are working out.
Stay connected and interact with other Big Brother Fans on our Facebook page.
And Follow: @BigBspoilers and @Dawgsbigbrother on Twitter for the most up to date spoilers.