POV Holder:
?
Next POV
?
POV Used
?
POV Ceremony
?
HOH Winner:
Aaryn
Next HOH:
MVP:
?
Original Nominations:
?
Current Nominations:
?
Last Evicted Houseguest
David
Have Nots
Helen, Elissa, Candice, and Andy
4:35pm HOH Cam 3-4 Jeremy and Aaryn
Jer: Tell me if you think this is a good idea again I want you to make the decision.. Amanda was the mastermind of David going home so i'm thinking Amanda and Elissa as the nominees"
A) they are both in the alliance
B) they both suck at competitions so I have a way better chance to win VETO
C) doesn't matter which one goes they are both strong players (Amanda strong socially and Elissa strong because of MVP/CBS manipulation)
A: "You don't think they would vote out Amanda"
J: "Doesn't matter they are both dangerous"
A: "mcCrae and Amanda are playing everyone "
J: "I don't know about McCrae but I'm sure Amanda is playing everyone "
A: "you don't think we need McCrae and Amanda on our side.. they said noms are tomorrow.. we need to figure this out"
J: "who said that" (about the the nominations)
A: "Amanda "
Jer: "Amanda is such a good mastermind she'll go crazy and can get Elissa out"
A: "She's such a good master mind maybe she will get Elissa out.. plus McCrae will fight to keep Amanda" (Aaryn just repeated Jeremy)
Aaryn thinks that maybe they should tell Amanda
J: "lets not tell anybody.. they never told us about David"
A: "True.. I just thought it would cause less Chaos"
J: "no matter who you put up they are going to be pissed"
A: "What if Amanda did vote out to keep david"
J: "No way she didn't"
A: "Who is the fifth person" (that voted to keep David)
J: "dunno.. I think it's howard to be honest"
A: "ya or spencer.. do you think it's best for everyone.. cause you are probably going up" (is Elissa and Amanda good for the house and Aaryn thinks Jeremy is going up when Elissa wins MVP)
J: "I want to go up cause I'll win the POV"
A: "the only reason I would put up Candace and Elissa is less drama in the house"
Jeremy points out that people in the house have been telling him that they cannot stand Amanda .. Like spencer.
Jessie walks in, "Hey Interesting fact.. just walked in on Howard and Candace.. They were talking game trying to recruit him…for sure candace, Helen and Elissa are allied"
A: "Shady F****"
J: "That makes me want to go back to Helen and Elissa.. get them against each other"
A: "We're trying one more time to get Elissa out and if this house doesn't
evict her we're going after the people that keep saving her"
Jeremy agrees says that it's in everyone's benefit to get rid of Elissa
Jeremy says that Helen has a good chance to win POV so if she puts helen and Elissa up and Helen saves herself they can put up another person they want to take out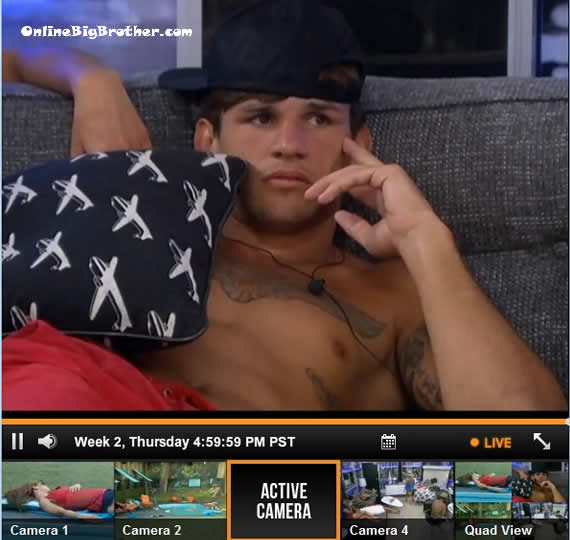 Jer concludes Helen and Elissa nominated and the replacement nominee is Amanda.
A to J "Don't repeat that"
J: "OK"
J: "Keeping Candace for another week really doesn't hurt anybody.."
J look over at Jessie says he's glad that she is back with them, "I think you are a good player and I really want you on our side
McCrae is at the door Jer: 'Come in f*** dick"
J: "I just keep telling people obviously we're putting up Elissa but we don't know who the second nominee will be. Jer explain they are only going to try and get her out this one last time otherwise they are going after the people she's allied with.
Andy comes in
Jeremy brings up how rich Elissa is how she really doesn't deserve to be there. JEremy mentions Elissa has a mansion drives a lotus., "She told me money is not a object for her.. her man makes big money and she just has to treat him good and collect"
Andy tells them about all the travelling Elissa has done.
A: "every time she talks she talks to the camera… like she selling something"
J: "Our main objective is to get her to leave..it's not fair dude.. we all went through sh!t to get on this show she was just let in because of her sister.. she got handed An invitation"
MC: "she says she didn't even want to be here. "
Jeremy brings up the production door in the storage room being left open and Elisa walking out .. feeds cut.. (damn you CBS)
McCrae: "I can tell you 100% I'll vote out Elissa"
Andy: "I feel very alone in this house so if I can get some safety I'll vote"
J: "I do believe you McCrae.. I shouldn't you fu*****"
J: "I know Helen and Elissa are in an alliance and Andy and Elissa are close"..
Kaitlin walks in
Jer brings up that the MVP should be going to the the most valuable player not the one with the most Rachel fans.
Aaryn: "Did I tell you that they boo'd me when I voted her out.. "
McCrae: "We have to get her out.. that MVP is only for her"
Kaitlin: "Exactly.. then why didn't we just vote her out last week"
Andy doesn't think Helen, Amanda and Elissa are together. Andy says he thinks HElen is an asset to Jeremy, "If Helen and Candace are allied it's news to me"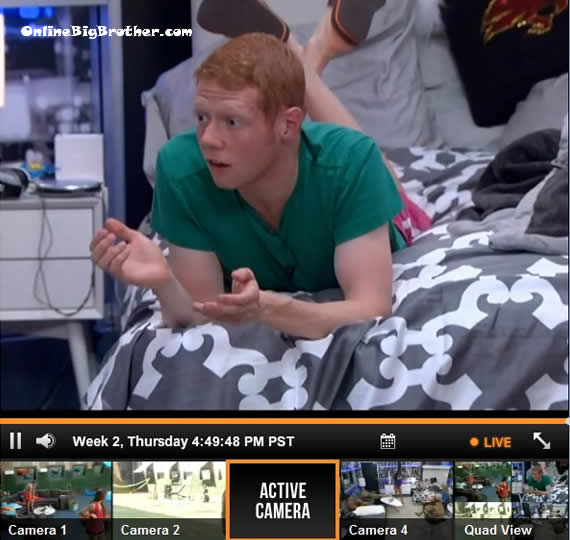 Jeremy says why give a rich person the money give it to someone that is poor.. "she's been handed sh!t her whole life"
A:"If she knows she is going up on the block she'll put the weakest player up so she can beat them in veto" (They all assume that Elissa will win MVP which is probably going to happen"
J: "Helen is a great player she will beat Elissa in the veto"
A says she guarantees that Elissa will not tell anyone she has the MVP and she'll put the weakest person that is why they need to put a strong player up with Elissa so the strong player wins the POV
K: "Then maybe we should put Nick up" (NOOO )
MC: "If they booed.. she will get MVP for sure"
K: "Well ya that is why we should have voted her out last week"
J wants to see who else can win MVP "Who does America like beside the b!tch" (Elissa)
Aaryn: "I'm going to have death threats when I get home for going against Elissa"
MC: "I'm scared to"
Gina joins them
A: "brendon and rachel are the 2 crazies that have ever been on this show.. BRendon has D1ck pics all over the interents"
Gina is injured and they are worried that Elissa will put her up with her MVP They agree that is a douche move
A: "Did you hear that she told us we're running a whore house.. I didn't even kiss David with my a tongue"
They all agree that Elissa is really insecure that is why she puts everyone down. MC: "I hate that sh!t she thinks she's better than all of us"
A: "She said that I won because I take adderall and Jeremy is tall"
Aaryn thinks that Amanda may have voted to keep David because she was up in the HOH swear 25 times that she did.
Kaitlin points out that Howard swore on his bible so they can't really believe what people are saying in the HOH. Aaryn: "Maybe he's just not religious.. maybe it's a act"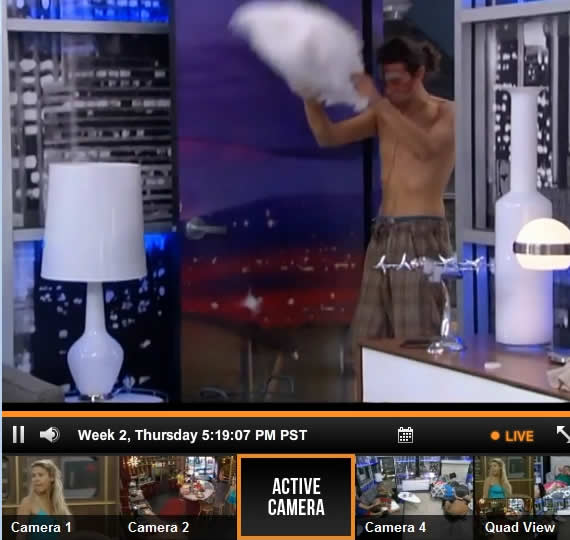 (The picture above.. THe HOH room is super hot so McCrae decides to fan it with a pillow)
Kaitlin tells them about seeing the medic because she was peeing blood. The medic told her she took too much advil last night when she had the migraine. Kaitlin says she took 4 yesterday which she didn't think was too much.
Kaitlin mentions that she saw the door that production uses to access the house in the storage room open and Elissa coming out of it.. They are all wondering what it was about. Gina thinks they were giving Elissa inside information.
Aaryn: "She going to win and get more plastic surgery"
MC: "YA.. she on such a f*** high horse"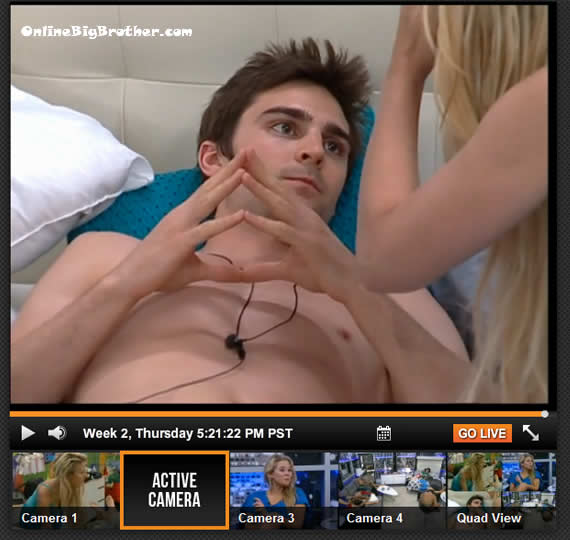 5:17pm Cam 1-2 Gina and Nick Gina saying everyone thinks Elissa is going to put her up because her hand is injured and she won't be able to compete in the POV.
(REally hard to hear most of this conversation)
Gina telling Nick that Amanda and Howard are Swearing on their lives that they voted out Elissa.
Nick: "Someone is going down"
Nick says they have to keep people around them because they need to get Elissa out this week. Gina brings up the conversation in the HOH, "McCrae si flipping out.. he's like she's being so weird.. she's got a F***** screw loose" (Elissa)
Gina thinks McCrae really wants Elissa out.
Nick: "You know what I think… we don't need to talk game to everybody we just need to talk game to enough people to make sure Elissa goes home"
Gina: 'I know.. you still need to talk but don't give any answers back"
Gina doesn't believe that Amanda voted to keep David. After the HOH was won Aaryn was allowed to assign the have nots for the week she said "Everyone who voted for David to leave put up you hand your going on slop" Amanda and McCrae immediately volunteered to go on slop.
Gina :'Judd and Andy admitted what they did because they are scared"
Gina is worried that the HOH group is thinking that Nick might be working with other people. She instructs him to not talk to people for a long time because it arises suspicions.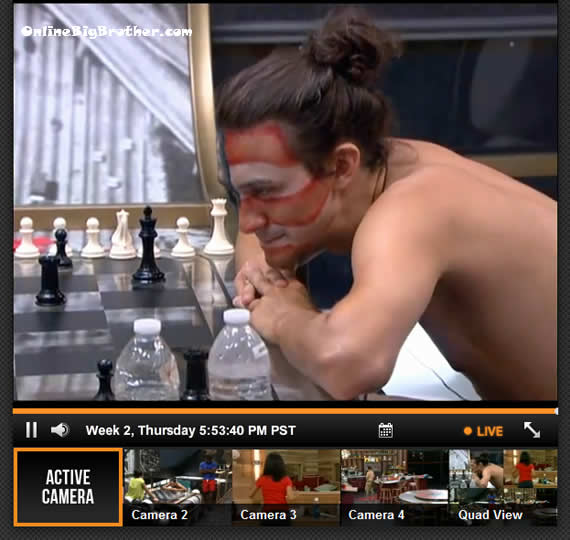 5:50pm Amanda and McCrae playing chess..