POV Holder:
McCrae
Next POV
June 27
POV Used
Yes
POV Ceremony
June 29th
HOH Winner:
McRae
Next HOH:
Wed July 3rd
MVP:
Elissa
Original Nominations:
Candice, David, Jessie
Current Nominations:
Jessie, Elissa and David
Last Evicted Houseguest
?
Have Nots
Andy, Elissa, Jessie, Howard, Helen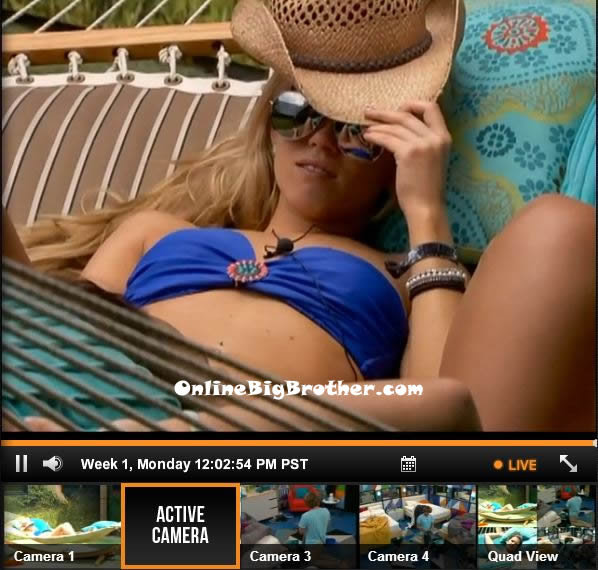 11:50am – 12:20pm Aaryn heads out to the backyard and lays in the hammock with Jessie. Jessie brings him how what pissed her off about last night was when Kaitlin and Jeremy were having their fight Nick was just sitting in the back ground listening. Aaryn says yeah and what sucks is that the people like Nick who are floaters are going to stay longer. Aaryn says that she is annoyed that her and Jeremy are the only ones voicing themselves and we are the ones that will get targeted because of it. Jessie says that she understands but that she has to remain silent to gain information for our alliance. I have already collected a lot of information. I need you guys to trust me. Aaryn brings up how she can't believe how Kaitlin and Jeremy say they aren't in a relationship but that last night was some relationship sh*t. Aaryn says that she can't believe how whipped Jeremy is .. if that were any of my ex-boyfriends they would have told me to fu*k off! David comes out into the backyard. He talks about having a speedo on under his swim shorts. Aaryn tells him that he better not take his shorts off. Please don't let him take those off!! Aaryn gets up to head inside and tells Jeremy don't let him wear the speedo.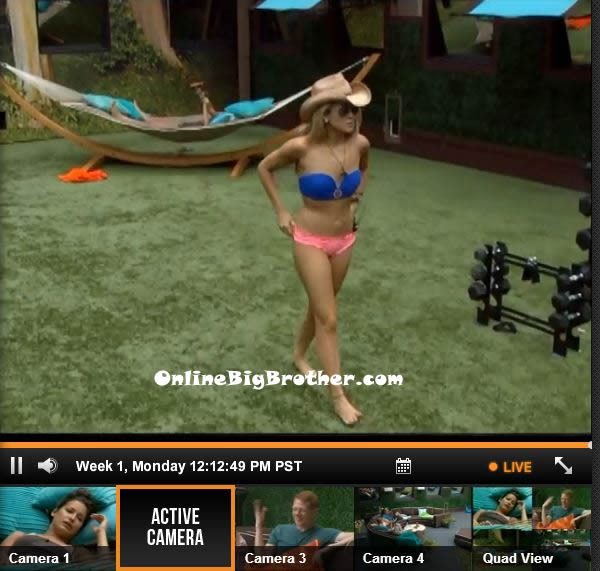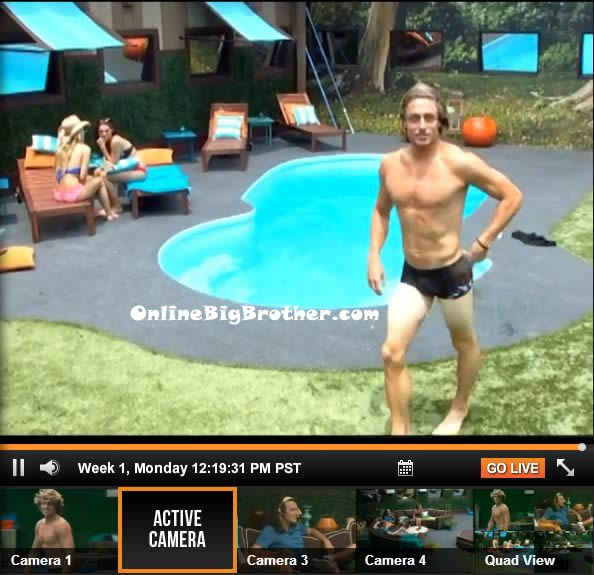 12:20pm David joins Aaryn and Kaitlin by the pool. The others yell to Aary that its happening (David taking off his shorts). Aaryn tells him please don't. David says tells the others that he doesn't want to embarrass Aaryn. David then takes off his shorts and jumps in the pool. He does a lap, gets out and then does some pushups. He walks over to Aaryn and Kaitlin and moons the others on the couch. Aaryn and Kaitlin are by the pool talking about her conversation with Jessie. Kaitlin tells Aaryn that Jessie is just telling you that she is going to gather information from the other alliances because she is on the block. She is probably telling McCrae and the others the same thing too. Aaryn tells Kaitlin that she is only sleeping in the same bed with David because she doesn't want anyone else to sleep with him. Aaryn brings up how Howard threw out a whole pizza last night. She says who does that, who wastes food like that! Kaitlin changes the subject to David again and tells Aaryn that we need to protect him. Aaryn says well he doesn't need to be mooning people. Aaryn wants to erase it from her memory!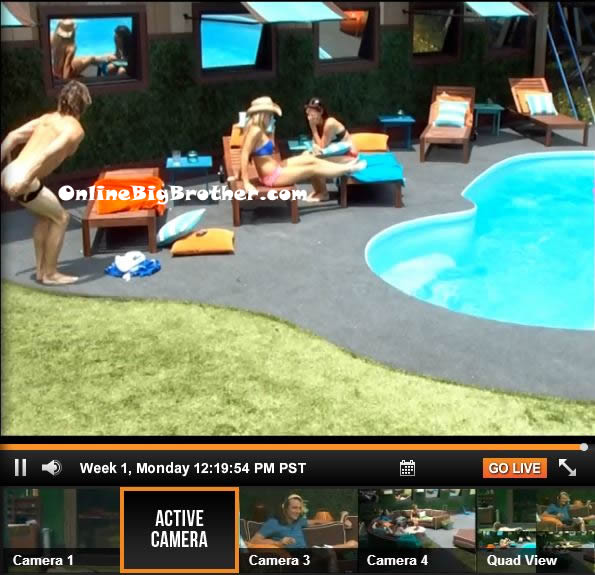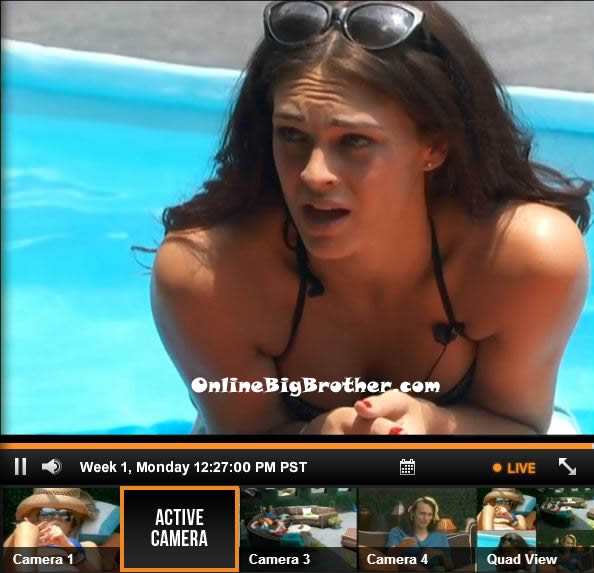 12:30pm – 12:50pm Aaryn looks over at David doing push ups and asks when he needs to be working out like that. Kaitlin says because they have huge egos and need to feed them. Aaryn says yeah but we don't need to be drawing attention to ourselves like that. Kaitlin tells Aaryn that Jeremy told her last night .. "This might be too early to tell you this, but I think we were meant to be in this house together." Kaitlin laughs and makes the motion of jerking off someone. Aaryn and Kaitlin figure Jeremy and David are playing them. They are telling each other what to say to us. Aaryn says if this was the real world I would have peace'd out awhile ago. Aaryn gets into the pool for a dip and then gets back out to suntan.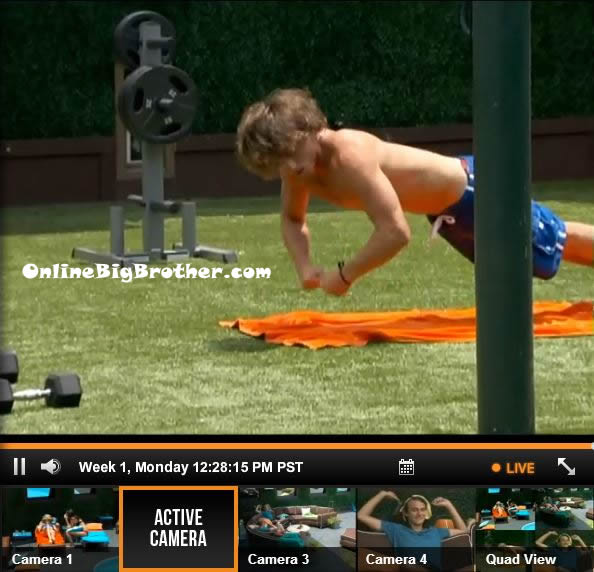 12:55pm In the kitchen – Helen, Andy, McCrae, Amanda and Nick are talking about whether or not there will be a Pandora's box. Helen says if there is, just open it. We are on Big Brother, you have to open it. They all agree they would open it. Helen wonders if Frank would come into the house because he was against floaters and this season is all about not having floaters. Amanda says that she just hopes Kalia doesn't come back. She only won something because of her love handles. Meanwhile Kaitlin and Jessie continue to talk about Jeremy's irrational actions and how he has a lot of growing up to do. Jessie tells her to just walk away if he does it again.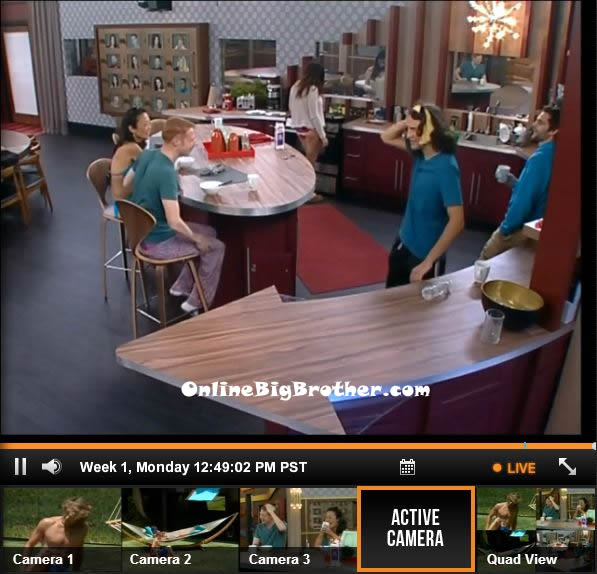 1:20pm – 1:30pm In the kitchen – Elissa and Helen talk about Jeremy and the way he acted last night. Helen warns Elissa about using the excuse that Jeremy's actions were because he is young because that rubbed McCrae the wrong way as he is also young and doesn't act like that. Elissa says she was just trying to give Jeremy an excuse for the way he acted. Helen says that Jeremy's mom must be pissed because I am sure she didn't raise him to be that way. Elissa and Helen head into the bathroom. Helen starts crying about being away from her kids. Helen says that she has mad respect for people who have played game. Elissa hugs her tells her to enjoy time in the house. Helen says that she just needs a letter from home. Andy comes through and tells her that if he gets an opportunity to give her a letter, then he will.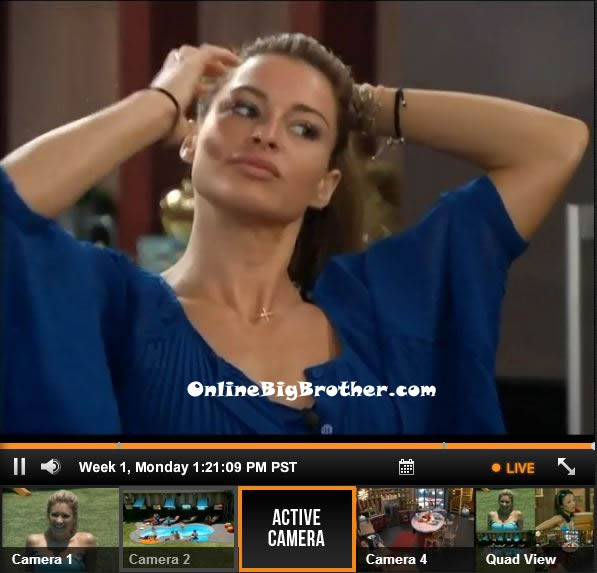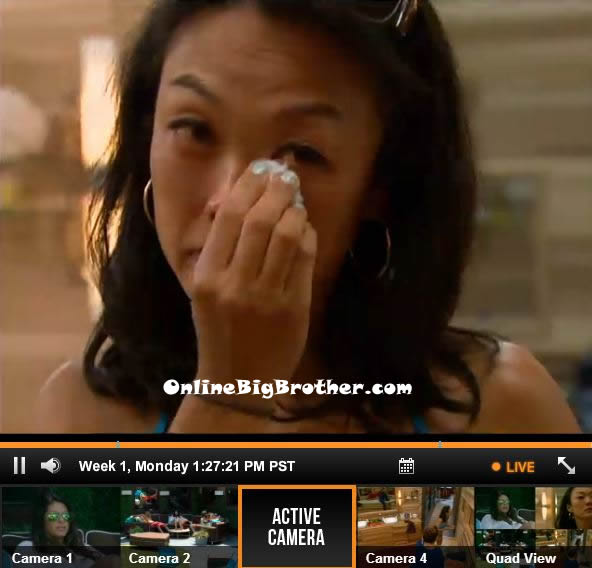 1:45pm – 1:55pm Out in the hammock – Spencer and Jessie are talking. Spencer is telling her all about his job / routine. Meanwhile on the backyard couch – Aaryn, Amanda, Judd and Kaitlin are talking about Jeremy. Amanada is talking about how she told him that he may not even get an opportunity to win the HOH if it is the type of competition where you can eliminate people .. because he would be the one people target to get out. McCrae comes out with a camera and starts taking photos of the house guests.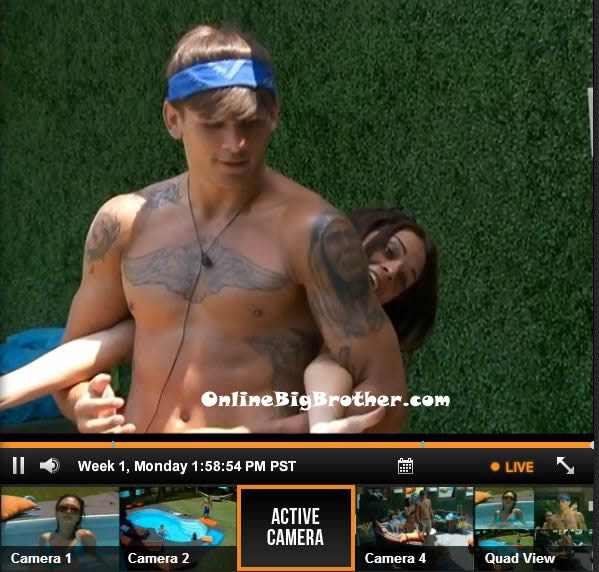 2pm – 2:25pm Helen and Judd are talking by the pool about being stressed out in real life. Helen asked Judd what stresses him out in real life. Judd says what stresses him out are bills but that he tries not to. He says that he doesn't get angry much. Meanwhile Spencer, GiGi and Jeremy are sitting on the backyard couch talking about what a kicka$$ backyard this is. Most of the house guests head inside to eat. Aaryn says that she is not going to go to the crazy side today. She says that she is going to stay sane. Nick, Spencer David and Jeremy talk about their high schools. Amanda and McCrae head up to the HOH room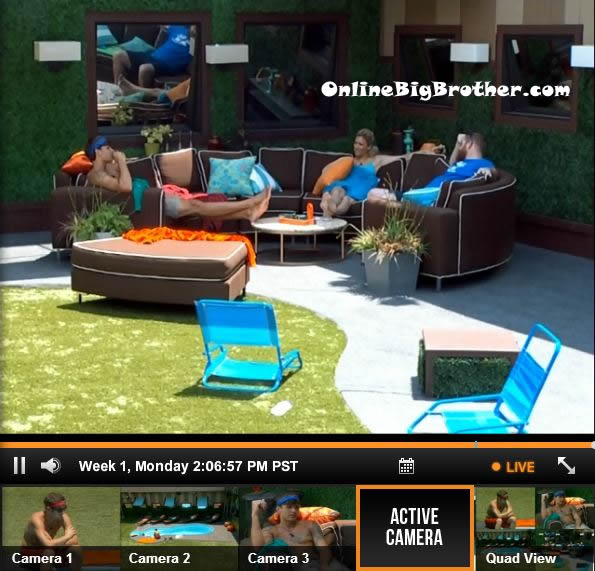 2:30pm In the kitchen – Jeremy, GiGi, Kaitlin, Nick, Helen, Spencer, David, Andy and Judd stand around the kitchen bar and look at all the photos they took. Jeremy says "You look kinda chop suey there bro!"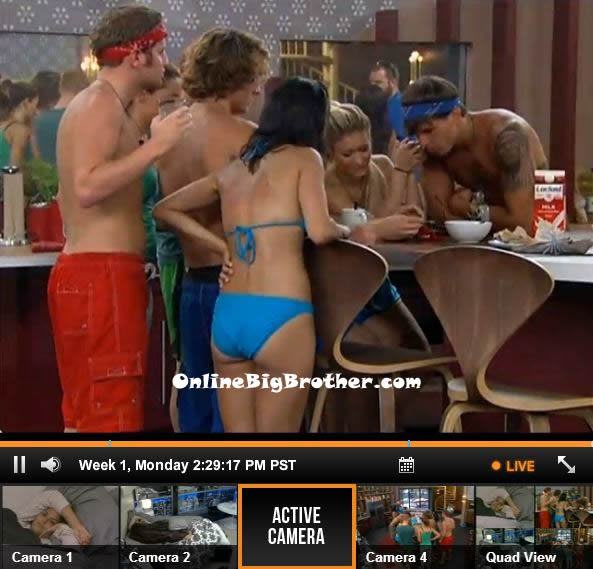 2:35pm Howard and Aaryn are sitting on the backyard couch. Aaryn is talking about how it hurts to hear negative things about her from people she cares about. She says that if she doesn't know them, then it doesn't affect her. McCrae joins them.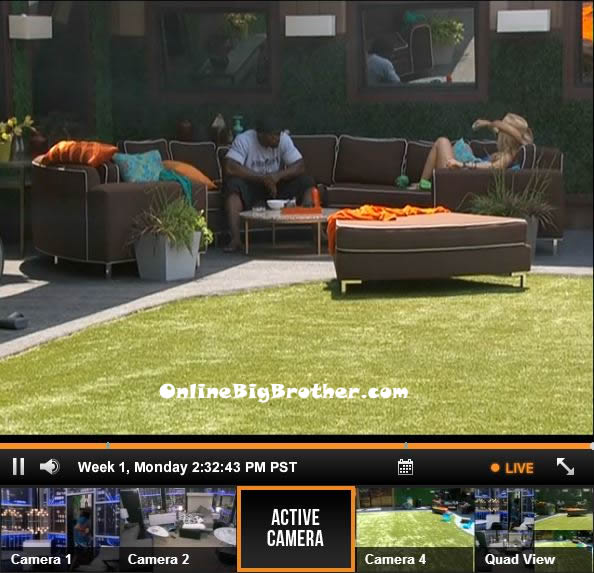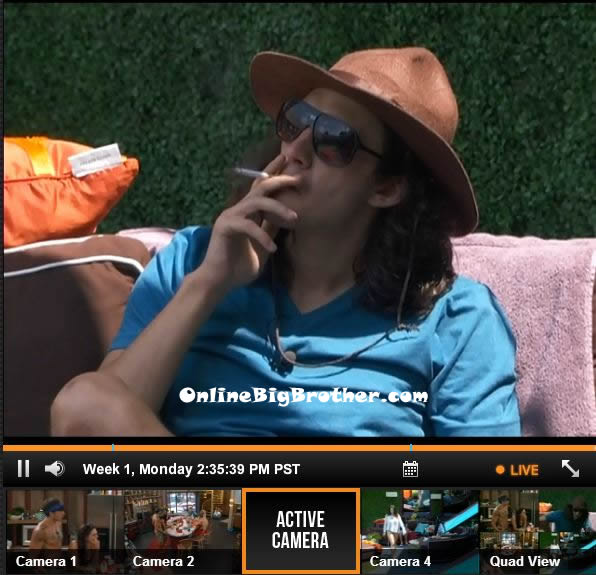 2:40pm Jeremy and Nick have a quick conversation in the bedroom where Nick tells him that he is all right after all the drama from last night.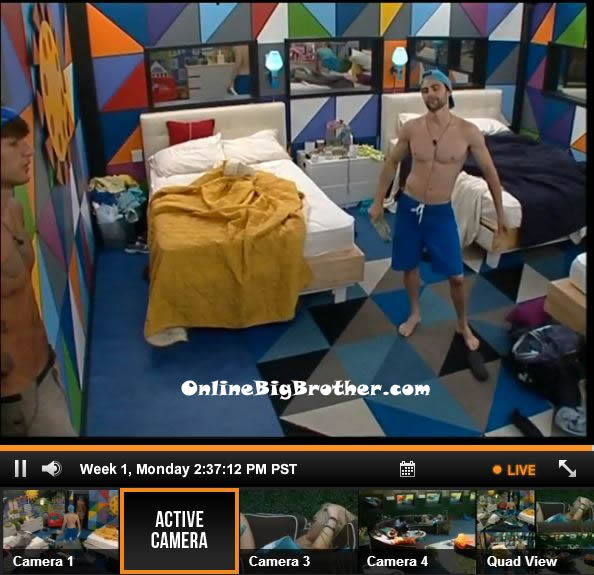 2:45pm – 2:55pm Kaitlin walks through the kitchen and comments how its the afternoon and Candice is still sleeping. Meanwhile out in the backyard – Howard talks to Andy, Aaryn, Nick and Jeremy about a car accident he was in back in 2005. He says a lady talking on the phone tried to cut across a highway in front of an SUV and didn't see him in the other lane and he hit her. They others then tell stories of car accident they've been in and other ways they've broken bones. Meanwhile, Helen and Amanda are laying out on a lounger talking about trying out for the show.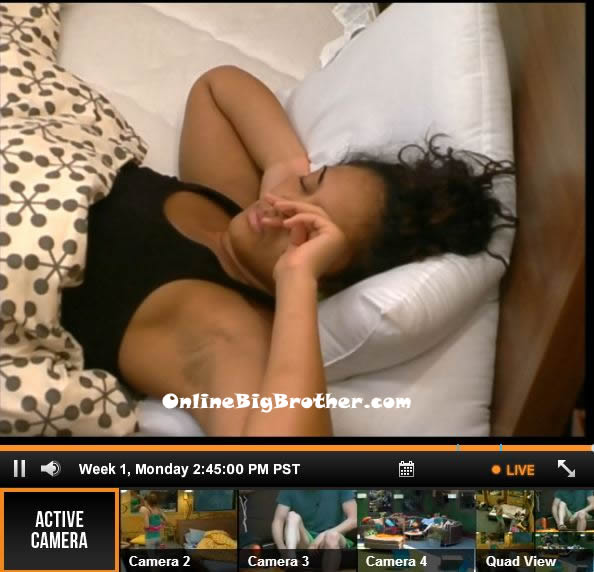 3pm – 3:10pm By the pool – Kaitlin, Helen and Jeremy talk about giving birth. Helen asks Jeremy how big he was when he was born. He says 11 pounds. Kaitlin says a guy she works with is the biggest guy she has seen in her life and he was 14 pounds when he was born.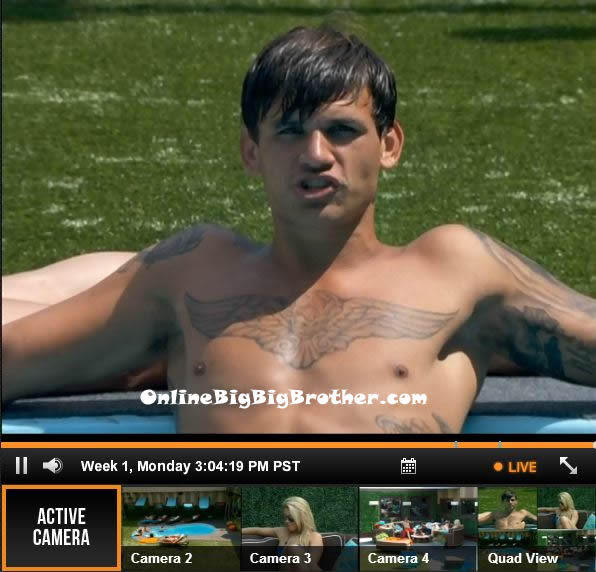 Stay connected and interact with other Big Brother Fans on our Facebook page.
And Follow: @BigBspoilers and @Dawgsbigbrother on Twitter for the most up to date spoilers.