POV Holder:
McCrae
Next POV
June 27
POV Used
Yes
POV Ceremony
June 29th
HOH Winner:
McRae
Next HOH:
Wed July 3rd
MVP:
Elissa
Original Nominations:
Candice, David, Jessie
Current Nominations:
Jessie, Elissa and David
Last Evicted Houseguest
?
Have Nots
Andy, Elissa, Jessie, Howard, Helen
3:04pm CAm 1-2 pool Helen, Spencer, Katlin, Jeremy, and Aaryn
Chatting about last names and marrying. .
Jeremy is planning on giving his mom some money when he wins Big Brother 15.
Jer: "She can do as she pleases whatever makes her happy that's why I plan on taking some money home for her. .. Go Ball out":
Spencer: "Ball out"
Jeremy: "Go Ball out.. like Momma you deserve it.. you raised three kids on your own /… here you go .. BOOM "
Spencer: "Boom"
Jer: "Here you go Momma"
Spec: "Count these bills count these bills"
Jer: "payoff that sh!t payoff that dh!t get that air conditioner fixed"
Jer: "I probably will give her cash.. "
(lol)
Talk goes back to taking the man's name when marrying.. Jeremy says he would be "Bummed out" if the woman he marries doesn't take his last name. Helen thinks someone should start a company that helps women reclaim their last name when they divorce.
3:12 Cam 3-4 Bathroom Andy, Judd and Amanda
Amanda talking about having s$x with a gay man when she was in Theatre school. She explains that theatre school is only Gay men and women so they would get super H****y. Amanda says it didn't really work out well for the guy he couldn't get up, "Nothing Happened"
Andy says he's never had any type of sexual encounter with a girl not even a kiss
Judd: "have you ever a8 a girl o*t"
Andy: "I haven't even kissed a girl"
Amanda: "I have.. I've done everything.. listen I'm like a don't bash it unless you tried it kinda person"
Andy tells them that he's starting to get s$xually frusterated..
Amanda: "sweet baby jesus please give me a org*s!m in my sleep "
Anada: "I had a saltery dream last night. but never had a O in my sleep"
3:37PM Cam 1-2 GIGI and Aaryn couch
GIGI crying
Aaryn: "you can wear anything of mine any time.. I have cute jewelry.. cute makeup.. cute clothes..we're the same size babe..and you would look hot in a sack.. you're the token blonde with me.. BB bunnies cannot happen without you we're going to take this SH!t down"
Gigi went to the Diary room and asked for clothes and they told her no.
GIGI: "I want a pair of pyjamas I feel like a dirtbag.. I have to wear shorts I never wear shorts"
GIGI: "I look like a dirtbag.. normally don't walk around looking like this"
Aaryn: "I would do anything for you seriously anything..
GIGI: "Me to"
Aaryn: "Let go get you a outfit right now I have straps for all my bathing suits so your B**bies won't come out.. no one would call you a dirt bag you are beautiful"
GIGI: "I don't like my body I want to cover it up.. I never wear shorts in the summer I wear Capris and they took them all"
Aaryn: "we even have the same sized feet.. any time you want something of mine.. you know my drawer.. I got two pairs of black caprice.. they have your name on it"
GIGI: "Thanks you"
Aaryn: "What did they tell you" Feeds cut
Amanda joins them..
GIGI I don't have my makeup, my curling irons.. I don't feel good about myself.. "
Aaryn leaves GIGI sobs to Amanda..
(Big Brother didn't let GIGI bring some of her clothes onto the show apparently she had a lot capris taken and now all she has left are shorts.. )
GIGI: "They (production) took the shirt off my back.. "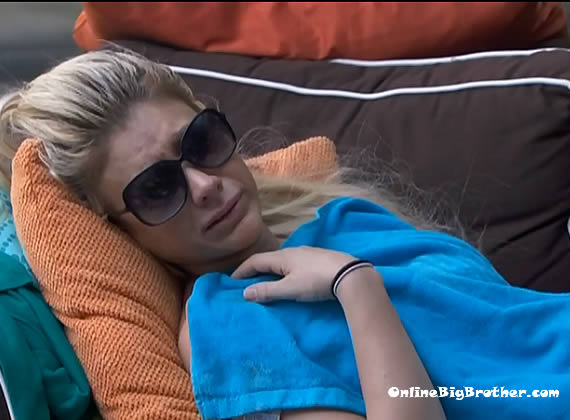 3:56pm Cam 1-2 Nick and GIGI
GIGI crying..
GIGI: "I don't like myself.. I want to cover up my legs.. i don't like my legs"
Nick: "I think your legs are fine"
GIGI: "Thanks.. I don't feel like me"
Nick: 'We'll be good.. you just need to chill"
(Feeds keep cutting in and out)
GIGI: "I have such a bad eating problem.. I have such a issue with my body .. I want to cover up with clothes.. I feel out of my element right now"
GIGI: "They took my sneakers.. F-**** Steve took my socks" (Steve must work for CBS)
Gigi says she doesn't have the beauty elements that allow her to be her and let her personality come out. GIGI just keep reiterating that she feels like Sh1t.. Nick says very little.. tries to make her feel better but mostly just listened.
GIGI: "I have to shave my tw**t standing up"
GIGI mentions to Nick that everyone else had the same "Sh!t" as her why was her's taken, "Like everyone has the same F*** sh** I have.. no one else f***ing sh!t got taken but mine.. It's like they were supposed to take my sh*t" (Feeds cut out again)
4:14pm Cam 1-2 Kaitlin and GIGI
GIGI still crying now telling Kaitlin. Kaitlin thinks she would go to the Diary room right now while she's emotional. GIGI calls staying in the Big Brother house "Being on survivor"
Feeds come back and their counting votes.. GIGI says they need 7 votes and they have them.
GIGI is worried that Spencer and Judd might change their vote. Kaitlin doesn't think so says that she talked to Spencer last night and he told him everything was cool.
Kaitlin: 'Babe go through my shi1t.. it's not glittery for you it's dark and morbid"
Aaryn joins them.
She says they have to take over the bedroom.. She was talking to Nick and David and operation Room raiders is in effect they have to get Jessie/Elissa? out of their room (Hard to understands)
Aaryn: "I think Howard is going to sleep with her"
GIGI: "what about Andy? Operation room raiders.. in full effect"
GIGI: "The prestigious world wide in effect"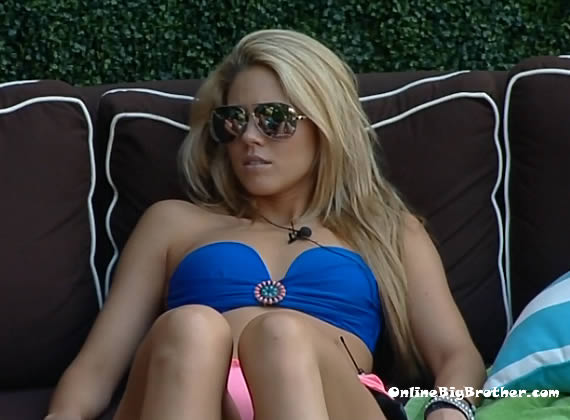 4:26pm Cam 1-2 BAckyard
Kaitline and Aaryn saying David and Jeremy aren't really their types.. GiGi is surprised… random chit chat.. Judd joins them. kaitlin to Judd: 'You still going to stay on our team if I keep giving you b***b flashes"
Judd: "YA.. thats the only way"
GiGI: "you can cop a feel.. you can even pull my n!pple ring if you want a little bit"
Aaryn: "You can feel my flat ones "
Judd: "I like this deal..
Kaitlin: "stay with us and you get b*/*bies "
Judd: "Theres no staying with you. I mean everything is fine"
Judd: "I think that's what it's going to take at this point.. I think you've sealed the deal"
the three girls flirt with Judd telling him they are trying to "persuade him with some t!tt!es"
The four of them laugh at the conversation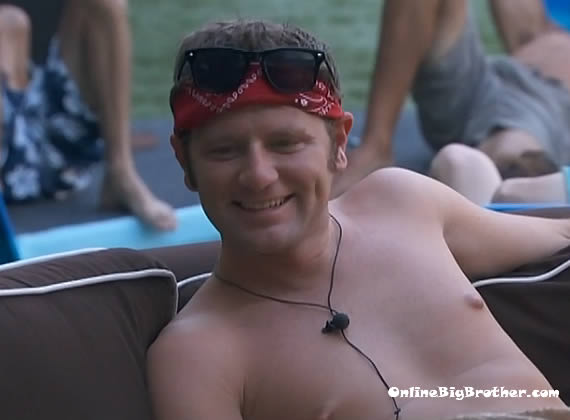 [polldaddy poll=7218240]