POV Holder:
?
Next POV
July 13th
POV Used
?
POV Ceremony
July 15
HOH Winner:
Helen
Next HOH:
July 18
MVP:
?
Original Nominations:
Current Nominations:
Last Evicted Houseguest
David, Nick
Have Nots
1:40am – 2am Andy is in the lounge room talking to McCrae and Amanda. Kaitlin knock on the door and asks if she can talk to him. Andy and Kaitlin head into the bathroom to talk. Kaitlin says that she wants to apologize again. Andy says okay, I would be pissed if I was in your shoes too. Kaitlin says that she isn't mad, I am just heart broken. I would have rather you told me the truth. I have stood up for way too many people and I have stood up for the wrong people. I have way too big of a heart to be in this house. I have stuck up for you, Elissa, and Candice, awhile ago. It's just hard because I give people way too much benefit of the doubt. I yelled at Judd and Jessie and I have apologized to both of them. Jessie wouldn't accept it, that is her own issue to work out. Andy says that he really wavered with the decision and really started to like them this week but no one was giving me a guarantee. Andy says he likes Elissa and says with her here as MVP I would never go up. Kaitlin says that she gets it. Kaitlin says that she didn't want to be a part of some of the other actions. Andy tells her that he knows she isn't a bully but she has aligned with people that are. Kaitlin says that she felt like Andy came up there to get information from us. Andy says that he was up getting information to make an informed decision. Andy tells Kaitlin that she isn't going to be going home this week. Andy says that Helen has nothing against you. Kaitlin says that she wishes she didn't align with Aaryn but that I am a super loyal person I don't know what to do. Kaitlin says that Aaryn tried to get Jeremy and I turn against us this week. Andy tells Katilin that you aren't Helen's target. Kaitlin says there is still Elissa. Andy tells her to talk to Elissa. Andy tells Kaitlin that she is guilty by association. You can thank me for Elissa putting up Nick and not you. Kaitlin asks Andy to be truthful to her face from now on no matter how much the truth hurts. Kaitlin says she knows she was being a snotty a$$ bit*h. Andy tells her he knows that's not her. You have a friend in me. Kaitlin says that she has been fighting with Aaryn because she put up Helen and I didn't want that. Kaitlin says that she will think about things but can't drop them just like that. Andy and Kaitlin finish their conversation and leave the bathroom.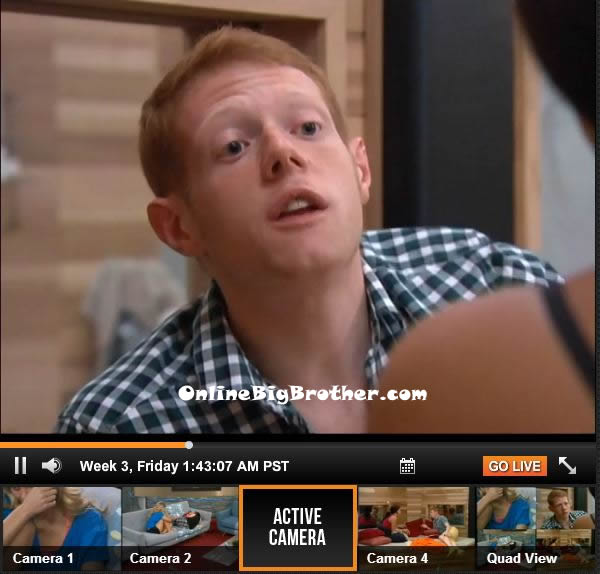 2am In the lounge room – Andy heads back into the lounge room and tells McCrae and Amanda that he actually had a good conversation with Kaitlin. Andy says that he and Kaitlin even on night one bonded. Andy reiterates his conversation with Kaitlin. McCrae says that he is sorry about being a part of the guys alliance. He says that he felt like they were just bullies and didn't want to be with them. Andy and McCrae leave and Judd join them. Judd tells Amanda that Elissa kept getting mad at me earlier. Judd asks if Elissa is sleeping with Jessie. Amanda says yeah.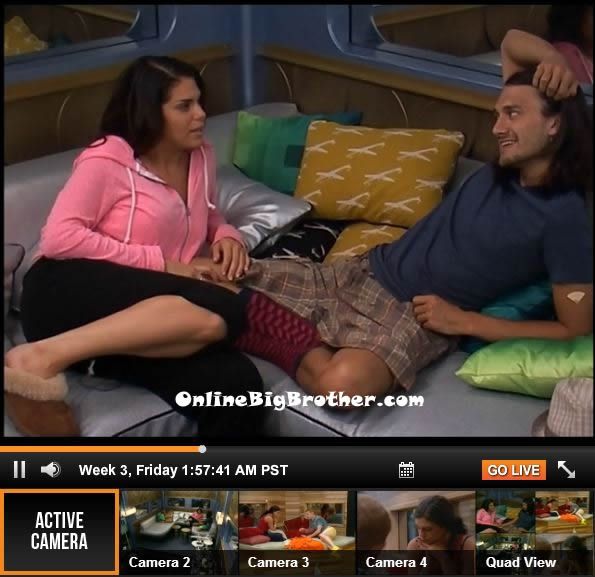 2am – 2:30am Up in the HOH room – Spencer and Howard are talking to Helen. Howard says that he knows how Gina feels about losing someone and how her emotions got the best of her and she let her anger get the best of her. Helen says that it makes me so sad for her. Helen starts talking about her kids. Howard says that he just because Helen is up here he isn't changing who he is. Helen says that there is a vote out there and I want to figure out who it was. Helen says that she wants to figure it out, just not tonight. Helen says that Elissa doesn't cause drama like Aaryn does. This isn't high school, this is big brother. Howard comments how the three girls (Aaryn, Kaitlin, Gina) figured they could rid Jeremy's coat tails. Howard says that he was worried about the guys being voted out. Helen says only 1 guy left before today. Helen says that her HOH won't be like Aaryn's, there won't be any blindsides this week. Spencer says that he wants to talk to her later. He says that he feels like she trusts him. Helen says that she want's loyalty and honesty. Spencer says that he can give her both loyalty and honesty. They talk about how their season is different, no one would have thought two strong players would go out by week two. Helen says that our chances of winning go way up. They talk about the competition and then head down stairs.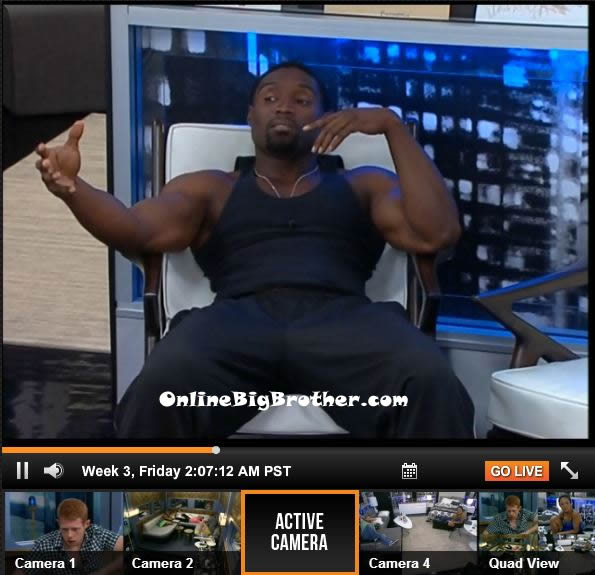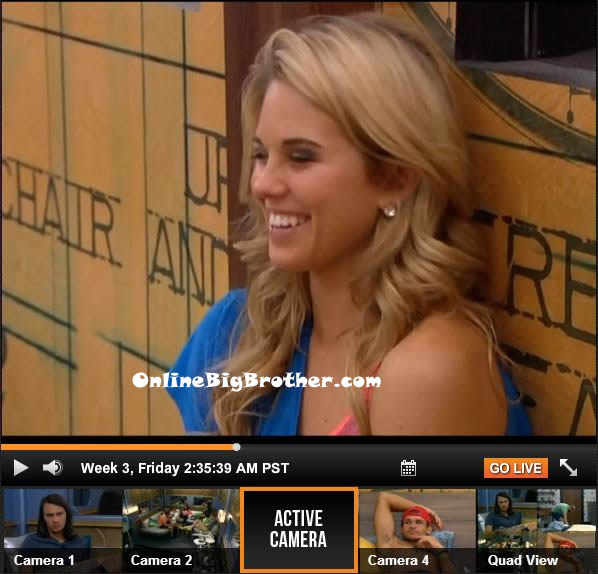 2:30am Jeremy and Aaryn are talking. Jeremy tells Aaryn that Howard wants to be here with competitors. Howard walks by and Jeremy says goodnight to him. Howard tells Aaryn that he has nothing against her. Aaryn says she appreciates it. Aaryn tells Howard that she respects him more than he could imagine. Howard says okay. Aaryn says I can't believe you are sleeping in there (havenot room). Jeremy says good night bro. Howard says alright. Aaryn says that she has been made to look like the biggest a$$hole. Aaryn says I don't know how many times I have to explain the Elissa thing to people. I have explained myself so many times. Jeremy tells Aaryn you don't have to explain yourself, you know who you are and your people know who you are. Jeremy says look at Howard, he is not a fakea$$, Howard is a true black man and he does not think you are a racist. Aaryn says na, I wasn't talking about that. I was talking about the Elissa thing. Jeremy says oh. Aaryn says that she has been with Elissa since the beginning. Jeremy says he didn't even know that (Elissa) existed, she is a fake a$$ b*tch. Jeremy says that it will catch up to her one day. Aaryn says that is one thing she knows that things you do in life catch up to you, it might not be in the big brother house but one day it will catch up to you. That's just how life works. The energy that you put out definitely returns. And I know I put out a negative attitude sometimes but its so difficult in this house. Howard walks by to go into the Havenot room. Aaryn tells Jeremy that Howard was in there rocking back and forth balling his eyes out clutching his suit case and Kaitlin went in there and he told her to GET OUT! I think he was losing it because when were in there with Candice we told her that Howard talks sh*t about her. I think he heard that and is upset about losing a friend. I talked to her after and cleared the air about the racist stuff and about the mattress. Aaryn says that she said if you have taken anything I say in a derogatory way, then you are mistaken because I don't talk like that. And she goes okay I accept your apology. Aaryn says but the bit*h would still put me up at the drop of a hat, and still vote me out at the drop of a hat so I don't think it helped anything. Jeremy says that Aaryn is the bigger person for apologizing and you did what you could. Jeremy says it probably shouldn't have happened in the first place though. Aaryn asks what the mattress thing, oh it totally should have happened. Aaryn laughs. Aaryn says luckily I am the baby of the house and I can do stuff like that. Aaryn laughs. Jeremy says the tv is going to love her. And maybe they will invite you back if you don't make it all the way. Aaryn says I have no more meanness left in me. I have it but I drained it, it's all used up. Jeremy says that he has been bottling his all up and feels like he could bust through a wall. Aaryn and Jeremy talk about the votes. Kaitlin joins them.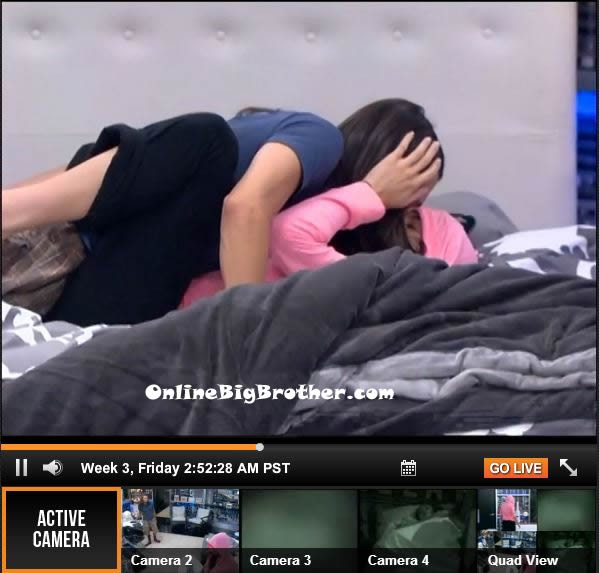 2:50am McCrae and Amanda head up to the HOH room. Helen tells them you voted Nick out, this room is equally yours. Helen heads down stairs. McCrae and Amanda start making out on the HOH bed. Amanda asks McCrae about what happened after the vote with the moving company. McCrae talks about how Spencer came up to him and said we're good. McCrae says no, no we're not, which one of you flipped? McCrae says that Spencer does this thing where he tries to cut me off. McCrae talks about how Spencer then tried to blame it all on Jessie. McCrae says that Jeremy came up to me next and was all mad. McCrae talks about how Jeremy asked if there was any moving company left. McCrae says that to be honest it wasn't just me that voted, it was obviously someone else too. McCrae says that Jeremy and Spencer can fight it out now. They continue to talk about the past events of the house. McCrae says that he told them that he would get rid of her (Amanda) when really I was keeping you till I was ready to get rid of the Moving Company. McCrae says that he never trusted the MC. Amanda tells McCrae that she is crazy about him. I don't want any secrets. McCrae says that he's wanted to tell her. I was always plotting against them. Amanda says that she really despises Spencer. McCrae says that Howard and Spencer are paranoid motherfu*kers, they always run around scared.
3am – 3:10am Meanwhile – Howard and Candice go to bed in the havenot room. (Even though they aren't havenots) Howard tells Candice we are on the same team. Candice says you should not have given up our bed. Howard says no come on, please. It's hard enough, don't keep kicking me. Don't bring it up no more. Candice says that she apologized to Gina. They talk about Gina and Nick. Candice says that she feels bad for Gina as a girl. Candice says she could tell that Gina liked him a lot, but I don't think he even liked girls. Something was strange about him, either he is married or has a boo at home but he would never touch her. Candice tells Howard okay .. go to bed in your airplane seat. Howard asks what is your momma gonna say when she see you spooning with the only black man in the house. Candice says she is gonna say you're sexy, cute and Christian. Howard says damn right she will. Candice asks what would your moma, your church folk say. Howard says nothing I hope, as long as we aint doing nothing. Howard says his ex might say something. Candice asks your ex, what does your ex have say about anything. Howard says um good night. Candice asks no this is a question, since you have me sleeping in an airplane seat. Howard says that he is sleepy and will answer it tomorrow. Candice says you didn't say you have a girlfriend. Howard says she is my ex, I don't know if we might get back together. Candice says oh lord Jesus. Howard tells Candice she is digging too deep. Candice says okay well we will respect your ex-girlfriend from now on. Candice says that she isn't trying to have someone come at her at the finale show. Candice says I am not a home-wrecker Howie! Howard says girl I ain't got no home to be wrecked. Candice says alright, if you say so. Sorry boo, whoever you are out there in the world. Howard says good night. Howard and Candice continue to talk. They decide to make a bed on the floor and curl up next each other.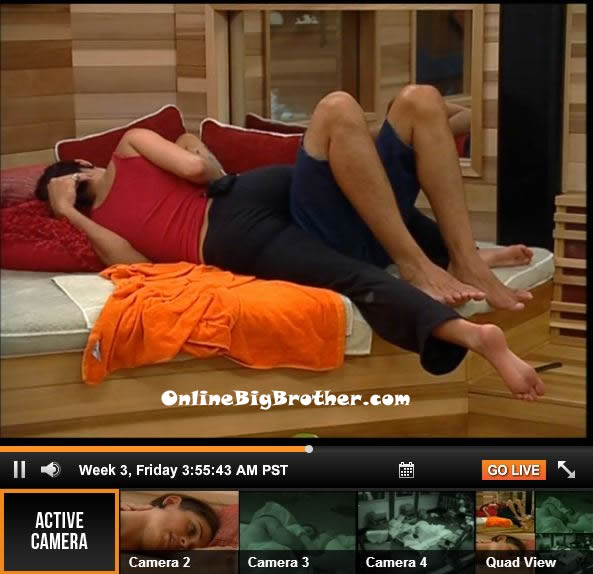 TRY the Live Feeds for FREE: Big Brother 15 Live Feeds TRIAL
3:20am – 4am In the bathroom – Aaryn, Kaitlin and Jeremy are talking. Jeremy tells Kaitin that his feelings are hurt and that he is let down. Jeremy says that Nick should be here. Jeremy says that she feels bad for telling Kaitlin and her to trust him. Jeremy says that he let them down. Kaitlin says that he shouldn't have bullied people. Jeremy says that he didn't. Aaryn says she didn't either. Aaryn says you guys saw how I talked to people, I didn't bully anybody. Aaryn says I swear you guys! Aaryn says I think they're trying to make America hate us so we never get MVP. Kaitlin says that is not it, they just dont have a chance at MVP with Elissa still here. Aaryn says that she thinks that it's all strategery. Aaryn pauses and says it is a George W. Bush word. Aaryn heads to bed. Katilin talks to Jeremy about her conversation with Andy earlier. Kaitlin says that they need to break away from Aaryn. She is bringing us down. Kaitlin says that she would rather see Aaryn go. Kaitlin tells Jeremy that they could make a deal with Helen but says that it wouldn't work if they were still with Aaryn. Judd comes into the bathroom and Kaitlin apologizes for yelling at him. Judd says he is sorry for calling her trash. They laugh about it and talk about how they don't want to fight. Judd leaves. Kaitlin says that she wants Jeremy to be put up so he can win veto. She says if she is up against Aaryn, she could beat her. They continue to talk about scenarios for the week and then head to bed.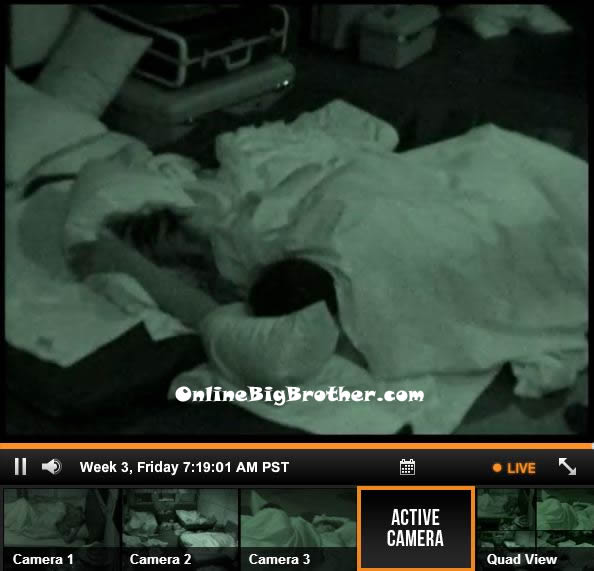 Stay connected and interact with other Big Brother Fans on our Facebook page.
And Follow: @BigBspoilers and @Dawgsbigbrother on Twitter for the most up to date spoilers.