POV Holder:
Jeremy
Next POV
July 13th
POV Used
?
POV Ceremony
?
HOH Winner:
Aaryn
Next HOH:
MVP:
Elissa
Original Nominations:
Elissa, Helen and Jeremy (MVP)
Current Nominations:
?
Last Evicted Houseguest
David
Have Nots
Helen, Elissa, Candice, and Andy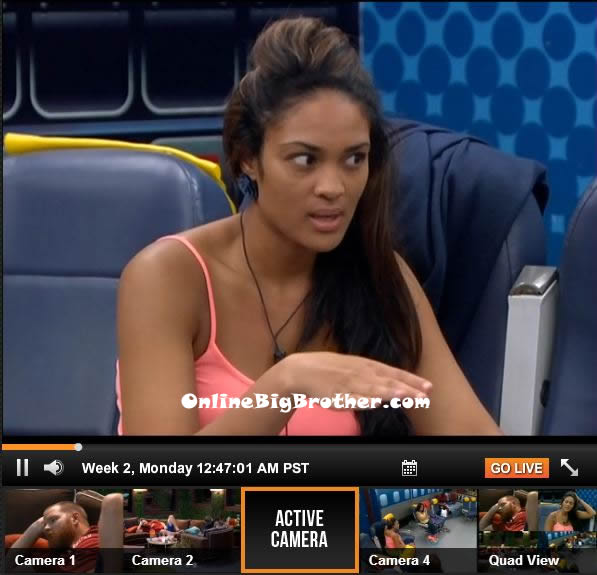 12:40am Candice, Elissa and Helen are talking about past house guests like Evel Dick. Elissa says that she thought Evel Dick was really smart. Candice tells Helen that Aaryn was being racist to the fish. She says that the black fish are at bottom of the tank and the white fish at the top. Candice says that Aaryn tries not to feed the black fish. Elissa tells them about derogatory comments that Aaryn has made. Elissa says that Aaryn called McCrae – McGay and says that it would suck to be named Gay.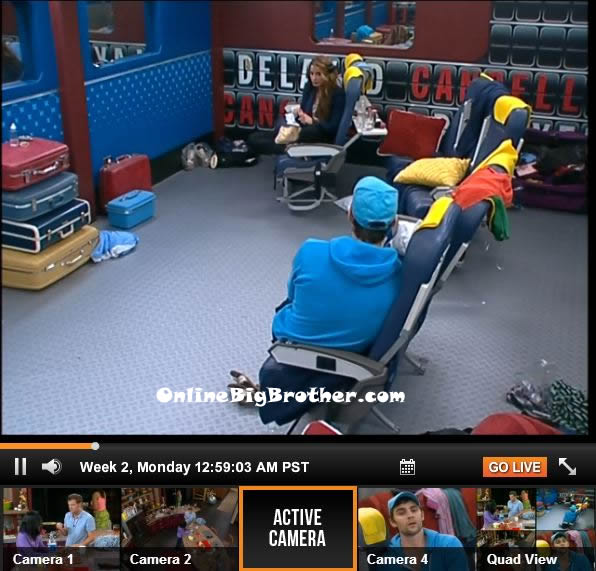 1am Elissa is talking to Nick. She tells him that she doesn't trust him and says they had two opportunities. Nick tells her that he honoured her deal. Elissa says that she feels like he betrayed her. Nick asks Elissa to make a deal to keep him off the block. Elissa tells Nick that she is going with the house. Nick asks Elissa if she is going to answer his question about why she would nominate him in Jeremy's place on the block? Elissa leaves the room. Nick motions to the camera that he is done with Elissa. He leaves the room and asks Elissa why she didn't answer his question. She tells him that she did.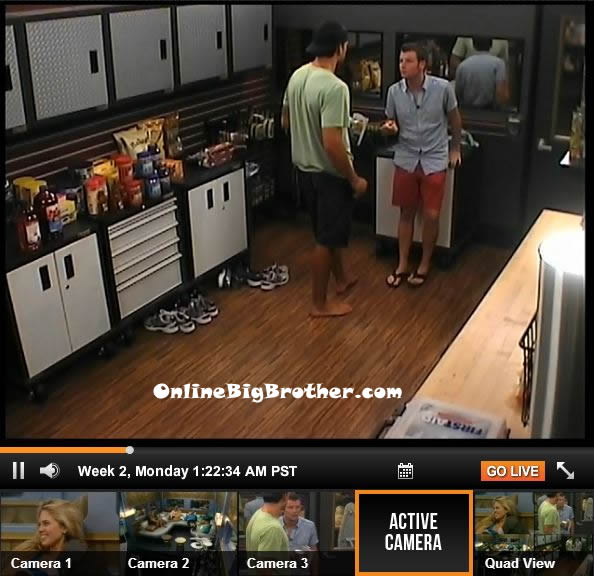 1:20am Judd talks to Elissa in the havenot room. He tells her that he was scared. He says that the people he thinks he is with aren't talking to him. Judd says that he needs a backup plan. Judd asks if Elissa was putting him up and Elissa tells him no. Elissa tells Judd that he is goofy. Elissa says that Nick is sketchy. Judd says that Jeremy is coming so they end their conversation. Judd goes into the storage room with Jeremy. Judd tells Jeremy that Elissa didn't tell him who she was nominating. He says that she just told him that it was not him. Judd says that no one talks to him other than Jeremy, Aaryn, Gina. Judd says that other people don't talk to him so it tells him he's the low man on their totem pole. Judd says that he didn't know how other people are voting but that he would vote out Elissa. Judd says that he still wants a Final four deal they talked about with Jeremy. Jeremy says that he has looked out for Judd since the beginning and there are more numbers and people are stronger on Jeremy's side. Jeremy says we have six, they have four, and there are two floaters. Judd asks who the floaters are? Jeremy tells him Spencer and Howard who he kind of has but he doesn't have a team deal with Spencer and Howard. Judd says you have a team deal with me. Jeremy tells Judd that he would take him far in the game.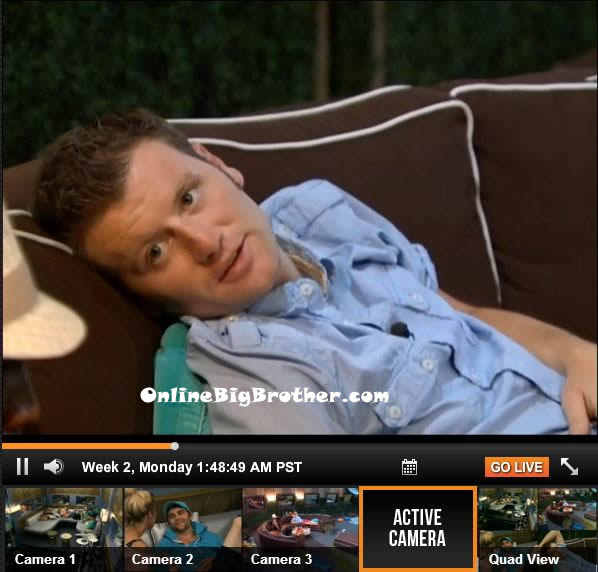 1:50am Out in the backyard – Judd is talking to Howard. Howard tells Judd he has stayed away from him so that they don't put Howard, Spencer, and Judd together. Judd says that he understands and says that he doesn't want to play for jury. He says that he is playing to win stuff and that he is not here to be fourteenth either. Judd says that he is going to get all the heat again on Wednesday. Howard asks why? Judd says because they think I'm voting with them. Howard says that last time Judd admitted his vote but says this time don't admit it. Judd says that he selfishly wishes that Elissa would put someone other than Nick up so that he could pin the vote on Nick. Judd says that he also wants to get Nick out because he feels Nick is a twist and Nick that has a lot of diary room sessions. Judd said he is still 100%, so don't doubt me. Judd says that he just doesn't want people not trusting me.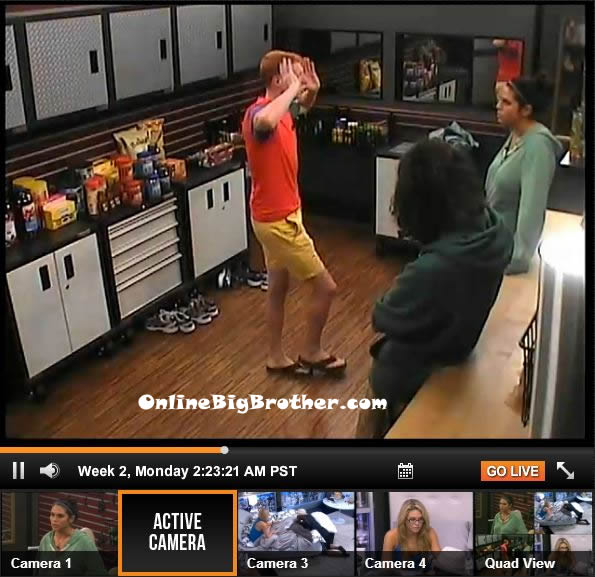 2:20am In the storage room – McCrae, Amanda and Andy are talking. Andy says that Candice will do whatever Helen wants in terms of the votes. He says that he thinks Candice could be the swing vote they need this week to keep Elissa. Andy says that there are benefits to getting rid of Elissa but he also things there are a lot of dangers to getting rid of her. He says there is something is up with Nick. Andy says that Elissa has a 100% chance of getting MVP and it would be crazy to get rid of her when it's a sure thing she will get MVP. Amanda says that she wants Andy to confront Spencer tomorrow and tell him he knows he is behind trying to get Amanda up on the block. Andy says that he thinks they have taken the MVP twist and used it to it's full potential. They end their conversation and leave the room.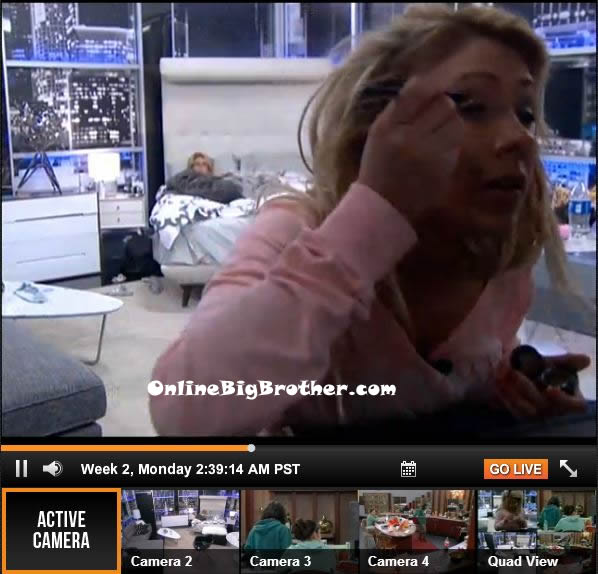 Up in the HOH room – Aaryn is complaining to Gina that she wishes she could sleep in the HOH room without Jeremy and Kaitlin. Gina tells her that she thinks she should just ask them and tell them there is enough room in the rest of the house for them to sleep. She tells Aaryn to tell Jeremy and Kaitling to ask them on Tuesday if she could have the room to herself on the last night before her HOH is over. Aaryn says that she thinks Kaitlin might think that she is moving in on Jeremy. Aaryn says that she doesn't give a sh*t about Jeremy. Aaryn says that she cares about her game. Aaryn says that she thinks that Kaitlin is more of a distraction for Jeremy in the game. Aaryn comments on how Kaitlin was picked up by casting in a bar. Gina says yeah, more like a strip club.
2:45am In the storage room – Howard and Amanda are talking. Amanda tells him that Helen told her Spencer was trying to get the MVP to put Amanda up on the block. Howard says that he doesn't think Elissa as the MVP will put her up. Howard tells Amanda that Candice has it out for her says that she is expendable. Amanda says why the fu*k would we get rid of Elissa? Amanda says tells Howard how important it is to keep Elissa because she's going to keep getting MVP. They talk about Nick going up and going home. Howard says that he thinks Nick and Jeremy have some deal. Amanda says that she thinks Spencer and Jeremy have a deal. Howard tells Amanda that he has been noticing Helen talking to Aaryn. Howard tells her that they will get Nick up and then they will vote him out and keep Elissa. Amanda says that we control the votes as long as Elissa is here. She tells Howard that if Elissa is gone then it makes sense that whoever gets MVP would put Howard up. Amanda warns Howard that people know how strong he is and think he is throwing competitions so they would nominate him as MVP. Amanda tells Howard she trusts him. They hug and Amanda leaves the room. Howard laughs to himself.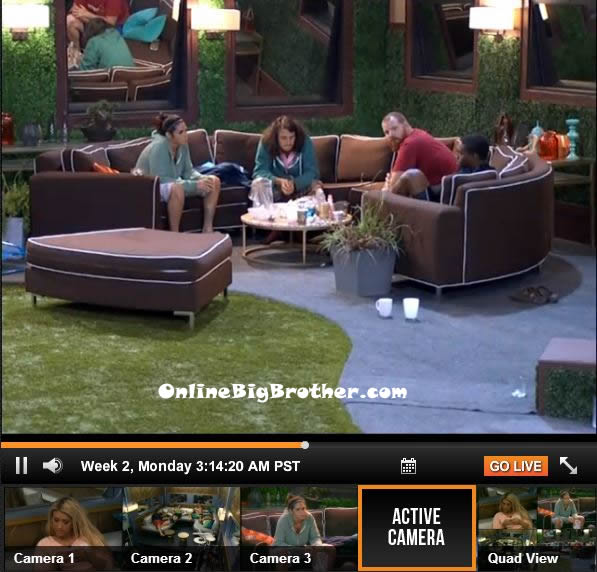 3am Out in the backyard – Spencer, Howard and Amanda are talking. Howard tells Spencer what Amanda told him. Spence is annoyed and says that Amanda must have some kind of dislike for him because has is explained this to her multiple times. Amanda tells him that she heard from Helen's mouth that Spencer asked if Helen would vote out Amanda if she was the MVP nominee. Spencer says even if he had issues with her, he would never go after her because of his respect for McCrae. Howard says that they all would have trusted Helen's word up until she ran up to Aaryn's HOH and started talking to her a privately. Amanda and Spencer agree. Amanda talks about why its better to keep Elissa as she keeps getting MVP every week and says that she will always be a bigger target. Spencer says that it may not be the smartest game move but it's most likely that one of us will get MVP. Spencer says that Elissa lied to him about winning MVP this week. Amanda says that Elissa still nominated who they wanted, despite who she wants to tell. Spencer tells Amanda that he likes her and McCrae and wants to work with them. Amanda talks about wanting Elissa to stay. She says that she is worried that Nick will get MVP and put up someone from their side. Amanda says that Jeremy is a huge fu*king target anyway so whoever aligns with him is retarded because he will get nominated and win the POV. Amanda says that Nick is a shady motherfu*ker and a huge player for the other side. Howard agrees that he is shady but not that he is big player. Amanda leaves and Howard and Spencer talk. They talk about who to pin the votes on to evict Elissa so that Amanda trusts them. They consider pinning it on Andy, Judd or Candice.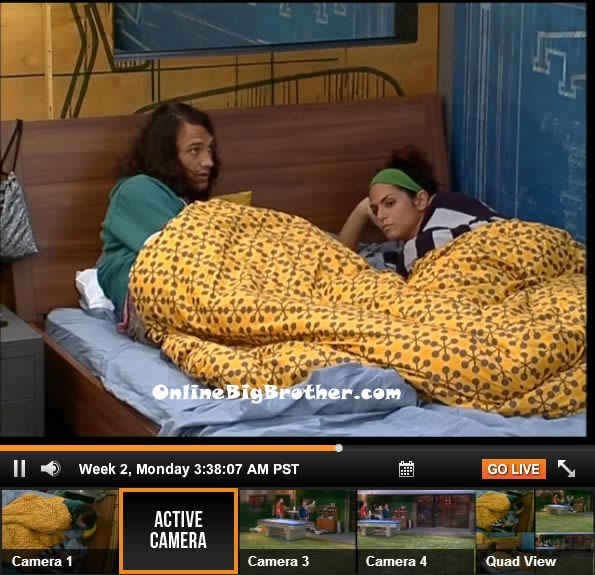 3:40am In the bedroom – Amanda tells McCrae that she is keeping Elissa and tells McCrae that he can vote however he wants. She tells him she is going to see how the house falls the next couple of days but that she isn't going to vote out a sure thing with Elissa getting MVP each week. Amanda says that she doesn't understand why everyone is falling for what Jeremy wants. Spencer joins them to go to bed. McCrae and Amanda leave the room and head out to the backyard hammock. Amanda tells McCrae that they need to show their loyalty to Elissa and Rachel's fans. Amanda says that even if Elissa is going they need to vote to keep her. Amanda says that Nick is a shady fu*k and says that he needs to go. Judd joins them on the hammock.
4:45am – 5:20am Judd tells McCrae that Elissa has been nothing but nice to me since the beginning. I am not going to vote her out, even if people change their minds. She has even cooked me food when she was a havenot and couldn't even eat it. Amanda says its not fair that they have a mega beast warrior and we have Elissa. Judd says that Jeremy knew he would be safe when he gave the HOH to Aaryn and that he could compete next week. Judd says that his heart stopped when Jeremy won the veto. Judd says that he isn't scared of anyone in the house, let someone hit me and they'll get expelled. Judd comments on how McCrae has been quiet. McCrae says that he is just tired. McCrae says that he is worried that Spencer isn't voting out Elissa and that they won't have the votes to vote out Elissa. McCrae says that he doesn't want to be a marked man. We still have time to see where Spencer's vote lies. Judd heads inside. Amanda and McCrae talk about random things. Amanda tells McCrae the she is falling for him. McCrae says baloney. Amanda and McCrae get up with the blanket over them and make out. They then head inside to bed.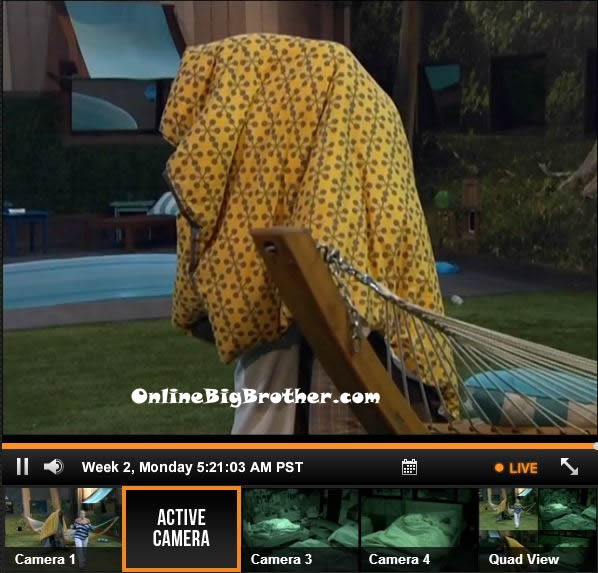 6:35am All the house guests are still sleeping..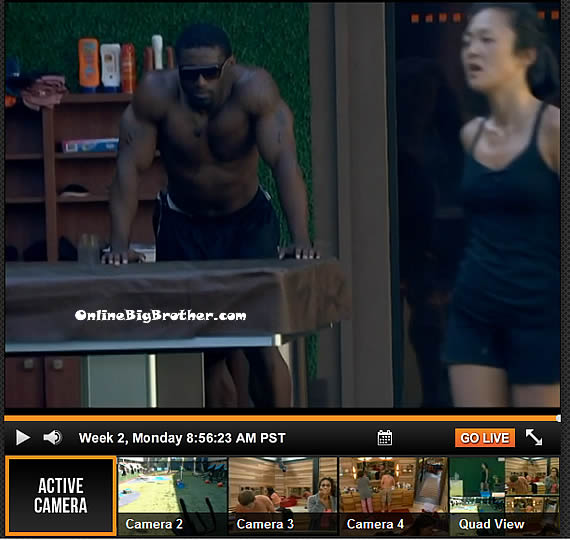 9:00AM Everyone up getting ready nominations are coming soon
You can re-watch ever second on the feeds using their flashback feature.. It's super easy to use click this link for a free trial —> Big Brother Live Feeds
 The CBS feeds are a HUGE improvement over the super pass feeds and they are 30% cheaper with no subscription to cancel. You pay a flat fee for the season.
Stay connected and interact with other Big Brother Fans on our Facebook page.
And Follow: @BigBspoilers and @Dawgsbigbrother on Twitter for the most up to date spoilers.