POV Holder:
Kaitlin
Next POV
July 20th
POV Used
YES
POV Ceremony
July 15
HOH Winner:
Helen
Next HOH:
July 18
MVP:
Elissa
Original Nominations:
Kaitlin, Aaryn, Spencer (MVP)
Current Nominations:
Jeremy, Aaryn, Spencer (MVP)
Last Evicted Houseguest
David, Nick
Have Nots
Judd, Jessie, McCrea, Amanda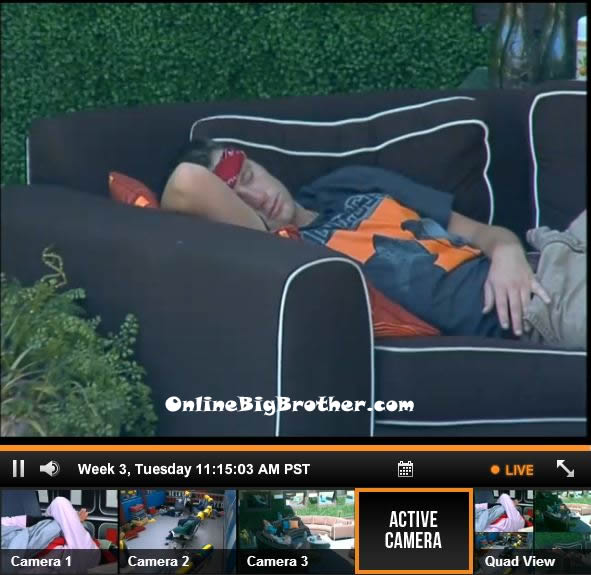 11am Helen finishes her run and heads up to the HOH room. Elissa asks what time it is? Helen says 10:30 – 11am. Elissa asks really?! Helen says everyone else is still asleep. Helen heads down to the kitchen. Jessie and Howard are also up now. Elissa puts ice cubes below her eyes. In the have not room the camera shows Amanda sleeping and then pans down to the floor to show a opened condom and a female condom left under McCrae bed. They were placed there by Aayrn and Judd as a prank. The put BBQ sauce on it.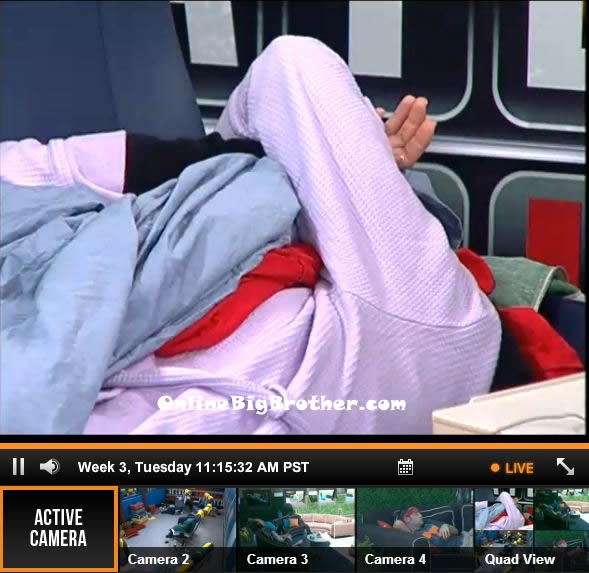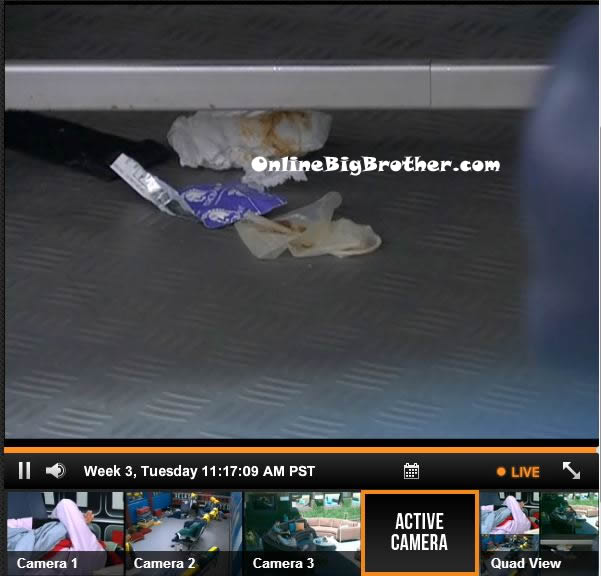 11:25am – 12:05pm Out in the backyard – Jessie and Judd are talking. Judd says that he thinks Kaitlin needs to go before Aaryn. Judd brings up how Helen tried to ask him to promise Kaitlin's safety. That's not right, make deals for yourself but not for me. Jessie agrees. Judd says I just want us to go to the final two, so bad! Jessie says me too. Judd says some of these people think we are floaters, but we made some of the biggest moves in this game. You know that right? Jessie says yeah. Jessie says that moving company would still be going if it wasn't for us. Jessie says I know the next HOH is going to be endurance. Judd says McCrae and I are smaller, we might do good at that too. Judd says I think we need to get close to Amanda. I think us four could really do some damage. Jessie says yeah. Judd says later on, not now. Jessie comments that Elissa love McCrae. Judd says she loves me and you too. Jessie agrees. Judd tells Jessie that Spencer likes her a lot too.. I think he has a crush on you. Jessie asks really?! Judd and Jessie agree that Amanda has a great personality. Judd asks did you know that I was Nick's target? Jessie says no. They talk about how everyone is suspicious of Howard and want him out because he lied on the bible. I don't like that. They continue to talk about past competition. Jessie says that she thinks Aaryn would put us up in a heart beat. Jessie says that she wants to talk to Amanda but she is worried because she is really good at lying. I want to be like, look Helen has Elissa and Andy is close to them. We are second tier in this alliance and so we should look after each other. Judd says yeah you should do that, get close to them. We've got to stick together to get those three girls out before they start coming after us. Jessie tells Judd she wouldn't want to have a final two deal with anyone else. Judd agrees. Jessie says we need a name, lets combine Tennessee and Texas – Tenexas? Judd says or Bonnie and Clyde 2013! NO that's too long. Judd and Jessie head inside.
12:10pm Most of the house guests are now waking up and getting ready for the day.
Big Brother 15 Live Feeds: FREE 2 DAY TRIAL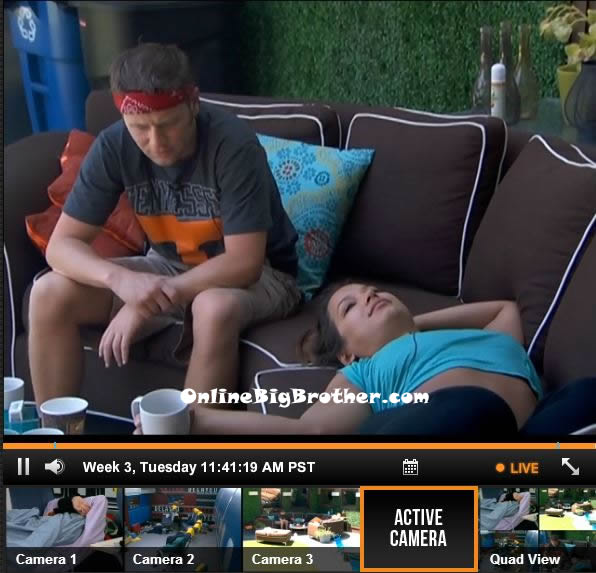 12:10pm In the kitchen – Helen, Candice and Elissa are talking about random things. They talk about Canada day being close to July 4th. Elissa thinks its the same day. Candice tells her its a few days before. Helen says that she knows nothing about Canada. Elissa tells Helen and Candice that she was told that in Canada they teach that Christopher Columbus wasn't real. Helen says in 1492 Christopher Columbus sailed the ocean blue. Why would say its not real? Helen complains about how her neck has an allergic reaction to something. They wonder if ring-worm is going around the house. Candice talks about her area down there is super sensitive to everything.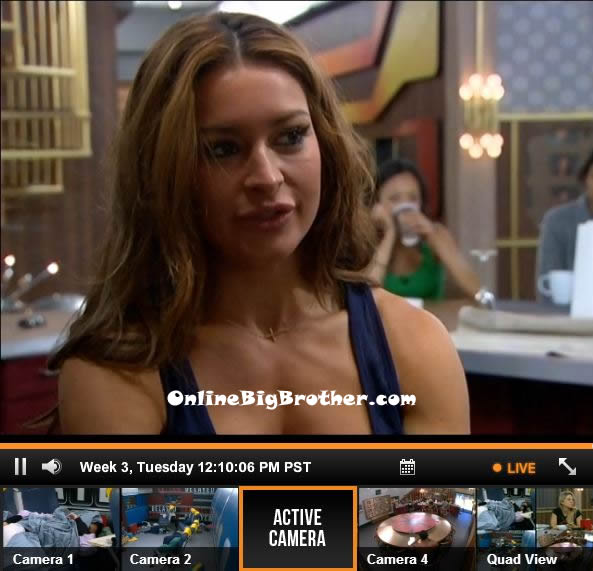 12:15pm – 12:20pm Meanwhile in the storage room – Judd assures Aaryn that she isn't a target right now. He says that he will let her know if her name comes up. Judd says that anyone that talks game to him, he tells them she isnt a big threat for a while. Aaryn says thank you. She says that she's never heard his come up but that he will let him know if it does. Aaryn says Kaitlin is in an alliance with Helen, Andy and Elissa with a final 4 deal. Judd talks about how Helen is making people promise not to put up Kaitlin – I won't promise that. Aaryn agrees and says its not right.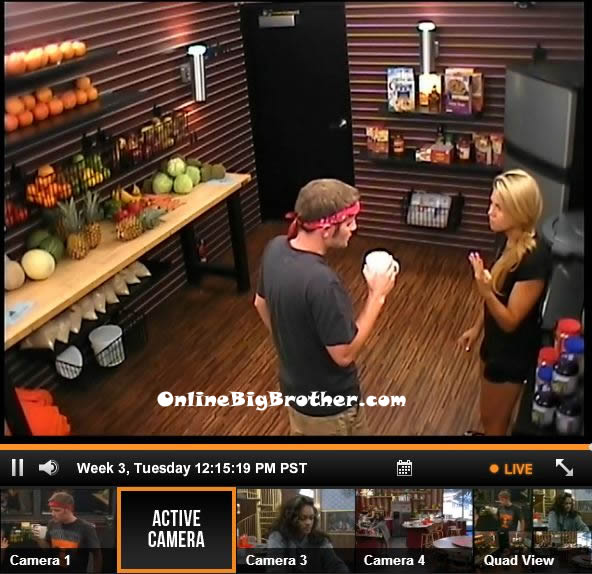 12:25pm – 12:30pm In the kithcen – Judd talks about how he had 2000 people on his facebook page before he shut it down. He says that he doesn't use it any more but likes twitter. Aaryn says that she needs to go through her facebook because she has some questionable people on there. Candice asks her shaddy fu*ks? Candice talks about being on a dating site and how she met a few okay people on there. Judd and Jessie head out to the pool.
12:35pm – 12:50pm Judd and Jessie are out by the pool talking about movies. Aaryn joins them. Judd says Triangle of Thrust.. I saw that in the bathroom. Aaryn says yeah Jeremy wrote that in there yesterday. Kind of sad, if you're one of us I guess. Jeremy joins them in the pool. They talk about the triangle of thrust. Meanwhile on the backyard couch – Andy and Spencer are talking. They talk about how Jessie is taking eating slop the worst. Andy jokes that his curse is working. Jessie comes out to join them and complains that someone cleaned out the fridge and threw out an entire bag of fried slop for no reason. She says now I have nothing to eat. Andy tells her to cool her jets. It looks like you are about to have a mid-week slop melt down. Andy asks so is it just Amanda and McCrae that I haven't seen today. Jessie says yeah. Andy says that McCrae and Amanda look like homeless people that climbed the fence to be in here. Andy says that he doesn't think McCrae has showered in 4 days. Spencer says he saw him in the shower but he was just changing. Jessie says that Jeremy thinking he is on Dan or Ian Terry's level is just insane to me. He is just pure douche bag. Jessie wonder who kaitlin we go to once Jeremy leaves. Andy says probably me. Jessie says she is scared of her. Andy reassures her that she has nothing to worry about. If she wins I will do whatever it takes to pursuade her not to put you up. Jessie says thanks – I just hope everyone sticks to the plan because if we do we will all make it to jury. Andy comments on how they are having a funeral for Nick today to get Gina to stop talking about him and move on.

1:20pm – 1:30pmJessie heads into the kitchen and appologizes to Helen, Candice and Elissa for freaking out on them when they threw out the fried slop. She says it was the slop talking. Helen hugs her and says she understands what it's like to be on slop. Spencer, Gina, Aaryn, Kaitlin and Jeremy (Has Never-Not Pass). They talk about how they need to be on team together so that they're on slop this week. Meanwhile out in the backyard – Judd, Aaryn and Jeremy are in the pool. Kaitlin is suntanning beside the pool. Spencer, Andy and Jessie are talking on the backyard couch. Spencer is talking about when he realized he loved his girlfriend. He said that when she told him she did he thought to himself if I say it it will be like putting gasoline on the fire, and if I don't say it – it will be like putting water on the fire. He said he searched himself and realized he really did love her.
[polldaddy poll=7248812]
Stay connected and interact with other Big Brother Fans on our Facebook page.
And Follow: @BigBspoilers and @Dawgsbigbrother on Twitter for the most up to date spoilers.