POV Holder:
Shane
Next POV:
July 20 (Friday)
POV Used
No
POV Ceremony
July 15 (Sunday)
HOH Winner:
Willie
Next HOH:
July 19 (Thurs)
Original Nominations:
Frank and Kara
Current Nominations:
Frank and Kara
Have Nots /Slop
Danielle, Shane, Ashley, Ian
Coach Competition Winner
Boogie, Ian is safe
Next Coaches Competition
July 21 or 22
7:30pm Cam 3-4 Arcade Room Kara, Danielle and Jenn Briefly talking about people using the word "Gay" to mean something stupid or negative. Danielle: "I never thought it was a bad thing I just used it when I wanted to describe something that was dumb or Stupid.. But now I don't say it at all" Jenn laughs "Especially when there are 10 other words you could use to describe stupid or Dumb" Frank brings up how people use the word retarded. Jenn brings up a Black eyed pees song that had retarded on it and they pulled it right away. She
7:36pm Cam 1-2 Storage Room
Ashley tells her she's 100% voting to evict Frank, "I'm the swing vote.. Frank is going home I've already talked to Kara". Britney "Your entire team has a deal with Boogie and you don't even know.. they treat you like their little minion". Britney asks her if they have been badgering her. Ashley hasn't really been talked to anyone from that side. Brintey warns her that they are going to start soon because everyone knows you're the swing vote.
7:38pm Cam 3-4 HOH Room Willie and Shane The boys are discussing the state of the house. They are both pissed off with Janelle Shane: "She's moved from Britney to Dan and now Boogie" Shane make a face "BOOGIE!". Willie: "if the vote isn't a 4/4 tie than we have a break in our alliance and we're fucked.. we better just put our duffle bag near the front door"
Willie: "in 48hours we could be in the best position, we'll have power and they'll be shitting bricks"
Shane: "ya they won't know what to do they'll be shaking"
Willie: "I have no beef with any of them.. I'm glad that argument happened because it put attention onto Frank… and it showed that they got a snitch over there Joe"
Shane: 'Yeah it showed the snitch"
Willie: "They got 2 snitches over there Joe and Jenn"
Willie would much rather be in the house with a coach like Dan and Britney than Boogie and Janelle. Shane agrees says that he's only talked to Boogie once after he won the the POV.
Willie "Janelle's fake fake ass is getting on my nerves.. America boogie sucks at this game you think he is but he's not"
Willie mentions that if they can get rid of Frank than that entire other team has no one that can beat them in a physical competition.
Shane: "Jenn can't hold himself.. Joe can't hold himself up.. "
Willie: "That's why I think we should get rid of Wil over Joe… Joe is shifty but Wil is more of a threat.. But I don't want Joe to fluke out and win a HOH.. cause then we're in trouble"
Willie: "We gotta be worried about Ian cause he could win questions comps"
Willie: 'It'll be Christmas next week.. we'll be running around"
7:38pm Cam 1-2 Have Nots Janelle, Wil and Ashley Ashley tells them she likes hanging out but at the ebnd of the day they are her team
Janelle tells her that she needs to vote to keep Frank because if Frank is left in the house he'll go after Willie. Janelle wants her if they lose Frank they have a very good chance of winning the HOH and if Willie's side wins HOH they are putting up Joe and Wil. Wil tells them he's going to go get Joe.
AShley: "Joe is freaking me out" Janelle tells her not to worry Joe is cool.
Joe joins them wil is gone. Ashley asks them why is everything changing back and forth, says it wasn't too long ago when they were going to vote out Frank, "Nobody is telling me anything in this team"
Janelle: "I know I know, If frank goes home and that other side wins the HOH than Wil is going on the block.. it puts them in a bad situation (Sigh) .. everyone is voting for their team it's week one"
Ashley: "It's so weird that Wil is turning his back on Kara I thought they were friends?"
Joe: "he has to take out Kara otherwise wil gets put up.. wil goes home"
They badger Ashley for her vote for a food while.
Joe leaves, janelle/wil are telling Ashley that the otehr side thinks she's guliable and stupid..
8:15pm Cam 3-4 HOH JOJO willie and Shane Willie saying that when he came into the house he thought Janelle was so good looking but lately her personality is making him think twice. Jojo jumps in tells him that sometimes a person's personality will make them ugly or beautiful. Shane mentions how he should probably talk to Ashley a bit tonight to make sure she's on the same page. Willie thinks they're cool with Ashley but they need to have things fresh in everyone's head for tomorrow's vote. Willie: "Sorry showtime i'm going to bed early.. no drama tonight" Willie asks Jojo if she's sleeping upstairs tonight. JOJO says yes. Shane plans on getting his rest tonght as well. ( They're feeling very confident)
8:23pm Cam 3-4 HOH Dan and Willie
Willie tells him they have Shane, Jojo and Danielle. Dan: "I'm just worried about that 4th person"
Willie: "It's as close as it gets.. the thing is that side has 3 votes locked in.. Jenn's not going to vote against Frank… Ian's not going to vote out Frank.. you know Joe won't"
Willie: "I dunno it could be wil.. he might be the 4th vote we need.. I dunnno"
Dan: "Yeah.. i'm about to go down there and work to find out where wil is at"
Britney joins them
Britney: "I've seen Mike Boogie and Janelle's players together all day"
Dan: "It's a complete 180.. from a day ago"
Britney have you been in cahoots with Janelle at one point?"
Dan: "No"
Britney: "we got our 2 and you got Danielle we need the 4th vote"
Dan: "I didn't know about Shane if he was 100% on board"
Britney "Am I wrong saying that Shane is with us"
Willie: "100%"
Britney: "I just feel like we're in a really bad spot tomorrow"
Willie: "people are going to see Joe floating from one place to another place.. Britney things are going to change next week.. all we need to do is survive on more week"
Britney: "Where are we for next week?"
Dan: "We're good you have nothing to worry about if we win HOH"
Dan: "It'll be decided tonight.. tomorrow once the vacuums start it'll be mad chaos everyone will be running around"
Britney: "you think Wil is going to tell Kara"
Dan: "if you see Kara crying tonight you'll know your answer"
Dan:"Bottom line you gott take out frank in this game.. you gotta go through Frank"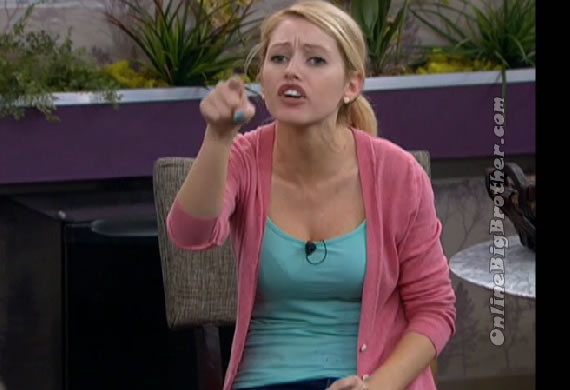 8:37pm Cam 3-4 HOH Britney and Willie
(if you have the feeds flash back to this it's Really good)
Subscription Link 3 day trial
Britney is PISSED at Willie for running his mouth off to Dan. During his conversation with Dan Willie mentioned that anyone can flip at the last moment. Britney feels like willie is giving dan little bits of information every-time he talks to Dan and it's going to screw them in the end.
Brintey: "DO NOT TELL DAN ONE MORE WORD THAN YOU HAVE TO..You're so overconfident.. YOU GOTTA KEEP SHUT.. you know what happened Janelle turned this whole house against you.. Wil and Joe HATE you HATE you HATE you.. Every time you're talking to Dan I'm having a heat-attack"
She tells him that the game is not about only making alliances, wining competitions and siting in the HOH there is also a social aspect and Willie is doing horrible at that. Willie: "I have relationships with a lot of people" Britney: "you have Frank downstairs right now friends with the entire house.. I told you not to go outside last night and talk to Frank and you did now LOOK"
Willie defends himself says he had to confront Frank, and now he's in a better position for doing it, "I have 3 people now" Britney: 'Those people would of been with you regardless"
Willie: "I don't like all the negative energy you are giving me"
Britney: "I don't like all the negative energy
Britney :Dan is talking to you because he's desperate do you think dan would be be talking to you if he was in a good situation.. "
Britney: "HE:S WORKING WITH BOOGIE.. Dan does not want to talk to me he does not want a deal with us"
8:40pm Cam 1-2 Arcade Room janelle and Dan Janelle telling him Kara doesn't have the votes to stay. She is worried because kara and Danielle told her they are not going to put up Willie next week. This puts her team in a bad spot. She would like Frank gone but she really wants Willie gone and see's Frank as that Chance. Dan thinks that taking out Willie after Frank is gone will be easy.
Share it YO!!
Tweet