POV Holder:
Shane
Next POV:
July 20 (Friday)
POV Used
No
POV Ceremony
July 15 (Sunday)
HOH Winner:
Willie
Next HOH:
July 19 (Thurs)
Original Nominations:
Frank and Kara
Current Nominations:
Frank and Kara
Have Nots /Slop
Danielle, Shane, Ashley, Ian
Coach Competition Winner
Boogie, Ian is safe
Next Coaches Competition
July 21 or 22
9:22pm Bathroom Willie, Jojo and Shane
Willie tells them he's gotta chill out a bit, Britney is starting to get mad at him because people in the house are hating him. He tells them that she was just up in the HOH getting all angry.
jojo: "This is Big Brother that's going to happen" (Week one though.. I feel like I've just seen an entire season)
Willie doesn;t think it matters if people hate him he's still got friends in thte house, he's got Ashley, joJO, and Shane.. Plus they're down with Kara and Danielle now.
They starts picking their targets.. Willie: "Once Frank is gone Wil and Joe need to go up" the other 2 agree.
Willie: "I think we have 4 I KNOW they have 4"
Get The Live Feeds for your iPhone or Android Phone! Comes with a regular subscription to the Live Feeds Subscription Link
9:46pm Cam 1-2 Danielle and Shane Playing the new game in the backyard..
9:49pm Cam 1-2 Bedroom Ashley and Frank
Ashley wants to make sure he's got her Back because tomorrow is a big day and she thinks she'll be in the centre of it all.
Ashley says she doesn't want to play both sides.. she told Willie and JoJO that she doesn't want to work with them any more. Ashley says it's over between her and Jojo/Willie
Frank: "next week Danielle will flip"
Ashley: "I don't know Danielle is up Shane's ass"
Frank: "no no she's going to flip"
Frank: "You and me are kindred Spirits… "
Ashley: "Ya I feel that you get it.. i know they all think i'm stupid but i'm not"
Wil joins them tells them that Kara told him that she's going to put up Joe if she wins HOH.
She made that comment that "ohh you're my friend I need you now more than ever.. oh please you can't be that close with someone after 12 days"
Ashley says that after she told JoJO and Willie that she's done working with them they were telling her that the other side thinks she's stupid and trying to convince her to stay with them. Ashley adds that she doesn't want to turn her back on her team.
Ashley says that JoJo is going to freak out with her so they have to protect her. Frank: "you know when they saw we're calling you dumb they think you're dumb" Ashley: "I know i'm not a idiot" Ashley says that she would be stupid if she stuck around with
Kara comes in.. "Oh do you want me to leave" Frank: "NO NO it's aight.. i'm just hustling for votes Kara"
10:12pm 3-4 Ian and Janelle Janelle: "What is up with Willie and is one week deals.. I should start calling him Cappi"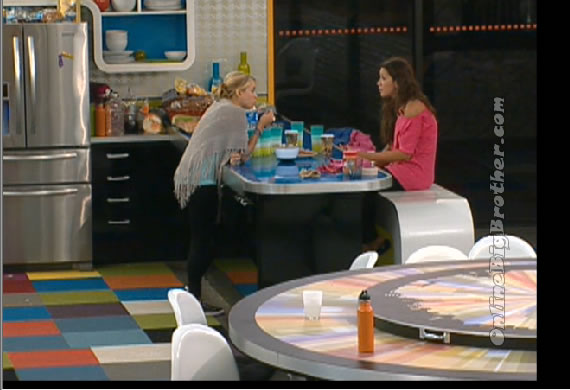 10:14 Cam 3-4 Ashley and Danielle Danielle is saying that if Frank stays they are in BIG trouble.
Ashley: "Sucks becuase I love Willie I think he's a great guy"
Danielle: "So you think you are going to vote to keep frank?"
AShley: "It sucks I like Kara .. It sucks becuase I'm in a team"
Danielle: "But your team can vote you out… Oh well it's your decision .. if frank stays we're finished"
Ashley asking more about the team aspect of the game. She thought they were in teams. Danielle explains that the Diary Room doesn't want them to use the term Team because that is not what they intended it to be. Shane joins them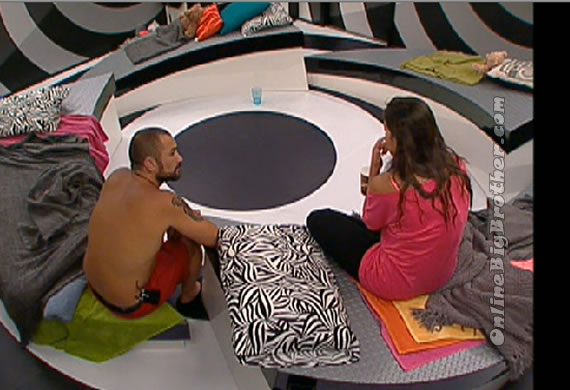 10:32pm Cam 3-4 Danielle and Willie SHe is telling him that She's really worried that Ashley is flipping, Willie: "Wil got to her". Willie tells her if she ever has a problem with Willie please go up and talk to him because we'll figure it out.
Danielle: "I'm scared Willie I think Kara is going home.. I don't know If Kara goes this week i'm gone next week"
Shane joins them Willie says that the other side was telling Danielle that Willie is telling people to not talk
Ian joins them.. Willie asks Ian if he sees people trying to run Willie's name threw the mud. Ian agrees "I doubt you say 1/2 the stuff they are saying.. Because they've said I said stuff earlier on and it wasn't true"
Willie: "i don't know what to do.. they're saying I'm tell homosexual slurs.. running my name threw the mud"
Shane: "I wonder whos doing it?"
10:46pm cam 1-2 Bathroom Willie, Brintey and Jojo Willie: "One of y'all have to talk to Ashley TONIGHT because Danielle thinks she's voting for Frank to stay.. Someone needs to talk to her and it cannot be me" Britney: "Janelle is telling her that she HAS to vote with the Team". joJO offers that she'll talk to the Ashley tonight. Britney: "Point out that Janelle only talked to her when she needs your vote"

11:18pm Cam 1-2 bedroom Dan and Kara
Dan asks her about Ashley. Kara says that Ashley is still with her.
Dan: "When did you last talk to her? "
Ashley: "Just now in the bathroom"
Dan: "Ashley is going to go very far in this game.. she might not win but she'll make it to final 6.. she's off everyone's radar"
Dan: "It's going to come down to the girl who runs the tanning shop"
Dani: "You got to talk to joe but you have to be very careful.. We just need to get you through this week"
Kara: "Do you think Janelle made a deal with Mike Boogie"
Dan:"No
Dan: "What do you think is Ashley's motivation to vote for you to stay.. is it because she likes girls or something else.."
Kara: "I think it's because Frank is such a big threat"
11:28pm Cam 1-2 Storage Room Dan and Joe Dan says he wants to talk about making a deal.. Dan doesn't think he has the votes to save Kara. Joe: "Wait what.. I thought you had Wil" Dan: "No" Joe: "coming in here I thought you had Wil and Ashley was the Flip Flop.. What do you think" Dan: "I don't know joe.."
Dan: "If Kara does go home.. I don't want you to feel like you can't come up and talk to me"
Joe says he's after Willie once he's gone Joe has to reassess
Dan: "So is there anything she can offer you "
Joe: "No there is not"
(Joe's vote is seal to save Frank"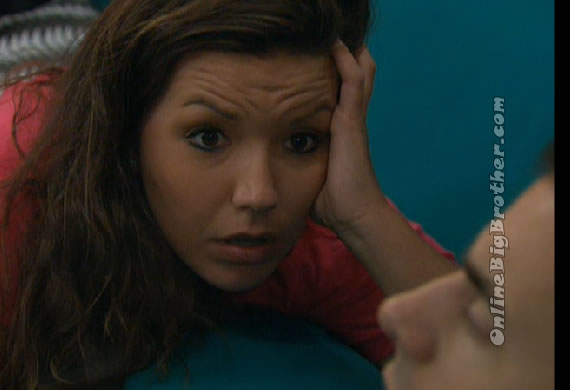 11:43pm Cam 3-4 Dan and Danielle
Danielle says that she saw Jojo trying to talk to Ashley and Ashley ran away and told her to leave her alone she's finished talking about game
Dan: "the only reason why Frank stays in this game is to take out Willie"
Dan: "You got to get away from Shane and Willie… you are in free agent mode. if we get approached from the other side we need to take it"
Danielle: "What if Shane wins HOH and they approach me:
Dan: "It won't matter.. they won't approach you in that case"
Dan: "Britney is in a corner she has no option she has to be with us.. Janelle's group hates Willie that their motivation"
Dan: "It's just a matter of time before Willie is gone"
Dan: "You have no interest in winning HOH.. do not win it"
12:02Am Cam 1-2 Backyard Couch Willie, jojo, and Shane Willie telling them that Janelle's group had gotten to Ashley
JojO: "Fuck it keep them on the show and see what kind of show they have"
Willie: "what they are going to do is vote me out next week then try to make you (jojo) look like the villain and then Jojo goes"
Willie: "She might not flip.. I don't know .."
Jojo tells them someone has to get to Ashley tonight she thinks it should be Dan. Shane agrees. They all seem to think Dan has some power to that he'll be able to mind control the other players.
Shane: "Frank is a b!tch"
Willie: "oh he looks like a complete b!tch on TV.. all his boys are going to be like You're a bitch"
Willie: "you know what.. I'm not a bad guy if she (Ashley) flips on us you do what you have to do"
Willie explains to them that unlike Boogie and Janelle, Britney really likes her players and she wants what is best for them, "when we win next week everyone will suck our a$$.. even if Ashley send Frank home I understand but I still think we can pull her in"
JOJO, Shane and Willie are all kind of pissed that Danielle and Kara are not trying to hard to save themselves. JOJO feels like they don't have any game.
Shane: 'I want to punch Frank in the face"
12:28Am Cam 1-2 Backyard Couch Willie, jojo, and Shane
Willie: "I'm going to hang with you guys after this.. those mother f*ck*r can suck my c*ck "
Shane: "We're the only solid people"
Willie: "If it something that makes you hang there forever.. you know like have your hand on a button I'll stand there all my life"
Shane: "We can alternate and win the HOH competitions back and forth"
Both JOJO and Shane are getting Pretty pissed that Danielle and Kara are sleeping when they should be working for votes.
Willie: "If they evict me and I get brought back into the house.. OHH man.. look out"
Shane: "They would be shitting themselves.. "
Willie brings up that production may have a contest that lets America vote and brings one of them back into the game.
Shane: "we're all straight shooters"
Jojo: "We don't let ourselves get bullied"
They all are convinced that if they are evicted "America" will vote them back in. Willie seems to think that there is a twist that will involve the Coaches. He thinks that the original plan of productions was to have the coaches come back but because they were all talking about it and planning their game around it CBS might switch it to having the mentors get to vote.
…
Willie thinks that maybe the coaches compete in a comp and the winner gets to pick one past evicted houseguest. JOJO: "I hope America has a lot to say in this season" Willie: "Well ya we're the underdogs look at us"
Share it YO!!
Tweet