POV Holder:
?
Next POV
July 13th
POV Used
?
POV Ceremony
July 15
HOH Winner:
Helen
Next HOH:
July 18
MVP:
Elissa
Original Nominations:
Kaitlin, Aaryn, Spencer (MVP)
Current Nominations:
Last Evicted Houseguest
David, Nick
Have Nots
? Judd, Jessie, McCrea, Amanda ?
8:20Am Have nots Amanda and McCrea
Amanda says she likes Aaryn and she wants to keep her around for awhile because she can help them. They agree that Helen and Elissa are acting strange right now they are certain that a deal was made.
McCrea says he had a talk with Helen and Helen thinks that Howard will not put them up because he owes her something
Amanda and MCrea agree that Helen and Elissa are being dumb and Howard has them wrapped around their fingers. Amanda: "He's preying on the weak ones"
Amanda says that Howard knows he can't manipulate her so that is why he's pissed at her and gets personal. McCrea points out that last night Helen never spoke up when Howard was going off on them because they had a deal. Helen told McCrea that it's because she was tired, "BullSh!t.. it's because you didn't want to get between your thing" McCrea is worried that Elissa will tell Howard that she won the MVP not him. McCrea: "She doesn't have logic" Amanda: "She's not a good liar"
Feeds go to fish
Elissa: 'I wish Aaryn would go up instead of David.. she's such a trouble maker" (FYI Elissa mixes up the house guest names all the time.. Amanda has given up correcting her )
Feeds go to fish
8:58am HOH Howard, Spencer, Candace, Elissa and Andy
Helen: "Town's people let's slay the dragon"
Helen is worried that Kaitlin will win the POV and not use it.
Candace: 'I know Jeremy has to go but I want Aaryn out so bad.. I think if Aaryn wins HOH next week it will be 10 times worst than if Jeremy wins"
Helen: 'What you .. want aaryn out now"
Candace says no she wants Jeremy gone first..
Spencer tells them all not to worry cause he's going to win the POV.
9:00am Bedroom Gina and Aaryn
Gina: "I hope it's not a smart game I suck at those" (Gina picked to play in POV)
Aaryn tell her to fight her heart out.. If Aaryn goes home because of "These Big Guns" she will be pissed.
Aaryn tells her that Howard was the target but now everything is messed up
Power of veto players
Spencer, Kaitlin, Helen, Aaryn, Veto Pick was Gina and Candace
judd is the host
You can re-watch ever second on the feeds using their flashback feature.. It's super easy to use click this link for a free trial —> Subscribe to the Big Brother Live Feeds
The CBS feeds are a HUGE improvement over the super pass feeds and they are 30% cheaper with no subscription to cancel.
9:08am bedroom Kaitlin and Amanda Amanda saying she wants Jeremy in the game over Howard. Amanda says the HOH group wants Jeremy gone he's the target.
Amanda tells her that the only way she was going home is if she wins the veto and doesn't use it.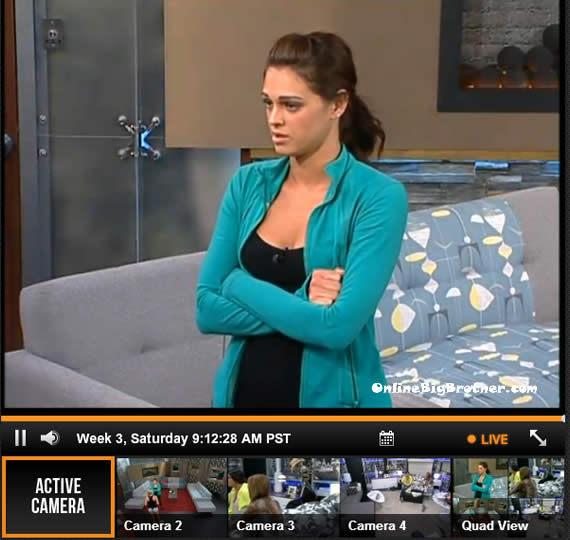 9:12am Aaryn and Kaitlin
Kaitlin says that Amanda just told her that they are going to backd**r Jeremy. They are not sending Aaryn home because she is alone. Kaitlin adds if she wins POV and doesn't use it they are going to vote her out.
KAitlin takes Gina into the storage room.
Kaitlin: "If you win this veto you have to save it for yourself you have to keep the nominations the same otherwise Jeremy is going home"
Kaitlin: 'They told me that Aaryn is the target.. if POV isn't used Spencer goes home"
Gina: "you know i'm going to go hard'
Kaitlin: "Just go f*****ing hard and keep it for yourself.. they are not even giving Jeremy the chance to save himself"
Kaitlin mentions that everyone is freaking out because Howard was supposed to go up but didn't because Candace has a deal with Helen.

9:24am bedroom Aaryn, Jeremy and Kaitlin Jeremy says that he talked to Helen and she told him there are two targets and he's one of them.
9:29Am Cockpit Andy and Jeremy
Andy: "I'm going to be honest with you it's not looking good"
Jeremy says all he can promise is if he doesn't go home this week he'll put up whoever they want if he wins the next HOH.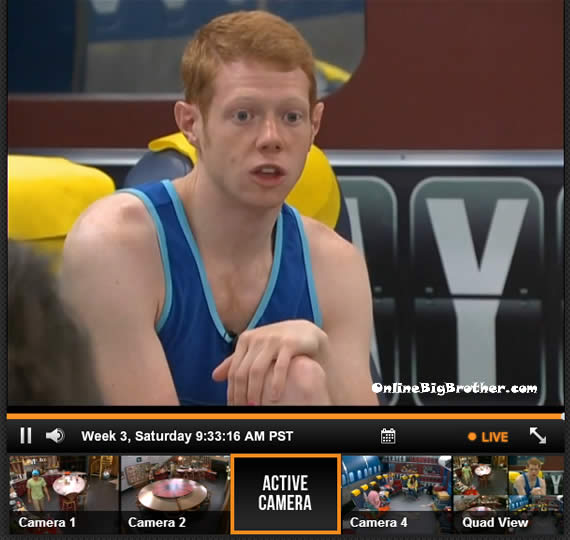 9:32am Have Nots McCrea and Amanda
McCrea and Amanda talking that they want to keep Jeremy in the game. Amanda: 'Howard is a much bigger threat to us than Jeremy"
McCrea: 'Duh.. they have their 4 now"
Amanda: "no one knows where Howard lies"
McCrea: "Except for the 4 that are in power right now.. there is no way they will put Howard up NO WAY.. no matter what we say and do"
Andy joins them. McCrea says he' super concerned asks Andy if he's working with the "4 of them" (howard, candace, Elissa and Helen)
Andy says no. (Amanda and McCrea are freaking out. )
Andy about the prospects of Helen having a new 4 person alliance: "If that happens I've been the number one supporter of Elissa"
McCrea is freaking out saying they might lose the number advantage.
Amanda: "We don't have to scramble until someone else has the power"
Amanda: "F***ing stepford wives are controlling the house right now"
McCrea thinks it's because Howard was using religion that it why he was able to get a deal with Helen"
McCrea tells Andy that Spencer and Howard will throw anyone under the bus they don't care. Andy says he's getting red flags from Helen and Elissa.
Jessie has joined them
They start talking about HElen's motives to not put Howard up. Andy is wondering why Howard is targeting him. McCrea thinks it's because HWOard wants to take over Andy's spot in Helen's group.
Amanda and McCrea start talking about a split between them and Helen's side. McCrea wants them to keep cool.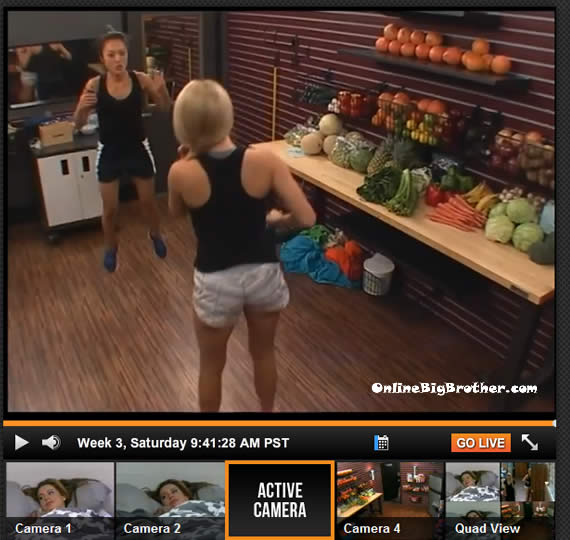 9:40am storage room Aaryn and Helen
Helen says she wants to "Pump" Aaryn up because they are on the same team now right now.. "we can do this.. pump it up"
Helen leaves Aaryn is worried now looks at the camera "thats the most obvious thing in the entire world.. now i'm looking like a traitor..
(It was hard to understand what all Helen was saying as they were jumping around and out of breath at the time)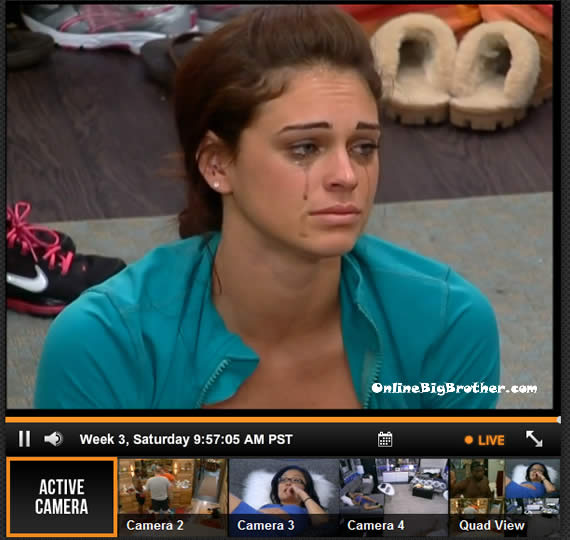 9:58am Andy and Kaitlin
Talking about Howard being such a shady f***
Andy keeps telling her if she wins she has to save herself otherwise she is going home. KAitlin: 'if I don't win does that mean I still go home" Andy: "No no"
10:05am HOH Elissa, Amanda, Helen, McCrea and Andy
Helen is saying there is no way they are backdooring Howard if the POV is used Jeremy is going up.
McCrea says Jeremy going home would be the best. Amanda keeps going on about how they need to make sure that Gina needs to use the POV. Helen says she's been working Gina for a couple of day.
10:50Am Judd comes in the bedroom where Aaryn, Kaitlin and Jeremy are talking about the long wait for the veto. "Grab your umbrellas it's time for the Veto competition"
He tells them he's joking.. "I'm just practicing"
11:00AM Jessie going to town on the slop muffin batter. House guests are sitting around waiting for the POV comp to starts
11:02Am Bedroom Aaryn, Jeremy, Judd, Gina and KAitlin
Judd saying that he's not going to take what people say in the DR to heart. Aaryn says of course not especially when it's not really your words. (implying that Production tells them what to say in the DR)
11:26AM house guests just loitering around waiting for the POV. Jermey wonders why it's taking so long they've been building the competition set for 2 days.
11:36Am Bedroom Kaitlin, Jeremy and Aaryn joking around
Jeremy : "I hope they have a cast.. most beautiful cast .. or best jaw line cast"
Aaryn says that Amanda scares the F*** out of her, the people that scare her are Elissa, Amanda and Howard.
They start talking about how either Howard is throwing every competition or is just plain horrible at comps.
11:38:49 Aaryn about their comp win "We won with a broken hand and someone throwing it and we still beat them.. what kinda queers are in this place"
12:08Am assorted pictures of the house guests lounging around waiting for the Power of veto competition to begin
12:27am Cockpit Amanda is worried about her now ex boyfriend because he had naked pictures and S$x tapes of her and him. She points out that he's a spiteful person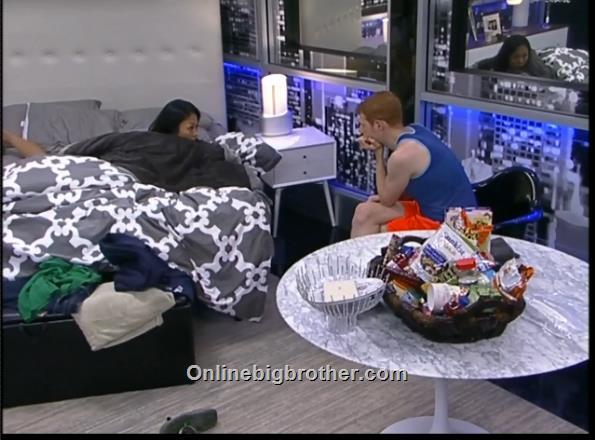 12:44pm HOH Andy and Helen
Helen says she doesn't blame ELissa for doing her own nomination for MVP. Helen explains what went down last night.
Andy says that Amanda and McCrea have been putting things in his head that Helen and Elissa, Candace have a deal
Helen swears she doesn't have a secret deal with Candace and howard Her core is Andy, Judd and Elissa. Andy says that Helen is in her inner circle.
Helen: "There will be a point we have to take down Amanda"
Helen tells him that they will have to separate Amanda and McCrea at one point but not right now.
Andy: "Howard is super manipulative.. howard will use religion against Elissa.. if Howard is on your side thats cool I just don't want him to sway Elissa away"
Helen: 'He's going out the door it's just a matter of time
Andy: "we're going to start the Veto soon Judd got called into the Diary room"
Helen: "There's no deal with Candace or Howard"
Helen mentions that Candace really stuck up for Howard. Andy and Helen both think they have Kaitlin and Gina and once Jeremy leaves they'll have them on their side. (Andy and Helen love big alliances.. Super Friends! )
Andy goes on and on about how dangerous Howard is says He'll lie and do whatever that needs to be done to survive.
Andy believe Spencer more than Howard he feels that Howard will try to use Candace and Elissa against them.
Helen is shocked that Candace stick by Howard after everything he's done to her.
Feeds go to fish..
1:00pm POV Comp begins..
3:40pm Trivia
4:50pm Trivia
6:00pm Trivia
The next post will have the Power of Veto winner