POV Holder:
?
Next POV
July 13th
POV Used
?
POV Ceremony
July 15
HOH Winner:
Helen
Next HOH:
July 18
MVP:
Elissa
Original Nominations:
Kaitlin, Aaryn, Spencer (MVP)
Current Nominations:
Last Evicted Houseguest
David, Nick
Have Nots
? Judd, Jessie, McCrea, Amanda ?
Big Brother Live Feeds OFFICIALLY AVAILABLE IN CANADA:
12:40am In the lounge room – McCrae is talking to Judd. Judd asks what is going on now? What did you tell him to cover it up? McCrae says I told him that it really hurt my feelings and I trusted you out of everyone else in the alliance. Judd asks why McCrae said he was MVP? You covering her a$$? McCrae says covering Elissa's a$$ yeah. Judd says that Spencer came in there and said man McCrae is MVP and he's putting me up. Judd says that he had to keep a straight face from laughing. McCrae says that he told him, if you keep me and Amanda safe – if you win HOH next week then I will not put you up for MVP. McCrae says he said the only way I would do that is if I was in a five person alliance. Judd asks in a what? McCrae says in a five person alliance – Me, Amanda, Spencer, Howard .. and then I could do, it's like 5 or 6 so then I could pick the other 2 people.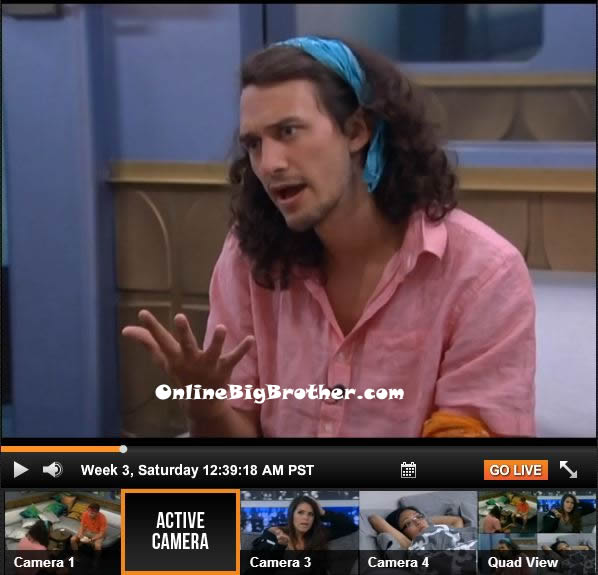 Judd asks he is in another one? FU*K you Howard! McCrae says I said well the only way I can do it is if you take your bible and swear to me on it right now. Judd says he already did it once and lied didn't he. MCrae says exactly, I wanted to see it with my eyes. Judd says I am not swearing on bibles. McCrae says but you cannot say nothing to no one! McCrae says I will tell him that you are in the alliance. Judd says if you want to do that. They agree to talk more later and leave the room.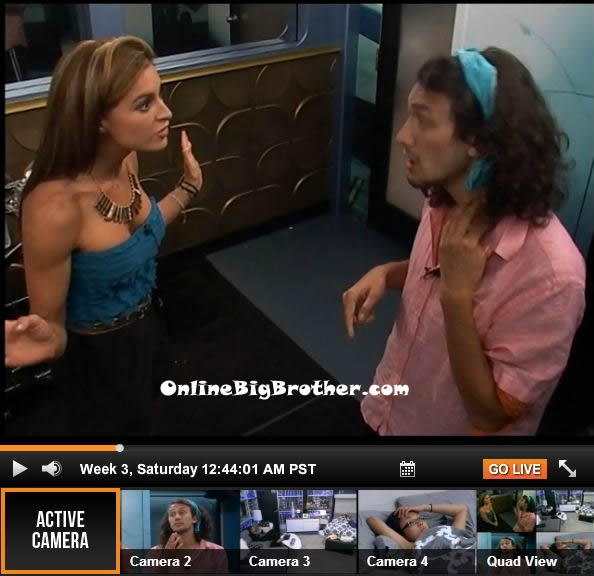 Elissa asks McCrae if she can talk to him in the cockpit room. McCrae says yeah. The head into the room. Elissa says I am so sorry. Can we just all this an even draw when you said you wouldn't put me up and then back doored me. McCrae says yeah that's fine but you have a deal with him right? Elissa says I swear to god.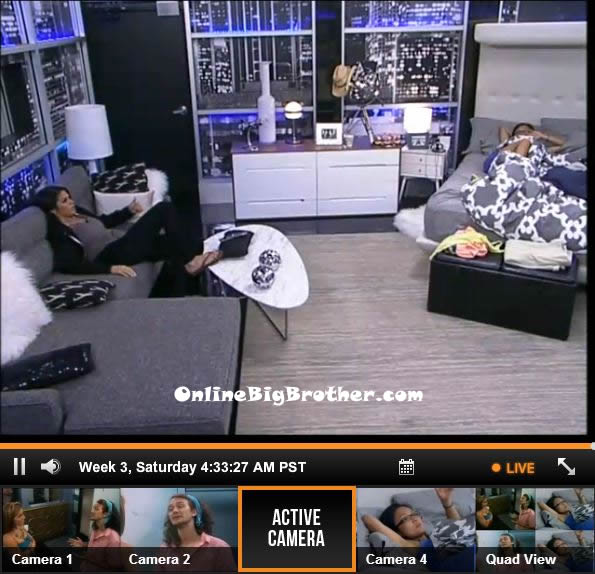 The cameras switch to Amanda up in the HOH room. Amanda is telling Helen that this is bullsh*t you just threw McCrae and I under the bus. And Elissa's excuse was that she didn't know what the rest of us wanted? She was up here for an hour with us! Helen says that she hasn't been able to talk to her. Amanda says well he is obviously very persuasive because you didn't put him on the block. Amanda says I get it, if Elissa was working with us and Elissa would put him up, but.. Helen says I guess I just thought she knew why I nominated who I nominated and how we were going to deal with the third nomination. We just started talking about it and then Howard came up. Amanda says yeah he has been up here kissing you're a$$ all day and he did a successful job at it too because he didn't get nominated.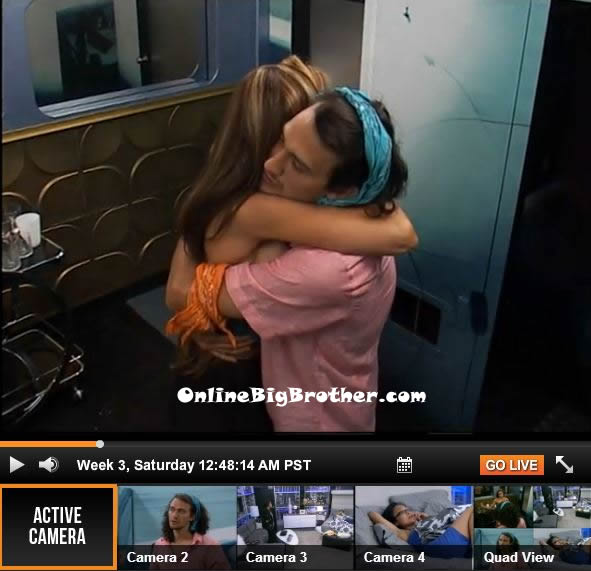 12:50am Cameras switch to Elissa and McCrae still talking in the lounge room. Elissa says that she feels like they are not telling her things, like you don't trust me. McCrae asks so Amanda filled you in? Elissa says yeah she said you were going to make deals with them, just make deals with them. You can say you still have it, use it (MVP) to your advantage. I understand. Elissa says if Jeremy is the target, then he needs to be the target and you guys need to. McCrae says we will include you in on stuff, more stuff in the future. Elissa says if you want me to be a third nominee, I have to be included in that because that is not right, that all day no one talk to me and then an hour before they ask me ..oh put this person. Like I am a freaking idiot, I would rather be out of the game than be someone's play toy. McCrae says he told Helen that of course we are putting up Howard, so she kind of fu*ked us all over. Elissa says yeah, so you guys should be mad at her not the person that wasn't even included in it! McCrae says that he is mad at the situation. Just don't say anything about me or Howard. Just if Spencer takes himself off the block then you and me need to figure this out because it makes me look bad. Elissa asks so then Jeremy would go up? McCrae says of course. Elissa says then he gets voted out right? McCrae says yeah. Elissa says he is the target right? McCrae says yeah I don't care, I don't have any power, I am fake power guy. I want Jeremy out. I really do. Now I have to tell Jeremy that I am MVP and he is going to go out and the blood is on my hands. Elissa asks are you working with Jeremy? McCrae says no, that hat incident really pissed me off. McCrae agrees it wasn't right because then Helen has no blood on her hands. And if he doesn't go home he will be coming after you. It's going to work out. Elissa says I am so loyal to you, I just felt it wasn't right. It was a low ball move. They end their conversation and leave the room.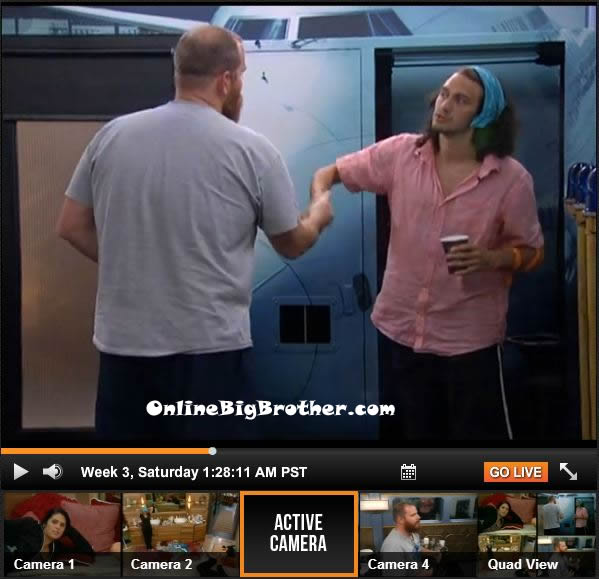 1:20am – 1:30am Spencer and McCrae are in the lounge room talking. Spencer says that he isn't very good at theatrics, you guys can do that. If you guys are working to take them out, then that is okay I just don't want to be that last spot before jury. Lets just keep moving forward and talking. Spencer says so you, me and Howard will be solid. McCrae says that you going up on the block will be good for you taking one for the team. Spencer says that he will take his spanking, but just tell me if I am going out. I don't want to be scum bagged like that. Why me? McCrae says it has to do with what happened, it is all them up there. McCrae says no matter what happens you are safe and I will campaign for you. Spencer I am fine with it. Howard took it really hard, he is a good dude. Spencer asks are you going to tell them you are going to put me up? McCrae says I don't know. They wonder what happened outside of the house with McCrae getting MVP. Spencer says that he will compete hard so that Jeremy goes up on the block. Spencer says I know what you're doing, this is great, I trust you. They shake hands and leave the room.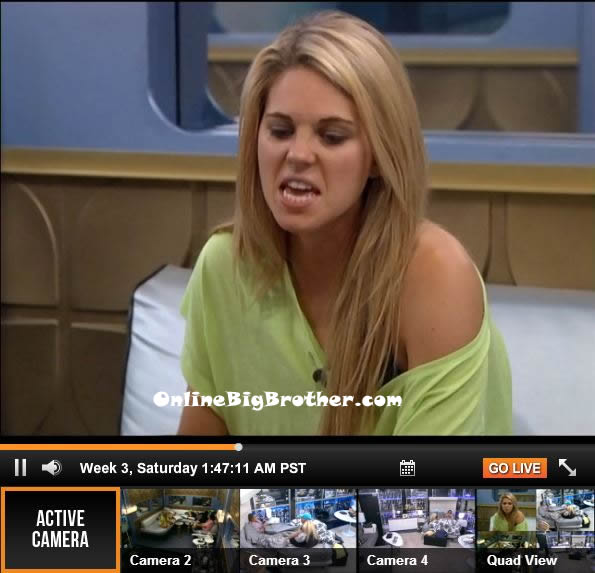 2am In the lounge room – Amanda, McCrae and Aaryn are talking. Amanda tells Aaryn that she wanted Elissa to put up Howard but Spencer's going up. Amanda tells Aaryn that she thinks Howard and Elissa made a deal. Aaryn says that maybe they made a deal for Howard to throw the have/have-not competition because he obviously did, she was drowning in milk. Aaryn says literally, if King Kong splooged on me, that's what it would look like. Amanda says that Elissa not putting up Howard made it more likely Aaryn might go if no one uses the veto. Aaryn asks if Elissa did that on purpose to get her out? Amanda says that she doesn't think Elissa is that smart. Aaryn says that she doesn't think anyone would vote Spencer out. McCrae says they might because Spencer fu*ked over people in his alliance. Aaryn says that she would do whatever they want her to do if she wins HoH. Aaryn says that Kaitlin might not take herself off if she wins veto and if that happens they should vote out Kaitlin. Amanda says that would move Aaryn down the target list. Aaryn says that she will try hard for the veto. Amanda said most people want either Jeremy or Howard to go this week. Amanda says all the votes have gone their way. Aaryn says she knows and that's the only reason she feels semi safe.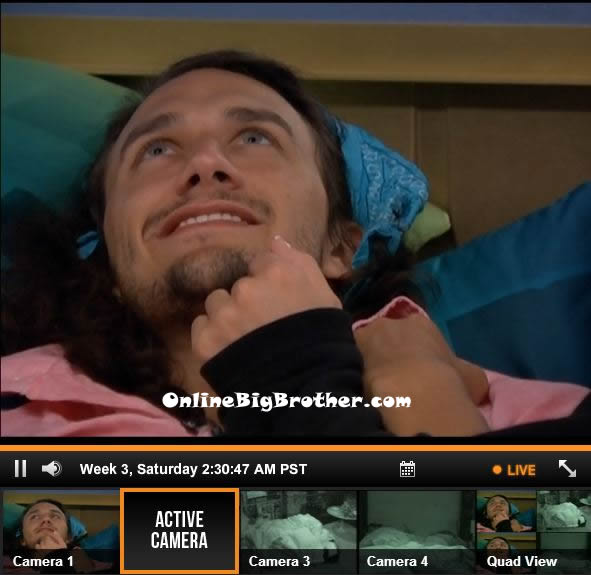 2:30am In the lounge room – McCrae and Amanda are talking. McCrae is wondering why him (Howard) not bringing in a bible and swearing on it be the first red flag. McCrae wonders if he will be put up. McCrae says I just need to get through veto ceremony now. Amanda says you'll be fine. McCrae says I know I will be fine. This is just going to be sh*tty though. McCrae says that he's going to poop. Amanda asks you're going to poop when you c*m? McCrae says oh yeah my favourite! McCrae comes back and they get ready for bed. Amanda says that Andy is going to freak out, he better freak out! McCrae says if he doesn't we've got problems. Amanda says he wasn't in the boys alliance, he doesn't care. Amanda says that she feels like something is up. Fucking Elissa, but we still need her. McCrae agrees. Amanda tells McCrae to not bring anyone else into the devil deal. McCrae says that is going to end up biting me in the a$$. Amanda says lets just lay low, we have nothing else to do with this vote. Amanda jokingly gets mad to McCrae for taking so long to tell her about the boys alliance. Amanda says we are playing to hard right now, lets just lay low. Amanda says lets just let the rats eat each other this week. Amanda says but you did jump up and say you were MVP you know.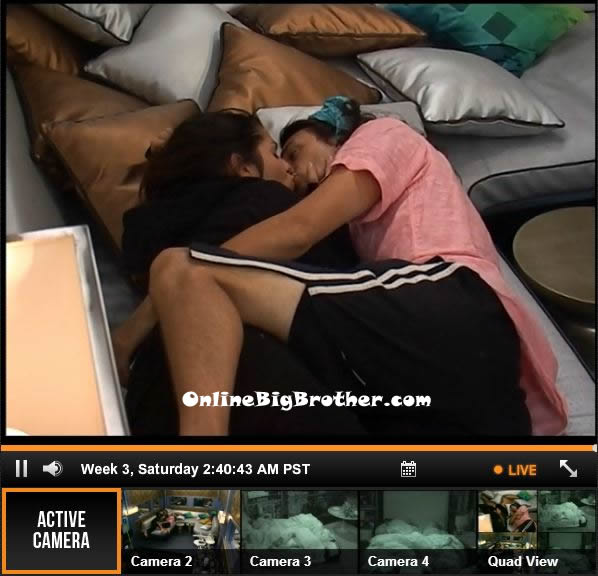 3am Amanda and McCrae talk about how Howard was dominating the conversation and how Helen didn`t step in. Amanda says we need to talk to Andy tomorrow, he will figure everything out. Amanda and McCrae start making out and then decide to head to bed.
5am All the house guests are still sleeping..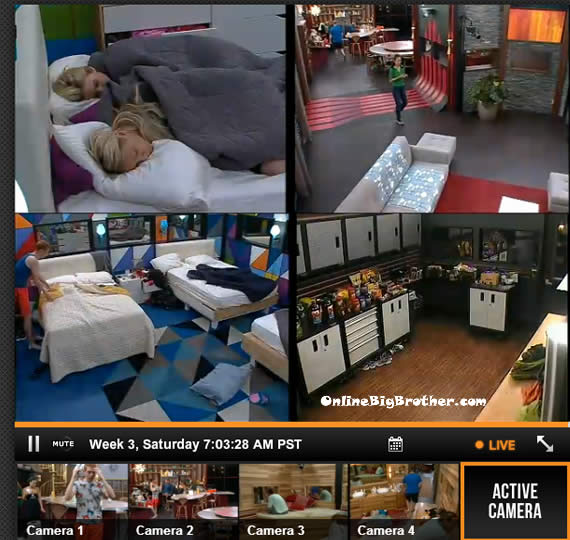 7:05pm Early wake up for the houseguests

7:09am Storage room Andy and Helen
Helen debriefs Andy of the nights events. Says that they were all working on Elissa to put Howard up and Elissa ended up putting Spencer. This is after McCrea already told Howard he was going up.
Helen says McCrea is going to say to everyone he's MVP. Helen thinks it's a really good play and moving forward they should all take a crack of being MVP. Andy: "Why didn't see put Howard up"
Helen: "She said she did feel good putting Howard up"
Andy is shocked that she would still be protecting Howard after he voted to get her out and lied to her.
Helen says that McCrea made a deal with Howard that he wasn't going to go up. Helen adds that McCrea is super worried that Howard and Spencer are now coming after him. Helen says they have to protect McCrea and Amanda because they have been loyal. They are going to talk to spencer and Howard and get them to not target Amanda and McCrea.
Helen says she told Aaryn and Kaitlin that they are both pawns. She needs to start building relationships with the two of them.
Andy and Helen both say Yikes about last night.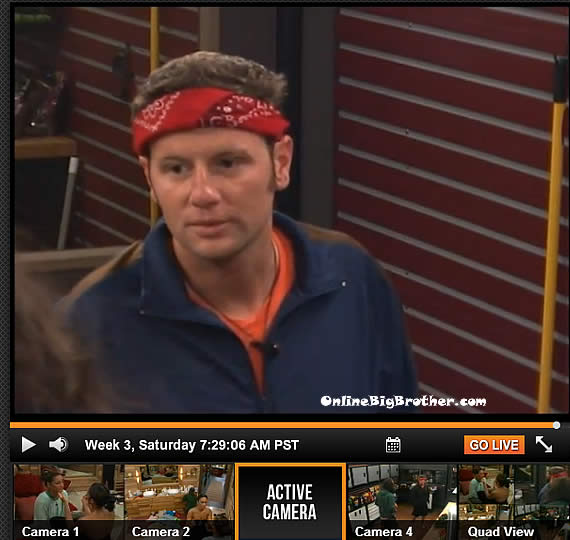 7:29pm McCrea and Judd Storage room
McCrea thinks Elissa and Helen have a deal with Howard. McCrea: "They have a 4 person alliance Candace, Howard, Elissa and Helen" Judd is agreeing says they have Jessie. Judd: "you working with aaryn now"
McCrea: "Ya but you know the whole deal about that"
Judd asks if they are still voting out Aaryn if Jeremy doesn't get put up.
McCrea: "OH ya"
Judd says it's a waste of a whole week if Aaryn goes home. MCrea agrees.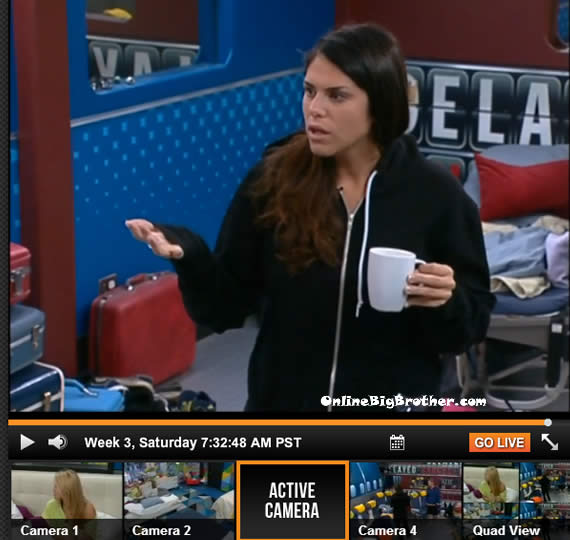 7:31AM Havenots Andy and Amanda
Amanda is telling him that Howard and Elissa have something going on and she suspects Helen and Candace are in on it as well.
Aayrn told Amanda that Helen told her the people she is protecting are Candace and Elissa.
Andy: "I don't know Aaryn could be f****ing around"
Amanda is pissed that the nominees went down like that. Amanda: "You can't f****ing change it at the last minute.. "
Andy: "Helen said that Elissa did it without consulting her"
Amanda knows says that the original plan was to put up Howard so he would win the Veto and the could get JEremy out. Amanda adds that Howard was the second target now there is a chance their first and second target will not get put up on the block.
Judd comes in and they go over last night's talk with Elissa where they made is clear to put Howard up, "She said she didn't feel comfortable about putting Howard up"
Andy says he thought it was strange when Elissa and Helen were talking in the HOH and he wasn't included. Amanda: "They royally f*****ed us.. McCrea and I you guys are OK"
Judd says that Elissa started pulling the bullsh!t taht she didn't know. Amanda getting heated saying that they couldn't have made it more clear to Elissa to put up Howard. Amanda is certain that a 4 person deal has been brokered between Helen, Candace, Elissa and Howard and it's messed up her and McCrea's game. Amanda: "We were sitting there for a good 45 minutes telling her how important it was to put up Howard.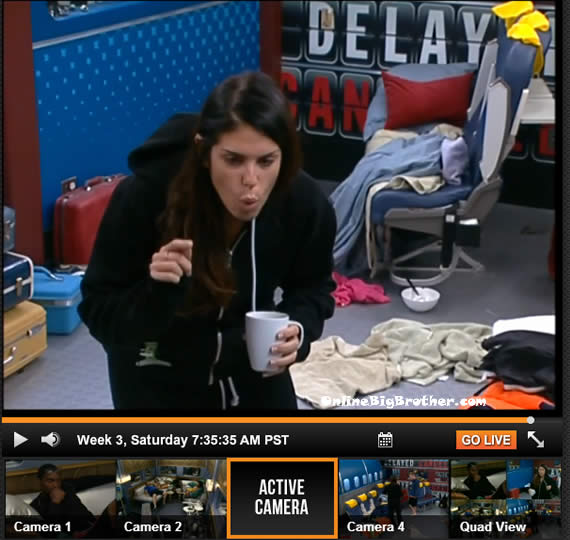 Stay connected and interact with other Big Brother Fans on our Facebook page.
And Follow: @BigBspoilers and @Dawgsbigbrother on Twitter for the most up to date spoilers.