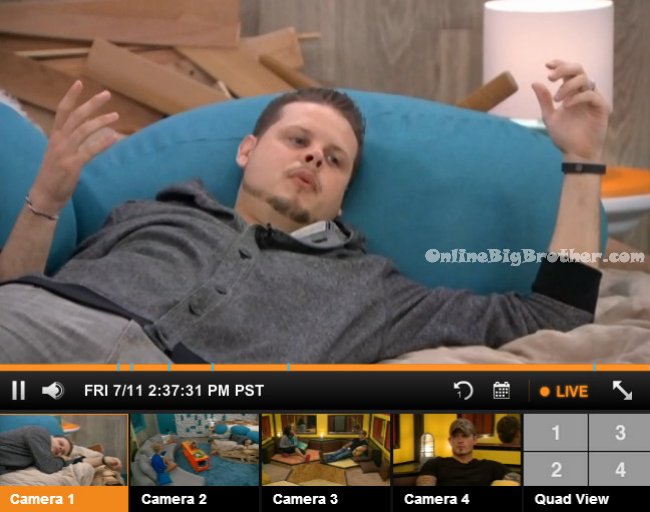 2:35pm – 3pm UP in the HOH room –
Nicole and Derrick talk. Nicole says that Amber doesn't want us to tell Donny she was the one that mentioned his name. Nicole says we aren't saying her name. Derrick says to be honest with you I don't trust Amber and don't tell her anything. Nicole says I am sorry America if you like Donny .. I just don't trust him. Derrick says its all trust all the way around .. Caleb could go out there and not throw this. Nicole says all I ask of you Derrick is that you don't mention my name in anything. Nicole says that Donny is also throwing out Frankie's name. Derrick says so we know the battle of the block is tonight. Nicole says you will be HOH and I hope you do something good with it and get Devin out. Devin comes up and asks if I am not draw would you let me HOST the final POV? Nicole and Derrick both tell him that they would pick him as host. Derrick says don't assume what is happening.. there are a lot of things going on that you don't know about.. Devin leaves. Derrick says you see how I did that to pull him back a bit ..even though he is going. Derrick comments on if Devin wins the veto then Caleb goes home. Nicole asks what if Devin gets picked to play in the pov and wins it then takes Caleb off the block. Nicole says DEVIN cannot win the veto!! Caleb comes up and says you know anyone else that would have done this .. no man because I'm a beast! Caleb says I swear to go before you pulled out Brittany's name I knew it was going to be her.. I have like special powers! Derrick laughs. I called it three other times and was right.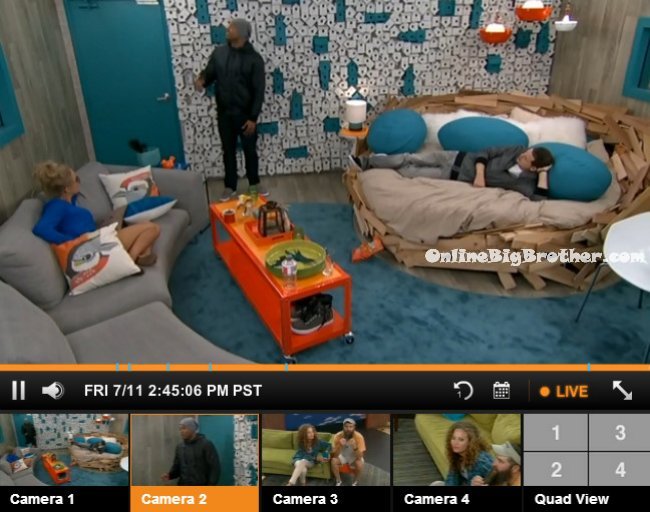 In the hive room – Caleb is talking to Jocasta. Caleb says at the end of the day I would love to be competing against Devin in the Veto. Of course there is a very small chance that he would get picked to play in it. Caleb says that they wanted to put up good competitor so that either way whoever wins the Battle of the Block would have a good chance to win against Devin. Caleb says it doesn't matter who wins the veto is being used to pull one of us or Amber or Donny so that Devin goes up. Caleb says and Devin knows it. He knows he's going up and that's why he was mad because he won't get a chance to compete in the battle of the block and possibly the POV.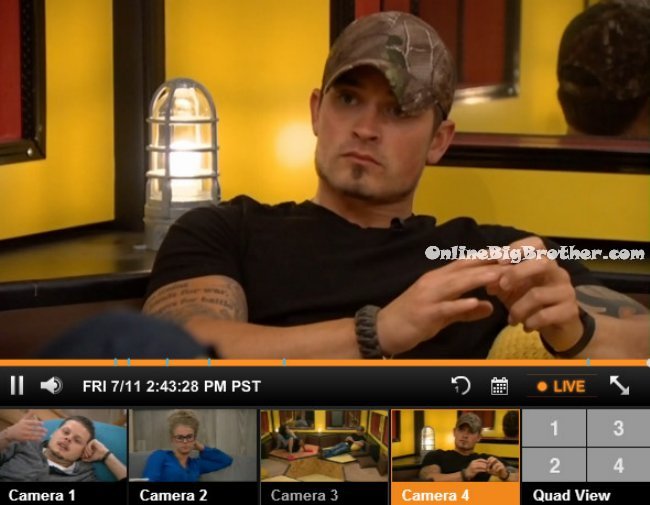 2:50pm – 3pm In the living room – Amber talks to Donny and tells him she is confidence we are going to win. Donny asks how do you know that. Amber says that she just has a feeling. Donny asks what if it has to do with something I'm not good at. Amber says well I'll pull the weight. Brittany is called to the diary room. Amber says it (Battle of the Block) will probably be happening since she's hosting it and just got called in. Amber tells Donny that she is going to do her best and will not throw this. Donny and Amber get down on the floor to stretch. Amber says we haven't talked that much Donny. She wonders what they will get to wear for the comp.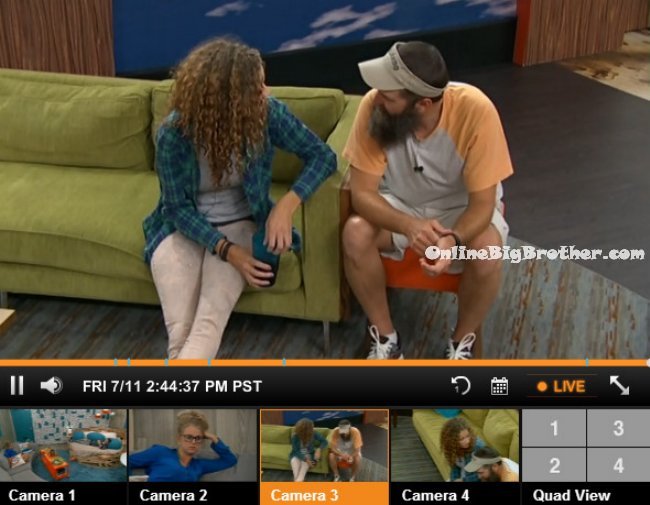 3:05pm – 3:10pm Derrick pulls Jocasta into the back HOH room to talk. He asks her are you mad at me. Jocasta says no, why would I be mad. Derrick says because I put you on the block. It's okay to be mad. Jocasta says its a game. Jocasta brings up how Derrick had said you have a plan. Derrick says I had nothing to do with Nicole's nominations. He was not her target …10 minutes before the nomination ceremony that person left the HOH room crying. They someone came up here and gave some information and the nomination changed.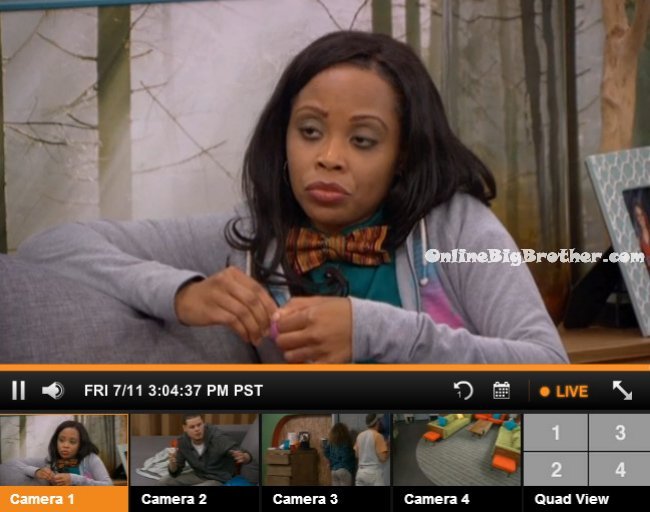 5:23pm Still waiting for the BOB comp to end
[polldaddy poll=8179403]
Share it YO!
Tweet