POV Holder:
?
Next POV
July 12th
POV Used
YES
POV Ceremony
July 14th
HOH Winner 1:
 Nicole
HOH Winner 2:
 Derrick
Battle of the Block Winner
?
Next HOH/ Next BOB
July 17/July 11
Original Nominations:
Final Nominations:
Have Nots
POV Players
Big Brother 16 Live Feed FREE TRIAL – Use the FLASHBACK feature to watch everything you've missed!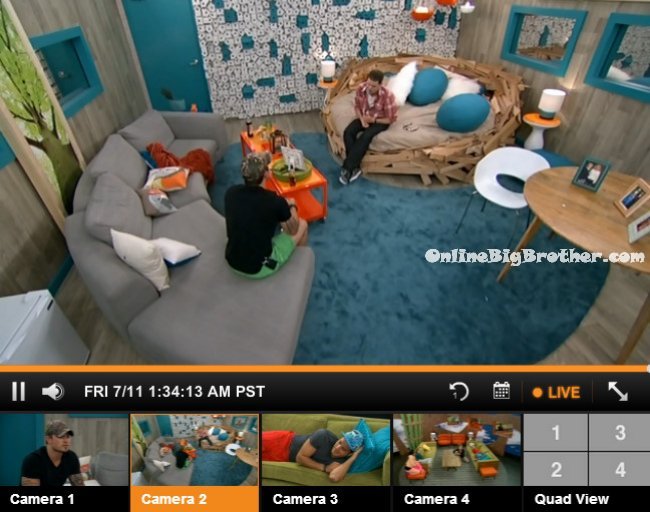 1:20am Caleb goes up to the HOH room after seeing Cody giving Amber a long back massage and tells Derrick and Frankie that he thinks that Amber and Cody will be first showmance of the season. Derrick and Frankie don't see it. Derrick says that Cody has a dime girl back home. They comment on how Cody gives massages to all the girls. Caleb says that Amber won't let me give her a massage. Derrick says that Cody is a flirt. Derrick tells Caleb if I looked like either you or Cody I would never wear a shirt and use my looks to my advantage. Caleb says that he is worried he is being made to look like a fool because Amber. Derrick tells him he's not. Caleb and leaves the HOH room.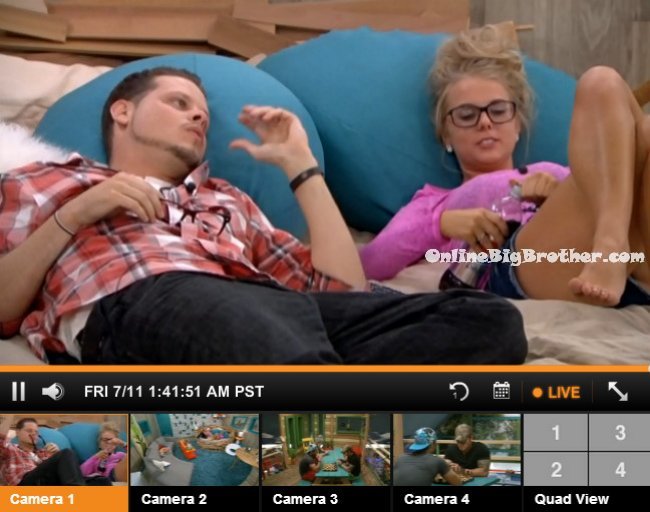 1:45am Derrick and Nicole talk on the HOH bed. Nicole comments on how no one would think that we we're working together. Nicole brings up the alliance he was in. Derrick says it wasn't an alliance, it was a group were we were dictated what to do. Nicole asks so you guys weren't a group of 8 any more? Derrick asks are you kidding me? Nicole says I get that you would want to be in it to able to dictate the votes. Derrick says we didn't meet collectively. Derrick says even Devin was a part of it and he didn't dictate who went home. Derrick says I hope you see when he goes home that we aren't working together. Nicole and Derrick decide to work together as a final 2 deal. Nicole says that Jocasta is going up for sure. If you don't put her up I will. Derrick says I like that. Derrick says Jocasta and Amber are definite. Nicole asks what about Caleb. Derrick says we would have to get him to volunteer to go up. If we put Caleb up and he isn't on board with it, we are done! If he goes up and comes off he will be coming after us. Derrick says you could put up Amber and then we get Caleb to volunteer to go up on my side to throw the Battle of the Block competition. They talk about how the main target is to get out is Devin but that if Devin wins wins veto then Caleb could be the second target. Nicole says she needs to think about who to put up with Amber. Either Donny, Victoria..
Outside the HOH room – Cody and Caleb play a game of chess. Caleb questions Cody about what the deal is with Amber. Caleb says I really think you got something going on with Amber. Cody says that its not like that at all. Caleb says if you did I would just want one of you to tell me. Cody tells Caleb again that nothing is going on. Hayden joins them and the conversation ends.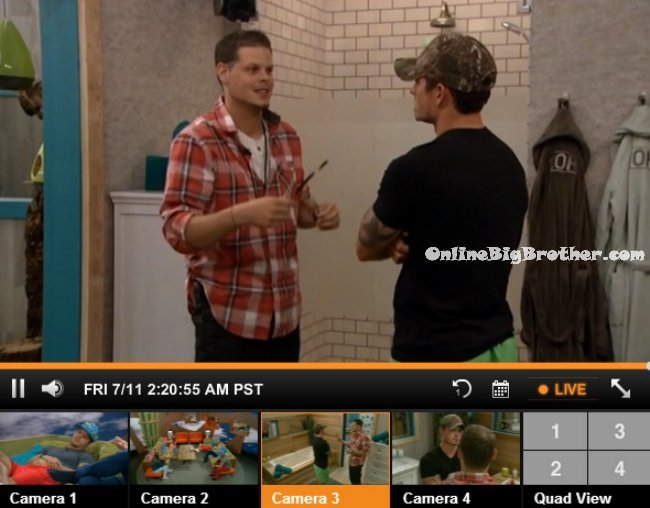 2pm Caleb goes into the HOH room to talk. Caleb tells Cody that what we talked about is squashed (Him thinking Cody and Amber have something going on). Derrick tells Caleb that Nicole is adamant about one of her noms. She wants to put up Amber because she put me up. Derrick says that Nicole and I are on board with that none of the 4 nominees that initially go up are going home. We are both in agreement that Devin is the target to go home. Derrick says you can think about it. You could either come out of it looking like a straight G, like Amber's Knight in shining armour. Or you could look like a fool. Derrick says if you're up there you're not going to let Devin win that POV. Derrick says I am not putting you up unless it comes out of your mouth. It would be in my nomination speech too .. I would let the house know that Caleb is volunteering to go up. Caleb says what if you ask Nicole if you put up Amber aren't you scared of Caleb coming after you. Derrick says yeah but I don't want her to think that we are strong arming her and threatening her. She's willing to work with us right now. Caleb says if I go up I will throw it (Battle of the Block.) Caleb says Julie Chen would have some questions about that .. I would be like got my queen on the block, beast mode coming to save her! Derrick says just for name sake she puts up Donny and Amber. I put up you and Jocasta. You lose the battle of the block. Caleb asks what if it is just me and Jocasta would people keep her over me. Derrick says the only way that would happen is if Devin got picked to play in the POV and won it. Everyone wants Devin out, no one would pick him for house guest choice. Caleb says I am thinking I want you to put me up if she puts up Amber. Derrick says I will let everyone know that you've volunteered. Caleb says I let Amber know in the beginning that I would protect her. Caleb says I am beast mode baby! Caleb says I will talk to Amber and if she tells me not to do it I won't do it. At the end of the day I trust my alliance and I trust that if I am up there that I'll have the votes. Caleb says is Amber goes home I am coming after her (Nicole). Caleb says I have 2 chances to save myself. Caleb leaves. Nicole and Derrick talk. Derrick tells her about his and Caleb's conversation. Derrick tells Nicole that Caleb will only do it if Amber is okay with it.
Watch the ENTIRE SEASON of Big Brother 16 for ONLY $26.99 – TRY it For FREE!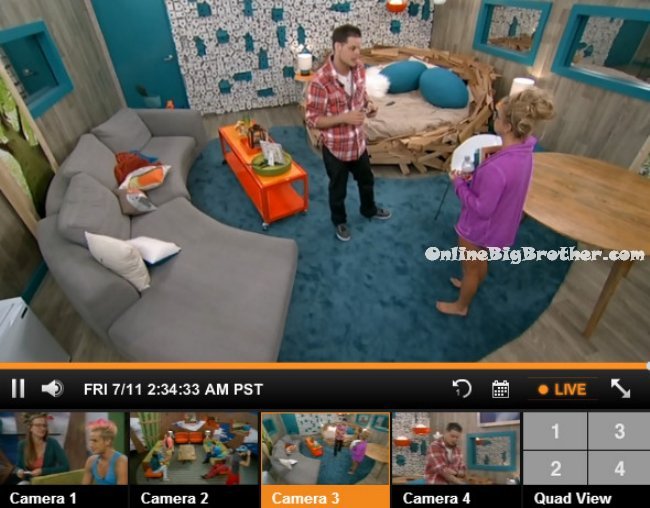 2:40pm – 3:10am In the hive room – Caleb talks to Amber. Caleb says that Devin is the target. You are one of her targets because you put her up. Caleb tells her I told Derrick that if you go up I would volunteer to go up and I would throw it. Caleb says I just want to know how you would feel if I do that. Amber says well thats okay. Caleb says if you tell me not to go up then I won't do it. If you go up, I will go up and throw the Comp. It will be me and whoever else he nominates that will go home if Devin got picked to play and won it then there's the risk that I could go. Caleb laughs at how no one has volunteered to go on the block. Amber says we just have to try and make it look like we're not working together as much as we are. Caleb says but we are working together and everyone knows it. Caleb says they are waiting to hear what I say before they decide anything. Caleb says if I got house guest choice I would pick someone like Hayden to play for me in the POV.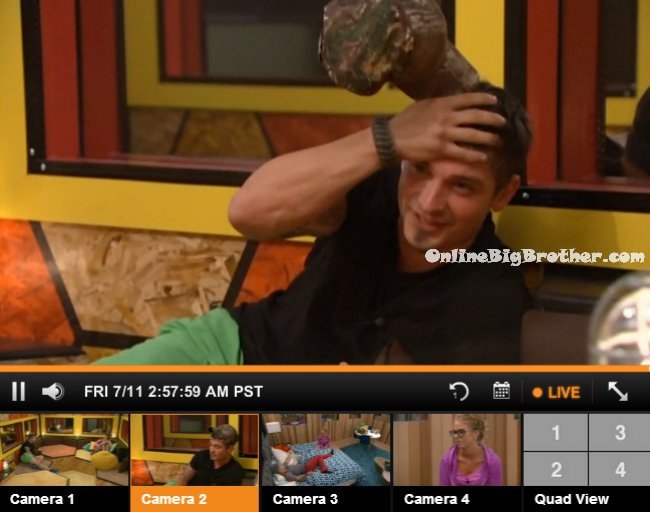 2:40am Derrick pulls Frankie into the storage room. We have been assigned a task as Team America:
"To keep the spotlight off of Team America, get three other Houseguests to spread a rumor that someone in the game is related to a past Big Brother contestant."
Derrick says I have to tell you and then you have to go into the diary room to get the specific details. Derrick says I won't wake up Donny right now, I'll tell him tomorrow. We have a time limit that we need to complete it by Monday at 8 minutes past midnight. Deirrick says so for instance we convince 3 other house guests that Cody is a relative of Frank Eudy. Derrick says we can't do it together, we each have to do it on our own. Frankie is excited about the task and thinks its going to be easy. Derrick tells Frankie to go to the diary room to get the details.
Big Brother 16 Live Feed FREE TRIAL – Use the FLASHBACK feature to watch everything you've missed!