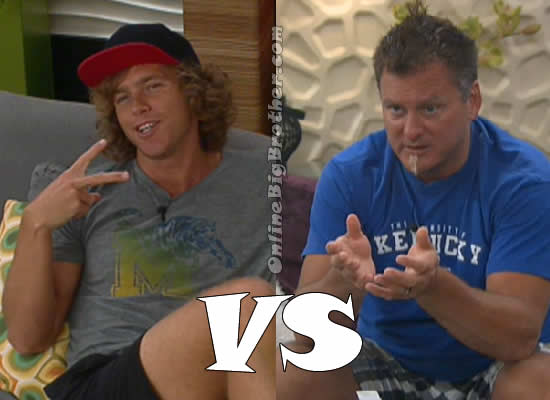 Speculated Vote results
Frank Goes home
Tonight on the live feeds
Endurance Baby Catch it on the Live Feeds 3 Day Free Trial
There is no eviction tonight!!
Coaches are back in the game Shane gets to compete in the HOH last week was a WASTE of time the feeds are going to be INSANE Tonight
Which Coaches Enter the Game
Vote results is YES!! Coaches come back.
Britney votes to enter the game
Boogie votes to stay as a coach
Dan votes to enter the game
Janelle votes to enter the game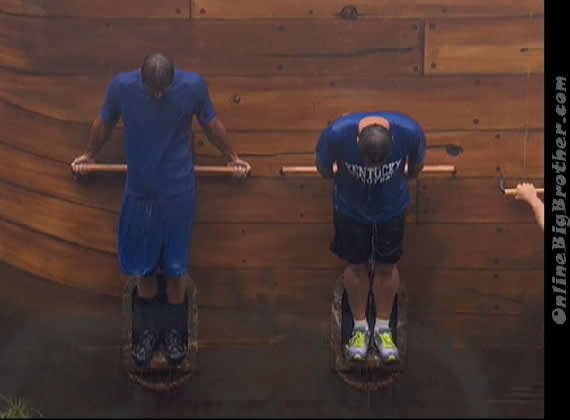 7:10pm Cam 1-4 endurance competition on the live feeds
Live Feeds Free Trial
Watch it on your iPhone or Android Device no extra charge
7:20pm HOH is still going.. If you get the feeds you get to watch the entire competition. Free trial Buy them from us and help out OBB.
Boogie: "Fuck this guys I'm Willieing tonight.. "
7:31pm everyone still on ..
7:50pm Everyone still on the boat..
8:02pm Boogie out
8:03pm Jenn Out
8:04pm Joe out
8:20pm This may go the distance.. (Am i the only one that feels Shane has been screwed a zillion times this season?)
8:35pm Cam 1-4 Everyone still in it…
8:44pm Ashley Out
8:45pm Dan out…
9:01pm This HOH is a battle HOLY SHIT
9:07pm Frank out.. Only Ian left out of that boogie's group
9:24pm Shane is in major pain.. he's digging deep .. Janelle is looking a bit rough to. Wil, Ian, Danielle and Britney looking alright they are definitely fatigued
9:36pm Shane and Wil are out
9:40pm Janelle is out.. Danielle, Brit and Ian left. Brit starts talking to Ian asking him if she's good. Ian tells he SHE is safe if he wins HOH.
9:43pm Cam 3 Boogie tells Frank about who was going to vote for Frank to leave (Danielle and Wil). Frank asks him if Boogie is going to go with Janelle now that he's in the game. Boogie says no you are now my Dr Wil. Boogie explains to him that they are going to bring out in the open everything Joe just told them. Boogie: "At the very Least we are going cause fights" Frank
9:46pm Cam 1 Dan is giving Danielle a MEGA Pep Talk. Flash back to it if you missed it pretty awesome.
10:08pm Ian out
10:09pm Danielle WIN HOH Shane run to her and kisses her.. Janelle wastes no time running up to her and sucking up.. (LOL)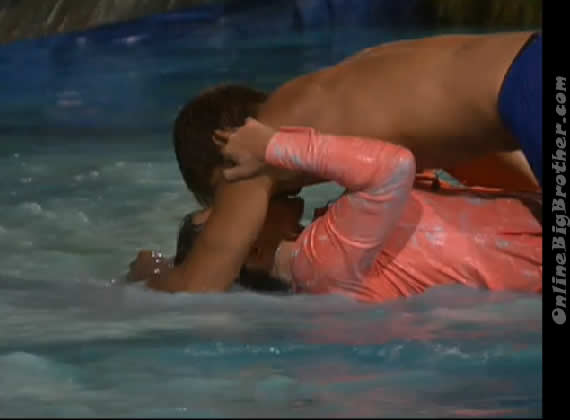 10:05pm Cam 3-4 Boogie and Frank
Boogie tells him that Janelle told him that Wil and Danielle were going to vote out FFrank
Boogie: "Me and you rid and die this to the end"
Boogie: "I will do you no wrong in this game"
Boogie: "Danielle, Dan and Wil obviously cannot be trusted"
Boogie is going to try and keep the other coaches fighting the newbies and vice versa
check out the images added to the gallery below.. I'll Keep adding screencaps there
USE THIS IF YOU HAVE FEEDS
https://junketdrawer.com/b3vviewer/
Last Weeks Results in the table
POV Holder:
Shane
Next POV:
July 28 (Saturday)
POV Used
Yes
POV Ceremony
July 30 (Monday)
HOH Winner:
SHANE
Next HOH:
Aug 2nd
Original Nominations:
Ashley And Joe
Current Nominations:
Joe And Frank
Have Nots (Cereal & Salmon)
Joe, Ian
Coach Competition Winner
Janelle (Wil SAFE)
Next Coaches Competition
August 3(Friday)
Last Evicted Houseguest
JOJO
Share it YO!!
Tweet