POV Holder:
Shane
Next POV:
July 28 (Saturday)
POV Used
Yes
POV Ceremony
July 30 (Monday)
HOH Winner:
SHANE
Next HOH:
Aug 2nd
Original Nominations:
Ashley And Joe
Current Nominations:
Joe And Frank
Have Nots (Cereal & Salmon)
Joe, Ian
Coach Competition Winner
Janelle (Wil SAFE)
Next Coaches Competition
August 3(Friday)
Last Evicted Houseguest
JOJO
1pm Big Brother ends the HOH lock down. All the house guests head down stairs. They talk about how the lock down was shorter than normal. Britney and Ashley are sitting on the bathroom couch talking about how Frank doesn't like anyone to be talking to Janelle's team. Britney says that he keeps walking back and forth in the kitchen looking in the mirror at them. Britney asks Ashley what if Frank stays today? What if someone lies to us? Ashley says that she will die.
WATCH the ENDURANCE COMPETITION Tonight on Superpass for FREE: Big Brother 14 Live Feeds – 3 Day Trial!
1:30pm – 1:55pm
Wil, Danielle and Shane are in bed in the stereo room. Danielle says that she will stay up in the endurance and get frost bite if she has too. Shane says you go girl. Danielle and Wil talk about how pissed they are going to be at them. Wil says that he doesn't care. Danielle says that Frank was cornering her this morning and talking sh*t about everyone. Shane tells Wil that Frank said if he kept him safe he would go after Wil next week. Wil says that they told me the same about you. They talk about how Ian needs to be the next one evicted. Danielle says that Boogie is going to be screaming at us. All the house guests are lounging around, eating and sleeping. Ashley tells Mike that no one from her circle talks shit about him. Mike says yeah everyone's pretty nice right now. Ashley says yeah but that could change.
Boogie and Ian are in the bathroom talking about what the endurance competition will be like. Boogie tells Ian that he thinks he will be really good at it.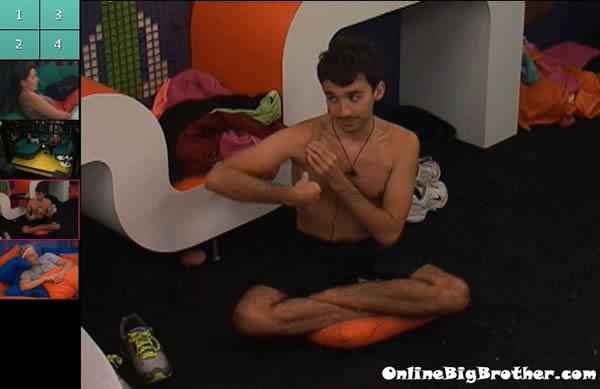 2:10pm Danielle talks to Dan and tells him that Joe told then that he made a final 2 deal with him. Dan says that never happened, I didn't make a final 2 deal with him. I told him that we could talk when he told me he wanted to work with me. Britney joins them. Dan says that it is unbelievable, why would I stab you in the back to work with eagle eye. Dan tells them that he was just misting Joe to get information out of him. Dan says that he wanted to know who Joe would go after. Dan says this is stupid. You can't trust him or Janelle. Britney leaves. Dan tells Danielle that he was surprise during the team meeting with Janelle he was shock that Ashley said she going after Ian. He says that when he spoke with Janelle he wonder why she was brainwashing Ashley to gun for Ian. Britney comes back and says that Ashley is on the couch with Joe and just told Joe that we should have gotten out Frank in the first week, right in front of Jenn! RIGHT in front of Jenn! Britney then tells Dan that Joe told her that he (Dan) opened up the bible, handed it to him and pointed to a section that said something about choice of friends. Dan says that he did not do that. Dan says that he handed the bible to him but that he didn't point to a section. These people can't stop lying. Dan says that Joe is nuts! Dan says that his allegiance is to the final 4 deal he made with Danielle, Britney and Shane. Danielle says so we have a liar AND a liar on the block, which one do we get rid of? Britney says no way are we getting rid of Joe,this is entertaining.
Watch what happens, AS it happens: Big Brother 14 Live Feeds!
Subscribe today for your FREE 3 DAY TRIAL!


2:25pm Mike, Frank and Ian are in the bathroom talking. Mike is telling Frank that he is pissed that no one is telling them which way they are voting. He says it's in like 3 hours why won't they say anything.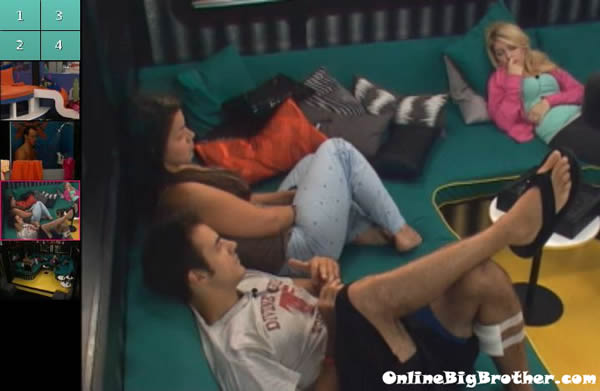 2:35pm – 2:45pm Britney, Dan, and Danielle are in the arcade room. Dan says that it makes no sense what Joe said. Britney says that Joe is going home next week. She says that Wil even said if he gets HOH he is putting up Ian and Joe. Dan says that he now wants to go tell Joe something just to see if it makes its way around the house. Britney tells them that Boogie is freaking out right now. Britney tells them again about how Ashley told them they should have gotten rid of Frank week one, right in front of Jenn. Dan says we should just steam roll over all these people. Britney says all these people are stupid. Dan says that he likes Wil. Britney says that Wil told her he hates his team. Britney asks Dan what his diary room was all about? Dan says that it was about "I can't believe it's not butter" (Joe). He says that they were asking about all the lies.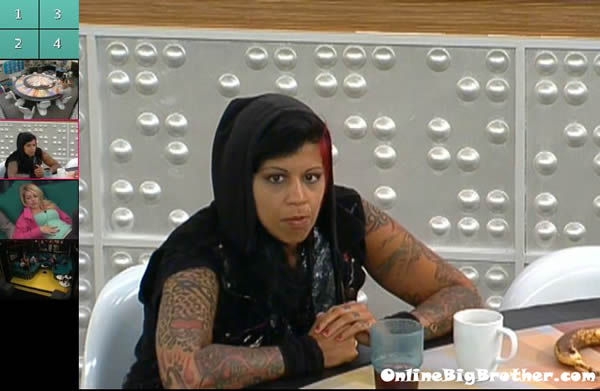 2:45pm – 3:10pm In the kitchen, Mike tells Jenn in the kitchen that tonight it could be her night! Jenn says she knows. Jenn asks so will they tell us to dress for endurance? Mike says yeah. If there is some type of announcement like that think about if you would get cold or wet when deciding what to wear. Meanwhile in the arcade room Danielle is guessing the size of Britney's ring. She says it is a solid 2 to 2 and a half carat diamond. Britney is grilling Danielle asking her if she is nurse or a doctor. Danielle says over and over again that she is a kindergarten teacher. Britney says that she is just working her theories. Danielle keeps denying it. She says that she pleads the fifth. Britney keeps grilling her. Danielle is so bad at lying.
Share it YO!!
Tweet