POV Holder:
Shane
Next POV:
July 28 (Saturday)
POV Used
Yes
POV Ceremony
July 23rd (Monday)
HOH Winner:
Frank
Next HOH:
July 26 (Thurs)
Original Nominations:
JOJO and Shane
Current Nominations:
JOJO and Danielle
Have Nots /Slop
Willie, Shane, JOJO, Ian
Coach Competition Winner
Janelle (Ashley Safe)
Next Coaches Competition
July 27 (Friday)
Last Evicted Houseguest
Kara, Willie
Who is Safe this Week
Shane, Frank and Ashley
My prediction as of writing this post
JOJO Goes Home
6:15pm Cam 3-4 Britney and JOJO Watch using FlashBack FREE TRIAL!
Jojo debriefs about her conversation with Frank. Britney wants to make sure she told him JOJO didn't go through her stuff. Jojo says Frank didn't even know someone would go through his stuff.
Britney: "He's known since last week.. that's all he talks about"
Jojo: "oh great he's a liar"
Apparently Ashley knows who went through Franks stuff and told them she was going to tell Frank. Jojo wants to know when she's going to do it. Britney tells her timing is everything. JOjo stresses she should do it soon time is kind of running out. Britney plans on talking to Boogie tonight she'll let Jojo know how it goes. Britney tries to explain to her it's hard to talk to people in private and that Britney is trying to get her the votes.
6:38pm cam 3-4 Shane and JOJO Watch using FlashBack FREE TRIAL!
Jojo tells Shane about the talk with Frank and Britney. She mentions that Frank kept telling her he doesn't get to vote this week and that he doesn't control his teammates votes. Shane plans on going up to talk to Frank later tonight to make sure he knows he's on board with Jojo and him teaming up. Jojo mentions that Janelle and Frank seem to be really close right now, she's a bit worried. She thinks that Janelle will team up with whatever side gets the HOH.
Shane is suspecting that Ashley is a double agent she's just hanging around them to get information and she passes that to Janelle. He also thinks that Ashley is just trying to get on their good side so if the impossible happens and they win HOH she's not on their radar. JOjo seem to think that Ashley's tears were real and there is no way she could of faked those, "even if she was a Actresses you can't fake those tears". Shane: "I don't man.. I don't know" (for the record Ashley's tears could of totally have been faked here are some screencaps from it)
Shane: "I guarantee there will be a game set up tonight and that is what the HOH will be tomorrow" JOJO thought it was going to be a physical competition. Shane says no it'll be crap shoot.
Jojo and Shane are a bit pissed that Britney isn't doing more to save her. Shane points out that Britney hasn't spoke with Boogie or Frank all day. Jojo mentions that Britney claims she's going to but she's waiting for the right time. Jojo brings up that Dan is doing all the work for Danielle, All she is doing is sleeping in the bathroom.
7:05pm Cam 3-4 Boogie, Britney, Dan, Ian, Shane, Joe Watch using FlashBack FREE TRIAL!
Ian says he saw Production working on the HOH competition in the backyard. He saw a exit light and heard someone say "Close the blinds". Britney asks if he saw any TV's. Ian: "no"
Dan suggests they talk about something non production related,.
Britney retells a story about going to a Arkansa Razorbacks game with Enzo and they were eating> Enzo asks her if all the people around them were from Arkansa. Britney explained to him that they were all people that went to the university. Enzo replied "Yo… It's like the hills have eyes in here YO" everyone laughs (including me bring back Enzo yo get some grenades up in here) Boogie says he met Enzo in Vegas, "Funny as Sh!T"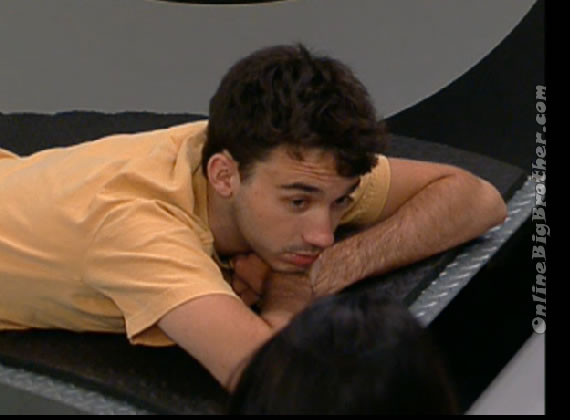 7:26pm Have Nots Ian and Jojo Watch using FlashBack FREE TRIAL!
JoJo is campaigning telling him that she's not going to target Ashley or Ian if she wins HOH. She points out how obvious it is that she wants to be in the game more Danielle. Ian agrees. JOJO adds that it almost brings her to tears to see Danielle not doing anything while she's going around the house fighting for her life.
JOJO if I stay i'm going after Wil and Joe.. and if there was a replacement I'll pop up Jenn.
JOJO: "I swear on my grandmother's life I will keep AShley safe, She's been the only one that has been true to me"
Jojo: "Joe and Wil are Ruthless they will back stab you to get what they want"
JOJO campaigns hard but it's not going to work.
7:33pm Cam 3-4 Jenn, Frank and Boogie Watch using FlashBack FREE TRIAL!
Jenn spilling everything about Ashley and her performance in the bathroom 2 nights ago. Jenn says that everything has been cleared up but she points out that Ashley has been going around telling everyone that Jenn over exaggerated everything. Jenn: "Do I look like someone that does that.. NO" Boogie thinks it'll be alright a little bit of confusion is alright on the other side.
Boogie explains that Frank and him have been getting close with Shane and he thinks Shane will roll with them. Boogie: "The best case right now is if Shane wins HOH and puts up one of Janelle's players.. I consider Shane like one of you three.. He's super appreciative that we've offered him a deal and he hates Janelle so it's win win for us"
Boogie doesn't talk to Danielle very much he doesn't really like her but he feels that Danielle is on the same page as them. Boogie tells her that winning HOH isn't the smartest thing right now if they can get one of Janelle's players out next week and have no bloog on their hands they are set.
Boogie: 'By the way in the Diary room I call it the 8 is enough alliance.. because there are 6 players plus Janelle and me"
Frank: "at this point Wil and Joe are so annoyed at Ashley right now they will put up"
Boogie: "imagine this scenario the 3 boogie players and Danielle and Ashley.. one of you 3 are going to win ½ a million dollars.. Ashley and Danielle won't be winning"
Boogie tells her they have nothing to worry about for tomorrow night, He recommends if the HOH comes between Jenn and Shane or Jenn and Danielle she should dump it. Boogie brings up how JOJO made a pretty good case to Frank earlier today when he was pretending to sleep, they're not going to do it though.
Boogie's prediction for the twist is that JOJO gets evicted, they play the HOH than right before the episode is over 1 of the the 3 evicted houseguests gets to come back.
Boogie: "They have to do something with Willie's departure they have episodes to fill"
7:54pm Cam 3-4 HOH Boogie, Frank and Ian Watch using FlashBack FREE TRIAL!
Boogie tells Ian to dump the HOH to Shane or Danielle. Ian has no trouble throwing the HOH competition this week. Ian says that Shane is pissed and Wil and Janelle.. Ian will vote out JOJO this week. The 3 of them are all feeling very comfortable about their situation. Ian leaves, Boogie says that sometimes he forgets how young Ian really is. Frank thinks Ian has brought up some good points about if Wil and Joe winning the HOH
Boogie doesn't think that DAn has been throwing the Coaches competitions he doesn't see the point they all know Dan's good he won a season.
8:18pm HOH Cam 3-4 Frank and BoogieWatch using FlashBack FREE TRIAL!

Frank saying that Janelle has been talking made sh!t about Britney every chance she gets. Boogie: 'Really! i didn't know that.. we have to stoke that Fire"
Watch what happens, AS it happens: Big Brother 14 Live Feeds!
Subscribe today for your FREE 3 DAY TRIAL!


Share it YO!
Tweet