POV Holder:
Next POV:
POV Used
?
POV Ceremony
HOH Winner:
Frank
Next HOH:
July 26 (Thurs)
Original Nominations:
Current Nominations:
?
Have Nots /Slop
?
Coach Competition Winner
?
Next Coaches Competition
July 20 (Friday)
Last Evicted Houseguest
Kara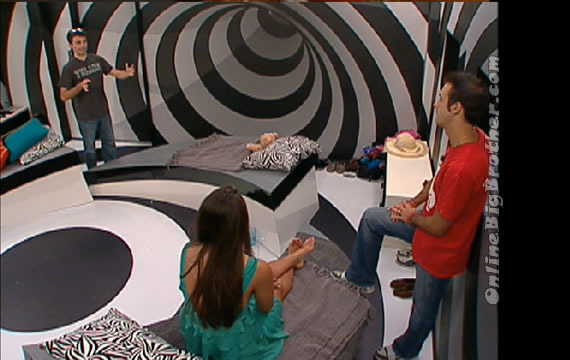 7:07pm Cam 3-4 Havenots Room Dan, Ian and Danielle Dan talking about how insanely hard the questions were. Ian agrees, says the question he went out on was the one asking which way the burglar went "Right or Left" Ian figures they might as well asked him weather there was Sprite or Water in his cup
7:15pm Cam 3-4 Boogie and Dan Boogie joking that if Britney wins the coaches competition she'll trade Willie for Danielle. Dan: "I know I know" Dan asks him if Boogie would trade any of his players. Boogie pretty much says that Jenn and Ian just lay low and Danielle just sleeps all day so he won't gain anything.
Dan: "If I trade Danielle I'll be trading her for a marked person"
7:18pm Cam 1-2 Arcade Room
Basically talking about Willie being a sinking ship and Shane should think about jumping ship to keep himself safe. Britney tells him that Willie has royally messed all their games up. She tries to talk to him and get him to keep his move shut but nothing seem to work.
Shane: "Ashley absolultey Fucked us"
Britney: "She had to do what she thought was best for her game.. it's really uncomfortable for me how everyone is saying they hate Willie and he's on my team"
Brintey: "Of course you are going to have to go talk to Frank.. and you are going to tell him that you had to vote for Kara because that was his teams wishes.. try and build up that you are loyal"
Joe pokes his head in the room.. they ask him for some time.
Britney: "Joe drives me freaking crazy… he's like the police leave me the f*ck alone"
Britney: "A lot can happen… POV, coaches competition.. Who knows what will happen we were once allied with Janelle for a hot minute"
Britney: "I'm sorry you are on my team.. Willie Screwed up this whole game"
Shane is going to try and break a deal with Frank tell him that he's wanting to break apart from his alliance because Willie is done. Shane is pretty certain that is Shane and Willie are up on the block he has the votes to stay. Britney: "I have to win the coaches competition tomorrow" She thinks it might be best for Shane to be nice to everyone lay low and wait what happens after the coaches comp then they can make their next moce.
JOJO joins them and Shane leaves.
Britney tells her that they we in the worse spot they can be in EVER!
JOJO: "I can't stand Janelle she's so fake.. one day you're with us the next you're with them.. SO FAKE.. it's like whoever has VIP"
Britney: "I feel like if I trade Willie they will cut a deal with him and take out Shane or you"
Britney tells her that Janelle is teamed with Boogie. nobody is loyal in this house.
Britney asks Jojo to go get Willie.. After Jojo leaves Britney keeps repeating to herself "I have to win tomorrow.. have to win"
7:33pm Cam 1-2 Arcade Room Britney and Willie
Britney is saying if Willie wins POV they are going to take out Jojo or Shane probably Shane
Willie is saying he had to defend himself.. because where Willie is from that is how you handle it. Britney tells him he has to think of his team mates when he acts.. Willie: "Trade me than save the team"
Britney: "I'm not going to trade a player"
Willie: "Trade me to Boogie and Danielle goes home.. "
Britney: "NO because Shane will go home"
Willie: "Fine do what you want to do.. if the problem is me get rid of me"
Britney: "If I physically can remove your trachea and have you only speak when I open my fist that would of helped" Willie laughs
Britney tells him that Boogie and Janelle have a deal so regardless what she does this week she will be a man down. Willie doesn't think so he thinks if Britney trades him off they other side will go after
Britney explains that they got rid of Kara this week to save Frank and take out you this week, "The only people that go on the block will be the people who voted against them.. our team is screwed" Willie keeps telling her to trade him that's the best chance. Willie tells her he cares about his 4 people and after she makes her move he'll make
Willie: "we'll he looks like a b!tch and he won't win 1/2 a million dollars"
Britney gets called into the Diary Room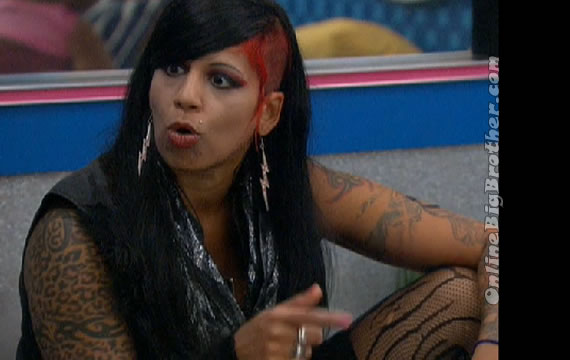 8:00pm Cam 1-2 Bedroom Jenn and Danielle
Jenn is spreading the Willie hate..
8:03pm Cam 3-4 Boogie, Janelle and Frank They're plan is to tell Willie that if he wins POV and save himself than they'll just evict another one of his team mates. It'll go down in the Head of Household room with Frank and Boogie on the bed and Willie on the couch.

Share it YO!!
Tweet