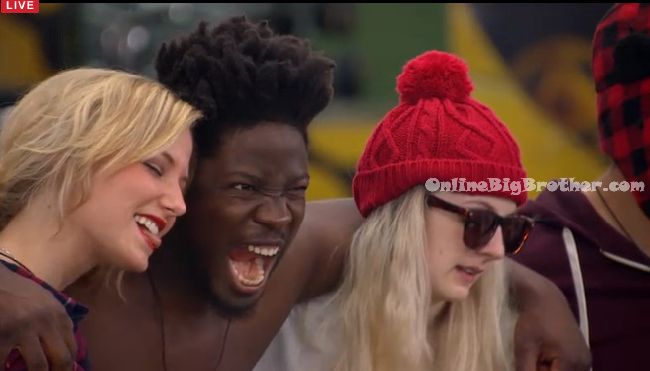 Summary of the final 4
Final 3 Jury Twist.
The Final 3 are locked in the vault where they have to decide on who to evict from the Jury house. They must all come together on this vote it has to be unanimous. AS a result of this vote the Jury will go down from 10 to 9. Ashleigh proposes they both pick two people they want to keep on the Jury. She picks Zach/Pili, Sarah picks Willow/Brittnee. Godfrey doesn't think this is the best approach to take says he doesn't have two people. An argument ensues but is cut short to be shown on the Wednesday show.
Twitter Spoilers
(Big Thanks to @hamsterwatch for providing these spoilers)
Godfrey wins Part 1
Ashleigh Wins Part 2
Godfrey wins Part 3 Evicts AShleigh
Sarah and Godfrey in the final 2 with Godfrey holding the final HOH win
Jordan's vote was nullified he had voted for Sarah to win.
Sarah wins Big Brother Canada 3 by a vote of 5-2 (Not all the vote were revealed yet)
Results from the Show
Part One HOH
Sarah out first followed by Ashleigh, Godfrey wins.
Part Two HOH
Sarah and Ashleigh compete
Sarah's time was 21:13
Ashleigh's time was 4:55
Ashleigh wins part 2
Part Three HOH
Godfrey and Ashleigh compete. The competition is questions from the Jury members.
Godfrey is the winner of part 3 and is the final HOH
Final HOH Winner is Godfrey.
Godfrey evicts Ashleigh.
Final two is Godfrey and Sarah.
Jury questions the final 2.
Evicted Jury member is Jordan.
Jury Vote Breakdown
Sindy Votes Sarah
Bobby Votes Godfrey
Kevin Votes Sarah
Willow Votes Sarah
Bruno votes Godfrey
Zach Votes Sarah
Pili Votes Sarah
AShleigh's vote ?
Brittnee's Vote ?
Sarah wins Big Brother Canada 3.
Sarah to Canada – "I couldn't have done it without you and your secret power"
Godfrey says he made the right choice taking Sarah tio the final 2 she had his back from early in the game. Tells the jury they made the right choice.
Big Brother 17 US
If you've been around the site for awhile you'll know BBUS is when things get wild around here. If you are new think of it as BBCANADA without sleep and 10X the craziness!
US live feeds are also much different than Canada. The visual quality may not be as good but everything else is generally better. US feeds are on most of the time and they cost just $5.99 a month. With this you also gain access to the last 16 seasons of the show. PLUS they have flashback which means you can go back to any point of the feeds and watch what you've missed. Simon and Dawg will index the season flashback lets you catch up on the good stuff.
All sites offer the same deal with the US Live feeds. A great way to support the website whose content you value is to buy your live feeds through them. Simon and Dawg will watch all the US feeds, We won't sleep we'll barely eat and our families will forget our names. We'll keep doing this if you all keep supporting us!
Big Brother Canada 3 Simon's Final thoughts on the feeds
(Just a disclaimer I watch very little of the TV edit)
Great cast of people, still the strong point for BBCAN over BBUS
Great quality feeds (From a technical perspective). Had very little trouble watching them and we watched a lot
Ridiculous non stop twists ruin the show. (Pssst production your twists are killing this show)
BBCAN is fostering an atmosphere of Production Vs the feed fans. I know feed fans probably do 99% of the complaining but we're also the ones that love the show enough to spend hundreds of hours watching it. We know the show at much more intimate level and therefore can see BS sooner. We care enough to call this BS out. BBCAN pointed out on twitter we represent less than 10% of the fan base.
If you enjoyed this sites content please consider donating or take a look at the "Support the site page" for ways you can help keep the site running.