POV Holder:
?
Next POV
May 22nd
POV Used
?
POV Ceremony
?
HOH Winner
Sarah
Next HOH
3 part finale is next
Nominations:
Ashleigh & Godfrey
The Big Brother Canada Awards – And the Award goes to…
Best Godfrey speech – "Blood on these hands" or "This ain't no lovers paradise guys"
Favourite man of style – Zach & Kevin: French maids or Jordan in snorkeling gear
Favourite Lady in Red – Pilar as a lobster or Willow as a ketchup bottle
Best make-out session – Kevin & Pilar in the rain or Sarah & Willow in the pantry
Best BBTV Skillz – Sarah's stand-up or Tres B's dance routine
Best celebration – Bruno after "through The Wringer" or Godfrey after Jordan's eviction
Best Zach sack – Beach ball sack or Laundry sack
Favourite "Twerk it girl moment – Pilar or Ashleigh
Favourite human washboard – Bobby or Zach
Best battle of words – Johnny vs Graig or Sarah vs Bruno
Favourite pet – Piggy or Rocky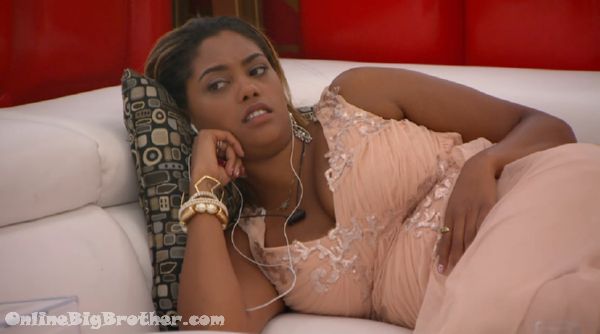 8:00pm HOH Ashleigh, Brittnee and Godfrey
Godfrey and Ashleigh chatting about the season and past houseguests..
Godfrey called into the Diary room leaving Brittnee and Ashleigh. Ashleigh says she's so nervous about these next couple days but also really excited.
Brittnee it's hard to know it's almost over.. It's been really hard.. I miss my family and friends so much that is the one thing Zach and I bonded on.
Brittnee says she doesn't like Sarah how she is when she drinks, "I don't like it, she just gets this way.. I'm just here chilling.. Love the girl to death I'm just like.. "
Brittnee – I've put in a lot of work alot of covering her.. I've given this my everything.
Ashleigh agrees says Brittnee has committed a lot of the crimes and Sarah has done a lot of the scheming behind.
Sarah comes back in Ashleigh on the toilet.
Brittnee says she doesn't think Ika liked Ashleigh
Sarah agrees.
Ashleigh comes back they start talking about the best make out. Brittnee comments on how long Sarah kissed Willow.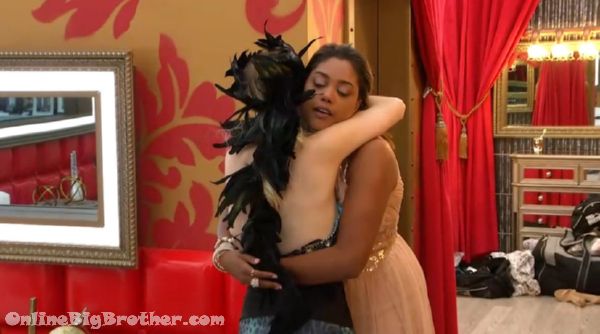 8:25pm Brittnee, Ashleigh and Sarah
(Brittnee is noticeably upset about something. lots of tension. Seems like something happened or brittnee saw something during the awards ceremony. Sarah seems a little touchy as well)
Brittnee – I'm not even guaranteed final 3 and I've put in so much work i'm exhausted
Brittnee – I never imagine it was going to be like this.
Brittnee and Sarah worried about how the people on the outside are going to view them.
Ashleigh thinks they are being silly the public voted them a power they know they are loved by the fans.
Sarah argues this says the fans only gave them the power because they were the underdogs. Ashleigh doesn't think so she thinks Sarah and Brittnee are well liked.
Sarah doesn't think they will show her in a good light when it comes to the fights.
Godfrey comes back. Sarah says they have to keep the outfits on for a biut. He was told they just have to make sure they hang the clothes somewhere. He's going to keep his one "I look fabulous"
They talk about Ika how nice she was. Sarah says the house was mean to Ika that is why she tore up the letters. Godfrey says Ika was HOT.
Ashleigh corrects her says some of the things that came out of Ika's mouth was cold.
Sarah doesn't think so says the house treated Ika like a outcast all week.
Sarah says Ika only kicked Andrew's letter becuase he was a jerk.
ASh – She kicked heather's.
Sarah – well that was her hatred for heather.
(Ika said some very nasty things about Heather last season)
Sarah also point out that the producers what dramatic thing to happen so they'll put the houseguests in situations where that happens, "They're making a TV show" .
Ashleigh – I was like Jordan nice bum where you from.. he said Langley want to bang me.. (LOL I cam from that part of Canada nice to see this joke is still making the rounds)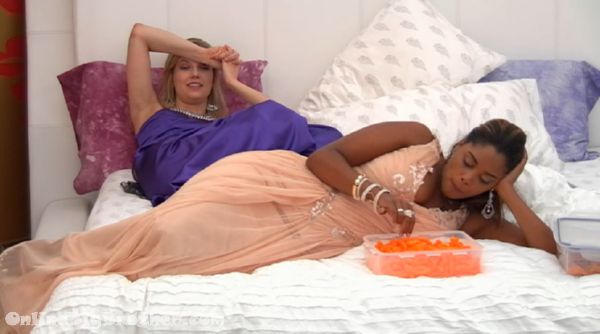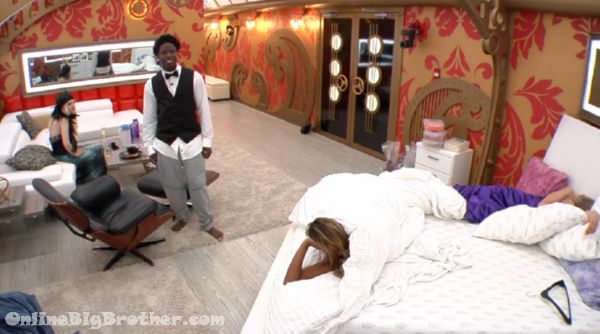 8:57pm Godfrey cahnges his pants calls his outfit the Sweat-uxedo
10:13pm Brittnee, Godfrey and Sarah more talk about the season and the evicted houseguests games. Ashleigh comes in near the end says Nominations are tonight it's on the living room screen.
12:10am Feeds down for nomination ceremony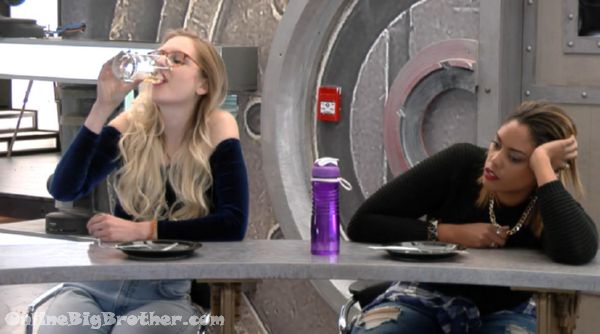 nominations are over AShleigh and Godfrey have been nominated.
12:21am Sarah and Brittnee HOH
Brittnee says if Godfrey wins the POV she'll sit him down and be like 'real talk Godfrey"
They agree the best chance they have is with each other.
Brittnee thinks she has Godfrey convinced to take her over Ashleigh.
12:24am Godfrey and AShleigh
Godfrey says Sarah and Brittnee are taking each other it's clear to him. Godfrey knows if AShleigh goes out he has to win the final HOH otherwise he's not gettign to the final 2.
AShleigh tells him he's her "Rid and Die"
Godfrey – "I'm the new Pili yo"
Godfrey – I need you to stay.. it's 20 grand yo
Ashleigh points out if Brittnee leaves Sarah will take Godfrey and so will she.
Ashleigh – tomorrow's POV is a 20 thousand dollar comp
AShleigh goes to the washroom.. After she's done heads into the HOH to talk to Brittnee and Sarah. They try to convince her that Godfrey will win if he gets to final 2.
Sarah says Godfrey is going ot pull out some "Next level sh1t" in his speech to get the Jury votes. (The part with Ashleigh talking to Brittnee and Sarah in the HOH is in the last part of the video above)
1:20am Brittnee and Sarah
Please consider making a donation. This site is ONLY possible because of your support.
3 Weeks after BBCAN3 is over BB17 starts! we'll be covering the feeds round the clock get your CBS All Access early and re-watch the past 16 seasons of the show.
[polldaddy poll=8882685]