POV Holder:
Ashleigh
Next POV
Done
POV Used
?
POV Ceremony
?
HOH Winner
Sarah
Next HOH
3 part finale is next
Nominations:
Ashleigh & Godfrey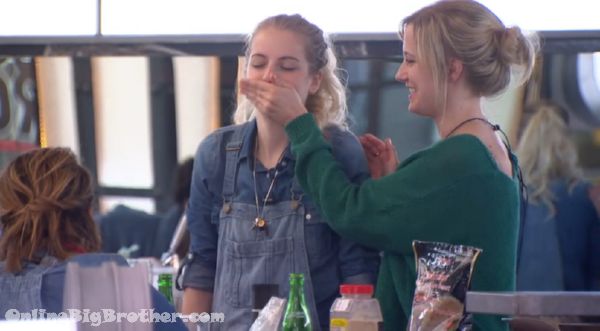 Power of Veto WINNER: Ashleigh
Guaranteed Final 3: Sarah, Ashleigh
1:30pm – 9:50pm Big Brother blocked the feeds for the power of veto competition. This veto competition is the most important one of the season as the winner is the sole person who decides who they want to evict and essentially who they want in the final 3. If Sarah the head of household were to won this veto she would have then decide who is the sole vote by using the veto or not using it.
9:55pm Post POV
Talking about the Veto Ceremony. Sarah says the veto ceremony and Eviction will happen at the same time.
Sarah – it's all combine.. I choose the use the veto
Ashleigh – On myself
(Random chit chat.. )
Sarah says it's racist that they don't make bandaids for black people.
Ashleigh isn't sure that that bandaids are supposed to be skin colour
Sarah brings up Skin coloured crayons not really being skin coloured for people of colour.
Brittnee thinks there are black people bandaids out there.
They go on to talk about in America black people are called "African American" but in Canada they are not. Sarah mentions she's first generation English and she doesn't call herself English Canadian. Godfrey mentions how Toronto is very multi cultural.
Sarah – Unless you're first nations your not Canadian.. Or we're all Canadian.. A nation of immigrants.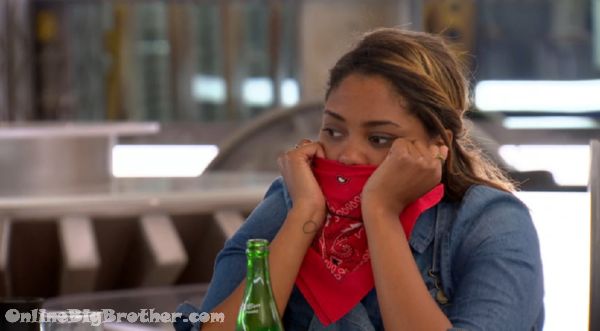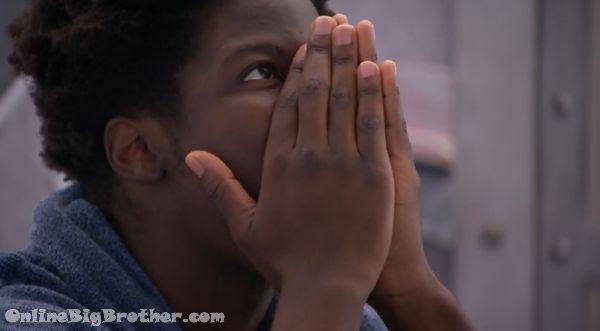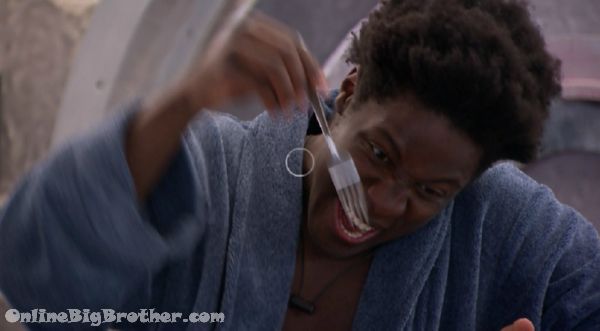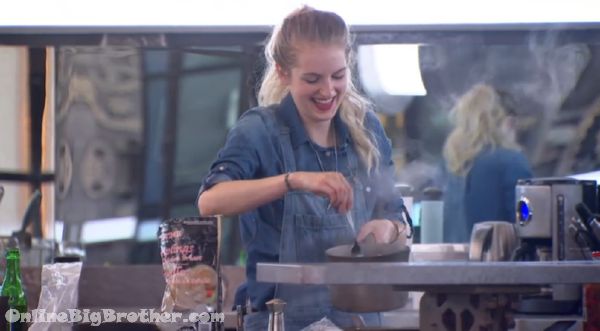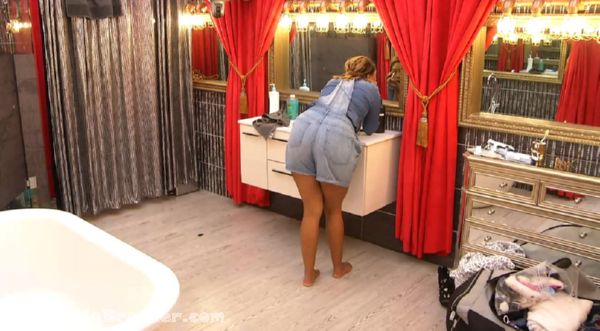 10:22pm HOH Lockdown
They have no idea what is going on. They wonder if maybe the veto ceremony is tonight. Feeds cut at around 10:30pm.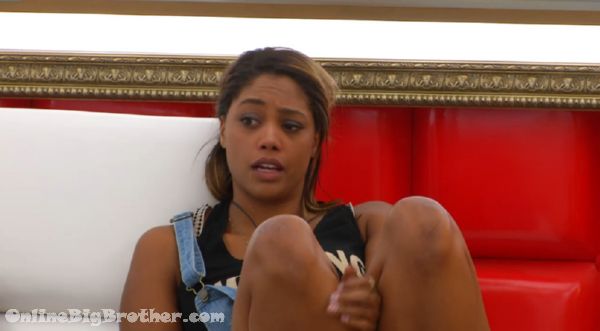 11:04pm HOH Sarah, Brittnee and Ash
Sarah and brittnee are trying to convince Ash to evict Godfrey. They tell her that Godfrey won't take her to the final 2 and godfrey has more votes.
Brittnee says at the end of the day it's Ashleigh decision.
AShleigh tells them since her 2 closest allies have left the game she's come to the conclusion the only way she can get to the end is by winning comps.
Brittnee says Godfrey intimidates her. Adds that Godfrey has a lot of vote in teh house because of his social game.
Brittnee – I see the pros and cons in both of us (her and Godfrey)
11:17pm Sarah and Brittnee HOH
Sarah says Godfrey will throw the HOH to Ashleigh. More or less trying to figure out how to get AShleigh to not vote out Brittnee.
11:20pm AShleigh and Godfrey bedroom
Ashleigh bringing up her converation with Brittnee and Sarah.
Godfrey – that's just fricken ridiculous man.
Godfrey points out that Sarah is pissed and Sarah is never pissed this much when someone goes home. Adds that Sarah knows with brittnee going her chances of winning have decreases. Asheligh laughs says that they are trying to convince her that Britnee/Sarah are not taking each other. mentions they are saying that straight up but in a round about way.
Godfrey points out that Brittnee has taken out 1/2 of the people in the jury. They agree Brittnee will have a tone of Jury votes.
Godfrey says Zach controlled the first 1/2 of the game and Sarah controlled the second 1/2. Points out Brittnee getting both powers helped.
They see a spider on the ceiling light. Godfrey tries to catch it. The head up to the HOH asking Sarah and Brittnee what they should do with the spider. Brittnee says "Flush it" Sarah suggests trying to let it sneak under the door to the backyard. Godfrey thinks maybe they should leave it at the main door.
Godfrey – by a vote of 5 to nothing spidey you are evicted from the Big Brother house.
Godfrey nknocks the glass over and the spider is set free..
Godfrey – You played a good game spidey
The spider doesn't leave Asheligh now suggests they flush it. Godfrey refuses leaves it near the main door.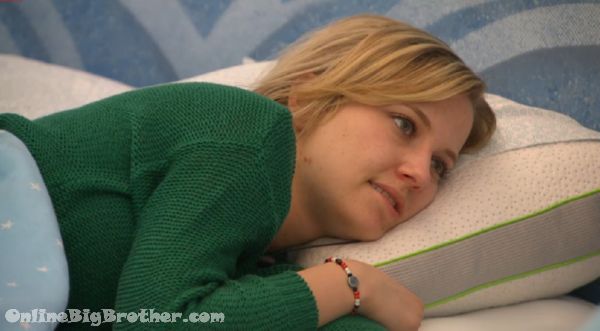 11:51pm Bedroom Godfrey and Sarah
Ashleigh starts to practice her speech says that her two closest friends and it makes sense for her to take out the two closest people in the game.
Godfrey warns her that Sarah has a good chance of beating both of them they can't mess around with this final HOH.
Ashleigh knows if she hadn't won the last bunch of vetos she was going home.
Godfrey thinks that Sarah would have a better chance of beating him over Brittnee. Ashleigh brings up Zach telling her before he left to get Sarah out. AShleigh is worried about Sarah's final 2 speech, 'She's so good with her words and she's so convincing"
Godfrey – that's true she has been convincing people quite a lot
12:07am Last night with the fembots
2:11am Godfrey and Ashleigh Kitchen
going over the season. They agree Graig wasn't a bully. Ashleigh really liked Johnny.
Godfrey – Johnny was a good guy man
They agree that Johnny and Naeha would have gone far in the game if it wasn't for the double eviction.
Godfrey thinks the one person he thought was going to win the game was Kevin, "He was so smart yo.. so calm and Chill"
Ashleigh tells him they really have to bring it in the final HOH.
Godfrey says their odds have never been any better.
They have a chuckle at Sarah saying Godfrey should go because he's got all the jury votes.
Godfrey heads to bed tells her he say a couple webs on her bed he hopes the spider isn't back.
2:09am Everyone sleeping
Please consider making a donation. This site is ONLY possible because of your support.
Just 3 Weeks after BBCAN3 is over BB17 starts! And we'll be covering the live feeds round the clock. Get your CBS All Access early and re-watch the past 16 seasons of Big Brother among other shows. CBS All Access INCLUDES the feeds and is ONLY $5.99 per a month.
[polldaddy poll=8882685]