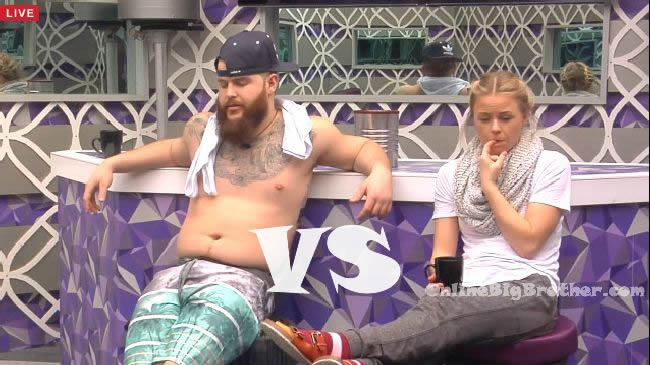 In the aftermath of a double eviction there is always likely to shake up the house. Last Thursday, Kelsey was evicted and soon after Maddy won HOH and nominated Jared & Raul with Loveita as the backdoor plan. Nick won the power of veto and used it on Jared allowing Maddy to realize her plan of backdooring Loveita. This move angered Dallas as he viewed it as a selfish move on Maddy's part as he felt they should have finished what they started with crippling the 3 headed monster by taking out Jared. This was the final straw for Dallas which ended their alliance. In the second eviction of the night, Loveita was voted out of the house. Tim then became the second head of household and opted to put his nomination power in the hands of the house guests. The majority of the house guests votes went to Dallas and Ramsey. In the power of veto competition, Ramsey won and used it to take himself off the block. As head of household Tim then nominated Maddy as the replacement nominee as she received the third highest amount of votes. Some of the house guests have been firm on voting out Dallas however others have been wavering. Yesterday morning Tim notified Dallas he is staying however due to a Tim and Nikki fight this morning it appears as though the vote has flipped again landing in Maddy's favour.
Tonight either Maddy or Dallas will be evicted and we'll receive more information about either Kelsey or Loveita returning.
Social Media Spoilers:
Thank you – hamsterwatch for the spoilers!
Evicted House Guest: Dallas by a vote of 5-3 (The 3 were Brothers, Joel, Cassandra)
Returning House Guest: The house will deliberate whether Kelsey or Loveita return – must be unanimous
Additional info: The Live Feeds are off til Sunday
HOH Winner: ?

Watch the Big Brother Canada 4 Live Feeds anywhere in the world with HideMyAss VPN.
ACTUAL RESULTS:
Jared votes to evict: Dallas
Nikki votes to evict: Dallas
Ramsey votes to evict: Dallas
Raul votes to evict: Dallas
Cassandra votes to evict: Maddy
Joel votes to evict: Maddy
Mitchell votes to evict: Dallas
Philippe / Nick vote to evict: Maddy
Evicted House Guest: Dallas by a 5 -3 vote
NO FEEDS UNTIL SUNDAY
Returning House Guest: ?
HOH Winner: ?
HELP keep the spoilers coming. Show your support by giving a tip :)
[polldaddy poll=9370360]