POV Holder:
Ramsey
Next POV
March 26th
POV Used
Yes
POV Ceremony
March 28th
HOH Winner:
Tim
Next HOH:
March 31
Original Nominations:
Dallas and Ramsey
Current Nominations:
Maddy and Dallas
Last Evicted Houseguest
Paige, Sharry, Christine, Kelsey, Loveita
Have Nots
No havenots this week
Want to watch the Big Brother Canada 4 live feeds but live outside of Canada?
Bypass the geoblocking with HideMyAss VPN and be Canadian Anywhere: VPN Help Guide
ALLIANCES IN THE HOUSE
There will likely be a lot of alliances during the season – keep track, read our alliance help guide.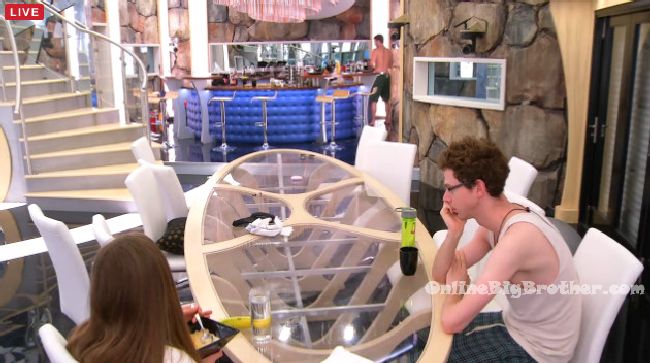 9:05am In the kitchen – Joel says he is having a hard time with people making comments about being gullible and making fun of how I do in challenges. Nikki asks who said you were gullible? Joel says Jared. Joel says I don't feel like its necessary or that its right. Nikki says don't listen to people. I'm sure people say a lot about me too. Joel says its been said a lot and over the last couple weeks. When thing pop up like being made fun of it brings me back to my childhood when I was made fun of. I don't like to think about that stuff. I don't like people like that to go far. It makes me upset when people laugh at me. Even when I nominated Raul he was sitting there laughing at me. I think more and more the game has gotten person and it doesn't need to get like that. Nikki says you just have to be strong. Expel them from your life. Joel says I'd like to expel them from this. Nikki says I know but until then.
Nick tells Nikki that if you keep Maddy in the house we're all pretty much done. And if you keep Maddy in the house you're keeping someone who's been talking sh*t about you since day 1, whereas Dallas hasn't said one bad word against you. When I was close to Maddy she was making fun of you during your tantrums. I didn't tell you because I don't like ratting on people but given the circumstances I think you need to know. Nick gets called to the diary room. Joel says for what its worth Nick & Phil have always been the ones to come and talk to me. Phil joins them. Phil tells Joel if anyone else bothers you, tell me and I'll tell them to f**k off. Joel says thank you.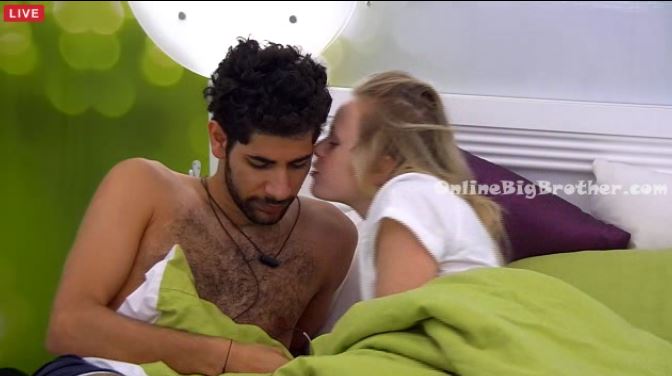 9:20am In the bedroom – Maddy practices what she will say in her eviction speech. She says those that vote against her she'll see them on the block next week. Ramsey says he'll help her with her speech. Maddy kisses Ramsey on the cheek and tells him she wishes he was still naked. Ramsey says there's a huge target on my back now. People know we're never going to vote about each other.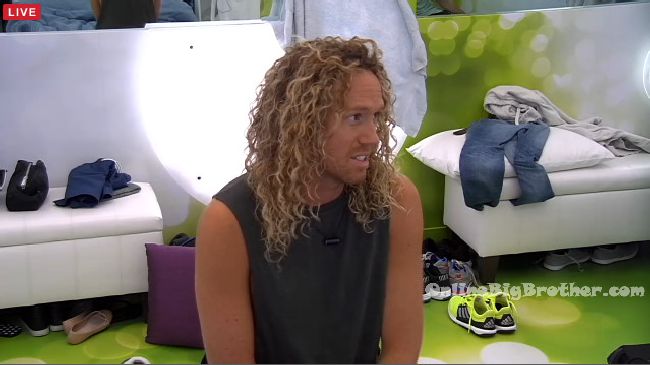 9:40am In the bedroom – Nikki tells Mitch that she doesn't like Maddy and doesn't want her here. Mitch asks more than Dallas. Nikki says Dallas doesn't bother me. Mitch says that Dallas literally made an aids joke last night. There have been so many times I've had to bite my tongue. Nikki asks why is it all hanging on me. Is it because I'm the last to make a decision? Mitch says I don't know. Mitch says Nick and Phil have said they have control over you. Mitch asks who are the people you want ot go far in this game? Nikki says You, Jared, Raul, Tim. Tim joins them. Mitch asks Tim do you have a .. you said last night you didnt care? Tim says I could go either way. I just want if Dallas stays .. that people like Jared don't think we want Jared out. I can't justify keeping someone like Maddy in the house. There's no plan a head if Dallas stays, he'll likely go next week. Mitch says if Dallas stays he will likely work with Jared next week. Tim says you've always made your own decision but there will be consequences which ever way you vote, that's big brother. Nikki leaves to brush her teeth.


Tim says I do think someone told Nikki something about Cassandra that wasn't true. Tim says if Maddy stays that's great. Nikki asks why aren't we sticking to the original plan. Tim says you were on board with getting Maddy out. Nikki says I was and then we worked it out. Nikki starts getting upset about Tim excluding her and how much she doesn't like Cassandra. Nikki says I want rid of Cassandra! I want her out! I f**king hate her!! You're always whispering with her. Tim says its probably just about jokes. Tim talks about how he wants to go up against the best. That's how he did it in BBAU. I don't want Jared to go, I want to work with him. Tim says he doesn't think Maddy deserves to be here she's been gloating about thinking she's staying. Tim tells Nikki he wants her to vote how she wants to. If you just do what I say I won't respect that. Tim says on a friendship level I am sorry you felt that I was spending more time with Cassandra than you. I didn't think that's what's happened at all. Nikki says its very hard to know who your real friends are. The conversation turns to talking about the bathtub incident. Nikki tells Tim she is so sick of him trying to rule this house. Tim says I'm not trying to rule this house. If that's how you feel then I'm done. Tim leaves. Mitch joins Nikki and hugs her. She calls Tim a bully. Mitch says why did he bring this up here, Tim is fine to be honest in certain situations.
Watch the Big Brother Canada 4 Live Feeds anywhere in the world with HideMyAss VPN
.
10:45am In the bedroom – Ramsey and Maddy start getting heated because he told her things that Tim said about her during the Nikki & Tim fight. She wants to go talk to Tim about it to clear the air but Ramsey thinks its going to come back to hurt him. Maddy says that he's more concerned about himself than her when he isn't even on the block.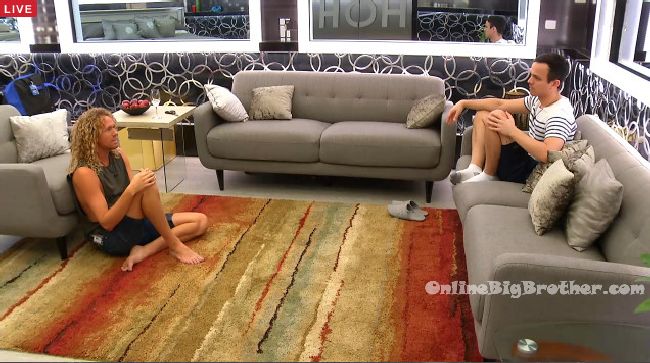 10:35am – 11:05am HOH room – Mitch tells Tim that something that has been mentioned to him is that you said to the brothers that I'm someone that could slip through this game and make it to the end. Tim says yes I said that. Mitch says my decision on how to vote this week is because something they said I said that was taken out of context. Tim says I can respect that.
11:10am In the bathroom – Cassandra asks what happened with you and Tim? Nikki says ask Tim. Cassandra says Tim is so stupid. If Maddy stays she's going to put up me and the brothers. Cassandra goes to the HOH room and says Nikki is voting out Dallas. Cassandra tells Dallas that he has to go talk to Nikki and play the sympathy card with her. That you deserve to be here and Maddy doesn't. Dallas says he'll talk to her right before.
11:20am In the storage room – Cassandra tells Raul that she is voting with Rual and Jared.. I am voting Dallas out. Raul says if you help us, I will help you. Cassandra tells Raul she doesn't like how Jared treats her.
Dallas tells Nikki that people are switching their votes on him and that he doesn't think he's going to make it. Nikki says Tim was so adamant that he wanted you out and then he changed. I don't like Maddy. Dallas says I think he changed his mind because I convinced him. I made a deal to keep you, Tim, Cassandra and the brothers safe. Nikki says Tim is the reason you don't have my vote. I don't want anything to do with Tim. Dallas says what kind of deal can I make for you? Nikki says I want Cassandra and Tim out. Dallas says If I win HOH and I do that .. either way I am hooped if this gets out. Nikki says you're making deals with everyone. Dallas says he's been caught in the cross fire for something he didn't even do. Jared comes into the bathroom. Nikki says I can't make a decision and leaves the room.
11:30am Big Brother blocks the feeds.
1:35pm In the storage room – The brothers are trying to convince Jared to keep Dallas and vote out Maddy. Phil says whoever stays is going up next week. Nick says he is public enemy number 1 and if you're up next to him you're not going home. Joel says that he has no idea where Maddy lies with him. I could disagree with her on a movie and she might put me up. Its the unpredictability that scares me. Nick says Maddy put you up on the block and we saved you. Why do you want to keep the person in the house that put you up. Jared says I'm not stupid enough to think that she's not a threat, I just think Dallas is a bigger threat. He has convinced you to keep him, isn't that threat enough. Maddy is just a dunmb girl that jumps from bed to bed. The brother tell Jared they aren't going after him and that they still have trust in him. Jared says he isn't going after them either and that he trusts them too. Jared says you guys got to do what you gotta do .. we just don't see eye to eye on this. They all hug it out. The brothers leave. Jared says to camera the brothers have bought themselves a ticket on the block!!
In the bedroom –
Maddy and Mitch are working on Nikki for her vote. Nikki wants to go vote right now. Maddy says she can't vote right now. Maddy tells Nikki that she will be respected for standing up and making her own decision. Nikki says I will have to tell Tim. Mitch says you should but wait till the last minute. He'll respect you. He doesn't care. No one is going to come after either of you in the next coming weeks. Mitch says I know my life in this game is shorter if Dallas stays. Nikki says I have to protect my gays! Nikki then goes and tells Jared that Maddy is staying. Jared tells her what she wants to do. Nikki says she isn't keeping him after what she witnessed with him intimidating Mitch.
2pm Dallas starts making the rounds asking the brothers if they're still good.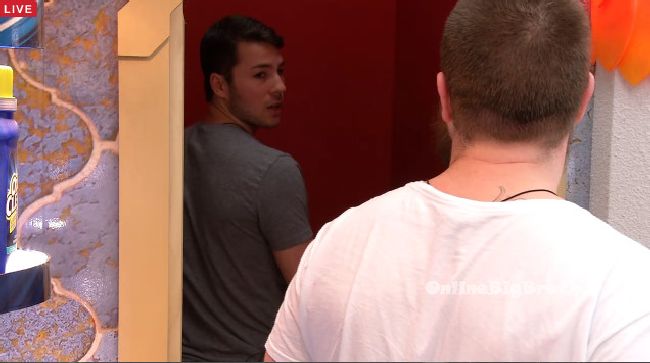 2:15pm Big Brother blocks the feeds.
3pm – 4pm The Live Feeds return for a bit with the house guests still getting ready for the live eviction tonight..
HELP keep the spoilers coming. Show your support by donating a tip :)
Use the Hide My Ass VPN and watch the live feeds on your mobile phones and tablets. One subscription pays for all. It works on any device. Including internet enabled TVs and games consoles. You can even use it on two devices at the same time. HideMyAss VPN