POV Holder:
Ramsey
Next POV
March 26th
POV Used
Yes
POV Ceremony
March 28th
HOH Winner:
Tim
Next HOH:
March 31
Original Nominations:
Dallas and Ramsey
Current Nominations:
Maddy and Dallas
Last Evicted Houseguest
Paige, Sharry, Christine, Kelsey, Loveita
Have Nots
No havenots this week
Want to watch the Big Brother Canada 4 live feeds but live outside of Canada?
Bypass the geoblocking with HideMyAss VPN and be Canadian Anywhere: VPN Help Guide
ALLIANCES IN THE HOUSE
There will likely be a lot of alliances during the season – keep track, read our alliance help guide.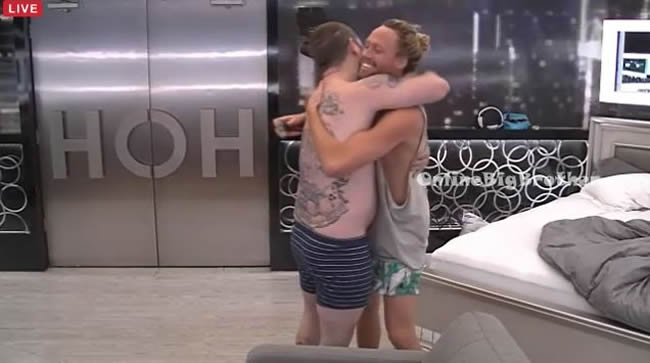 9:20am In the HOH room – Tim tells Dallas You're staying! Dallas asks you're serious?! Tim says yes. Dallas hugs Tim and says my word is my bond. Tim says if it ever comes down to it there are some conditions but it just comes down to I never won Big Brother Australia by voting out the best. At the end of the day Big Brother to me is about those that are willing to get to the finish line and learnt most about themselves in the journey. That the game changed them for the better. I don't think she's (Maddy) here for that. I don't make decisions out of fear. I'm not afraid of you coming after me or people that are with me. I'm not afraid of Maddy. What I make my decision on is my respect for the player and I've always respected you. Dallas says thank you man! That means a lot. Tim says so don't stress about it, what we want is for Maddy not to know this. And if it even comes down to a tie … she is going to think I'm keeping her. I'm not here to play a boring version of big brother. You knew that, I just had to come to it. And I wanted the others to come to it as well. I don't want Cassandra to make decision out of fear that Maddy is going to come after her. I want her to make decision because she wants to do it so the plan is until Jared, Raul and Ramsey are out of this game.. You'll never come for Me, Cassandra, or Phil & Nick. After those three are out of the game… fair game. Come for us, this isn't a final 3, 4, 5 deal. Dallas asks you don't want to make that deal? Tim says well if you want to do that we can but I don't want you to have to change who you want to be with at the end. We might want that in the next couple of weeks. The first thing is those three in which ever order. We're happy to help you win HOH next week. Dallas says my word man, I will not blind side you guys. I was going to show you today my macaroni pieces. Tim says well yeah that's the thing I would be working with you. Dallas says I would put up Jared and Ramsey. Tim tells Dallas you deserve to go after Jared. I don't want to take Jared out instead of you. You deserve that. Dallas says oh Tim, I'm so happy!! You're not going to regret this, I promise you that. Tim says we don't want the others to know. Dallas leaves the HOH room.

9:35am In the backyard – Tim apologizes to Nikki for yesterday. Tim says that he just wanted to do something nice for Cassandra because she hasn't gotten any use of the room. Nikki says you just got so mad at me. Tim says I wasn't mad at you. I've just had enough of the girl drama. Nikki says I'm not jealous of Cassandra. It was that I just cleaned it. Tim says I don't need the bath cleaned, you needed it clean. You said one line. That you were really sick of me. And I snapped. Anyway can we… I'll even clean the bath for you. I've got something else exciting to tell you. Dallas is staying. Nikki shrugs her shoulders. Maddy is going but don't tell anyone.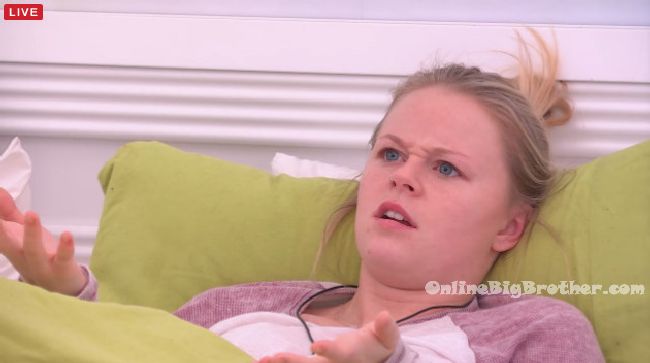 9:30am – 10:10am In the bedroom – Maddy asks Jared if he knows what he's doing? Jared says he's voting to keep her. Just so you know there are people campaigning against you. Maddy says I know. I've heard them. Cassandra and the Brothers. Jared says he just doesn't want it to come down to a tie because Tim might make a big move like that. Me and Mitch don't want it to come to that. The count the votes and say they have Jared, Mitch, Raul, Ramsey and Nikki. (They don't have Nikki's vote) Maddy says if she wins HOH she is going after the people campaigning against her. Maddy tells Ramsey she will Tim aside today and tell him that if Cassandra votes against her.. then her promise of safety for Cassandra is off. Maddy talks about having a good eviction dress. Ramsey tells her

10:10am – 10:30am Hot Tub room – Cassandra tells Dallas that he's staying. She tells him he can't come after her, Tim or Nikki until we're the only ones left in the game. (Cass didn't include the brothers in the deal and Tim didn't include Nikki in his deal) Dallas says he will. Dallas says that he will tell Tim he will devote 1 hour a day to find food for his spider. He'll like that. Dallas tells Cassandra that he owes her one. I owe you ten! Dallas says I have you, Joel, Nikki and the brothers. Dallas says he can't stand the way Maddy mopes around and b***hes.


10:50am In the secret suite – Loveita talks to Kelsey about how she should have gotten the brothers out and how they need to be the first ones backdoored if she gets back in the house.

11am In the bedroom – Dallas tells Nikki that he's been working on Tim and is willing to make a deal with her, Tim and Cassandra. If I stay I'm going after Jared and Raul. Nikki asks are Jared and Rual going to come for me? Dallas says they're not going to come for you. People are going to want to take you to the end. I am playing with as much honour and integrity as I can. Nikki says obviously where ever Tim stands at the end is where I'll be. Dallas tells Nikki that he has her back till the very end. They hug and Dallas leaves.

11:30am – 12pm Jared tells Cassandra and Nick that he is going to vote how he wants to and they can vote how they want and we'll see after. Cass asks what does that mean? Jared says if Dallas stays in this house he will be laughing that you kept him. Whereas if Maddy stays she will still be sitting in the corner. Dallas is a good competitor, you can't tell me Maddy is a good competitor. You can't trust someone who can't be trusted. Cass says Maddy went against her own alliance. Jared says exactly she's by herself. If Dallas does stay in the house I am probably going to be the first person he is going to come to ..to work with. Cass asks so if he stays you're coming after us? Jared says no. Jared walks off and says talking to her is like talking to a brick wall. Cass goes back to him after and tells him not to say talking to her is like talking to a brick wall. Jared says I'm just annoyed because we all made a group decision and now I'm hearing something else. Cass tells him not to say she is like talking to a brick wall go say that to the brothers, not me. Nick talks to Jared and says nothing is set in stone. As of this morning Dallas is going. Cass says she is coming after me and the brothers. Jared says I've been on the block because of her. I've been screwed over way more than you. I just know she isn't going to win any more competitions.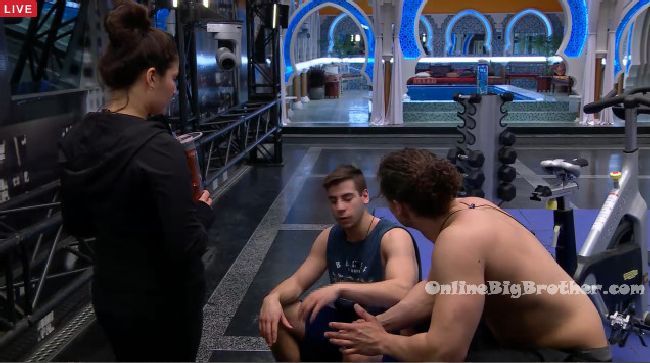 HELP keep the spoilers coming. Show your support by donating a tip :)
Use the Hide My Ass VPN and watch the live feeds on your mobile phones and tablets. One subscription pays for all. It works on any device. Including internet enabled TVs and games consoles. You can even use it on two devices at the same time. HideMyAss VPN