POV Holder:
?
Next POV
March 26th
POV Used
?
POV Ceremony
March 28th
HOH Winner:
Tim
Next HOH:
March 31
Original Nominations:
? and ?
Current Nominations:
? and ?
Last Evicted Houseguest
Paige, Sharry, Christine, Kelsey, Loveita
Have Nots
No havenots this week
Want to watch the Big Brother Canada 4 live feeds but live outside of Canada?
Bypass the geoblocking with HideMyAss VPN and be Canadian Anywhere: VPN Help Guide
ALLIANCES IN THE HOUSE
There will likely be a lot of alliances during the season – keep track with our alliance help guide.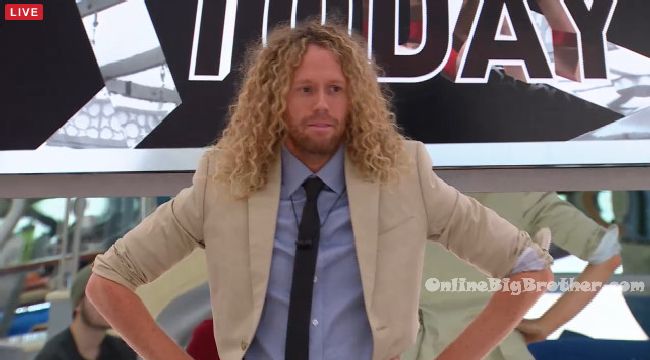 11:40am Tim gathers everyone in the living room to make his announcement about how he will be doing his nominations. Tim yells hurry up!!! Mitch suggests the last one down gets nominated. Tim says yeah and then yells last one down is nominated!! Tim tells the house guests that Cassandra is playing the roll of admin for the meeting. She has no special powers and will also take part in the proceedings. Tim says so did you guys catch big brother last night.. it was a terrible shock double eviction. The house guests laugh. Tim says this week I am just the facilitator. I have no power this week. I am going to hand over two names I will have no active part in the decision. I am just the facilitator. You will have 5 points and you tell me two names. You have to give at least 1 point to each person. The top 2 people with the most points will be the nominees. There will also be a little twist when we get to the power of veto which I will tell you later. (The veto winner will also get to choose the nominee.) This week its house decision. Maddy asks how do we know you are adding up the points correctly and not just going into the high roller room and making your own choice. If you don't want to participate then the 5 points will be put against your name. Tim says you also need to give a reason why you're attributing the points to the person and it can't be for strategic reasons. If I think you're not taking it seriously or its not a good reason the points will be attributed to your name. Dallas says so its just a popularity contest. What if we just all refuse to vote and we all get 5 points against our names. Tim says if you want to do that we can do that. And we'll roll the dice for everyone. Maddy and others say they don't want to do that.

In the storage room – Jared tells Dallas I couldn't do that to them (Brothers) they just saved my a$$. Dallas says I don't even want to play this sh*t. This is bullsh*t my fate is being decided by koala bear. Jared says I couldn't do it to the brothers they saved my a$$ in this game. Dallas goes around the house and tells everyone to put 4 bears on me and 1 on someone random. Maddy says then you're up . I'm not playing the popularity contest.
11:50am HOH room – Cassandra tells Tim that she walked into the storage room and overheard Dallas saying this is bullsh*t my fate is being decided by Kuala bears. Tim then asks her who she would like to give her bears to.
Cassandra says I would like to give 4 bears to Ramsey and 1 to Dallas. Ramsey because when I am near him he is listening and spreads what I say around the house. Dallas is sometimes very grumby and not very nice.
Dallas says what I just told everyone in the house was to put 4 bears on my self and 1 on another person. Tim says you can't nominate yourself. Dallas says that changes a lot. I don't like that one bit. This is just a popularity contest. I'm prepared to fight for the veto at this point. Tim says you will love the veto, the power will be in your hands. Tim tells him he can put 5 bears on himself if he wants. Dallas says done and walks out.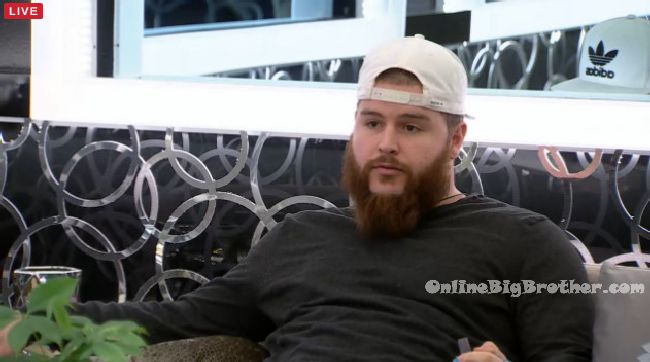 12:10pm – 12:35pm Jared says 4 bears on Dallas. He's antisocial and becoming who Loveita was last week. And 1 bear Ramsey because he stresses people out in the house by being a gossip. Joel says 3 bears to Dallas because he is a strong competitor in the game and he went back on his word early on in the game. Two bears on Ramsey because he said he wanted to work with him but told others the exact same story. Maddy says 3 bears to Dallas because she wouldn't feel so obligated to be by his side. And I give 2 bears to Jared because him leaving there wouldn't be two sides in the house. Mitch says 3 bears to Dallas on a personal level a lot of things he says don't sit well with me. The other 2 to Ramsey because of his self control. He breaks the rules a lot singing and napping. Nick/Phil says Maddy 3 bears because she annoys me, she's loud and obnoxious. Nick agrees. And 2 bears to dallas because he blew up in the bedroom before you got here. We don't need that negative energy in the house. Nikki says put 5 points towards my name so my conscience is clear. But Dallas said to put them on him so … Tim tries to persuade Nikki to put more bears on Maddy than Dallas because most people would be nominating Dallas. Nikki says 4 bears to Maddy because she is trying to get the girls out and she's good at manipulating the guys. She's gone for Nick's bed to Ramsey's bed. And 1 bear to Dallas because he asked and I like him. Ramsey says 2 bears to Jared because he hasn't gotten a change to get to know Cass & Raul because of Jared's alpha presence. The second person is Dallas for 3 bears because he has persuaded me to do this twice in this game and him leaving I could make decisions by myself. Raul says 1 bear on Joel because he hurt me a lot and makes me feel uncomfortable. And 4 bears to Dallas because he makes me feel uncomfortable around the house and he can be very rude to people in the jokes he makes. After Raul is done that concluded the procedure. Tim looks at his board and says obviously Dallas and Ramsey are up for nomination. 30 bears to Dallas and 9 bears to Ramsey. Maddy had 6 bears. Jared had 4 bears. Joel had 1 bear.
Nominations: Dallas & Ramsey
The nomination ceremony will be later tonight.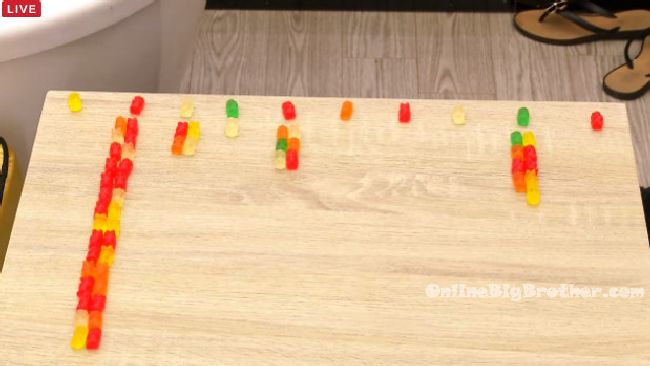 Kelsey and Loveita are watching the house guests talk to Tim in the HOH room. Loveita figures out Tim's nomination plan. They were able to read the house guests lips as they made their choices and they saw Tim's score board in the bathroom.
1:20pm By the pool –
Ramsey talks to Joel and he tells him he voted for him. Ramsey then talks to Mitch. Mitch explains why he voted for Ramsey. Ramsey talks to Mitch about others voting from him. Mitch explains if Ramsey is up on the block he won't vote against him. Ramsey starts crying and says he takes everything so personally. Ramsey says you and Joel …I just see no strategy why you would both vote against me. I just don't want to be kept here just because I'm next to Dallas. People are using my name as an easy name. I just know Cass voted for me! I just know it. The person I voted for was so if that person left I could build a better relationship with Cass. I don't know for sure, I just heard others saying she was going to vote for me.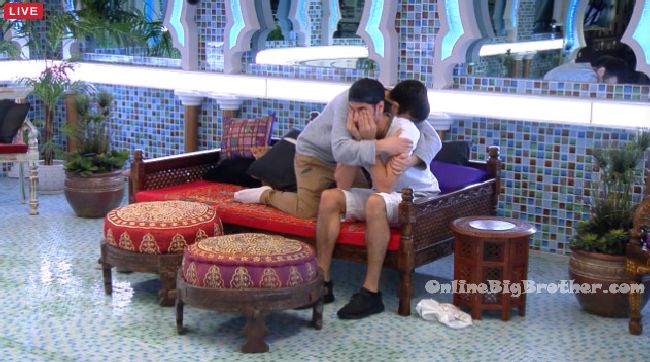 1:45pm Secret room –
Kelsey talks to Loveita about how if she goes back into the house she is keeping Maddy because no one will pick her to win in the end. Lovetia says if I got back in the game I would play her.
2:10pm – 2:20pm Hot Tub room – Phil asks Dallas why didn't you just put 5 votes on yourself, why not put them on someone else? Dallas says because I'm here to play Big Brother Canada not Big Brother Australia. Its okay to go out that way I think. I'm ready do make some big moves if I can just get HOH.