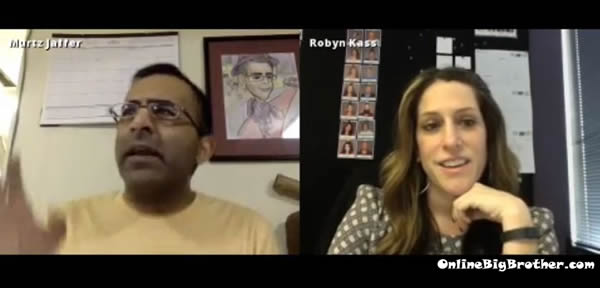 Murtz Jaffer interviews Big Brother casting director Robyn Kass about the new cast of Big Brother Canada season 2. For those who aren't familiar with who Murtz is, he is a reality tv expert, media icon, Reality Obsessed host, The Murtz Show host, and of course the "King of social Murtzia".
The link to the video below is a really great in-depth interview where Murtz and Robyn talk freely and openly about their thoughts about the new BBCAN2 house guests.
Murtz questions Robyn about how he believes Big Brother Canada season 2 is a season of villains. He likes how a lot of the new house guests are there for the money which makes them do more things to get the money. He believes this season we're going to get a lot more lying and backstabbing unlike season 1 which he calls "a feel good meadow of happiness". After examining the new cast Murtz thinks the villains of BBCAN2 are: Rachelle Diamond, Neda Kalantar, Kenny Brain, Arlie Shaban, etc. He believes most of the people there will play in a villainess way. Robyn agrees that the house guests that are motivated by money are more entertaining to watch. "Money talks! You work harder when you know there is a big pay cheque at the end."
Murtz says "I think this is a better cast. I was partial to last season because Anuj 'AJ' Burman (Funny!!)was on it but I feel more of a pop with this season and I feel more of a pop than with Big Brother 15. I just feel like, I like villains Robyn, and you can say whatever you want. I just feel like there are more villains on this cast than I've seen on a reality show in a very long time. The theory is that casting people always put in shepherd's like Dan and Dr. Will and then sheep for them to do whatever they want with. I feel like this is the season that we have more shepherds than sheep."
Murtz & Robyn then discuss each of the new 14 cast members in detail along with their first impressions, who will get evicted first, who to watch this season, fan favorite picks, who their picks to win are and so much more! Murtz also asks Roybn for hints on who the final house guest is that will be entering the Big Brother Canada house.
Watch the FULL 45 minute interview here: The Murtz Show with Robyn Kass
[polldaddy poll=7833634]
Stay connected and interact with other Big Brother Fans on our Facebook page.
And Follow: @BigBspoilers and @Dawgsbigbrother on Twitter for the most up to date spoilers.