POV Holder:
Emmett
Next POV
March 30th
POV Used
No
POV Ceremony
April 1st
HOH Winner:
Alec
Next HOH:
March 28th
Original Nominations:
Aj & Suzette
Current Nominations:
Aj & Suzette
Last Evicted Houseguest
Tom & Liza
Have Nots
No Havenots this week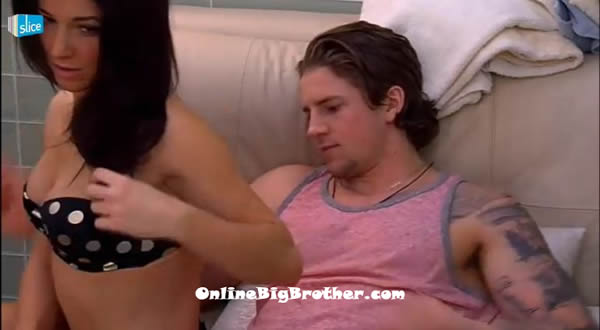 7:25pm Emmett and Jillian are in the bathroom getting ready to go to the hot tub. They talk about the hickies they gave each other. They finish up and head out to the backyard to play a game of air hockey.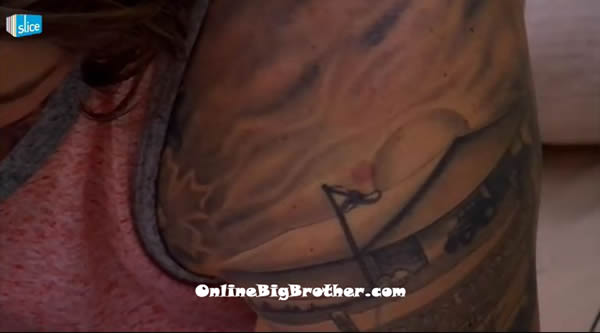 7:45pm Talla, Aj and Andrew are out in the hot tub room talking. Talla is talking about she doesn't swear this much in her work life. Jilian and Emmett come in to go into the hot tub. Aj stares at Jillian's butt as she bends over in front of him. "Ah.. HELLO!" Andrew also admires her butt.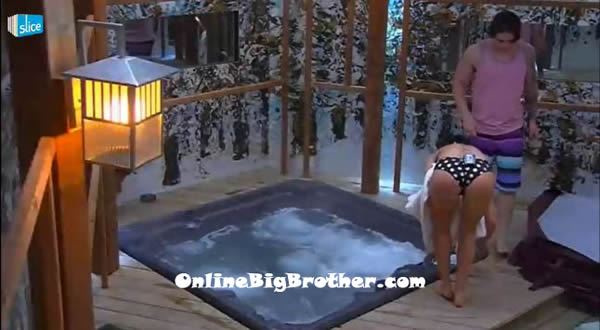 8pm – 8:15pm Emmett and Jillian are in the hot tub going over the events of the house just in case there's a question competition. They are going over each competition, what order they were in and who won what. Jillian mentions that today they are half way through .. for us ..everyone else is over half way. She laughs. Emmett comments that he isn't afraid of anyone in the competitions now. He says that he wasn't even afraid of Tom. He says that thankfully I have the slop pass. Jillian says that she is glad he has it too .. and says that if she won it and it was transferable she would have given it to him because he wasn't good on slop. Emmett says that he is excited about this weeks HOH .. hopefully it's something I can do well at! The converstation turns to talking about random things like how Jillian thinks moose need to have reflectors on them to help avoid accidents because you cant see them coming.

8:20pm – 8:30pm Peter, Gary and Suzette talk about haters. Gary says that he had to deactivate his facebook account because he had too many haters. Peter explains how on facebook you can regulate all of that stuff.

8:35pm – 8:55pm TV Show – TALKING WITH TALLA
– Special guests Alec, Andrew, Gary and Aj. –
** Aj is kicked off the show for staring at her boobs **
After Talla says it was a joke but Aj and Gary both don't believe it was a joke. Talla says that they are right she felt disrespected and uncomfortable when he wouldn't stop looking at her breasts. She says that she didn't know to handle the situation. Aj says that he was just in character playing a guy that was leering at her and it was a funny talk show. Gary defends Aj and says that when you wear an outfit with your boobs all out you are asking for guys attention but then don't like it when guys look. Aj tells Talla that next time she should just slap him in the face. Aj says I don't need to look at your chest because your most beautiful feature are your eyes. Aj touches her leg. Talla says OKAY why are you sensually touching my leg? Aj says I just touched it, it wasn't being sensual.
Video of Talking with Talla: Including Talla freaking out at Aj for staring at her breasts.

9:10pm – 9:20pm Jillian is in the bathroom cutting Peter's hair. Andrew and Aj recount the events of Aj getting kicked off Talla's show for leering at Talla's breasts. Andrew says that Aj is in love with Talla. Aj says no.. I am slightly infatuated with her. Andrew asks Aj if he will go talk in the hammock with him about life. Aj says no. Andrew asks why Aj doesn't give in to his advances. Andrew tells Aj …lets just go into the hot tub with no pants on. Jillian finishes Peter's hair cut and he says it's the best hair cut I have ever gotten …in the big brother house. Just kidding it is really good.

Andrew talks to Emmett about how he wants Gary out. He talks about how Gary flirts with him.

9:30pm – 10:40pm Alec and Topaz start their dinner date. Gary tells her have a good date. She says yeah see you in 15 minutes after it took me 10 hours to make.
(Caution – this is one of the most boring dates ever.)
The conversation turns to talking about Gary. Alec tells Topaz that if they didn't have a secret alliance with Gary he would vote him out next. Alec says that Suzette reeks of death and everyone around her does too. Topaz says that she told Gary it was okay to hang out with her. Alec tells her she shouldn't have told him that. Alec tells Topaz not to waste her time with Suzette.. talk to people who are staying. Talla comes up and is completely oblivious that they are on a date.
Video will be posted here:
Date Night Part 2:

OnlineBigBrother.com
Stay connected and interact with other Big Brother Fans on our Facebook page.
And Follow: @BigBspoilers and @Dawgsbigbrother on Twitter for the most up to date spoilers.