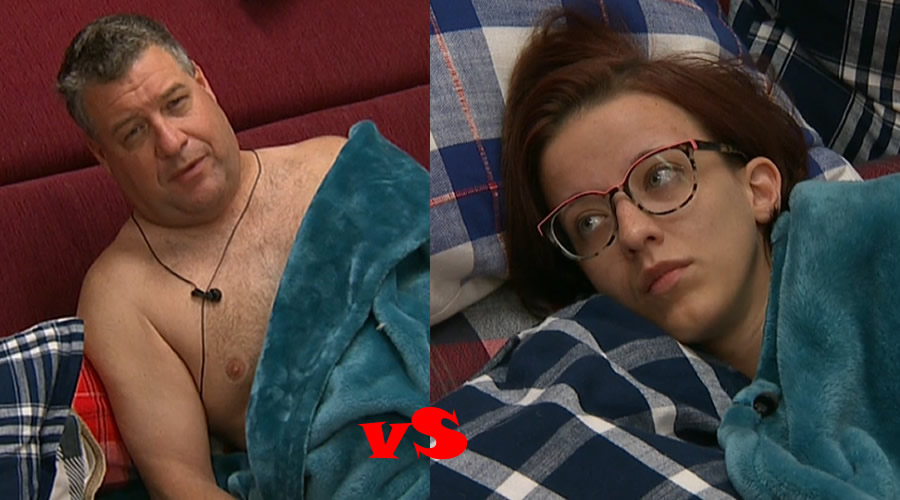 The Monday to Wednesday gap this week wasn't the best. Other than Christie's 9 years of PMS it was devoid of drama. Gr8tful or more specifically shitshooters still control the house. There is minor jockeying going on between their members but it's all surface stuff.  With that said Tonight there are major things happening in the Big Brother house. The Camp Combackers finally get to [compete?] to return to the game. There's also the Head of Household competition which I predict will be happening tonight.
This week's summary
Nick wins the Head of Household competition and nominates Cliff and Jessica.. Christie wins the whacktivity panic power (a decent power). Nicole becomes the target Power of Veto players are Nick, Jackson, Jessica (picked Christie. Girl power), Cliff, Kat.  Kat wins the Power of Veto "I think I'm kinda a comp beast"
Christie thinks she's the target becuase of a red flame. She blows her mind and freaks out "I'm going up I'm going UP"  Christie tells everyone about her power. to save herself from going up (going up) she had to threaten Nick with the use of the power later she doubles down with the ridiculousness  "I was going to throw up.. he was going to put me up."  Kat uses the power of Veto on Jessica. Jessica now thinks she's important. Nicole goes up as planned.
Christie pushes to get Cliff out this week to her sixshooter group. Using the cliff notes she heard the previous week and adding some colour She comes up with compelling reasons.  They are quick to agree to target Cliff. There's really no flip talk. Nick and Bella very much want Nicole gone this will be a blindside for them. The biggest "talk" we had the other night was whether the 6shiters should tell Kat about getting Cliff out. After hours and hours of paranoia, they decide to tell Kat 60 seconds before the vote. At about 2pm Holly tells Kat the six of them are voting out Cliff but she still needs to vote out Nicole to stay close to Nick and Bella to gather information.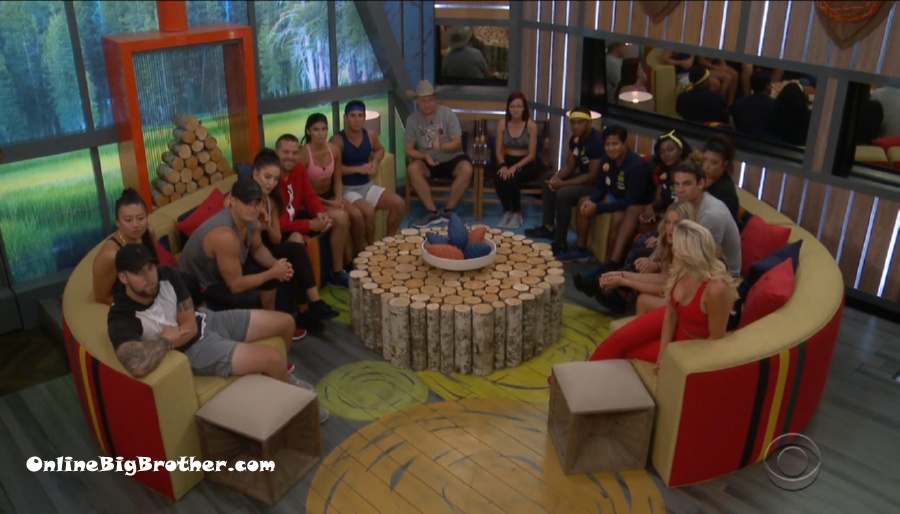 Alliances in the house 
unde9able  = Jack, Jackson, Holly, Sis, Christie, Tommy, Bella, Nick, Sam  ('Real' as long as Sam/Nick/Bella hold power otherwise fake)
gr8tful  = Jack, Jackson, Holly, Sis, Christie, Tommy, Bella, Nick  ('Real' as long as Bella/Nick hold power)
Six Shooters (Real) = Jack, Jackson, Holly, Sis, Christie, Tommy
Flamin Five  = Christie, Tommy, Nick, Bella, Sam  (Fake for Christie/Tommy. Real for  Nick, Bella, Sam  )
LOL = Tommy, Christie, Jack
Going into next week
Going by the last 2 days of conversation the six-shooters want to take out one of Nick, Sam, Bella. depends on which shooter wins HOH.
Jessica, Kat's HOH will be whatever the majority (AKA sh1tshooters) wants
Bella is a wildcard and Sam will take a big shot at the douchecanoes
Cliff – howdy Julie howdy America … I love Big Brother …
Nicole – Grab life by the boobs
The Vote
Bella votes to Evict Nicole
Tommy votes to Evict Cliff
Sis votes to Evict Cliff
Sam votes to Evict Nicole
Christie votes to Evict Cliff
Holly votes to Evict Cliff
Michie votes to Evict Cliff
Jack votes to Evict Cliff
Kat votes to Evict Nicole
Jess votes to Evict Nicole (Girl Power)
Cliff evicted 6 to 4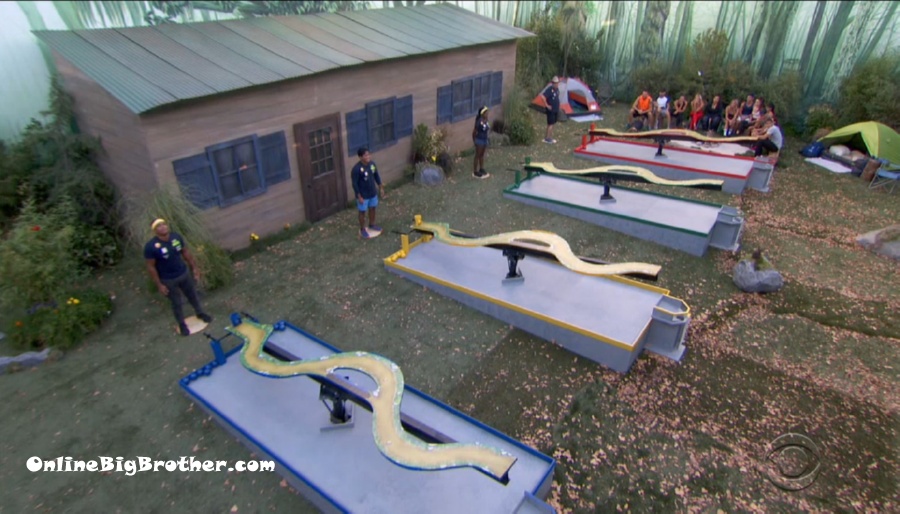 Camp Comeback – Path to redemption
(The 3 that lose out are removed from the game for good)
Cliff dominates the challenge. Comes back into the game..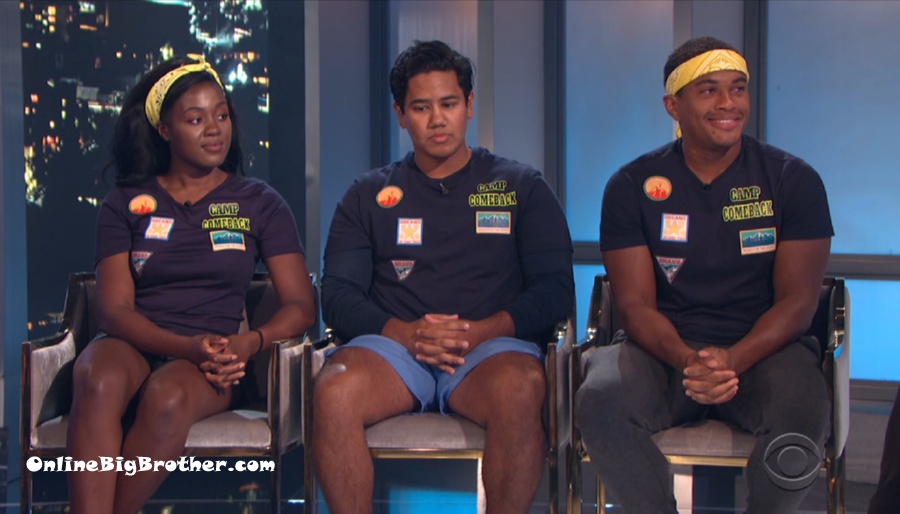 Evicted (for good)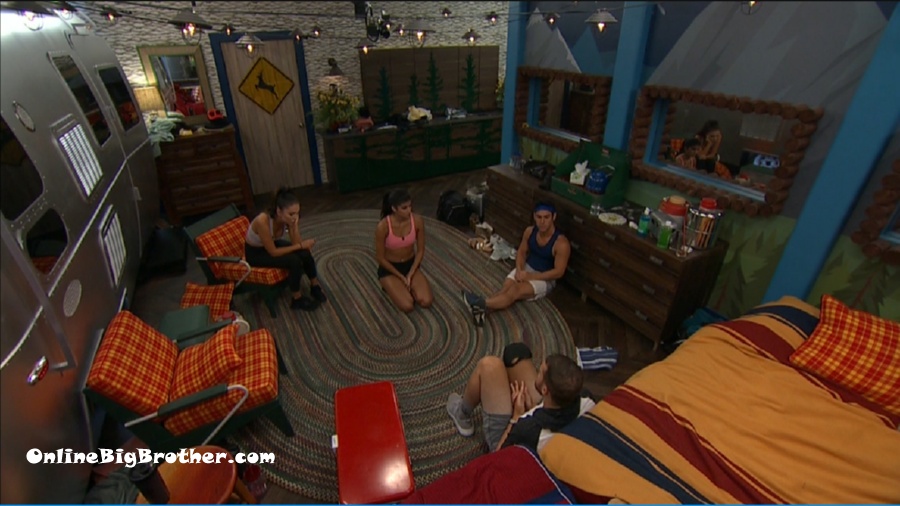 7:40 pm Feeds on
They are telling him they trust him more than Bella
Nick says he wasn't super upset that Cliff went
Nick – I trust you guys more than anything
Nick – I'm really sorry I trusted you a lot
Sis hugs Nick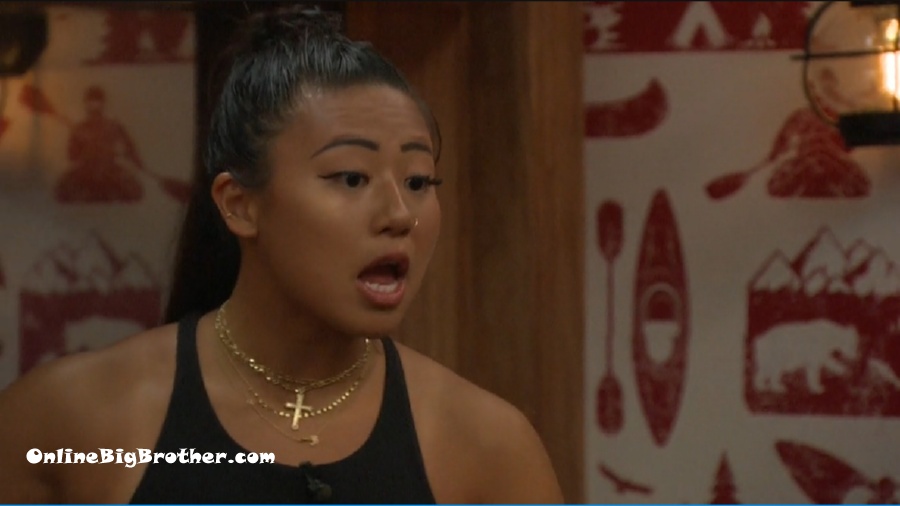 7:40 pm Jack, Sam, Jackson, Bella
Bella is saying they need to pull the 9 together and get the people not in it out.
Jack – at the end of the day we're all still 8 here
Bella says to jack she will not talk to anybody that is not in the 9. "you will not catch me by myself with any other person that is not in this nine"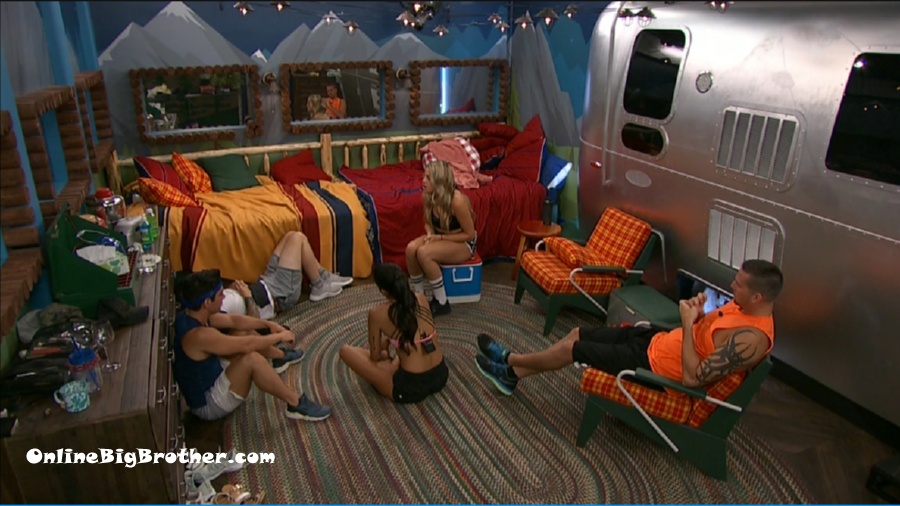 7:51 pm
Christie calls Cliff a comp beast
Tommy says Cliff has to go next
Christie =- anything good that came out of this week is Kemi is gone Ovi is gone
Sis – I f*ing hate him… Cliff
(I f*ing dislike these people)
Sis telling Nick she trusts him… "I love you and Bella"
Sis – I'm really really really sorry.. I'm really sorry .. .I really hope that you can still trust me I have your back I really do I swear .. I have your back Bella scares me