Head of Household Winner – Nick
Nominations – Jessica Nicole and Cliff
Vote Intentions – Nick wants Nicole, 6shooters want Cliff
Power of Veto Players are Nick, Jackson, Jessica (picked Christie), Cliff, Kat
Power of Veto winner – Kat
Power of Veto Ceremony results – Kat uses Veto on Jess. Nicole is the replacement.
Powers in the game
Ovi – Nightmare (Dead unless he comes back?)
During the night, Ovi could secretly wake up the house and call a new Nomination Ceremony, with the Head of Household naming two new nominees. The original nominees would have immunity for the week. The power is able to be used for the first six Nominations.
Jack – Chaos
After chips have been drawn for a Veto player draw, Jack could force a re-draw for the players. This power could only be used once and is able to be used until there are six players left in the game.
Christie – Panic 
At any of the next four Power of Veto Ceremonies, Christie can turn the Golden Power of Veto into the Diamond Power of Veto and allow the current veto holder pull someone off the nomination block, but instead of the Head of Household naming the replacement nominee, the veto holder names the replacement.
Grab your live feeds —-> BB21 Live Feeds Subscription Link
Rank your houseguests —-> Big Brother 21 Ranking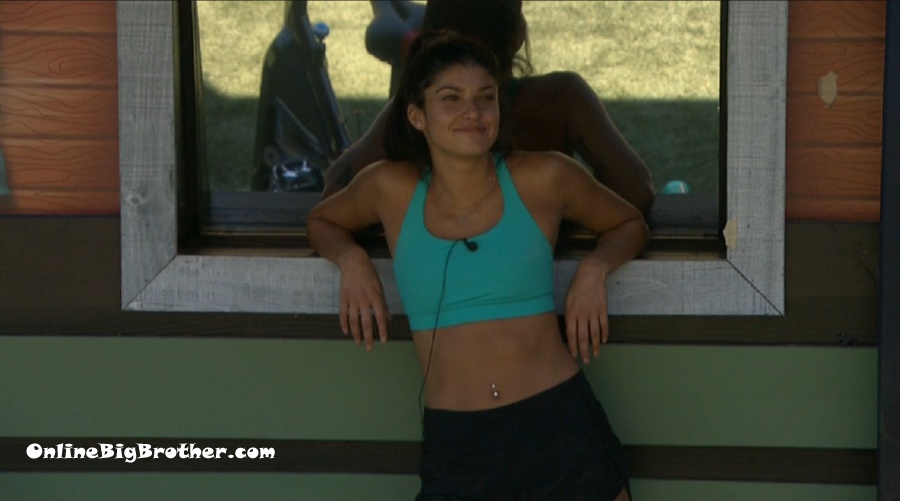 11:09 am Morning workouts for some.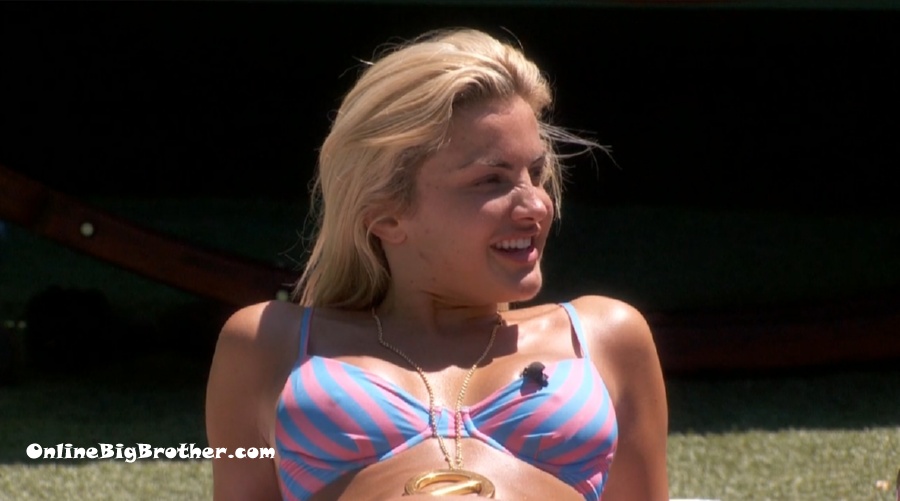 Kat is tanning the veto medal onto her stomach. She crushes an orange then uses her hair to floss.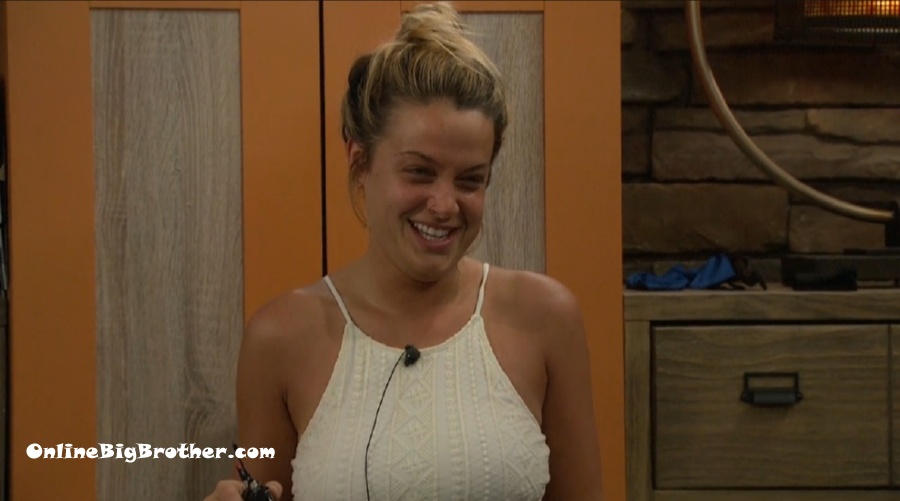 11:18 am Tommy and Christie
Christie – Nick's been asking me weird questions
Tommy – like what
Christie – Like, I dunno.. like maybe I'm being paranoid. Like I think he asked me how I slept like 5 times
Christie – I asked him how you feel and he said EXCITED. He keeps rehearsing the same speech I don't know if it's genuine or not
Christie – have you heard anything
Tommy – nothing
Christie says Cliff and Nick have been talking a lot "I feel weird"
Tommy says it's out of their hands at this point and if they try too hard
Christie – I know I'm not going to say anything
They both feel paranoid with Jess and Kat.
Tommy says he knows Nick is lying. Christie says it doesn't matter if he goes up they have the votes. She doesn't think she does.
Tommy – I knew you had a crush on Kat
Christie laughs asks how he would have known that
Tommy Cause I know you
Christie – you've only seen me have a crush on one person .. She's just adorable I like Funny I like people that make me laugh and I'm just discovering it..
Christie – I'm literally dying right now she'
tanning the veto into her stomach and it's working
Tommy – I'm obsessed with her too
Tommy says Kat asked him at 5 in the morning "Do you think Christie has a crush on me"
Tommy – I said maybe I think there's an attraction or a crush"
Tommy – She said I kinda have a crush on her too. we were talking in the boatroom
Christie says Kat is insinuating that she wants to work with her
Christie – I just want this veto meeting to be over.. Cliff is creeping me out he's just lurking from room to room I'm just over it
Christie goes on about how stupid it would for Nick and Bella to pull a backdoor with the battle back this week.
Christie mentions that Bella told Sis she doesn't like when Nick flirts with all the girls.
Holly joins them. Christie starts going on about having a weird feeling "again"
Christie – first off Bella's being a b1tch this morning
Holly – if they put one of us up we're still fine
Holly says they have 5 votes from the 6shooters and she feels good about Kat.
Tommy says if it's Cliff they vote out they immediately pull Nick and Bella into a room and say here's the thing we know it's better for you guys game but for ours …
Tommy – we said Ovi has the power and we blame … if Ovi came back Cliff said he's going after all of us and you to
Christie – I'll say I heard them talking about it .. (she shrugs) we can just say we heard them talking about it
Holly – do you think they already know he has the power
Christie – doesn't matter we pretend like we just found out
Tommy reiterates his big plan. Tell Nick and Bella Ovi has the power and they heard Ciff and Ovi plan if Ovi comes back he will use it on the showmances
Tommy- we're sorry but you would have done the same thing in the situation
Holly says they will be pissed
Christie – I don't care I just want to get through today ..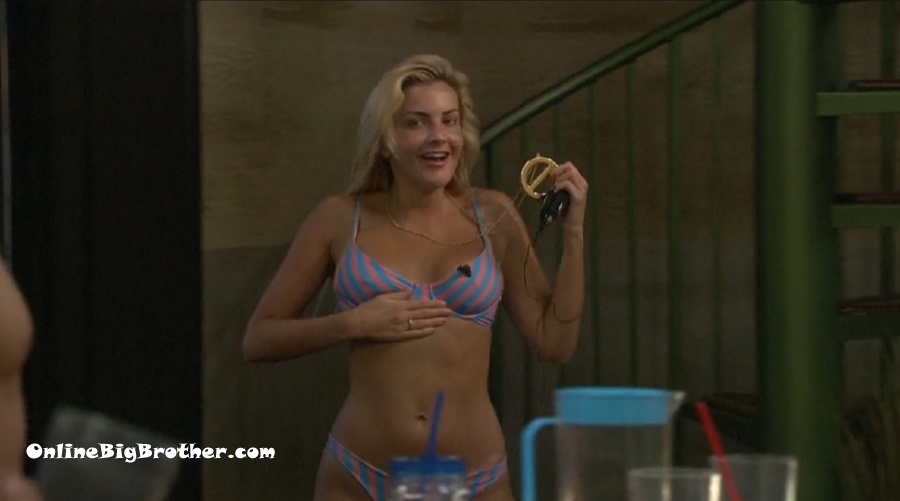 11:34 am Veto Tanline
Kat tans the veto on her belly #BB21 pic.twitter.com/UqiEgmjBal

— OnlineBigBrother.com (@bigbspoilers) July 15, 2019
11:45 am Kitchen Nick, Holly David, Ovi, Cliff
Nick asks Ovi if he gets his power back if he returns from Camp comeback
Ovi says he does it's just on hold right now.
Holly – wait what is this common knowledge
Nick – you didn't know
Holly – no
Ovi goes on to explain the power gives him a third toilet upstairs.
Nick plays along "do you have safety"
Ovi – no just a toilet
Nick to Holly "can you cut a flame out for me.. I'm just going to burn that area" (they're making stencils to tan into their bodies)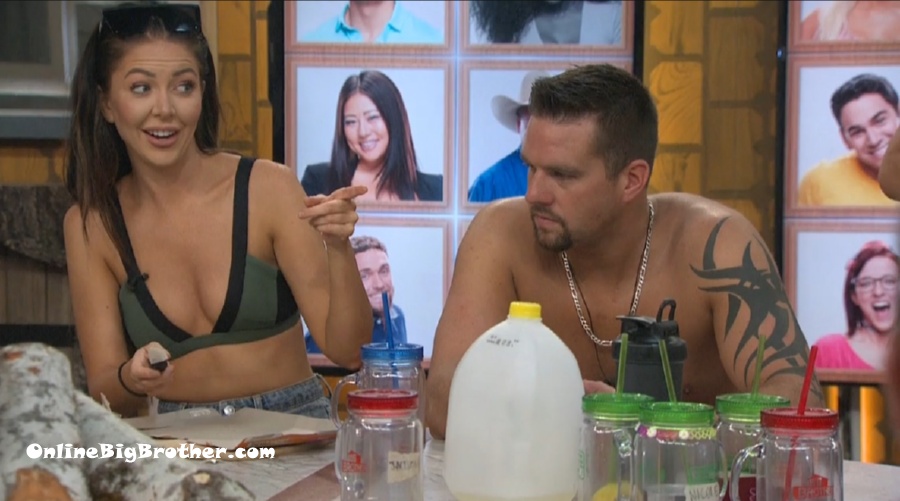 Holly – I can brand you
Nick – you're not branding me
Nick – I'm getting a red outline on the side of my Ankle because that's where Christie wants it and that's where I'm getting it
Christie – yes sire
Nick – unless you f* me over then you aren't getting one
Christie – why would not f* you over
Nick- I dunno
Christie – I'm in love with you in a nonromantic.
Nick – I know you don't have to explain yourself
Nick – that's the whole meaning of a red flame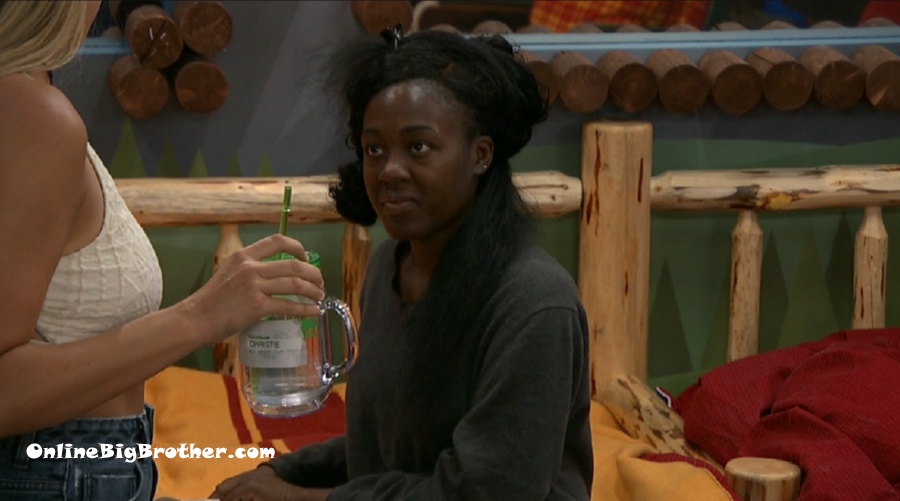 12:18 pm Kemi and Christie
Kemi – is Nicole going up
Christie – I don't think so
Kemi – you don't
Christie – no I don't
Christie – Nick is being so weird
Christie thinks she is going up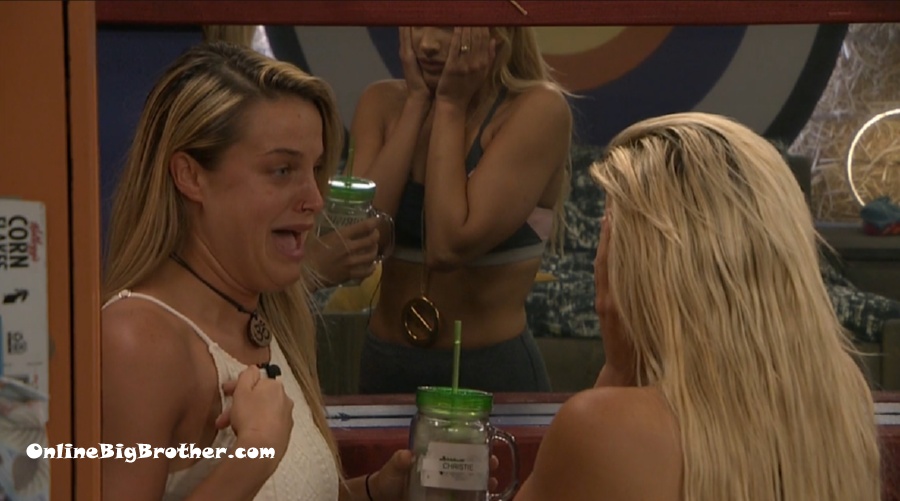 12:18 am Christie and kat
Christie – I'm going up
Kat – are you serious
Christie is crying .. Kat I'm going up.. I'm going up …
Christie – Nick is making comments to me all day.. Holly was carving a heart in the cardboard and he goes carve a flame a red flame and I'll light it on fire
Christie – then he turns around and goes to me Christie, you would never f* with me right
kat – no
Christie – Kat, I'm going and they're going to get me out because they think the 6 of us are a team .. I wish I could talk to Jess right now too. Look they are putting me up Kat I have to stay calm but I know they are putting me up .. I'm positive. I heard him and then I went outside
Kat – should we talk to him
Christie – no no the decision is made
Christie – I heard them I'm freaking out.. I don't trust the boys they are all in on it ..
Kat – you can't you have the numbers
Christie feels like all the boy are in on getting her out.
Kat – If I take Jess off if you go up ..
Christie – I don't have six
Kat – I will fight for you I don't care if it's the sword I die on
Christie says she heard yesterday that Bella doesn't like the way she and Nick act together.
Sis joins them
Christie – I'm going up
Sis – no you're not
Christie – I'm going up
Christie – Nick said a million comments this morning about a red flame
Christie – I'm freaking out ..
Kat – if you are going up I won't use it I want to make sure Jess will be safe
Christie – can we talk to Jess
Christie is going on about how Nick and Bella are coming after them. Nick and Bella are going to try and run the house and get Ovi, Nicole, Cliff.
Christie says Ovi probably told them he has a power and they realize they can take down, Me, Sis, Jackson, You..
Christie bawling .. I'm going up I'm going up
Christie- I know I'm going up .. they have it all planned out.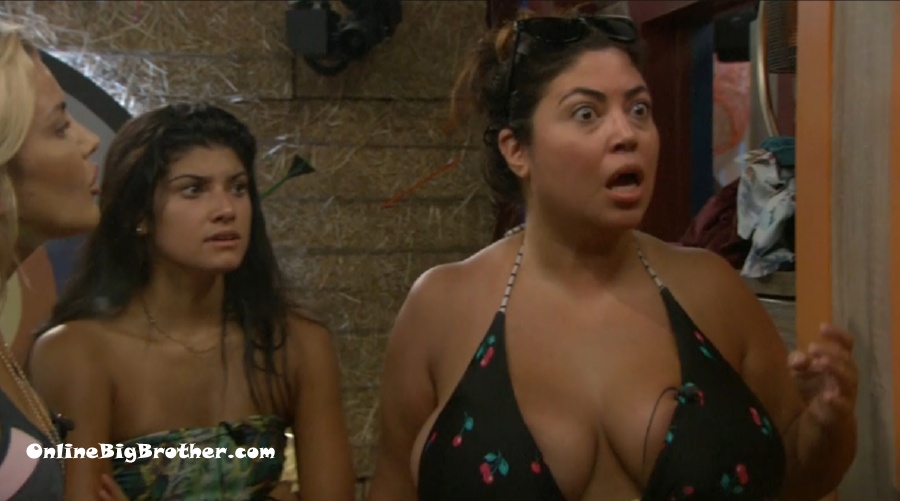 Jess comes in
Christie – I'm going up
Jess – WHAT
Christie – I'm going up
They re all freaking out you are not going up we have the numbers ..
Christie – I'm going up (she says this about 400 times)
Christie – and they think they are going to blindside me too
Sis – I dare them to do that (LOL or what you'll give them a HJ )
Kat – Kemi needs to go Kemi needs to go a week ago
Christie – I know you guys keep telling me I'm not but I'm telling you right here I'm going up
Christie – I can't trust the boys I feel like all the boys are working together
Sis – – you went up on the block they don't have the numbers
Sis – they have Nicole, Bella, Sam
Jess – you have a solid f*ing five
Sis – 7 vs 3 .. there's no way
Kat – you can f* me over and I still won't vote to evict you.. truly (sigh)
The four girls keep telling her she's not going up or going home. Christie doesn't listen "this is what's meant to happen"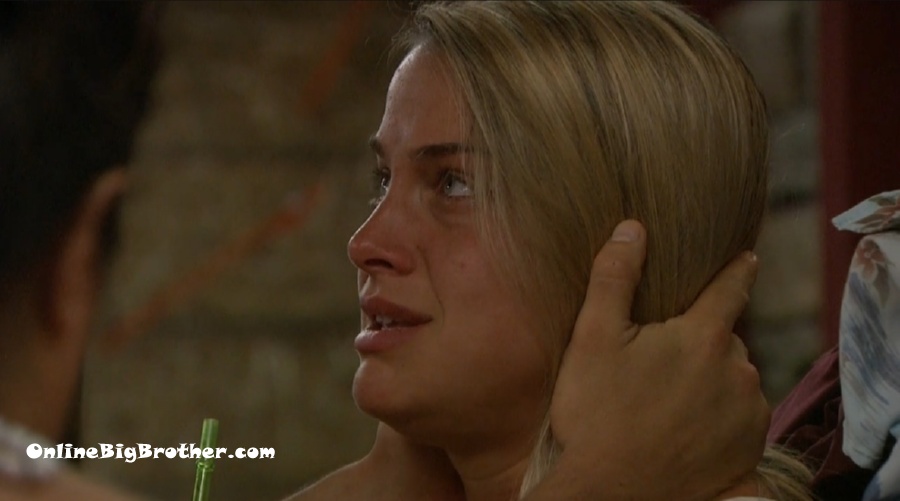 Jackson joins
Christie – I'm going up.. they're mad because Nick tried to make.. Nick insinuate a few times that me, Nick Bella Sam and Tommy work together and he knows that I said yeah and I didn't take it seriously and I told a couple people about it (a couple?)
Christie – and now he's pissed about it. he probably heard us talking about it with
They tell her nobody likes Ovi to ally with him
Christie – Cliff does he's been talking to them… I'm not stupid I'm going up he's butthurt because I made a mockery of his alliance he wanted to start
Jackson – it's going to be one of two ways .. they're either putting Nicole up and shit hits the fan or you go up and shit hits the fan.. you are not going anywhere.. they are either going to draw the line in the sand now
Jackson – regardless of what happens it won't change the outcome.. I'm doing simple math..
Jackson counts the votes tells her she's not going anywhere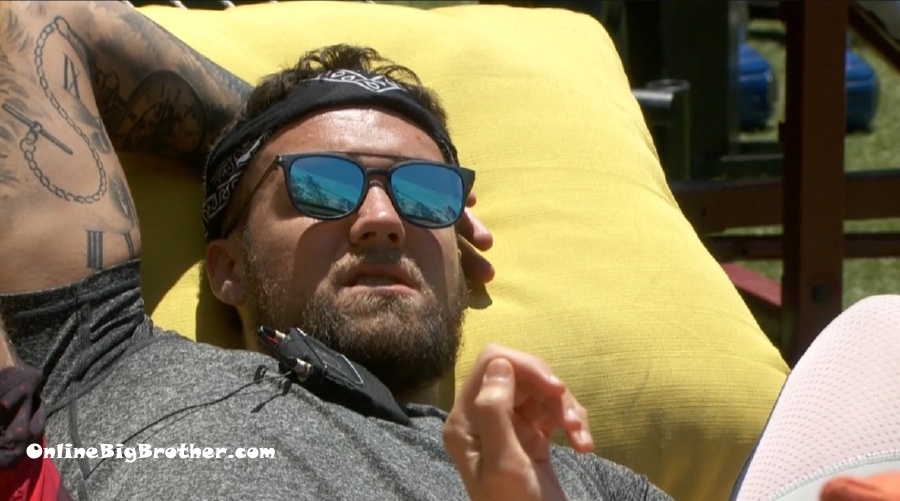 12:53 pm Kat and Nick
kat – whats the plan
Nick – aren't you going to Jess off. Listen do what's best for your' game I literally don't care either way
Nick – will Jess be mad at you if you don't take her off.
Jes – I don't know
Jess – are you putting Nicole up
Nick – Yes I swear to god.. why did you think I was going to put someone else up
Nick says he wants Nicole to go home but if Kat doesn't use the veto then Cliff goes home and Nicole goes next week if she uses the veto Nicole goes home this week and Cliff next week
Nick – you won the veto it's your call.. Nicole is a threat I don't want her n the game but you won.. shoot your shot
Nick swears he's putting Nicole up that's his target, "Do what's best for your game I respect your decision. I do want you to use it though"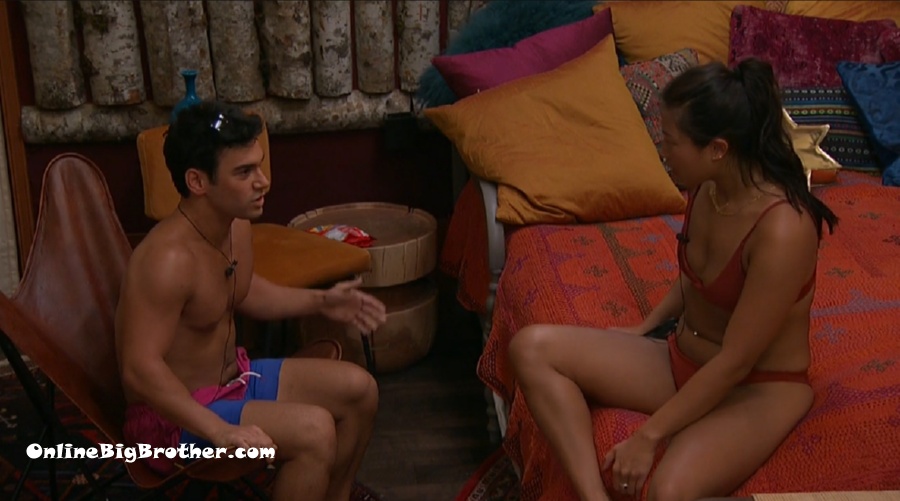 1:00 pm Bella reassures Tommy that if the Veto is played, Nicole is going up.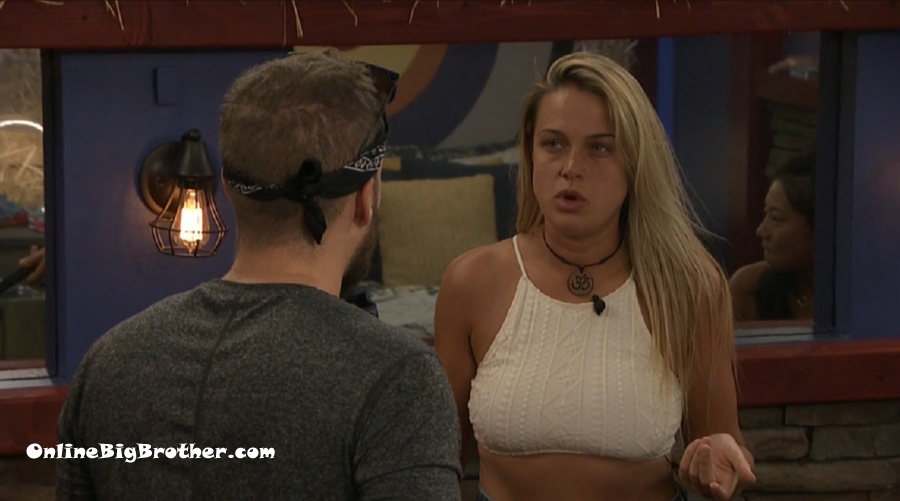 1:08 am Christie, Nick, Holly, Bella
Christie – is everything cool
Nick – are you kidding.. why do you think I'm putting you up
Christie – well the idea would never have crossed my mind in a hundred years but this morning you've made some comments to me about red flame like you said something about red flame and you looked at me and said you would never mess with me right
Christie – I'm just confused by it If you are trying to blindside me that's one thing you got me.. I love you I'm confused..
Nick – are you serious
Christie – yeah a little
Nick – why are you second guessing me ..
Christie = I'm not at all
Nick – you just did
Christie – well yeah..
Christie and Nick talk through all the paranoia ..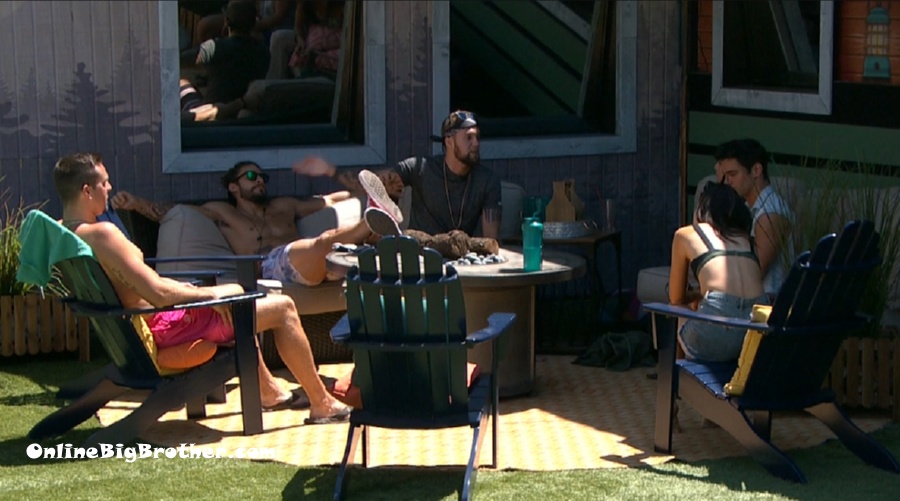 2:21 pm Nick telling Sam, Jack, Holly, Sis and Tommy he's 100% sticking to the 9 then they can dook it out
Nick – if you want to get me get me I am going to be naive I am not doing anything until 9 I don't care if the whole f*ing house knows they're not going to win on of the f*ing HOH's. We have 4 more HOH's to win before the game f*ing starts.. FOUR.. I'm f*ing doing anything to any one of you
Nick says he questions jack last week and "you guys" question him this week he doesn't want that anymore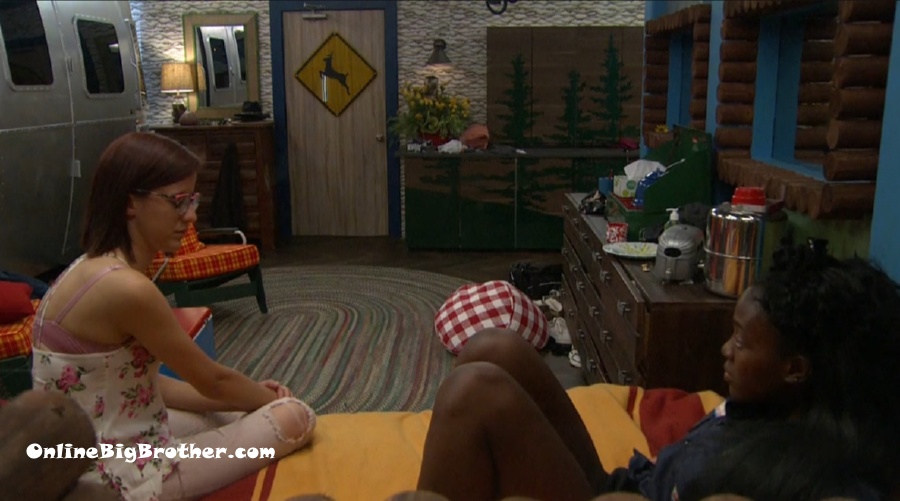 2:25 pm Nicole and Kemi
Nicole plans during her speech to tell the house everything she said about them was true so it'll be interesting how it all shakes out.
Kemi asks who she thinks the target is. Nicole thinks it's her.
Kemi mentions how Christie was telling her earlier that she thought she as going up but now she's upstairs with Nick, Tommy and Bella "it's weird"
Nicole – very weird
Kemi – Christie wants Cliff out, I'm wondering if that's your in