Big Brother Spoilers Nick wins the Head of Household.
Whackactivity competition players: Christie (won), Nick, Jessica, Sis)
It's a diamond power of Veto
Nominations: Cliff and Jessica
Looks like gr8tful wants Cliff gone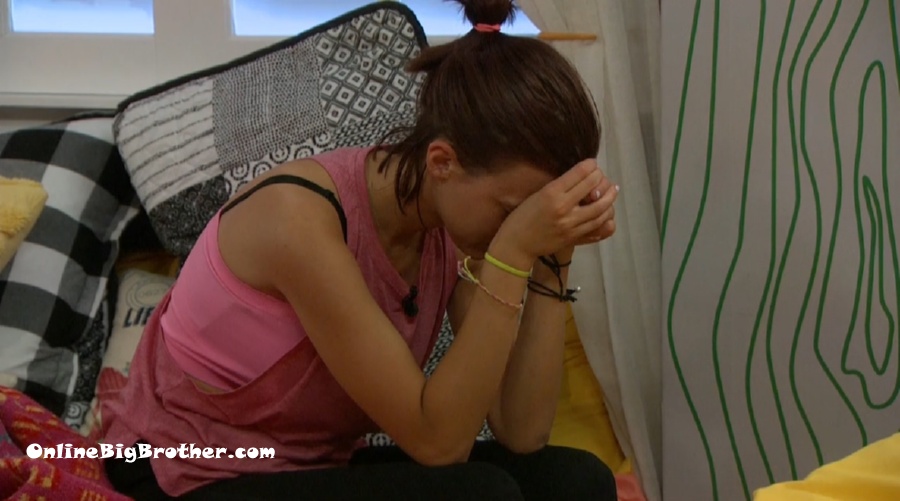 12:13 am Nicole and Kemi
Nicole crying about Bella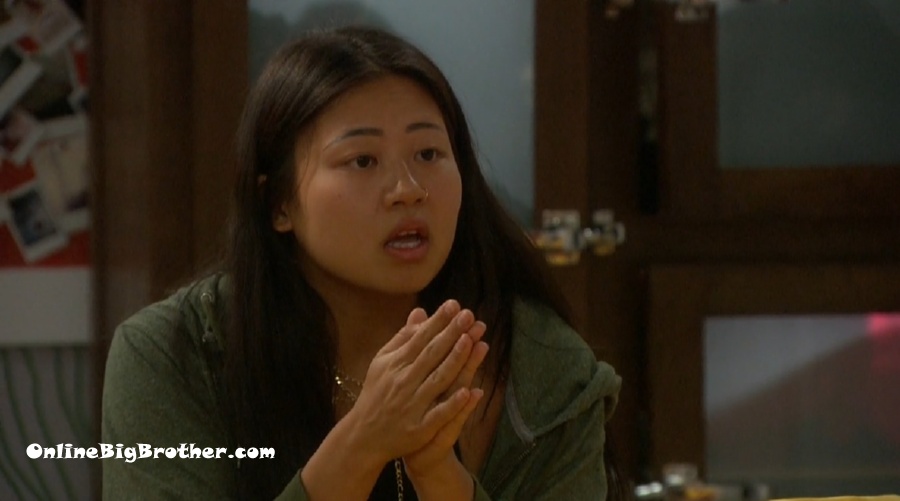 12:19 am Nicole, Bella, Tommy
Nicol e- I am emotional because I came to you in confidence and we had a heart to heart that was my way of putting my trust ion you
Nicole – I feel there was no need for you to go announce it to the entire house. I think that was pretty shitty
Bella – I hear what you are saying I think the reason I felt I could do that is you said a lot of things that made. like. it's not like I immediately trusted you
Bella – I have a lot of other connections in the house and some of it didn't make sense. Once I thought about the timeline and Nick went right to nominations with all that information it made me very uneasy.
Bella – so I voiced my concerns to Nick and because it had to do with him and we agreed I was going to tell him anyways. Once I and Nick talked about it he also has his won connections …
Bella – me and Nick are separate people. He questions the type of information you gave us about the house
Bella says once they started bringing up what Nicole said to her with other house guests they got very angry
Bella- very very angry because you labeled us in such a way that was extremely betrayed
Bella – I just felt betrayed by Kemi and I voiced that to you and I thought the audacity of you to confide in Nick and try to use him to say you share this anxiety thing then to go behind his back and try and get him nominated is just disgusting
Bella – whatever your strategy is clearly it didn't work the fact you would point on your bracelets and swear up and down your grandmother's life then I ask Christie and I told her that I really thought Nicole is serious then she tells me your grandmother actually passed away
Nicole – Tommy I swear on my grandmothers grave that I don't have the power I said
Bella – okay regardless of that I did trust you looking me in the eye and spoonfeeding lies. What's the best part of it you called Nick and I Bullies and then you told us Christie planted this seed that we were bullying you and that Sis was taking you into here to make sure you aren't getting bullied.
Bella – that's what you said… vs it's so strange that Sis, Christie, and Holly all know you were crying to them saying Nick and I were bullying you and all we were doing. Nick loves you and appreciates who you are as a person and he respects you I thought what you are doing here was amazing being your own person and all this and everything that we shared.. and for you to say that we were bullying you was obnoxious and it was a lie
Bella – I don't know how you can look people in the eye and create something like that I thin kit's disrespectful to the game and it dishonours what you should have brought into this game.
Bella – I don't need it I just had this HUGE conversation with Kemi
Bella – I have zero trusts in you I don't want to have this conversation ever again I don't want to talk about it I don't' want to think about it it makes me sick that two people I really trusted in the house would want to go and throw my name into the dirt when America will clearly see all I have said is nice things
Bella – and I'm not a bully…
Bella – and you're laughing right now ..
Nicole tries to speak
Bella – I'm sorry I'm not here to listen anymore
Nicole – so you just hear to rant a lie to me … Tommy, I let her speak
Tommy – yeah
Bella – that's fine good .. you know wometimes thing don't always go your way Nicole .. so I'm done I'm going to bed
Nicole – so you can rant at me
Bella – I made a decision and I'm going to leave
Nicole – so you're going to rant at me
Bella leaves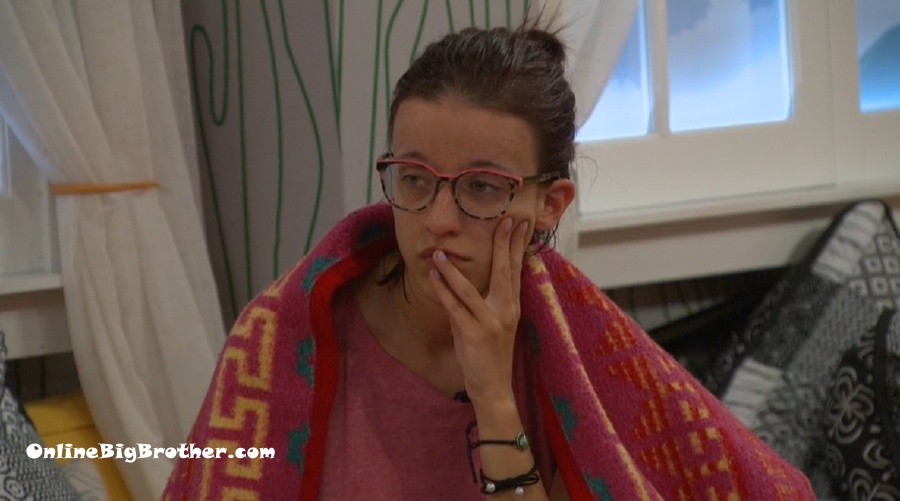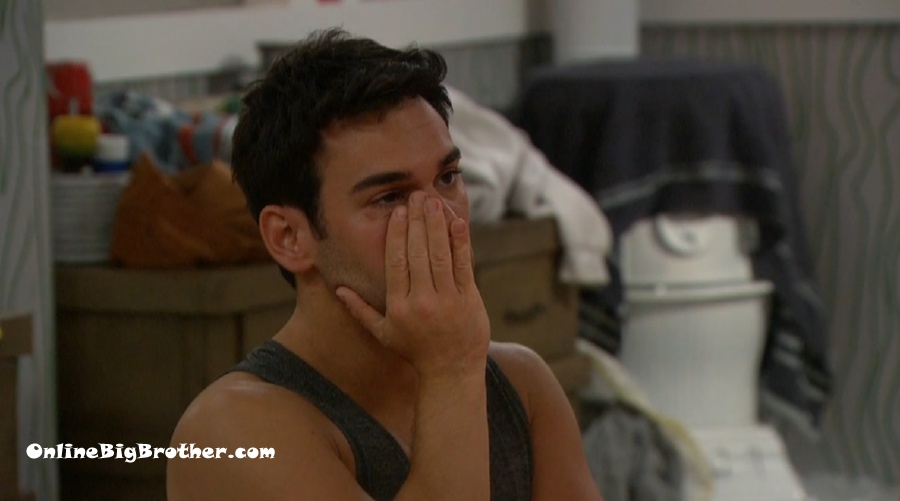 Tommy who helped bring the two together to talk apologizes to Nickle that she didn't get her chance to speak.
Nicole – with all the lies of what she just said I let her speak I did not interrupt her I did not speak over her. the reason for that is I know my truth and thank god this is all filmed I know my truth will be seen and my truth will come out when you guys see all this.
Nicole – I will say this just, in general, Don't ever bring up my grandmother in general because I will flip my lid. I swore on my bracelets and my grandmother grave that I don't have the power
Nicole – I don't appreciate being called atrocious or disgusting or whatever it is she called me. plenty of that was misconstrued and manipulated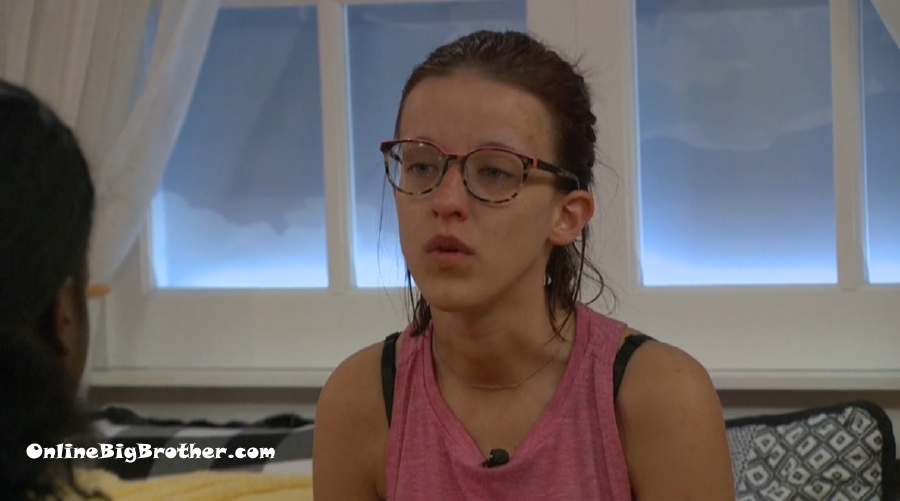 12:28 am Kemi and Nicole
Nicole – she's crazy .. she's f*ing crazy
Kemi – what happened
Nicole gives her a debrief "she made up a whole bunch of sh1t"
Nicole – if she brings up my f*ing bracelets and my f*ing grandmother I swear to god I will bury her
Nicole – do not bring my family into it I will get thrown out of this game for punching you in the face .. Don't even do it
Nicole should have known says if Bella had flipped the script on her its just a matter of time before she does the same with Nicole
Nicole thinks the house sees what Bella is doing but everyone is too afraid to say it because they are HOH this week
Nicole says she knows she's next to get evicted she's accepted that
They talk about Bella being so immature for not letting Nicole speak. Kemi says she feels bad for Nick because he's clearly in love with Bella.
They agree Bella is very immature. Kemi – look at how SIS acts and she's the same age.. sis might be younger and look at how Sis carries herself
Nicole says talking to Bella made her feel like she was on an episode of Jerry Springer
Nicole – who do I appeal to.. Nick in HOH? because she's going to want me out she's going to want to backdoor me
Nicole – or do I appeal to the other side
Kemi – they can't keep you safe this week
Kemi doesn't think Jess is as innocent as she portrays herself to be
12:42 am Bella and Nick
Nick says it doesn't matter about Nicole she's going home this week unless she gets picked for Veto and wins it.
Nick – we have an 83.3% chance to win she has 16.7
Nick – if I would have put up Jack and Jackson without talking to Sam, Christie and Tommy we would have been the next two out.
Nick – I said I cannot make this move without talking to them
Bella says Nicole is lying to herself and she thinks it's the truth
Bella – Tommy said in the boat room she's trying to pine us against the four still
They talk about Nicole telling them that the house was going to put them up.
Nick – she (Nicole) used the same lines against us that she did to them.. First off B1tch don't f*ing say that I bullied you I never did and number f*ing 2 don't try to play me when I'm trying to help you like on a personal level and number three I never drop f*ing names to you
They bring up sis, holly and Christie all having no idea what Nicole was talking about
Nick says "Sis was ready to hammer down a b1tch bro"
Nick – Christie's face.. she was like that's pure emotion like anger and frustration and shock
Nick – that was amazing bro.. she got caught but that was amazing. If she had a squad to back her up she would have crushed this game.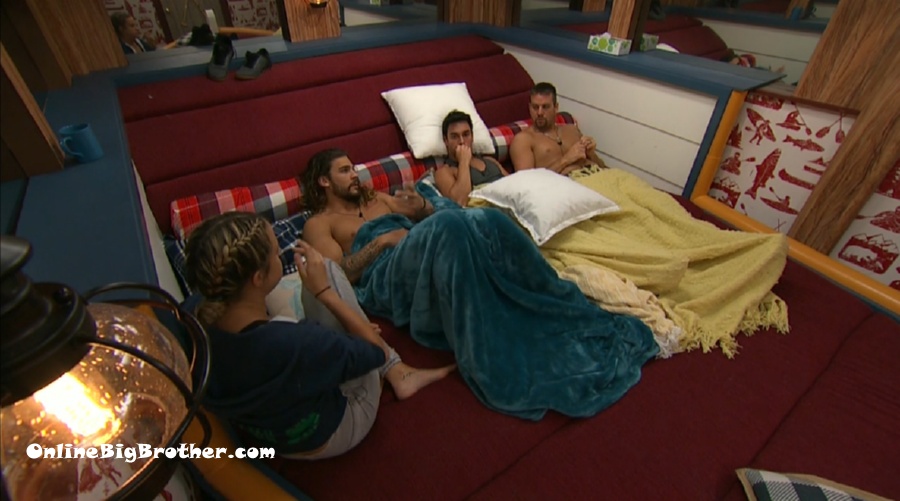 12:48 am Sam, Tommy, Christie and Jack
Jack says Cliff confirmed he'll be his pick for the Veto comp
Christie – Jess is going to pick me
Sam – would you pull Jess off
Christie – I would keep the noms the same
Jack – I wouldn't risk having Nicole on that block then risk her getting voted off
Christie goes on about how scared she is about Cliff.. he's more powerful than she thought
Tommy pipes in and says the same.
1:24 am Nicole crying to kat and Jess.. They comfort her with nice words

1:25 am Sis and Christie
Sis – I told Tommy sometimes I feel Jack is just using me I just don't feel a connection with him
Sis – I don't feel anything"
Sis saying that she was telling Tommy she misses Christie they use to be so close then her and Jack happened.
Sis – I don't know how to step away from him and be with you"
Christie – I get weird vibes from him sometimes
Christie says her friendship with Sis is more important than with Jack
Sis – if he wanted to be friends and F* sometimes that would be great
Sis goes on to explain how she doesn't like Jack for a relationship "I don't feel anything whats so ever"
Christie – you guys look beautiful but I don't see you guys as compatible
Sis – at all were so different
Christie says every time Jack talks to her she grabs Tommy. She says she doesn't want to be thought of as Jack's ride or die
Christie – I love Tommy but no one will win this game over him he's way too loved.
They agree Cliff has to go this week.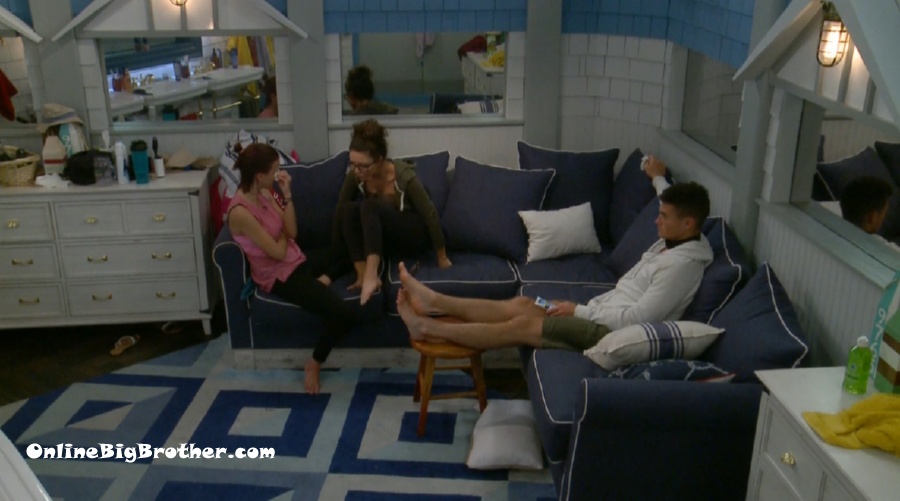 1:38 am Jackson, Nicole, and Holly
Nicole crying Holly and Jackson comfort her with nice words.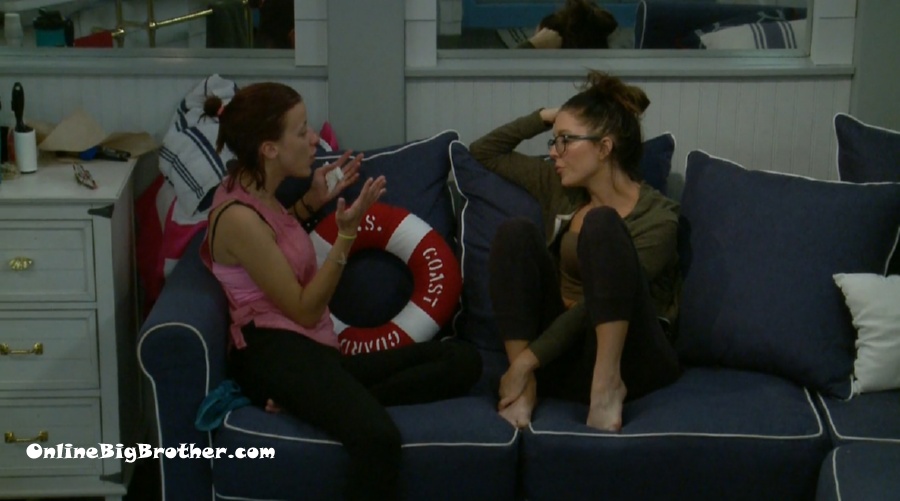 1:50 am Holly and Nicole
Nicole says she felt s really weird vibe today nobody was looking at her nobody was talking.
Nicole – I went up to Bella which was stupid of me I should have just spoken to Nick but I spoke with Bella
Nicole – I told her I am a little concerned am I going up just shoot it straight
Nicole – my honest to god what she said to me Jack and Michie have been telling us to put you up
Holly makes a face
Nicole – that made me jump back because I love you and Michie
Nicole adds that Bella was saying that the two guys were really pushing to get Nicole on the block but Bella and Nick were adamant not to
Nicole explains that she felt that could have been her moment to earn some trust "I told her that if they hadn't won HOH pretty much everybody wanted them out"
Nicole – I should have known she was going to bury me with it
Nicole says Bella told her Michie and Jack want her up because of the rogue vote and the power
Nicole – I said to her I swear on my bracelets and my grandmothers grave I do not have the power. I would never say that unless it was the truth
Nicole – she did to me the same thing she did to Kemi. Nice game move I applaud it I can respect the game well done
Nicole – she also embellished things and misconstrued things
Nicole brings up her conversation with Bella an hour ago says that Bella called her "Disgusting, liar"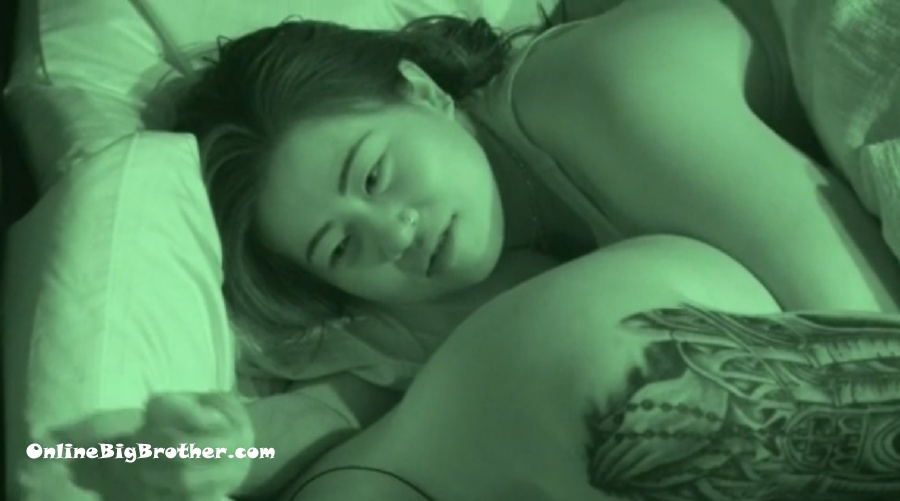 2:13 am Bella and Nick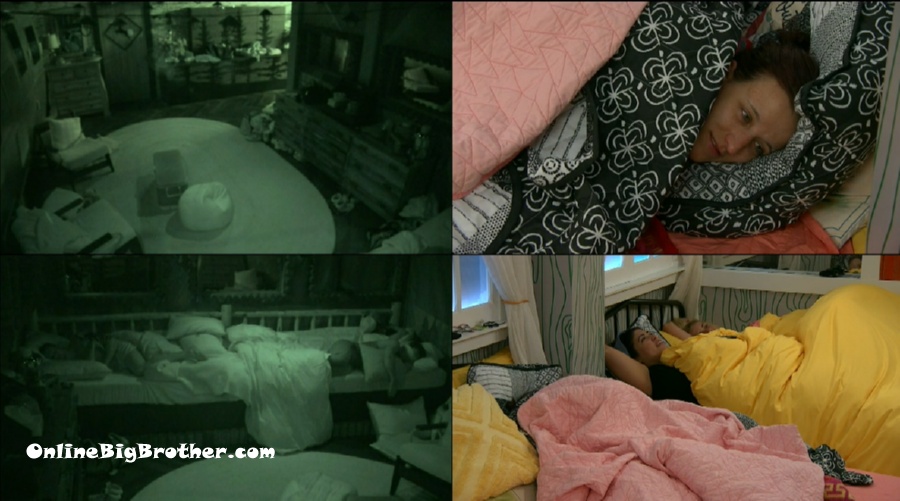 3:12 am go to sleep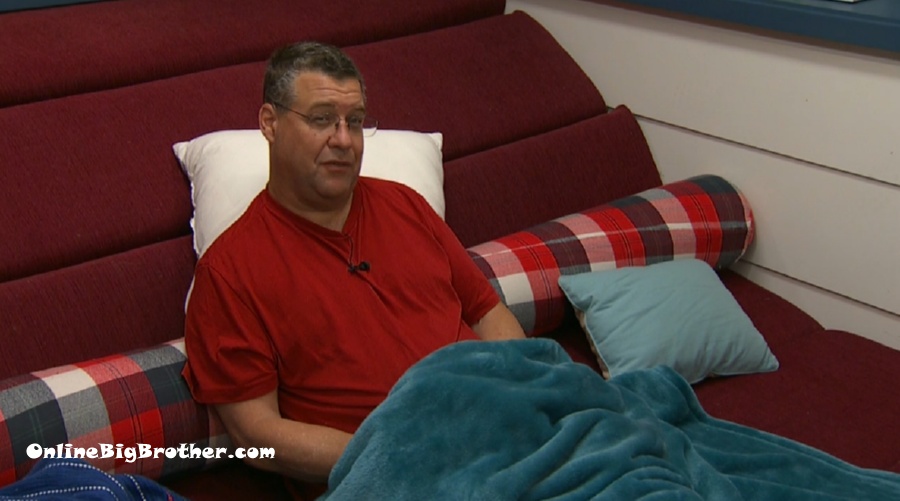 7:07 am Cliff you've done enough go to sleep or clean as David does
Share it YO!!
Tweet