Head of Household Winner – Nick
Nominations – Jessica Nicole and Cliff
Vote Intentions – Nick wants Nicole, 6shooters want Cliff
Power of Veto Players are Nick, Jackson, Jessica (picked Christie), Cliff, Kat
Power of Veto winner – KAT
Power of Veto Ceremony results – Kat uses Veto on Jess. Nicole is the replacement.
Powers in the game
Ovi – Nightmare (Dead unless he comes back?)
During the night, Ovi could secretly wake up the house and call a new Nomination Ceremony, with the Head of Household naming two new nominees. The original nominees would have immunity for the week. The power is able to be used for the first six Nominations.
Jack – Chaos
After chips have been drawn for a Veto player draw, Jack could force a re-draw for the players. This power could only be used once and is able to be used until there are six players left in the game.
Christie – Panic
At any of the next four Power of Veto Ceremonies, Christie can turn the Golden Power of Veto into the Diamond Power of Veto and allow the current veto holder pull someone off the nomination block, but instead of the Head of Household naming the replacement nominee, the veto holder names the replacement.
Grab your live feeds —-> BB21 Live Feeds Subscription Link
Rank your houseguests —-> Big Brother 21 Ranking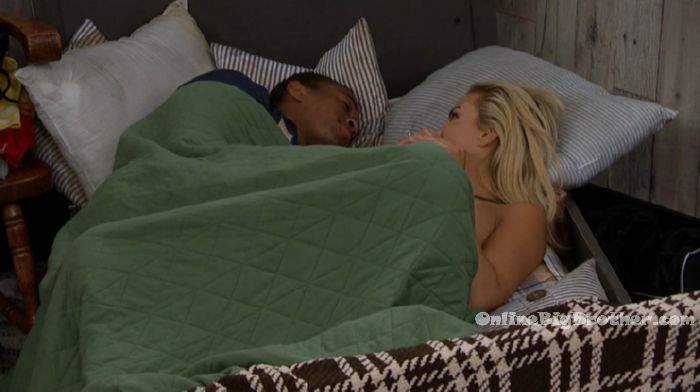 8pm Camp Comeback room. Kat is laying with David. They talk about how theres nothing to do at times. David – it gets tough especially when there's game talk happening and no one wants to talk to you. Kat – don't people talk game with you? David – not really. Kat – if you get back, don't tell anyone anything that I've told you because it would f**k me over. David – yeah, I'm not going to do you like that. I've got you. Kat – I don't even want to put that out there that you won't. You will. I just have a feeling you'll be back. And whenever I get those feelings I'm usually right.
8:20pm All the house guests sit down to eat dinner. They all go around in a circle saying their greatest moment so far this season.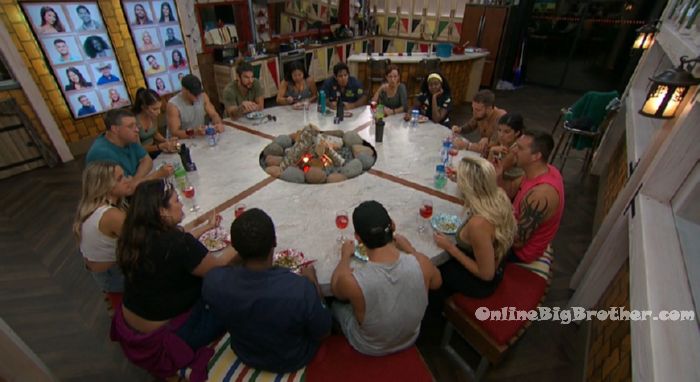 8:45pm Bedroom. Tommy, Christie and Jack.
Tommy – I am shocked! Christie – yeah, me too. Jack – that nothing happened today.. that means that tomorrow is just going to be that much longer. Christie – I really do wish there was a place you could go in this house where you could be alone and not have 10 people follow you. Jack – this game is going to be nuts once we make this move with Nick and Bella dude. Christie – was he pissed honestly? Was Michie (Jackson) pissed? Jack – no. Tommy – for what? Christie – because he talked to him and said that we really need to tell Kat and he said yeah whatever. We will tell her two minutes before the vote. I just don't want him to be mad thinking it was me saying we have to tell her, we have to tell her. Tommy – no, four people wanted to and two didn't. Jack – that's exactly what I said. Tommy – and we have a whole other day to discuss more. Jack – their only thing was do we tell Kat and still have her vote towards Nicole. That way she has the heads up but also stays a mole. Tommy – yes! YES!
Christie – that's what I think because we only need 6 (votes). Because I don't care about exposing the 6, my biggest concern was losing Kat as an ally. But if she still wants to vote that way but feel like she is in on it. We have a reason to vote him out and we think that he is a threat to you too also. Jack – I just voiced it to Nick again that Cliff still scares me. Christie – that is the best option .. telling Kat but leaving it up to her.. saying you don't have to vote with us. Tommy – good, I'm into that. Jack – and having Holly and Michie telling her as we lead up to the vote. Tommy – just say that it was a last minute decision. Christie – I was anxious about it today. I was like I know Kat isn't the most valuable person in the world but she will be really mad and I was doing basic math in the storage room with Jack and if she did get mad at us and Ovi did come back it would be OVI, Kat, Jess, Nick, Bella, Sam against us 6. And if one of us wins HOH, then we have less votes and we can't risk that. Tommy – it won't go that way ..that's worst case. Jack – Holly might tell her. Christie – that's good. Tommy – I love that we're not ever meeting up. Jack – this is really going to confuse people like Kat and Jess. Christie – if Ovi comes back are we going to make a house announcement that we know about his power and that we know about it as of yesterday? I feel like everyone should know that we know so that he can't be surprise using it. Because if no one knows that he has it people will be like oh Ovi's back lets keep him and oh he has this power maybe he'll use it on us. Tommy – I think if Cliff is gone and Ovi is back he is going to need someone.. so we can just use him as a number. I would rather he comes back. David, I fear the unknown. Kemi is annoying and difficult. I would rather Ovi comes back and then we can use him as a number. Christie – I think that's the worst thing because I evicted him so he is going to come after me. Tommy – he won't hold it against you. And then get rid of him right after.. Cliff joins them.
9pm – 10pm Bedroom. Kat, Tommy, Sam, Jack, Christie, Nick and Bella. They talk about how Kemi said to Holly that she is going to be a B***h. Sam – it is true, on your last day.. why even care?! Christie – but she has the chance to battle back!! They continue chatting about random things.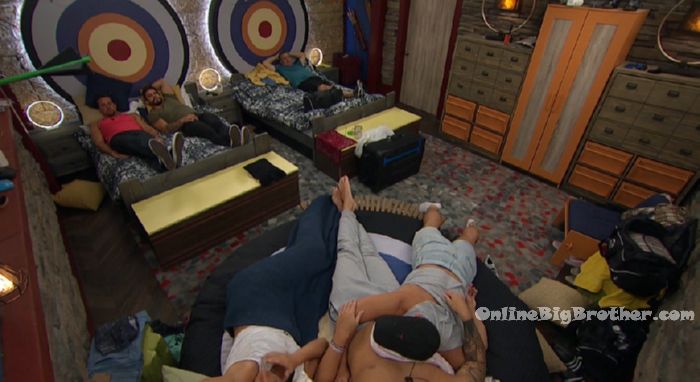 10:08pm Bedroom. Jack is crying. Christie – oh no, why does this happen? Jack – I can't talk about it.. I legally cannot. Christie – I know and I wish you can. Jack – I love you. I do. Tommy joins them. Jack – its just better for me to go to bed. I love both of you. Tommy – I'm sorry.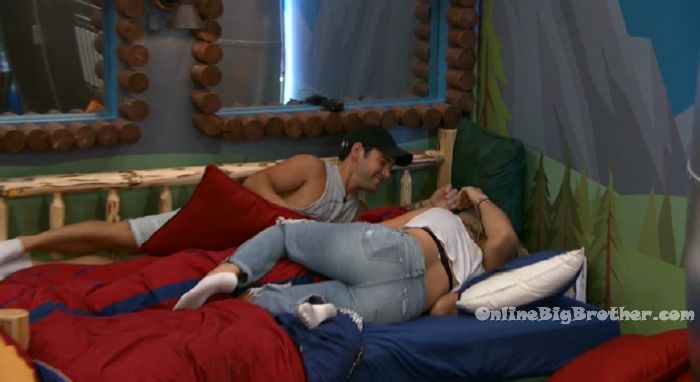 Jackson's foot.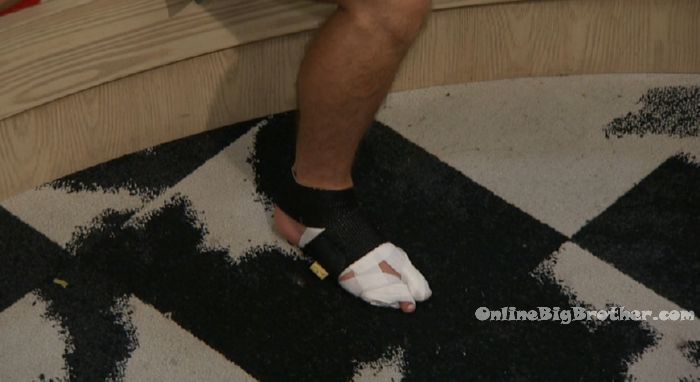 10:35pm – 10:40pm Storage room. Jackson and David.
David – if I get back in my biggest safety is the other side of the house. I feel like the house is going to come after me. I'm an easy target because of camp comeback. I might even be viewed as a strong competitor because I've been working out and sh*t, I don't know. It wouldn't even be good for me to be HOH unless I know who to target. But I don't know exactly how the house is divided because everyone hangs out in one room and you kick us out that's why Ovi wasn't up there and I wasn't up there. If something like that happens.. Just the other morning you were saying things were weird. Jackson – I will say this, I won't talk this much game with you now about that but I will say if you come back into this game. I think you will see who the target is and it isn't you. I'll leave it at that for now. If I'm HOH you will see it isn't you. You'll see the writing on the wall. You will see it as a little bit of blind faith in you that you're not the target. Hopefully it wouldn't come back to bite me in the a$$. Jackson – you need to do your part and get back in this house. Do your do diligence and get back in here and I've got your back. I was the only one that stood by .. that I knew you were coming back.
11:25pm HOH room. Nick and Bella. Nick – I said I would like to see where this goes .. I said that in my blog too. I like you obviously and want to see where this will go. You're amazing. You make me a better person. You're good for me. Bella – no you are a good person. Nick – you make me a better person. How I can be myself around you. You make me feel comfortable and safe. You are the person I leaned on .. on day 3. I think that you being so supportive helps me so much in here. Nick and Bella tell each other that they love each other.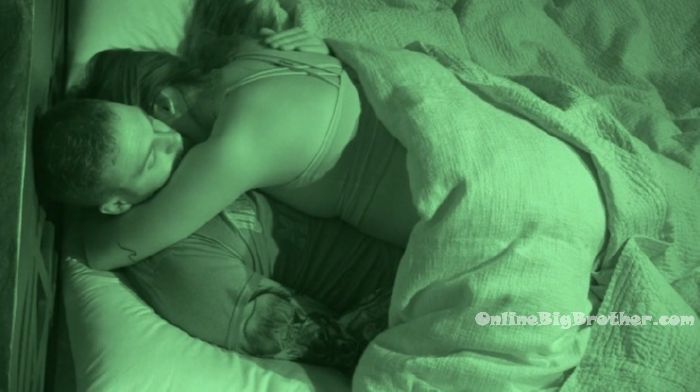 11:32pm Bedroom Christie, Analyse, Jackson and Holly. They talk about telling Kat moments before the vote about the plan to vote out Cliff and keep Nicole. Holly – Nick thinks he has Kat in his back pocket. Jackson – she (Kat) even said to me that he (Nick) thinks that he has me. He doesn't. Literally all I have in this game is you and Holly. Christie – my biggest concern wasn't about exposing the six .. to be honest its pretty obvious at this point. My concern was that she would feel so betrayed by us and then just turn on us. So her knowing but not voting is perfect. Jackson – we tell her that Nicole is staying however to maintain an even keel you need to vote for Cliff and that way it gives her a job and she is happy as a clam. And she feels like she is important. Christie – and so that she doesn't get confused who she is voting for. When are you telling her? Jackson – after the lock down tomorrow.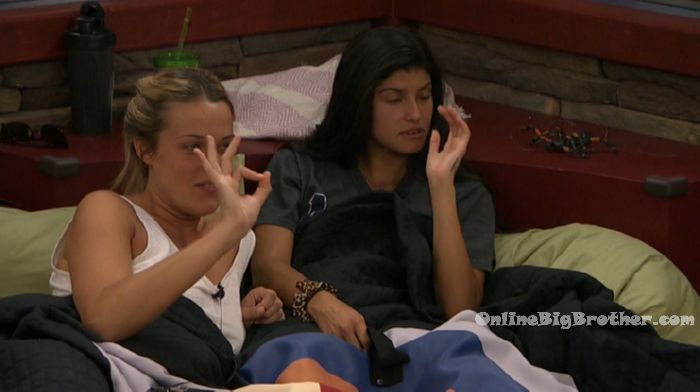 12:20am Boat room. David and Kat. Kat tells Davi – that she isn't nervous and knows he's going to comeback. I'm excited for you and I'm excited for me because I get you back. She tells him he can't get a kiss until he gets back in from camp comeback.




12:45am Nick and Bella. Nick explains how a double eviction works. Nick – if David comes into this game we literally should get to 5 because we're going to get another vote on our side and another competitor that will make a move. The problem if he doesn't have any kind of safety he is going to go home. There is literally nothing we're going to be able to do about it either.. actually for him I might even consider taking a shot ..like in saving him.. flipping the vote. It depends who wins though like if it was Jack. That means he can't compete the next week… then yeah I would because I wouldn't be scared of Sis or Holly. Bella – but do you think camp comeback will be this week. Nick – yeah 100%! I think it will be.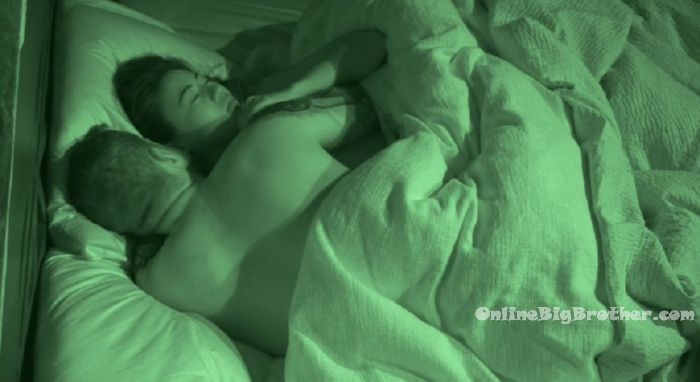 1am Kitchen. Nicole and Sam. Sam – why don't you pitch that you would make big moves if it came down the road. Nicole – if I stay tomorrow that's by sign ..I'm on borrowed time, I am going to F-Sh*t up for as long as I'm here. And that's the thing if I'm deemed untrustworthy by a lot of people.. Sam – you have to full send because there's nothing to lose. Nicole – yeah. Sam – yeah you can't even pretend to go with the majority at this point. Nicole – I should have talked to Nick today. Sam – don't even bother. Sam – Kat would definitely be a risky HOH. But I just make a final two with her today called Cheetos. Nicole – I made a pinky promise to put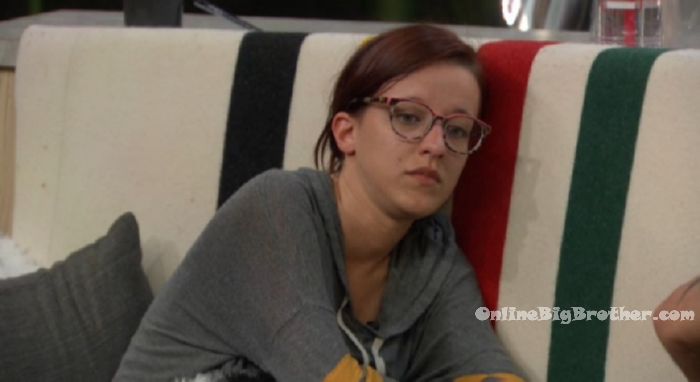 3am Jackson is up eating cereal..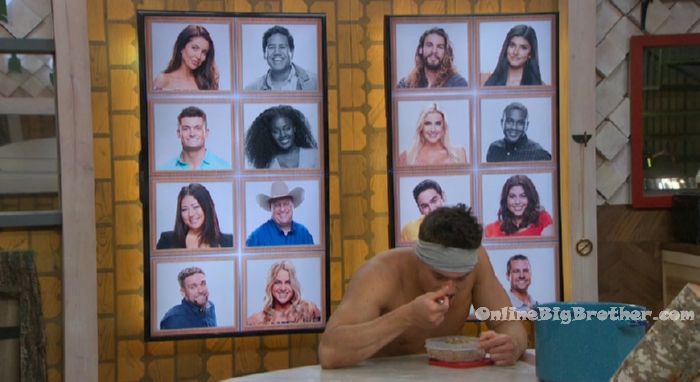 3:25am All the house guests are sleeping..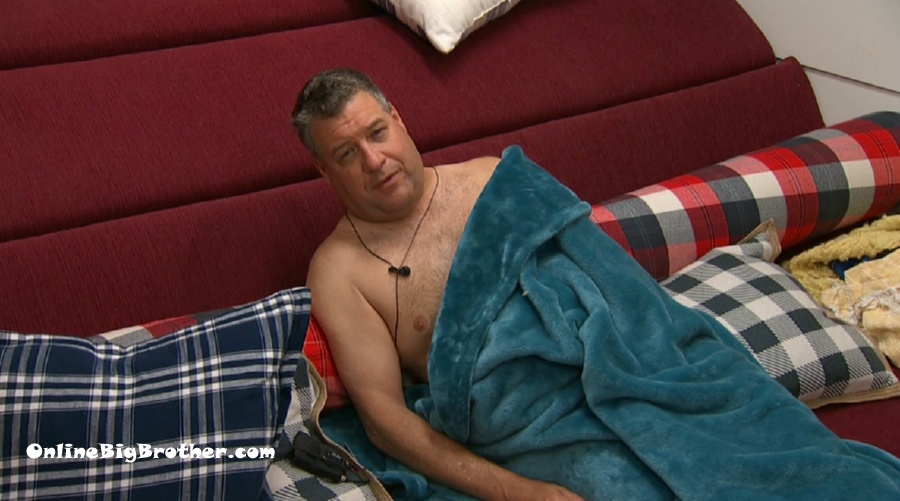 7:26 am The Last Cliff notes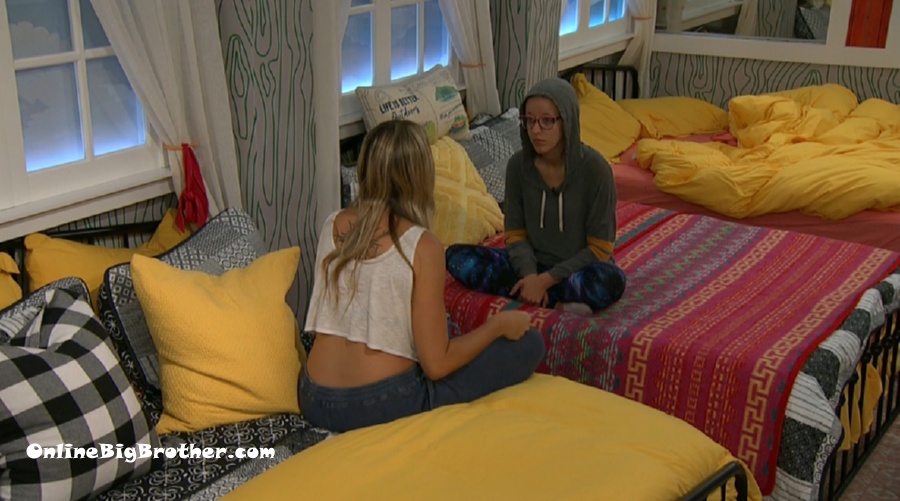 11:00 am Nicole has been campaigning to people
11:36 am HOH lockdown called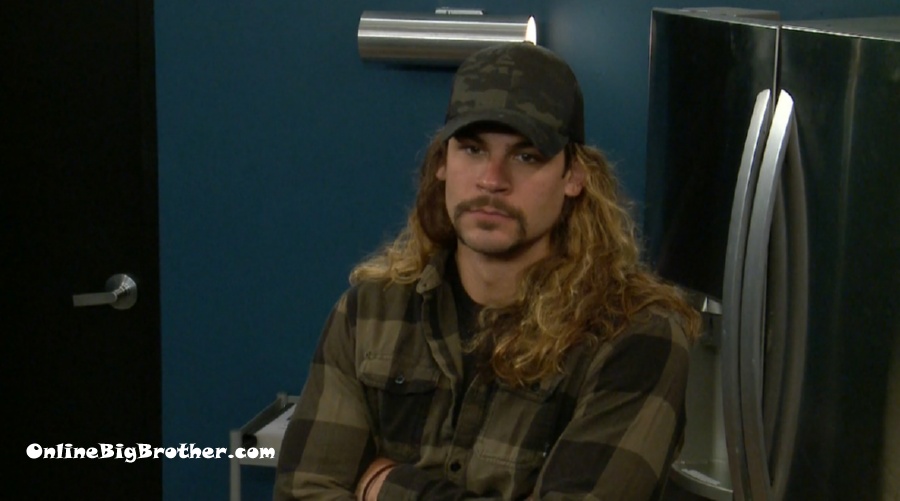 1:30 pm Feeds are back
Nicole going hard red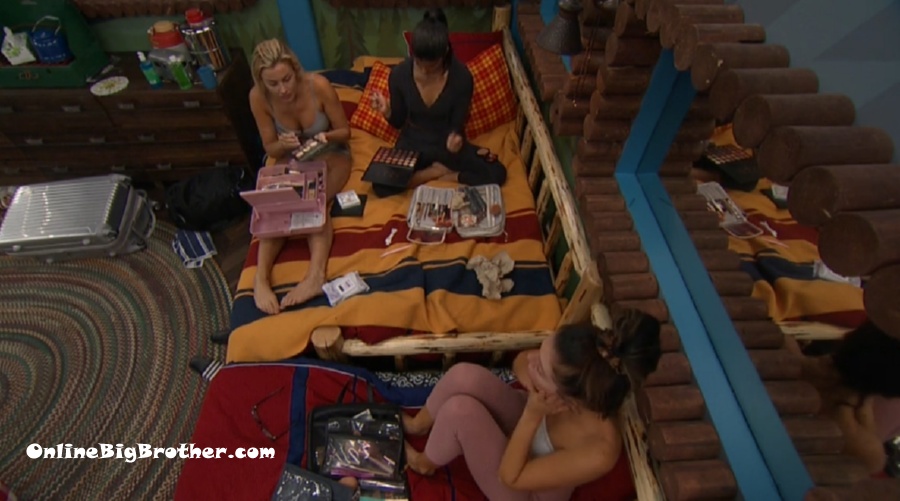 3:00 pm Dumping on makeup
A LITTLE Something Extra for those who Tip / Donate:
If you are one of the generous people that donate to help keep the updates coming, we're giving out a bit more this year. Check out this page for more details: OBB Members