Head of Household Winner – Nick
Nominations – Jessica Nicole and Cliff
Vote Intentions – Nick wants Nicole, 6shooters want Cliff
Power of Veto Players are Nick, Jackson, Jessica (picked Christie), Cliff, Kat
Power of Veto winner – KAT
Power of Veto Ceremony results – Kat uses Veto on Jess. Nicole is the replacement.
Powers in the game
Ovi – Nightmare (Dead unless he comes back?)
During the night, Ovi could secretly wake up the house and call a new Nomination Ceremony, with the Head of Household naming two new nominees. The original nominees would have immunity for the week. The power is able to be used for the first six Nominations.
Jack – Chaos
After chips have been drawn for a Veto player draw, Jack could force a re-draw for the players. This power could only be used once and is able to be used until there are six players left in the game.
Christie – Panic
At any of the next four Power of Veto Ceremonies, Christie can turn the Golden Power of Veto into the Diamond Power of Veto and allow the current veto holder pull someone off the nomination block, but instead of the Head of Household naming the replacement nominee, the veto holder names the replacement.
Grab your live feeds —-> BB21 Live Feeds Subscription Link
Rank your houseguests —-> Big Brother 21 Ranking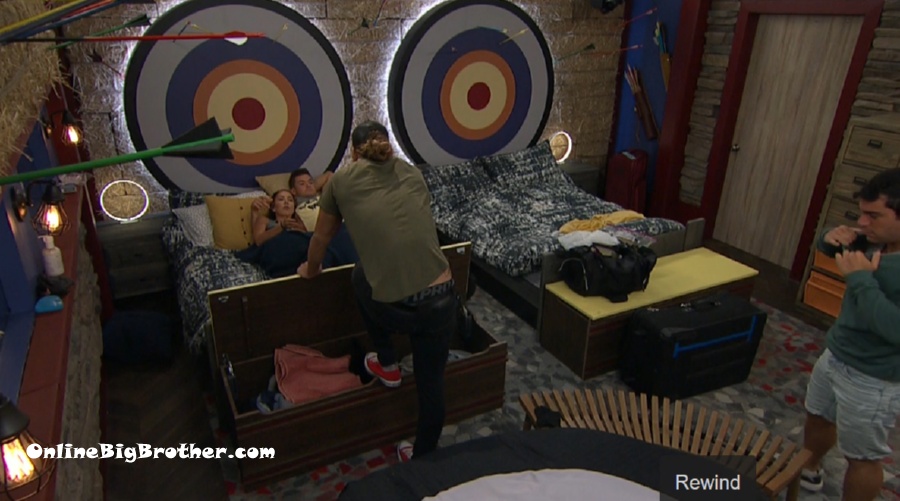 3:08 pm Holly, Jack, Jackson, and Tommy
Sounds like sh1tful can't decide to tell Kat or not.
Jackson, Holly doesn't. they want to keep Kat as a mole
Tommy does. He's worried it will expose their alliance
Jack does.
Jackson – we don't need to tell her we have the numbers.
Jackson – we will have her on our side we're the only people she has
Jack – what happens if Dave comes back .. she hops on with dave and Jess
Jackson – ok three
Jack – Bella, Dave, Jess, SAm
Jackson – we bring her into an alliance she will eat that up with a spoon
Jackson – she's not a hard sell to get back she's not even going to be mad. I will literally tell her myself
Jackson – this is how simple she is .. you have a bad poker face we couldn't tell you but I told you it's going to get a little crazy this week we had to but we couldn't tell you
Jackson impersonates Kat "Oh your right I know I have a bad pokers face"
Jackson – done done
Holly goes on about how they all have been putting in work to make kat feel included.
Tommy is worried she'll be upset if they don't tell her
Jackson – no, she'll be fine .. fine
Holly says at first she was thinking maybe they spread the target around to more people so then that would mean getting Jess to flip too
Holly – even if Jess and Kat vote with us do you really think Nick and Bella are going to target them they are going to be f*ing pissed at us
Jackson – so what's it matter
Tommy leaves
Jackson – it's not necessary
Jack – okay we don't do it
Jackson – I don't hold my ground on much but I'm not budging on this one
Jackson – she'll feel left out for 30 seconds then we'll bring her back in
Jackson – please take our word for it we do not need to tell her
Jack – look into my eyes I gotcha.. it's done
Jackson impersonating Kat when he tells her they couldn't let her in on this weeks vote due to bad poker face. #BB21

"Oh your right I know I have a bad pokers face" pic.twitter.com/NsPlgl8zv4

— OnlineBigBrother.com (@bigbspoilers) July 17, 2019

3:28 pm storage room Christie and Tommy
Christie – I'm not trusting Michie and Holly, Jack just said they're not budging
Tommy – no they're not budging
Christie – OKAY why? what do they discern from not telling Kat (discern?)
Tommy – I was in there when I heard
Christie – If they don't vote to evict Nicole and we do they will claim those votes
Tommy – I don't think that's what's happening
Christie – I might be overthinking things
Tommy – don't overthink
Tommy – they don't want to tell Kat because they say she has a bad poker face she'll give it completely away when we sit on the couch
Christie – okay if that happens I'm denying till I die ..
Tommy – same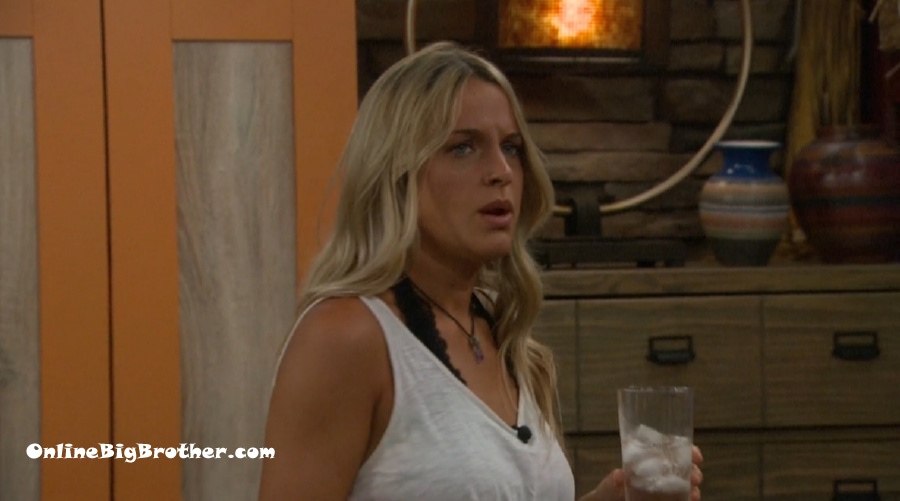 3:34 pm Sis and Christie
Christie – I don't understand the point, God forbid. What if at the last second only me Tommy and Jack wind up voting out Cliff and CLiff stays
Christie is worried if Michie and Holly are flipping their votes leaving Christie, Tommy, Sis, and Jack to be the only people voting out Cliff.
Sis – no you're crazy
Sis and Christie want to tell Kat.
Christie – I don't want Michie to think he's president and makes all the executive decisions
Christie says Jack and Jackson had a final 2, "they think they can run everything" . Adds she wants to call them all in and make it clear they have to make this a group decision.
4:26 pm Holly and Tommy
Holly – I have a really bad memory I've had a lot of conclusions..
Holly says Kat know about the alliance "the 8, she doesn't know the name of it"
Holly says she never denied it told her it wasn't a thing and more it's imploding
Tommy – if there's a live eviction tonight Hoh won't be till tomorrow.
Tommy goes over his lines to give to Bella and Nick when Cliff goes.
Tommy – we don't have to draw the line yet they're going to be suspicious
Holly and Tommy both for some reason think they have a live eviction tonight. (They seem to think there's too much to cram into an episode if they have battleback)
4:46 pm Holly and Tommy area agreeing Bella should stay in the house for a bit she'll blow herself up.
Holly says Nick and Bella are not close to her socially. Holly says she knows they are coming after her she doesn't think Sam is.
Tommy – If I were you I would probably want Nick out first
Holly – I don't know why he dislikes me so much
Holly says he told her she's the one person in this house he wouldn't hang out with outside.
Tommy – WHAT .. that's so shitty
Holly – maybe I just have bad social awareness maybe I'm like Ovi and I'm not self-aware
Tommy – no you're not .. you are so not.
Holly says she's convinced Nick is in the DR sh1t talking her
Tommy whispers something (must be about America not liking them)
Holly mentions when Kaitlyn visited (during a comp?) she didn't give him the time of day
Tommy – what I'm gauging this bully thing will be a big deal but ti's the truth it's not a lie
Tommy says Nicole was white as a ghost when Nick was asking her about her targets. (See image)
Tommy – and Sam was involved too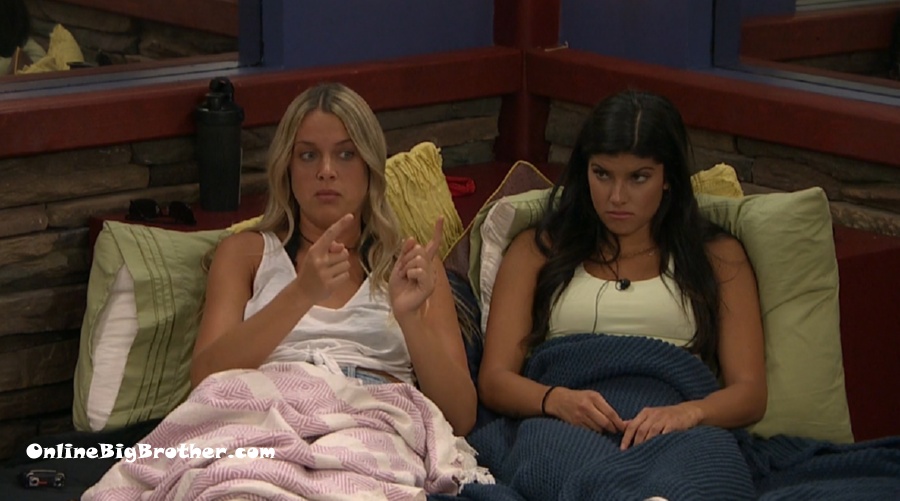 6:27 pm Christie and Sis
Further discussion about whether or not they should tell Kat. Christie goe son about how weird it is that Jackson and Holly are so adamant about not telling Kat.
Tommy comes in
Christie says there are 4 people in their alliance that want to tell Kat.
Tommy says they feel very strong on this they should just let Jackson and Holly have it.
Christie – I think it's a mistake
Christie says if Kat is upset she's going to tell kat they tried to tell her but Jackson and Holly were dead set against it, "I'm not losing a number"
Sis – they think they have Kat in their pocket they do for now but.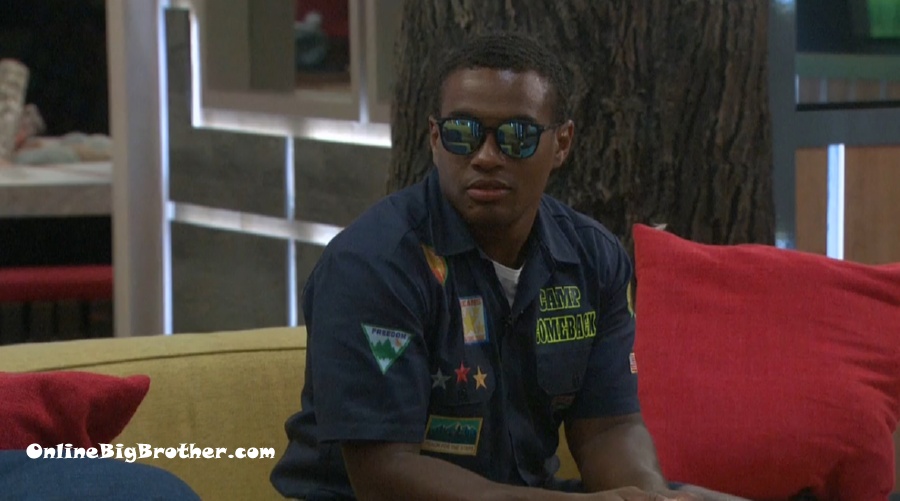 6:41 pm It's been a pretty slow day they are still debating if they should tell Kat or not. Little real major game talk. Cliff is going to be evicted and so far Nick and Bella will be completely blindsided.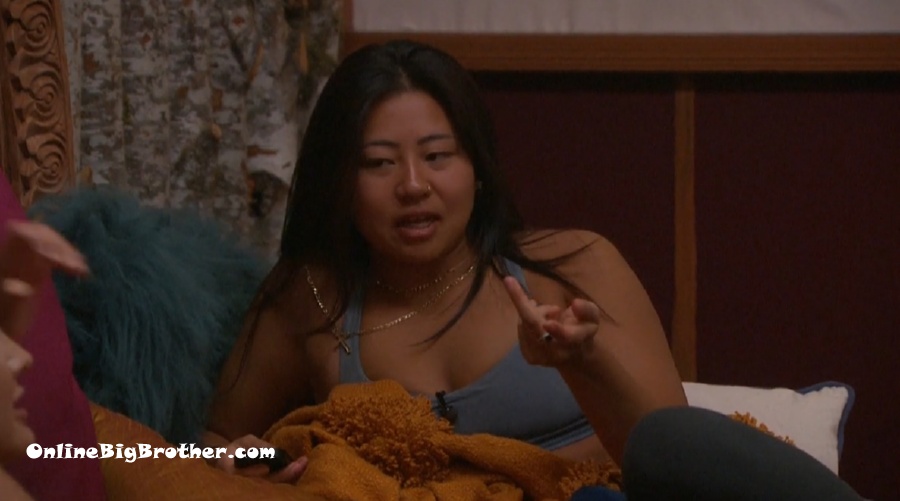 6:54 pm Bella and Kat
Bella – let me tell you one thing. Remember last week when you asked about ZING and there was 5 of us in here. I would have told you that if it was one on one. That day me, you and Nicole talked Sis came in remember? and got really paranoid she went to Nick and asking him why Kat was there when she's not apart of anything
Bella – there's not like there's alliances it;'s all surface. I only trust Nick and Sams
Kat says in Dallas there's a restaurant called Nick and sam
Bella – Ovi loves Jack and tells him everything so you have to be very careful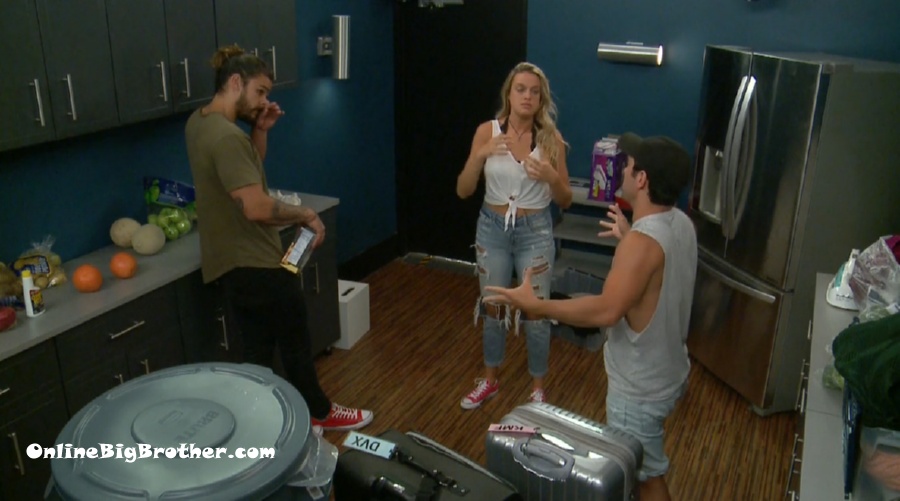 7:06 pm Christie, Tommy and Jack
(OMG guess what they are talking about)
Christie wants to tell Kat "minutes" before they vote.
Tommy – hearing them so passionate let them have it.
Christie – even if we lose an ally
Christie when we lose Kat as an ally I'm not taking the heat for it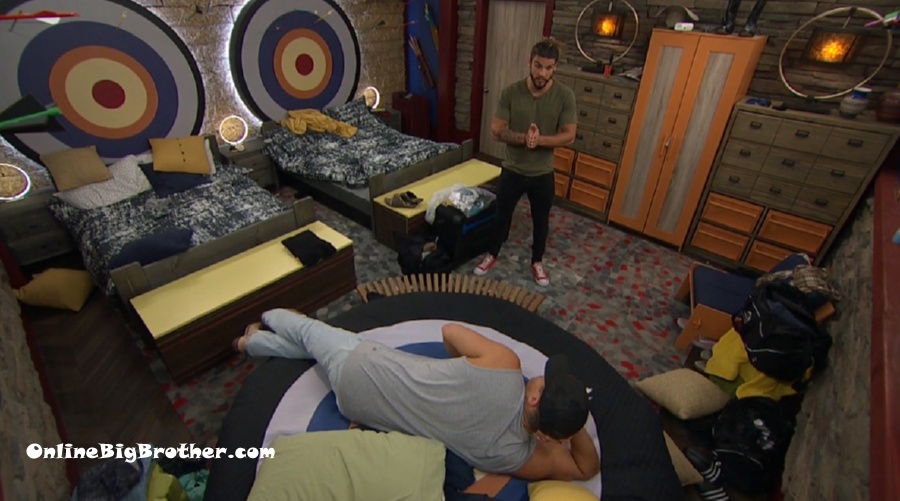 7:15 pm Jack and Michie
Jack saying the group wants to tell kat "60 seconds" before the vote they are all voting out Cliff.
Jackson – ok, if it blows up I don't want to say I told you so
Jack – it's better it blowing up this way than on yo and Holly. I would rather it blows up on all four of us
Jackson – I'm not going to fight it I'm going to go for it. It's fine
jack – I was the in-between vote here if I went the other way it was 3 on 3 if I go 4 and it blows up it doesn't look as bad.
Jackson – it's fine, Me and Holly know her better than anybody else
7:46 pm cudling …