Head of Household Winner – Nick
Nominations – Jessica Nicole and Cliff
Vote Intentions – Nick wants Nicole, 6shooters want Cliff
Power of Veto Players are Nick, Jackson, Jessica (picked Christie), Cliff, Kat
Power of Veto winner – KAT
Power of Veto Ceremony results – Kat uses Veto on Jess. Nicole is the replacement.
Powers in the game
Ovi – Nightmare (Dead unless he comes back?)
During the night, Ovi could secretly wake up the house and call a new Nomination Ceremony, with the Head of Household naming two new nominees. The original nominees would have immunity for the week. The power is able to be used for the first six Nominations.
Jack – Chaos
After chips have been drawn for a Veto player draw, Jack could force a re-draw for the players. This power could only be used once and is able to be used until there are six players left in the game.
Christie – Panic
At any of the next four Power of Veto Ceremonies, Christie can turn the Golden Power of Veto into the Diamond Power of Veto and allow the current veto holder pull someone off the nomination block, but instead of the Head of Household naming the replacement nominee, the veto holder names the replacement.
Grab your live feeds —-> BB21 Live Feeds Subscription Link
Rank your houseguests —-> Big Brother 21 Ranking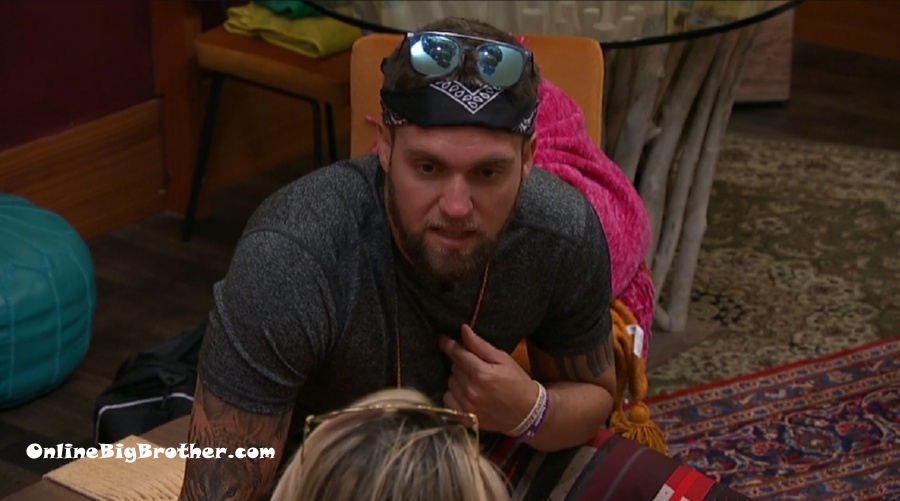 2:34 am Christie, Nick, and Bella
Christie – the moment I saw your face I felt better I know it's me I know it's my hormones I'm sorry to you
Christie – Kemi got into my head and I freaked out
Nick – I know with your disorder like your diagnosis
Christie – I hate call it a disorder
Nick – it is a diagnosis. I can diagnose it.
Says it's in the DSM IV
Christie – I was on Paxil and Buspirone I was fine it I don't judge it .. I needed to find something else as an outlet so I have to meditate and in this house, it's hard to meditate and because I'm not on anything I spiraled.
Christie – when it gets to 9 I take you, Bella, Sam, Tommy very serious.. I am not in a couple I am not in a showmance I would be naive to think I'm not 5th on the totem pole
Christie – I am aware I am on the outskirts of that and I'm Okay with that I will show my loyalty to them no matter what..
They talk about the flaming 5 alliance (Bella, Christie, Sam, Tommy, Nick) . Christie says she knows she's the bottom
Nick says when it's 10 players left, us nine and Kat .. we can't win 10
Nick – If Michie, Jack, Sis or holly win at 10 then it would be 5 on three next week
Christie – I know
Nick says Jack really likes Christie
Bella – he told me he trusts you more than SIS
Nick says when it gets to nine they will put Nick and Bella up. He's worried Tommy will flip on them
Christie doesn't think so adds that she's a bit worried about the Jack and Tommy relationship but not enough. She thinks Holly and Michie would eb teh targets
Christie – I do take the 5 of us seriously I am worried my social game is too good and the nine will be like take this b1tch out she's good with everybody
Christie says she has compassion for everybody it genuinely who she is. Christie starts crying
Christie – I'm going to tell you something right now. you might already know. I have the power
Nick – I knew you did
Christie – I have the power (she cannot keep anything a secret)
Christie – I'm only telling you guys this because I feel horrible that I just pulled that stunt and all the paranoia. I have the power and it's called the Diamond Power of Veto
Christie – if someone comes down I get to pick the replacements
Nick says the reason he didn't backdoor Jack and Jackson after "Nicole told me that" was because he never got to talk to Chrssite, Sam, Tommy. "I could not make that move without them knowing cause than you guys would have been blindsided and been holly sh1t .. "
Nick – I wanted to believe it but I can't do it if I do I'll just backdoor them either Jack or Jackson but then we figured out it was false
Nick – I'm going to tell you another secret .. Sam knows about G8tful because Jack told him .. in the storage room
Christie – Jack makes it sound like you told Sam about g8tful
Nick – I did but Sam already knew
Christie goes on how not in a million years would she think Nick was putting her up she's just hormonal.
Nick – did you see how sad I was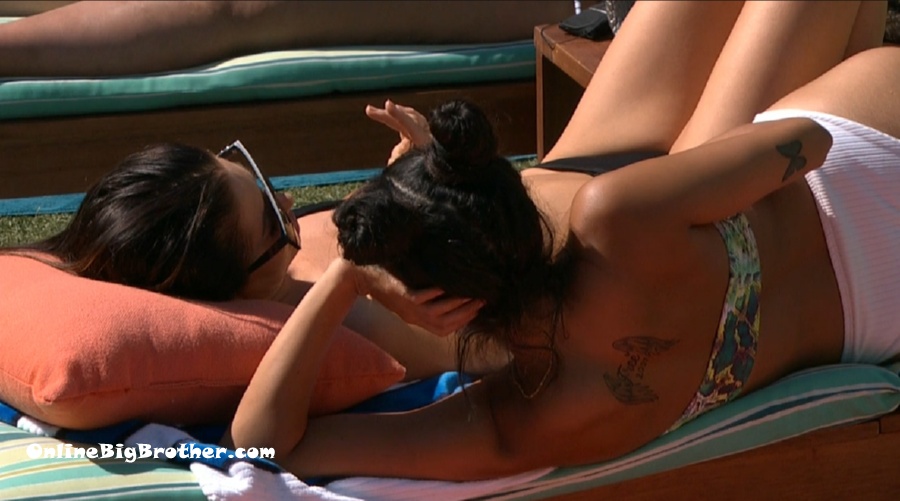 4:04 pm Sis and Holly (hard to hear due to backyard conversations)
They talk about saving Nicole this week and getting her on their side.
Sis – Christie is making me nervous
Holly – from day one she made me nervous because she's so hot-headed I still trust her and I love her but her emotions and loose lips she does not know when to shut the f* up
Holly – I love her but
Holly – her emotion will drag her down
Holly – her mouth will drag us down
Holly – I trust her.. but it's her mouth that scares me
Sis wonders what Christie is saying about her to other people.
Holly says it's Christie that scares her, "if this keeps happening"
Holly – we were so solid people just need to stay solid
Holly – people are cracking we just started playing how are you cracking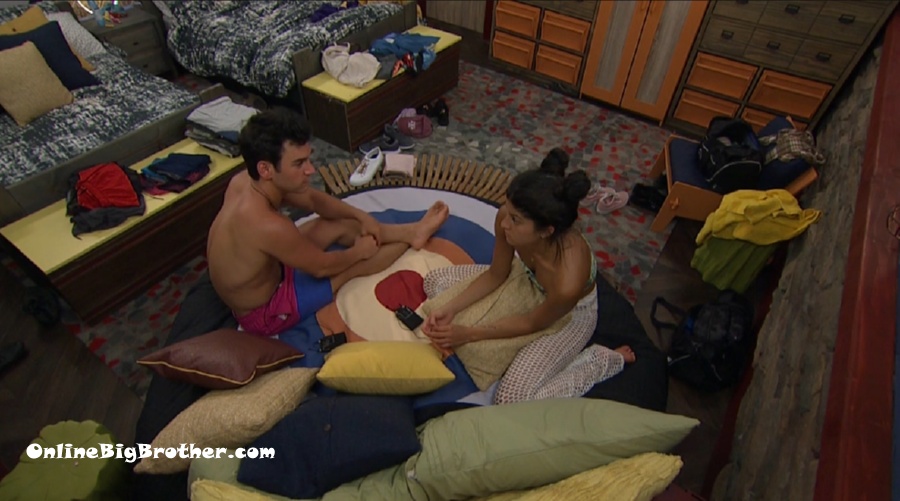 4:17 pm Tommy and Sis
Sis – I feel really scared
Tommy – I was scared shitless that they were going to put Christie up
Sis – I didn't believe it
Tommy – I did, she convinced me very quickly and now that it didn't happen I kinda feel bad
Sis – like they really believed we didn't trust them I feel scared why was she talking to Bella shouldn't she talk to Nick Like why was she talking to Bella about it
Tommy – they are sharing an HOH
Sis – that's what makes me nervous
Sis walked in on Bella and Christie talking and her Christie mentioning Jelous and they stopped when SIS entered.
SIs – I feel Christie gets jealous.. don't you think she gets jealous of me and Jack
Tommy – maybe
Sis – she was trying to relate with Bella about it and they stopped talking about
Tommy – maybe
Sis – I've had plenty of conversations all she has to do is tell me I will let them be together
Sis – I trust Christie so much
Tommy – what you said the other day really stuck.. me and you are so good with Nick and Bella
Sis – I know, I've been thinking about it a lot today
Tommy – me too
Sis – the best case scenario for all of us is if Cliff goes but me and you are really really close with Nick and Bella. At least I'm really good with Nick
Sis – I don't know what to do, when it comes down to us nine or eight I don't think they will come after us they would go after bigger targets first
Tommy – you are so right so we would be good no matter what
Sis says she doesn't want to win the next HOH she doesn't want to be the one to put Bella and Nick
Tommy – don't stress out nothing is happening at all
Sis – I'm going to be really really really sketched out though if when I talk to CHrsitie and all of a sudden she's saying we need to get Nicole out because she did tell me how Nick asked to be in an alliance with you, her . then that would make me sketched out like she wants to work with them (Bella.Nick)
Tommy – that was never true … it was really a fake alliance. We were pulled into Nick and Bella told us we're in a five-person alliance they called it the flaming five.
Tommy – when someone approaches you about an alliance you have to say yes.
Tommy says the 5 flames was fake he's with the 6 shooters.
Tommy says he was all about the 8 until Bella and Nick played too hard "I tried to warn them you are playing too hard you are whispering too hard"
Sis – I don't want to get Nicole out .
Tommy says this is a game and Nick will respect them making a game move.
Tommy says Nick and Bella are not that smart if they were they would have put one of them up this week. They know next week we're taking shots and they had a chance to make the first move.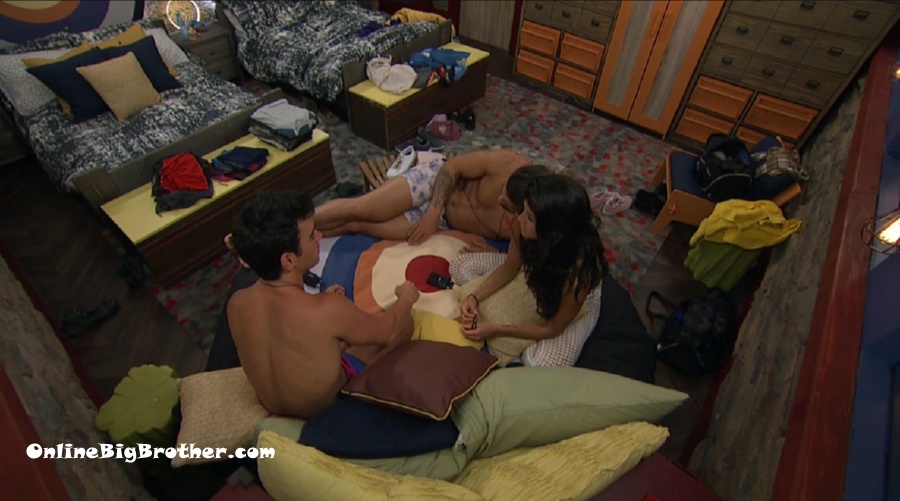 4:39 pm Tommy, Jack and Sis
sis – I love Christie but that was really unnecessary
Jack – I tried to tell her cool your jets
Tommy – yeah
Jack – nothing needed to happen today
Tommy – she had me convinced it could be true
Jack – this happened when she was HOH
Tommy – she crumbles under pressure .. it really gets to her
Christie – guys I really don't know if I'm going crazy or if that was really going to happen
Christie – I really think it was going to happen
Sis – you do
Christie – yeah I do
Christie tells Sis she has a power
Jack – ok
Christie – I scared him
Jack – what did you say to him
Christie – So I have the power
Sis – you do
Christie – I threatened him basically, I knew I was going up
Christie – it's the Diamond Power of Veto
Jack – what does it do
Christie – the power is it strips the HOH the ability to name the replacement nominee instead of the HOH during a veto ceremony if the veto is used. Let's say two of us are sitting on the block and Nick or whoever try to backdoor one of us it strips him the ability for him to name a replacement.
Christie – the person who owns the veto and myself we get in cahoots and it prevents the HOH from picking the replacement nominee
Christie – we get to decide .. it can be completely anonymous Alarms will go off
Christie – the Veto holder will select who goes up
Jack – how long does it last
Christie – I need to ask specifically I don't know if they said 6 or until 6 final 6 or week 6 I need to ask them.
Christie – or final 4 or week 4 (lol final 4)
Christie goes to explain talking with Nick and how she saved herself from getting backdoored – He came in storming into the are you crazy do you really think .. like swearing on his family
Christie – I don't believe any of that and I said it's Ok Nick listen this could totally be hormones my paranoia.. you do what you need to do if this is a big move good do it I'm, good regardless. I just want to avoid a really uncomfortable situation with the house right now so take that information as you will do what you gotta do
Christie – I really hope you decide it's not worth it and it doesn't backfire for your game.
Sis – what he say
Christie – he was like YOU'RE INSANE .. he was shaking and his face was BEAT RED and his hands.
Christie – I was like hold my hands they were f*ing wet soaked, soaked, he was shaking like this.
Christie – he was going to put me up so I had to scare him a little bit
Christie – so I'm telling you he backed out at the last second
Christie brings up Nick and Bella knowing Ovi's power and how they brought it up in the kitchen.
Christie brings up Nick saying why not cut out a flame and I'll light in on fire comment (in case you haven't heard this)
Christie – all I know is I adverted a major f*ing crisis I know I was going up and so they went up there (HOH) and they were like overly assuring me it was never even an option
Christie – I still don't' believe them honestly I don't .. Bella went into her personal story (about being assaulted)
Christie brings up Nick saying "you just tylered me" (flushing a power)
Nick – I know you have it
Christie – yeah I do, he just looks at Bella and they quickly look at each other and said I knew it
Christie – they decided in that last second she probably has a power don't do it. I still don't trust them at all they are just going to backdoor me I KNOW
Christie – Ovi and Cliff were very weird going into the Veto ceremony.. looking at me looking at my body language
Christie – they seemed very calm when they noticed I was frantic they were in the back watching.
Christie – I had to tell them I have it I don't care if the whole house knows.. Don't f* with me
Christie – I was going on the block I always trust my gut
Tommy- you got to chill out
Christie – I'm done playing this game you guys make every decision I'm done trying to be.. Nicol knew to She was in the best mode today
Sis – you think
Christie – kemi knew too.. Ovi too Ovi was being a d1ck to me all morning
Christie about Ovi – you were an a$$hole to me all morning.. f* you (you've gone full on crazy)
Christie – I wish I could say more.. A lot of people have my back in the universe
Tommy – okay
Christie – I was really scared guys .. Like I was really scared
Christie – and it would have been the best move it would have been a sick move, They know what they're doing. We only have 5 votes.
Christie fully convinced she as going to be put up says the plan was figured out last night. Points how close Jess and Bella are now, "I called it last night"
Tommy – that's it..
Christie – If I didn't have my period I would just be laughing about this
Sis – I'm kinda freaked out a little bit Jackson was saying too much around JEss about the whole vote swtich ..
Christie – I know
Jack- what the f*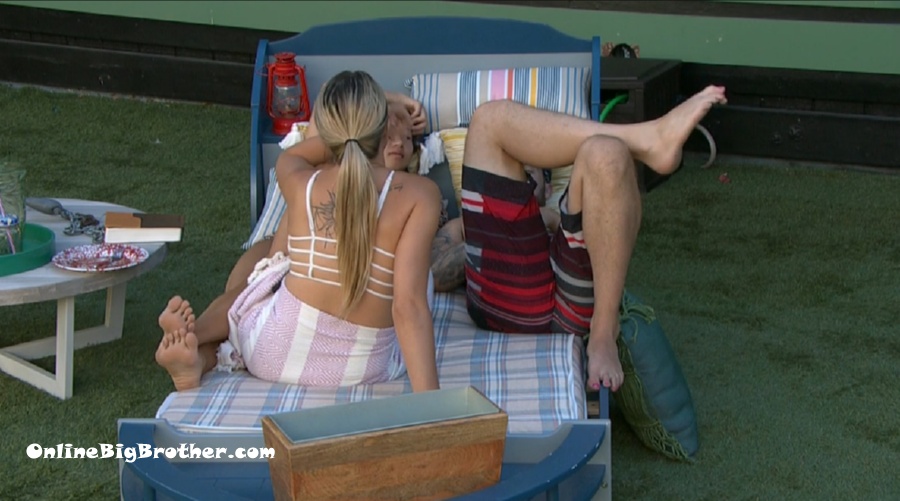 5:18 pm Nick, Bella and Christie
Christie was told to clear up the details of her power to everyone she told.
Nick and Bella saying that Tommy needs to shot for the HOH this week.
Chrsitie – oh my god I'm not bleeding ..
Christie – now I'm manifesting it so much that I'm going to block it now watch I skip a month
Nick – is that what happens
Christie – never but you never know it's stress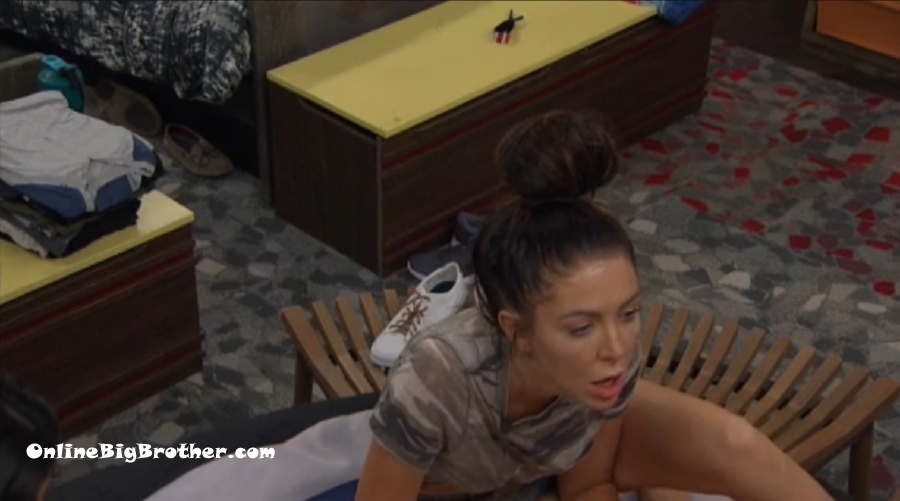 5:31 pm Christie, Sis, and Holly
Christie – I won the party surprise.. I had to tell Nick and Bella .. they were putting me up I know they were putting me up
Christie tells Holly the story above where she had to scare Nick. Sis apologizes because she really didn't believe Christie. (wow Crazy Christie has convinced them all)
5:35 pm Nick and Bella
Think they are solid with Tommy, Christie, and Sam.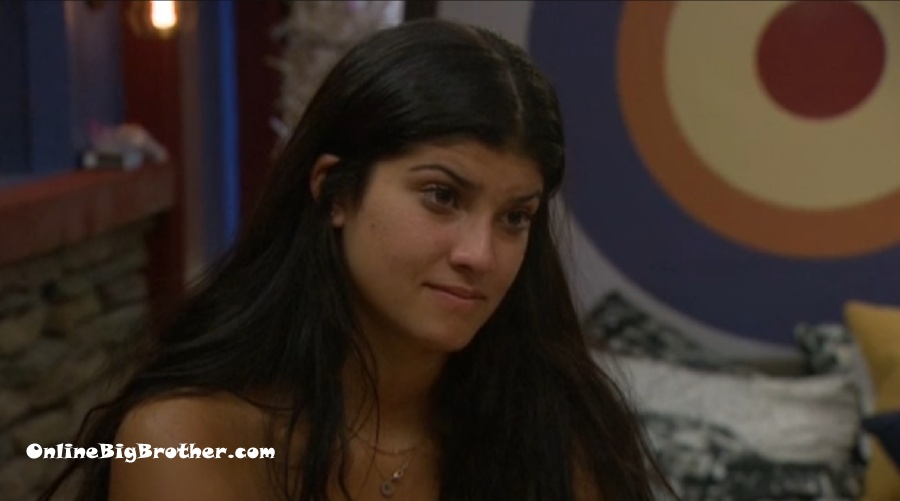 5:46 pm Christie, Sis, and Holly
Christine about Nick and Bella "they are sh1t to me and I hate that Nick and Bella know I have this power. but honestly, good let them be a little scared of it
Sis – I'm really sorry .. I really believed you weren't going up
Christie – I was going to throw up I knew it
Christie asks Holly if she caught on to the things Nick said
Holly – No I wasn't in tune to it
Christie's theory – This is the circle of it. Cliff is freaking the f* out because he knows and he acknowledged because we had a conversation that I heard his entire gameplay.
Christie – so A he's doing damage control with the couples B he wants me out because I heard too much he is then teaming up with OVI to go up to them (Nick/Bella) because they are in power this week and he's on the f*ing block and he's like OVI knows the right time we gotta let them know about your power and to get them to not trust Christie, Jack and Jackson you need to get them to know about the power.
Christie says they know her loyalty isn't with them it's with "you guys"
Christie – they said we want gr8tful but we hope you are still serious about the 5 of them. you're not in a showmance you are on the outskirts so when it gets down to you guys you and Tommy..
Christie- they are playing to my emotions
Christie- the only people I care about is you, girls and Tommy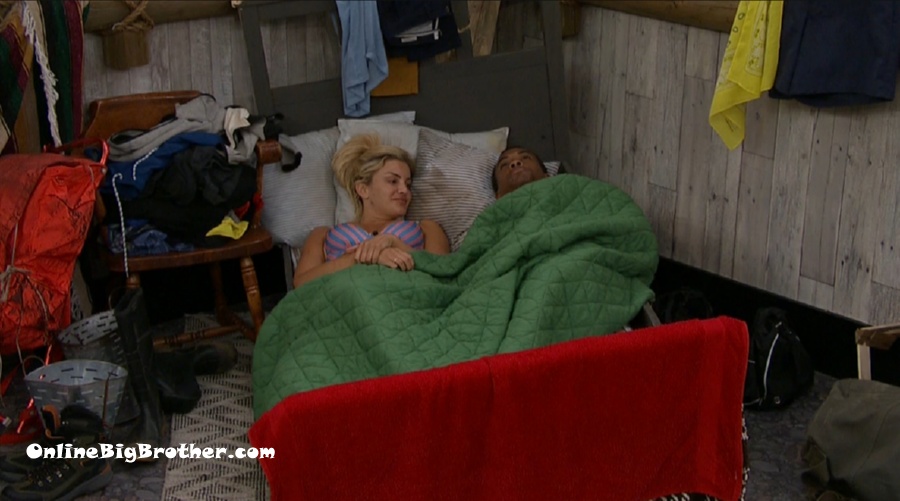 6:34 pm kat and David
Kat says David is the only person in camp comeback that hasn't annoyed anyone
David says he finally talked to SIS and she said she wasn't sure about him "I don't want you to f* me over.. she's like scared"
kat – Sis is an undercover savage
Kat – trust me everyone loves you. you are not going anywhere
boogers #BB21 pic.twitter.com/Tk7OFFaeaJ

— OnlineBigBrother.com (@bigbspoilers) July 16, 2019
7:20 pm Just leaving this here.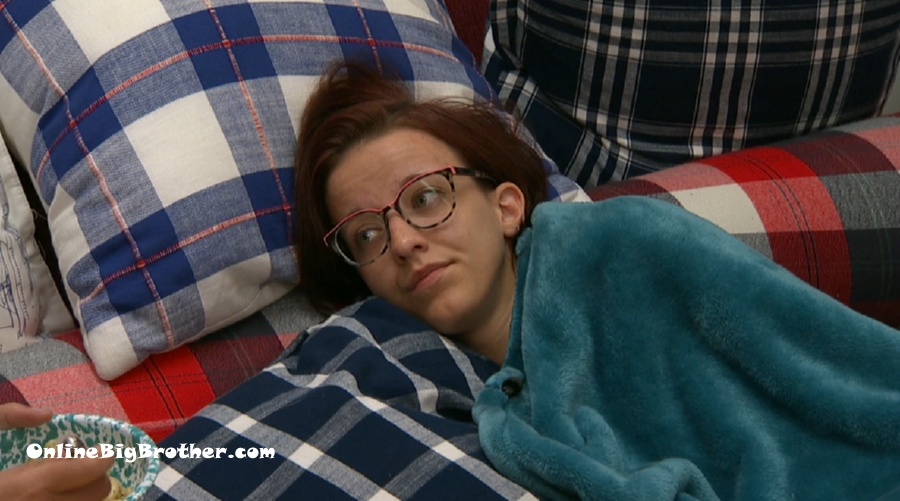 7:34 pm Nicole and Jess
Nicole asking where her heads at "you and kat are never never my targets"
Nicole says her targets are Bell and Nick.
Jess claims to have never really thought of who she's voting for. She loves both of them.
Jess – my game as of right now is nonexistent
Nicole – I have such a fire under my a$$ to stay her play and win I want to be here so bad I hope I get that second chance
Jess – I'm thinking I need to talk to people in the house. there are people here that don't want to see you go. I feel like some people don't know at this point is with who.
Jess – nobody wants to go rogue if for some reason Nick wants it to be a house decision
Nicole – I Don't think it's going to happen. there is a splitting happening in people's mind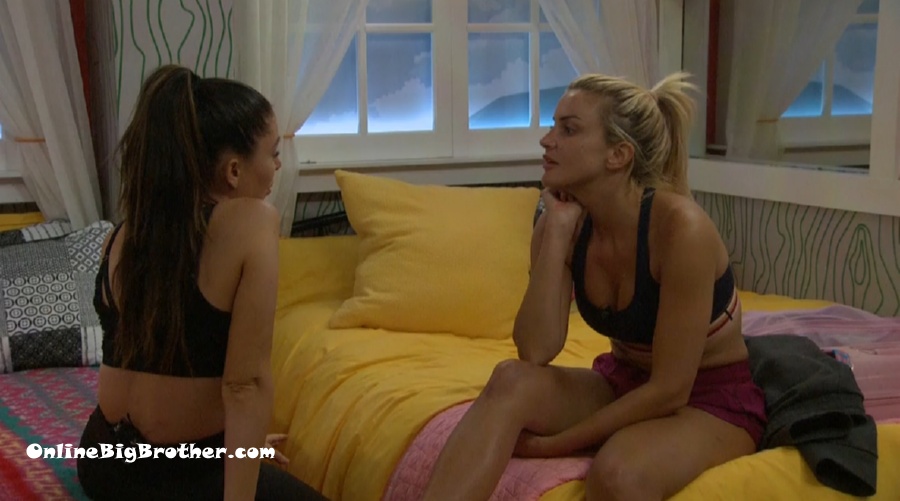 7:40 pm Kat and Holly
Holly tells Kat that Ovi has the power it allows him to take 2 nominations off the block
Kat – Nick told Jackson that he has me in his back pocket
Holly calls Nick a Snake says that Nick told them all if Nicole had a power he was going to put Kat up but he realized she had the Veto.
Kat – I do want to win HOH and put them both up
Kat says Jackson came out in the backyard and announced to everyone that she was only here for TV..
Holly – Sam is one of the biggest threats in the house
Holly – I know Nick and Bella are targeting me and Cliff's targeting the couples.
Holly says she's an idiot for being in a showmance
Kat – you got to do what makes you feel good
Holly says she does feel stupid because "everyone is coming for the couples" (yeah like the guy on the block and the people already evicted from the game)
Holly says Jack does not stop talking about his EX around Sis.
Kat – Sis is becoming a b1tch .
Holly – I hate saying that but I do love her.. she's always annoyed.
Kat – b1tchy
Holly – angry .. she's not even that into Jack
Kat – WHAT