THE HIVE! One of the most comical alliances in Big Brother history. I love the HIVE! Every week they make the same mistakes it's too good to be true. How Does this happen? Haleigh wins the HOH but her side cannot secure the Power of Veto or Hacker power, couple this with tragic game play does not bode well for our once 'great' FOUTTE alliance. Haleigh's Hive was too feeble to sway anyone in the house other than Sam (in the end she won't flip either)   The Level six alliance (+JC) ended up just toying with the HIVE all week. Rocks continued her same Schick attacking Angela with the same material she attacked Brett with. She also comes up with a killer speech that was way too much fun to type out.
It's a great season anyone tells you otherwise is a goof.
The Head of Household Competition tonight will be the Slip n Slide which is usually the better of the two endurance type competitions. At this point a lot of people fight like hell for it.
Weeks posts
Part 1 Catch Up From the previous Week + any new powers
Haleigh cancels Tyler's vote using her Hacker power. Bayleigh gets evicted with only one vote to stay from Sam. The Head of Household competition is played and Haleigh wins! No new powers were introduced this week. Evicted houseguests will not be returning. It's a dream come true.
Part 2 Nominations / Hacker Competition
Haleigh nominates Kaycee and Angela. Her plan is to Backdoor Tyler. Kaycee wins the hacker competition. Takes herself down and slaps the ROCK on the block. The name Blockstar gets circulated around but OBB sticks with just ROCKS.
Part 3 Power of Veto
The Power of Veto Competition is OTEV. Rockstar almost wins but helps Tyler ensuring his victory. Haleigh and Rocks offer Tyler an amazing Deal. Even though he hasn't worked with them and were on the opposing side of the house they offer him safety from 4 people until final 5. The 4 were Fes, Rocks, Haleigh, and Scottie. The only thing Tyler has to do is keep the nominations the same. As Tyler explains it "their entire pitch was personal jabs against Kaycee and Angela.  "
I will say though it's very very tame compared to last year. Most of what Rockstar said about Angela, Tyler and Brett were digs at them being attractive,  financially stable and generally having their lives in order at a young age.
Part 4 Power of Veto Ceremony
Tyler does not take Haleigh and Rockstars deal. Tyler  uses the power of veto on Angela. Haleigh nominates Kaycee as the replacement. Kaycee and Rockstar are the final nominations for this week. In what was one of the funniest things, Right after the POV ceremony Rockstar tells Kaycee "you were not supposed to go home " and Kaycee replay "Sucks..  THe HIVE is completely outplayed at this point and it shows in their strategy talks and Rock's speech.
Part 5 Pre eviction
Rocks and Sam have become close over these past 2-3 weeks while Sam has drifted from the other side over the past week. Tyler, Kaycee, Angela, JC, and Brett are all working towards the same goal this week. to Get Rockstar out. They hold the Hacker power and can delete one of the other sides' votes. It's going to happen. Brett has  gotten close to Haleigh and Rocks to the point that rocks was coming to him with secret alliance names "mr and mrs smith, Evil genuineness, the survivors" Rocks also asked Brett for help with her speech. it's all bullsh1t on Brett's part. JC has always had the HIVE fooled where his vote is, his closeness with Fes has helped him keep this up. It's because of Brett, Sam and JC that Rocks thinks she has the votes to stay.
Where does this leave us?
Kaycee will cancel Fes vote and Scottie will vote to keep the Rock. In the end the vote will go down 5-1/6-0. The Hive will be shocked. FES will run around not knowing what is going on. Haleigh will cry, Sam will cry. Rocks will go see Julie, She'll cry. She'll watch the Goodbye messages from Angela and call her a b1tch. Right before the feeds went down for the live show JC and Sam had a conversation where Sam said she pinky promised Kaycee her vote weeks ago and doesn't want to break this. 5-1/6-0 rocks evicted.
Head of Household and Eviction results
HOH Competition.. Is slip n SLide..
Kaycee – what up world.. huge thanks to the all girls alliance..
Kaycee also says Haleigh and Rockstar tried to set up an all girls alliance and excluded Sam.
Rocks – clear alliance with Kaycee, Angela and Tyler.. infallible loyalty.. Keep Kaycee you empower them empower yourself.. we're all doing are best to stay in this house.
Fes vote cancelled
Angela votes to evict Rockstar
JC votes to evict Rockstar
Sam votes to evict Rockstar
Scottie votes to evict Kaycee
Brett votes to evict Rockstar
Tyler votes to evict Rockstar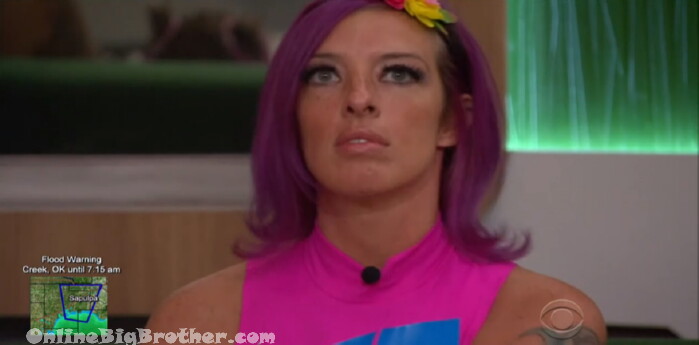 Rocks evicted She tells Julie she thinks Sam was the only person that voted for her.
Rockstar talks weird and is weird during the entire interview with Julie.. glad she's gone. (sorry if that's too biased but Rockstar is the Christmas of this season)
HOH has started
A real easy way to support the site if you are an amazon shopper is to make your purchases through our link. You pay the exact same thing but we get a small % commission. It doesn't cost you anything and helps us out.
Amazon Canada
Amazon USA
Rank the houseguests!
Easiest way to Rank the house guests use link below